Outsource to Laguna: A quick guide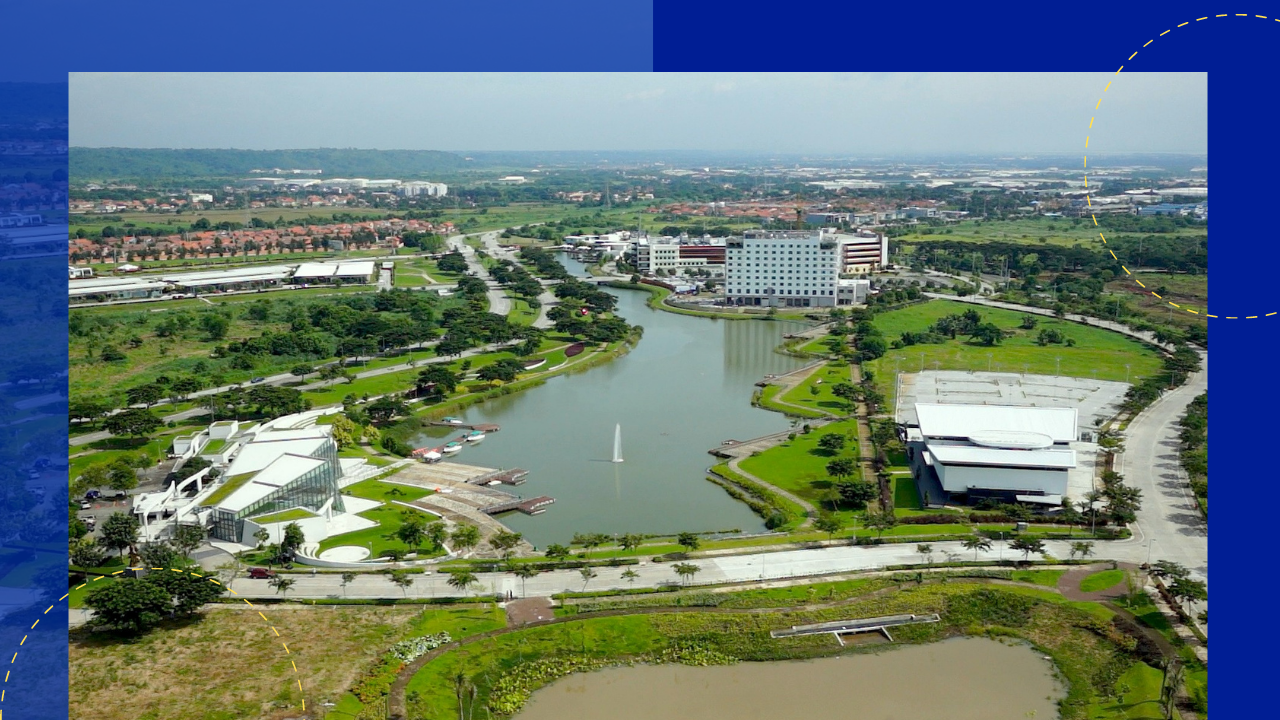 Looking to outsource outside of the chaos of Metro Manila? Just outside of the metro lies a province with a landscape to die for: Laguna. From its countless mountains to an array of lakes, the province offers refuge to people seeking urban convenience and business opportunities but without the metro hustle.
Outsourcing to Laguna has its perks and advantages that Manila falls short of. Find out more about the rising outsourcing scene in this southern province.
How Laguna is rising as an outsourcing hotspot
Towns south of the metro have been attracting outsourcing projects for a long time now. With acres of commercial lands and thousands of seat leasing offers, Laguna has been one of the top choices for business process outsourcing (BPO) companies. 
The province's relatively young workforce, healthy economy, and proximity to Metro Manila are some of the reasons why more and more businesses are choosing to outsource to Laguna.
Business hubs in Laguna
Laguna Technopark celebrated its 30th anniversary amidst the raging pandemic in late 2020. The Ayala-owned industry center is one of the two primary business hubs in the province—Nuvali being the younger, more vibrant counterpart.
When companies decide to outsource to Laguna, they often choose between Laguna Technopark and Nuvali. But others deviate from the rest, leasing spaces in other commercial areas.
The rise of central business districts and technoparks in the province has led to multinational companies coming to outsource to Laguna.
Laguna's economic zones
Provinces inside the CALABARZON (Cavite-Laguna-Batangas-Rizal-Quezon) area, especially Cavite and Laguna, have special economic zones that cater to companies and commercial establishments. These economic zones are found in cities that are easily accessible through major highways and national roads.
Laguna's economic zones are home to manufacturing companies, provincial branches of multinational corporations, and local businesses. With this, they attract millions of local employees each year.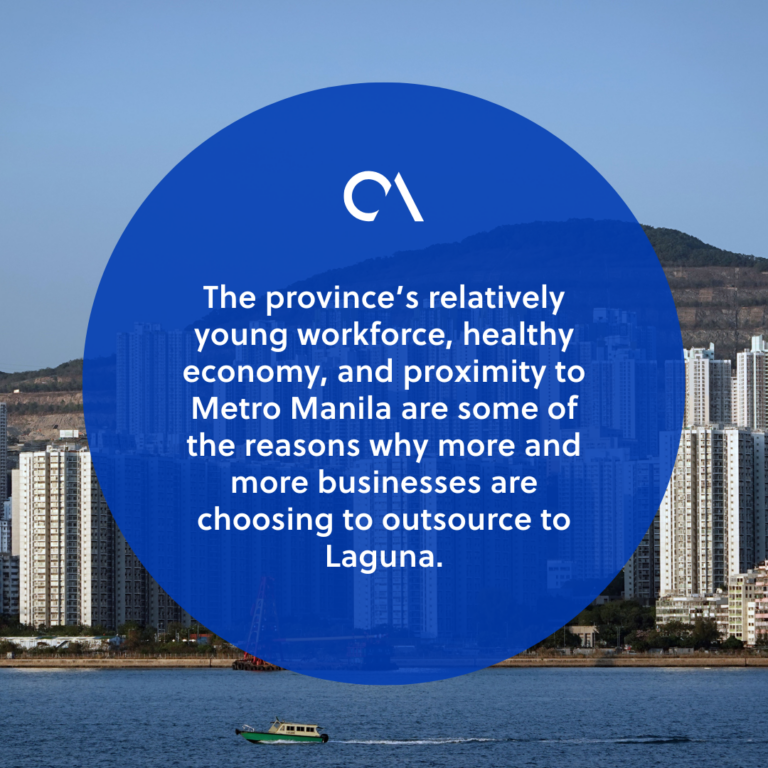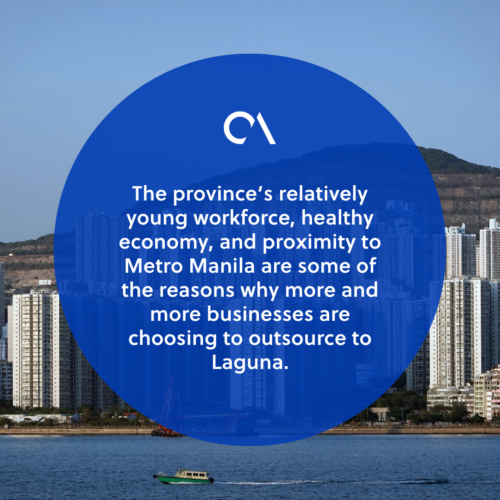 Reasons to outsource to Laguna
Businesses often expand their operations in different points of the country to widen their reach and strengthen their numbers. Aside from other top outsourcing cities in the Philippines, towns near the metro are gearing to open their local economies to foreign investments. 
The towns of Laguna are among them, and here are the reasons why now is a good time to outsource to Laguna.
Proximity to Manila
San Pedro is the closest municipality of Laguna to Metro Manila, lying just beyond Muntinlupa and connecting with the South Luzon Expressway (SLEX). Depending on the traffic conditions, the trip can range from 20 minutes to an hour by car.
Foreign investors who visit Philippine-based sites may opt to stay as close to the metro as possible, and Laguna is the perfect alternative. With offices out of the National Capital Region (NCR), they can enjoy less bumper-to-bumper traffic with the convenience that proximity to the metro provides.
Less road congestion
The farther away you are from the center of Metro Manila, the less traffic there will be. Even if Laguna is merely an hour away from NCR, their roads remain relatively clear and uncongested.
Driving between the province and NCR is quick and convenient, thanks to SLEX and Metro Manila Skyway, which are seamlessly connected to each other. This makes it easier for you to avoid traffic jams on public roads.
Young and vibrant talent pool
Laguna is home to the University of the Philippines Los Baños, a known center of excellence for science and technology, producing young and digitally literate professionals each year.
Moreover, colleges and universities around Laguna's economic zones often partner up with the establishments to fulfill the companies' needs for skilled professionals. With a younger, more enthusiastic workforce, businesses can run more efficiently. 
Active and healthy lifestyle
With nature surrounding the province of Laguna, individuals residing in any municipality can lead an active lifestyle.
Most people that reside in Metro Manila often join gyms to retain an active lifestyle. While gyms are also mainstream in Laguna, some opt out of the monthly fee and work out outdoors. The breathtaking views and the fresh air can beat even the most prestigious gyms.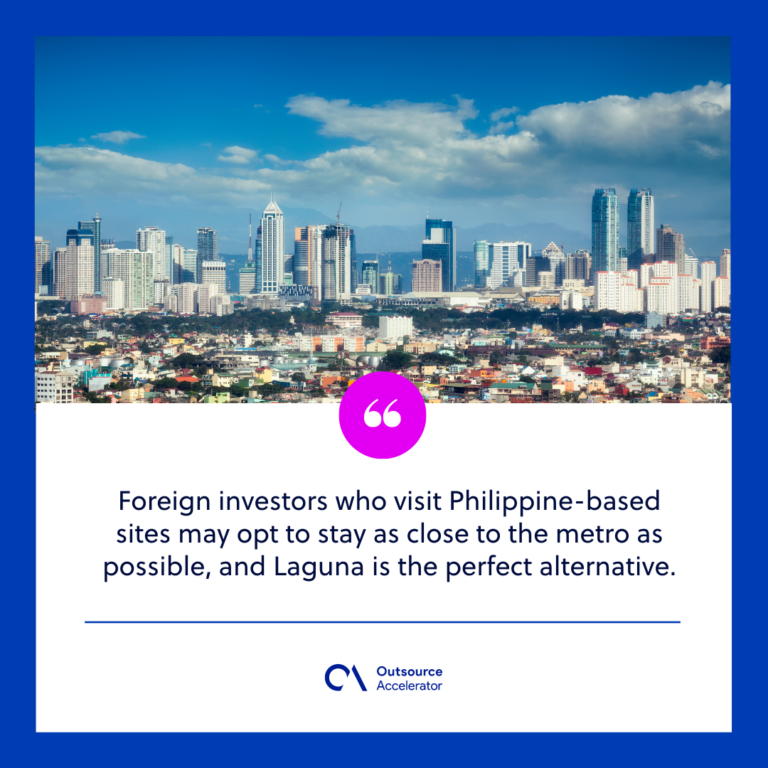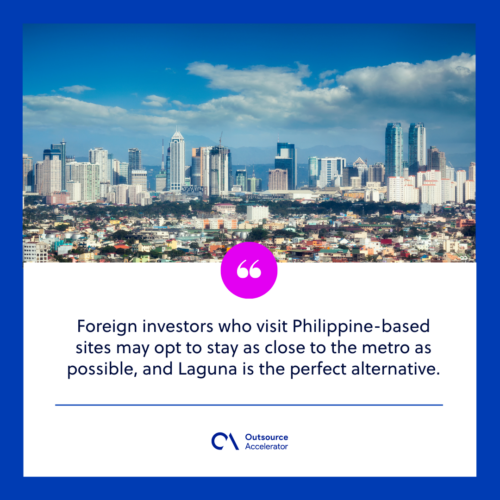 Top 3 outsourcing companies in Laguna
With hundreds of companies choosing to outsource to Laguna, the three below are the most prominent providers in their fields. 
From the outsiders' perspective, BPO companies and call centers may look the same, but their processes differ from each other. Industry insiders have explained that differences in service offerings allow for faster response times.
TTEC
(formerly TeleTech)
Teletech is a "customer experience software as a service (CXSaaS) company." But what does that truly mean? 
Customer experience is the culmination of the consumer's behavior patterns and relationship with the brand they're interacting with. Meanwhile, software-as-a-service (SaaS) is a business model that provides applications and tools to companies and businesses.
By putting these concepts together, TTEC comes out as a company that provides top-notch customer experience tools to its clients. This proves to be very lucrative, as the company has 19 offices in the Philippines alone.
Concentrix is proud to be a world leader in digital transformation and process automation. 
In the digital world, no business can survive without technology or tools to make processes more efficient. Hours lost doing menial tasks can be gained by using proper equipment and automating activities. 
Concentrix provides everything a business needs for digitalization, from strategy and talent to the technology needed to enhance customer experience.
One of the reasons why customers leave a brand is bad customer service. Businesses need to invest in their customer care departments if they want to retain their customers.
To take care of customers is to take care of the business, and iQor enables companies to provide next-generation customer care to their customers. This BPO company in Laguna offers various automation technologies, from CRM to technical support and customer retention processes.
Services that companies outsource to Laguna
Companies that outsource to Laguna often focus on departments that are part of a larger network. These processes are outsourced for the purpose of efficiency.
For instance, accounting and payroll are part of human resource activities, yet businesses outsource these activities to run their HR department more effectively. Hiring a team of accountants and bookkeepers is costly, but outsourcing takes off 70% of the expenses.
To outsource to Laguna is to open up avenues for positive change and innovations within the company.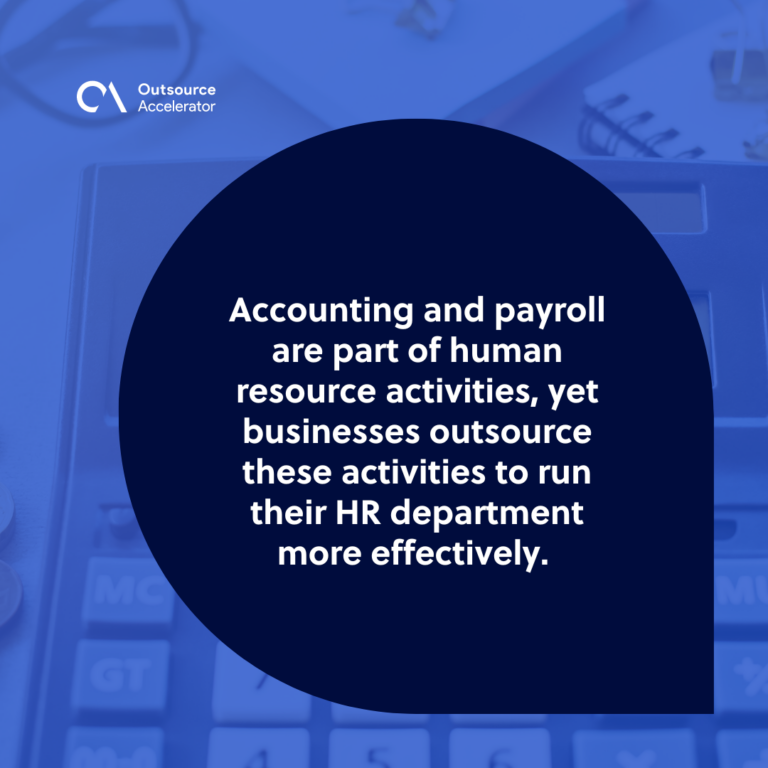 Accounting and payroll
Accounting is the process of analyzing financial data and reporting trends and patterns in a more digestible manner. The data that accountants handle comes from bookkeepers, who keep track of any transactions made in an organization.
Payroll is among the most delicate processes that the accounting department handles. It involves sensitive data, painstaking calculations, and complex organization. That is why many companies opt to outsource this function to experts who are not only skilled but also equipped with the right tools and technology to make the whole process more efficient and secure.
Telesales and telemarketing
Sales and marketing activities are 80% customer-facing. From generating leads to validating prospects, the work often revolves around an agent reaching out to people via phone or email.
As a matter of fact, both telemarketing and telesales go hand in hand. One of the processes involved in telesales is lead generation and validation, which are also what telemarketers do.
It's a wise and cost-efficient move to outsource telemarketing and telesales to external service providers because they are trained to be as customer-centric as possible. This customer-centric approach allows them to tend to the needs of their target market more effectively.
Manufacturing
Outsourcing manufacturing processes is one of the oldest branches of outsourcing. From cars to appliances, companies around the world often outsource the production of consumer products to keep expenses to a minimum.
This allows companies to focus on internal activities, which, in turn, will make business operations even more efficient and productive in the long run.