Outsourcing to Dumaguete: A rising ideal outsourcing location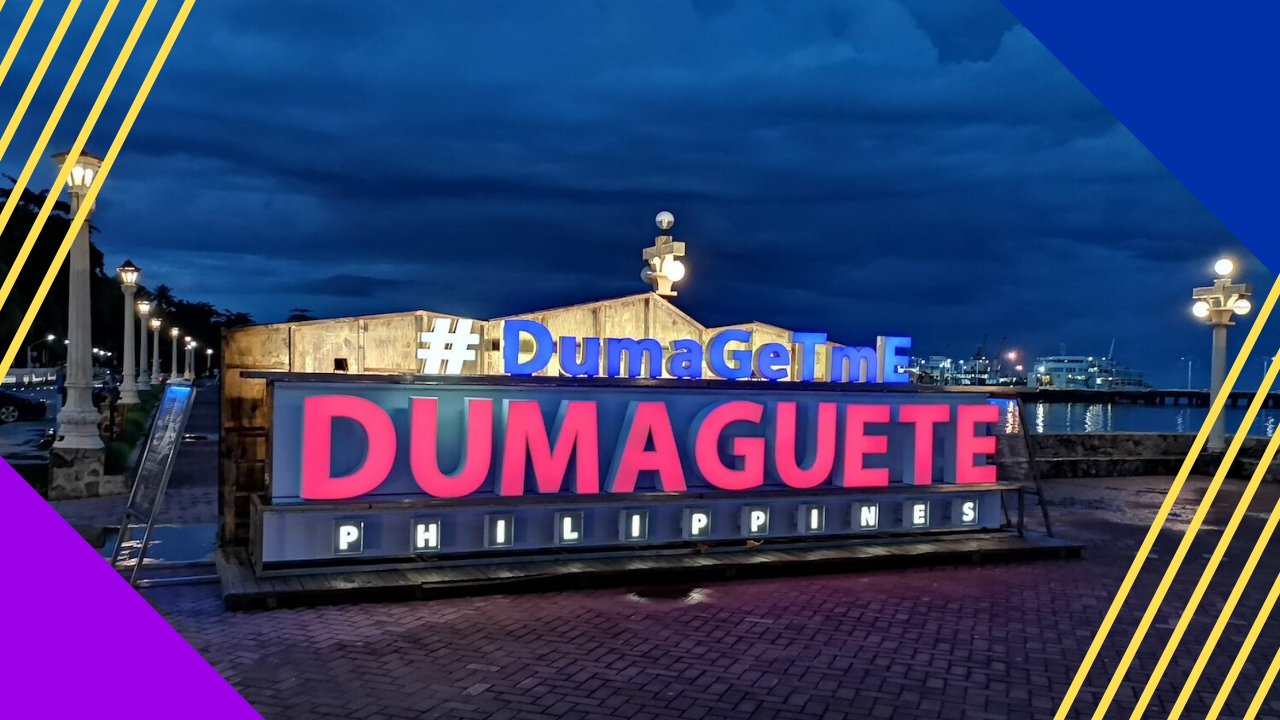 While most of the outsourcing trades in the Philippines are still concentrated within the National Capital Region, the government pushes to expand the industry to other areas such as Dumaguete.
Dumaguete City has been popular for contact center and back-office outsourcing for years now. Despite losing its position in the Tholons ranking, efforts are still underway to develop the city's IT-BPO industry.
Dumaguete has much more to offer as an outsourcing destination. Let's get to know what companies should expect and why they should outsource to Dumaguete in this article. 
Dumaguete as an outsourcing location
The success of outsourcing in Metro Manila, Cebu, Clark, and Bacolod pushed the Philippine government to expand the ICT hubs outside the leading cities. 
Known as the City of Gentle People, Dumaguete started as one of the Next Wave Cities named by the Department of Information and Communications Technology (DICT) in 2012. It first entered the Tholons outsourcing destinations list in 2016, along with the rise of other outsourcing cities in the country.
Despite failing to secure a spot in the following years, a growing number of BPOs established their operations in the city. Private and public entities continue to develop the area, with a 174-hectare smart city already in the works.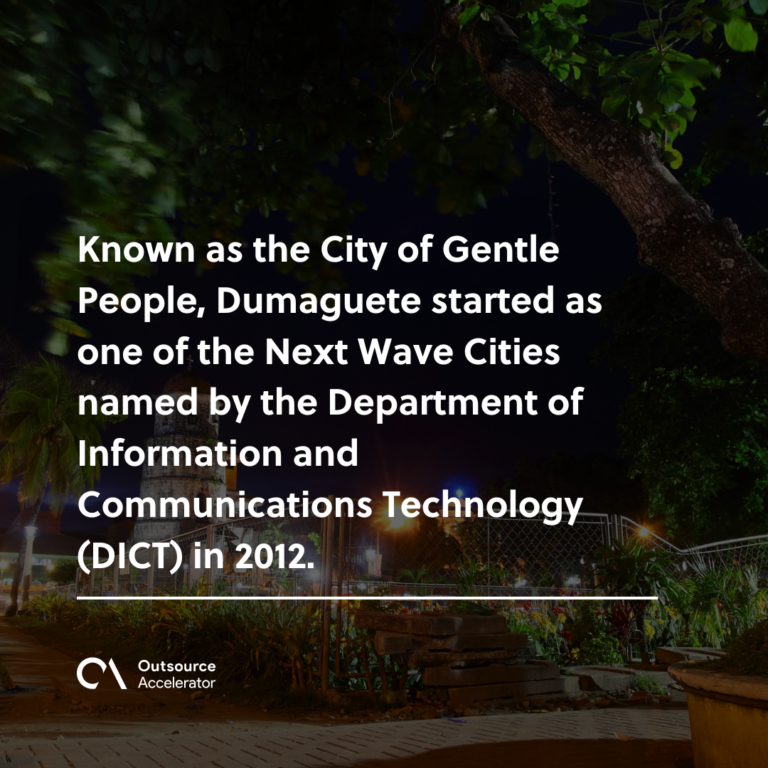 To this day, Dumaguete remains to be a rising outsourcing destination outside Manila and in the Visayas region.
Quick facts about Dumaguete
Region: Central Visayas

2021 population: 134,103

Regional employment rate: 92.9%

Literacy rate: 99.74%

Local BPO organization:

ICT Association of Dumaguete and Negros Oriental (ICT DGTE)

Official name: Dumaguete derived its name from the word "

dagit

" or "to swoop," coined due to the historic Moro raids on the coastal community.

University town: The city is also called a "university town" with its abundance of universities and colleges.

Best place to retire: In 2014, Dumaguete was cited by Live and Invest Overseas as among

the best places to retire

around the world.
Why companies choose to outsource to Dumaguete
Companies choose Dumaguete as an outsourcing destination outside Metro Manila for the following reasons.
Highly-educated workforce
Majority of the Dumaguete population has proper education, as shown by its high literacy rate. 
Universities and colleges in the city produce thousands of workplace-ready college graduates each year. Most of them are from the younger generation exposed to the latest technology and new ways of work.
When companies outsource to Dumaguete, they have access to a highly-educated and skilled workforce that can provide the best services for their customers.
Quality infrastructures
Aside from the ongoing development of the "smart city," government agencies and private entities continue to build Dumaguete as an ideal ICT hub.
It was once again named by the DICT as one of the Next Wave Digital Cities by 2025. Roads, schools, and other infrastructures are built as part of the city's development, while e-communities are taking form in its neighboring areas.
At the same time, the city has a few notable IT parks housing BPOs and call centers, including the LinkSY IT Park.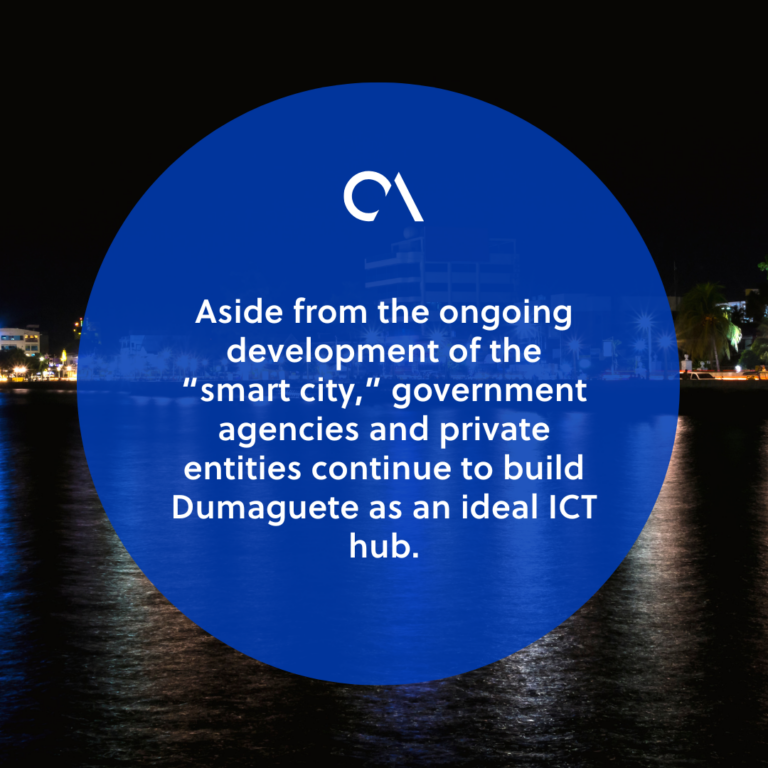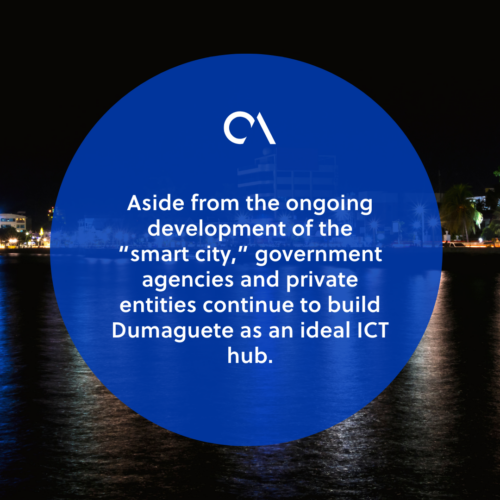 Low operational costs
Dumaguete is one of the cheaper alternatives to Metro Manila in terms of labor and operational costs. 
The minimum wage in Dumaguete is US$7.14. This matches with the lower cost of living in the city. Meanwhile, property rates are even lower, making office rentals and setting up a business easier and more viable.
Companies that outsource to Dumaguete enjoy a more cost-effective way to run their operations while getting the best services at hand.
Geographically ideal climate
Despite being a flood-prone area, Dumaguete does not experience many typhoons each year. The city lies between Cebu and the Mindanao islands, making it protected from typhoons that affect the region.
What's more, Dumaguete is only a few hours away from Manila and Cebu. Tourists and visitors can reach the city by air through the Dumaguete-Sibulan Airport.
Business efficiency
Dumaguete also prides itself on business efficiency. In 2018, it was ranked by the Department of Trade and Industry as the second most efficient city in the Philippines.
This is due in huge parts to the local government's efforts in nurturing small and medium businesses investing in the city.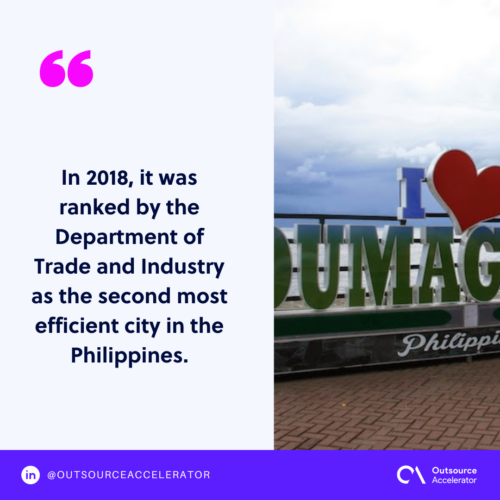 Top roles to outsource to Dumaguete
Businesses can efficiently delegate the following roles for outsourcing to Dumaguete.
Market research
Doing market research is crucial in getting to know a company's target market, its buying patterns, and the company's competitive edge in attracting certain audiences.
Outsourcing this to Dumaguete helps businesses study their target markets cost-effectively. They can delegate the task to a team of experts focused on studying their market, competition, and strategies to attract audiences.
Social media management
Managing corporate social media takes time and expertise on the company's part. Aside from scheduling posts, businesses should track mentions and answer customers' inquiries proactively to build engagement.
By outsourcing this function, businesses can ensure that their pages are continuously updated with posts and engagements from their customers.
Customer support
Nowadays, customer support is more than simply answering phones daily. Every call should meet the expectations and demands of their clients to keep them satisfied.
Delegating customer support to Dumaguete can help organizations get the best out of their functions. They can ensure that their customers are handled by experts in answering inquiries, solving their issues, and finding solutions that will fit them the most. 
Telemarketing
Lastly, telemarketing is still effective when paired with other channels such as social media and website traffic. Successful companies still use telemarketing nowadays as a way to get to know their customers and personalize their offerings.
Through outsourced telemarketing, businesses can connect with more leads suitable for their products and services. In this way, they can maximize their sales funnel better by converting more leads to paying customers.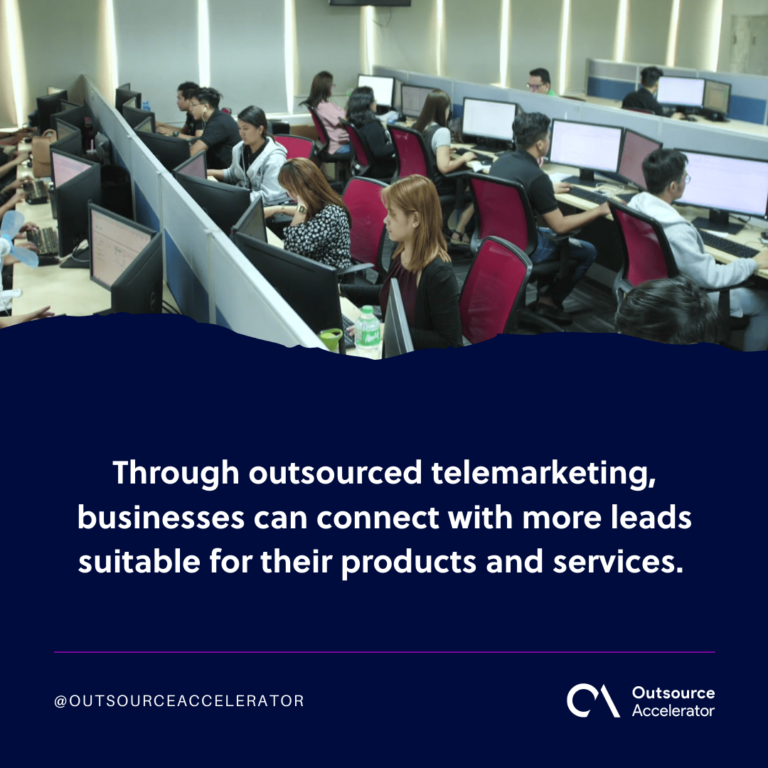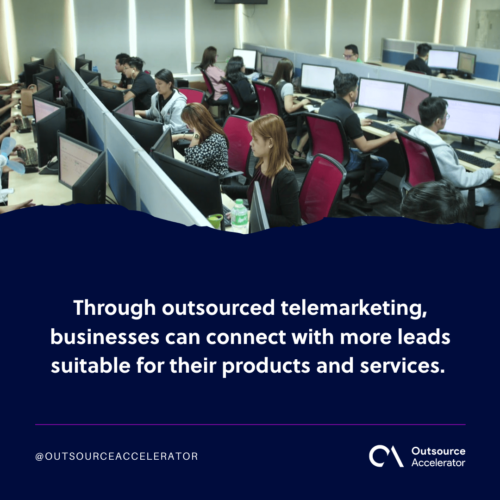 BPO companies in Dumaguete
Dumaguete has a good share of small-scale and established BPOs providing services to organizations worldwide. Some of them are the following.
SOPHI is a boutique BPO company that offers digital marketing, customer service, and back-office functions to promising startups. Founded in Dumaguete, the company caters to the tech and education sectors around the globe.
Straive is considered a "global leader in content technology solutions." 
Starting as a content provider to Fortune 500 companies, Straive has expanded to providing EdTech and research solutions for companies in the education, healthcare, financial, and real estate industries.
One of the pioneer call centers in the country, TeleTech (known as TTEC) combines technology and human touch to give the best customer experience possible. In the Philippines, they provide consultancy, customer care, and business growth services for medium and large enterprises.
Lastly, Qualfon focuses on creating and maintaining connections through customer service. They provide top-tier communications technology and the best teams that can help manage every outsourced function for a company.
What's more, Qualfon takes pride in taking care of their employees as a way to show their care for their customers.
What companies should expect when outsourcing to Dumaguete
With its rising popularity, Dumaguete is easily seen as a viable destination for offshore services. At the same time, small-scale and established BPOs continue to enter the city, opening new opportunities for small and medium businesses to invest here.
When companies outsource to Dumaguete, they can expect to get the same high-quality services they can get in Manila and other destinations in the Philippines. With the right service provider, they can even optimize their businesses further, making it easier to expand.
Getting the right provider can be easy with the increasing abundance of BPOs in Dumaguete. It only takes a quick call to your preferred BPO or with a reliable advisory service such as Outsource Accelerator to get started.