Outsourced telemarketing services: What is it and why do companies choose to do it?
Last updated: October 14, 2022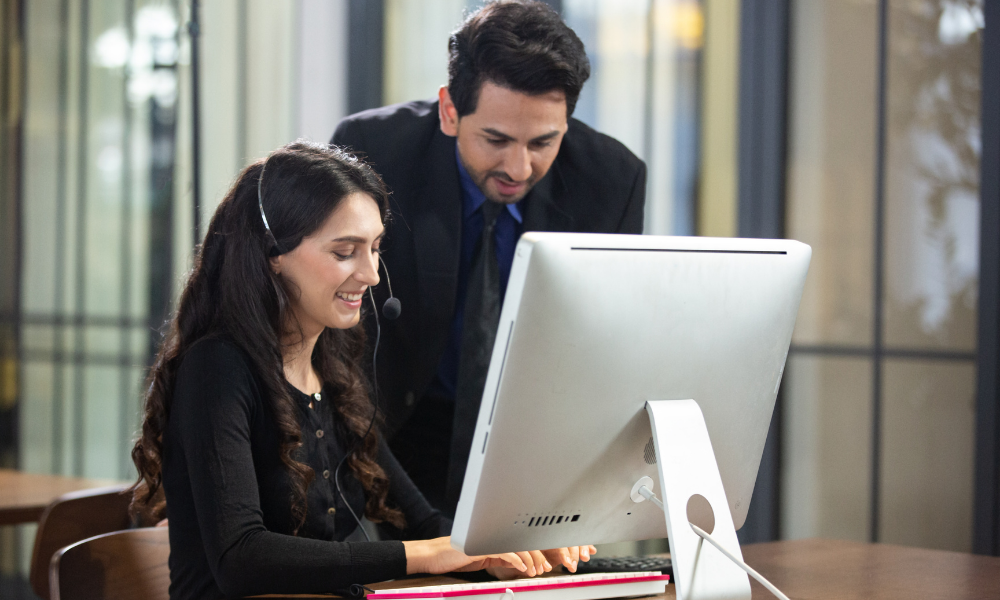 A well-planned telemarketing strategy is important for every organization that wants to expand its market coverage, add in new customers, and boost annual revenue.
Nevertheless, establishing a telemarketing department from the ground up can be a challenging endeavor.
The success of sales team and lead generation for your organization will be dependent on services offered by your company.
Fortunately, many businesses now have an option to delegate their telemarketing services to outsourced service providers who are experts and has a broad knowledge in this field.
Outsourcing definition
Business Process Outsourcing (BPO), or simply outsourcing, is the process of recruiting skilled employees from a third-party service provider to perform tasks that are normally done by in-house staff.
The majority of outsourced works are often back-office-related tasks in service-oriented roles.
Some workloads require broad knowledge that an outsourcing partner has mastered and developed.
Hiring a BPO firm can help accelerate your operations, boost efficiency of your telemarketing needs, streamline your sales process, improve customer relationships, and find a target market that will match your company's requirements.
Outsourcing can help you entrust some of your business activities to a remote team so that your local employees can focus on their main tasks.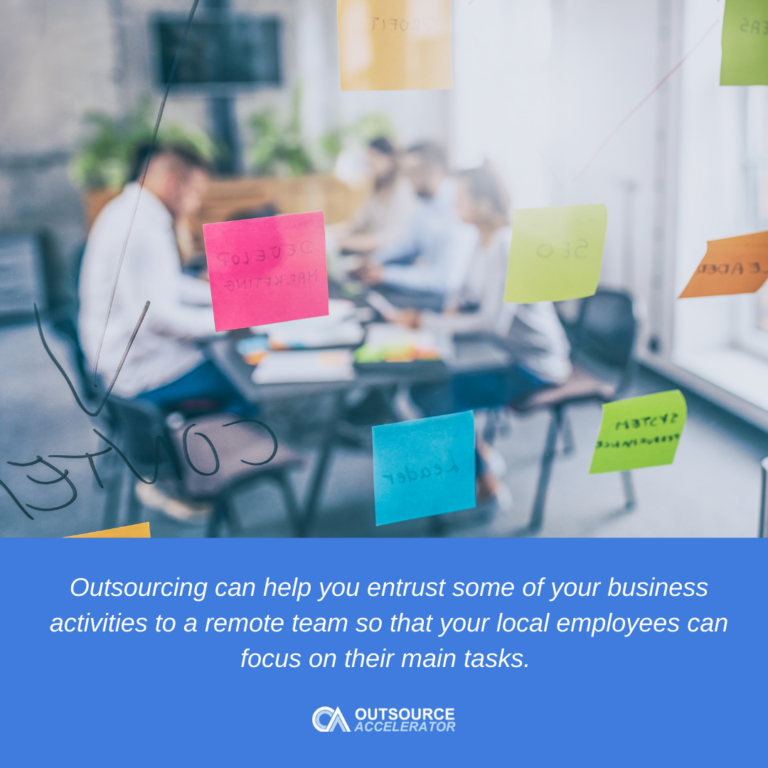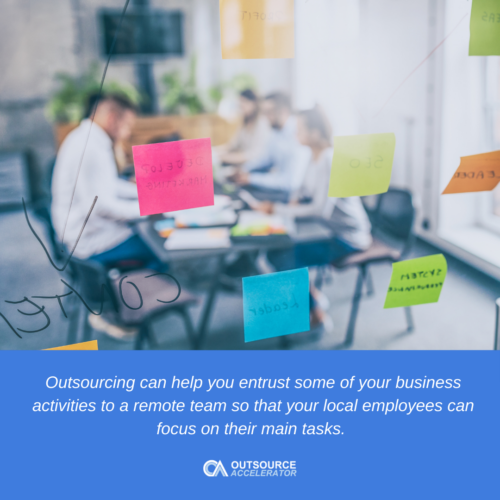 What is telemarketing?
Telemarketing refers to a marketing strategy where sales representatives or "telemarketers" engage with prospective and existing customers  — through telephone calls or web conferencing — to sell the company's  products and services
This approach aims to raise brand awareness, spark the audience's interest, create curiosity around the brand's offerings, and turn leads into paying customers.
Telemarketing services usually include the following subcategories.
Cold calling. Sales agents actively search for and reach out to existing and target audience to offer a product or service.
Inbound. These calls are made when a client raises questions or queries about products or services that they have seen in advertisements or other sales campaigns of the company.
Lead generation. This process is a proactive sales approach that involves identifying and creating potential customers who would be interested in a brand's offerings.
Sales. This is where telemarketers are trained to persuade clients to close a deal over the phone.
With the speed of development nowadays, businesses often choose to outsource their telemarketing services to an external company.
Why do companies outsource their telemarketing services?
Outsourced telemarketing services assist businesses in creating relationships with existing and prospective clients.
Brands are looking forward to outsourcing this particular task and think that it is the right option for several advantages.
Let's look into some reasons why outsourced telemarketing can work for your organization.
Access to a skilled workforce
Companies benefit a lot from the services of expert outsourcing vendors.
Most of these outsourcing experts are well-trained in handling telemarketing service, customer service, or lead generation programs of businesses across various industries.
Having the best telemarketing service provider can help you expand your business process outsourcing, drive more sales, and achieve higher customer retention rates.
Get the complete toolkit, free
Learn more
These skilled sales agents will guide you every step of the way while measuring the actual results of your telemarketing campaign to compare them with your target.
They are experienced in telemarketing and know how to work in a result-oriented process with proper methods.
Additionally, they are willing to give their best telemarketing service to make sure that you achieve greater results.
Economical
Outsourcing is cost-effective and economical than hiring, training, and employing your in-house sales reps.
Instead of spending money on overhead costs, most telemarketing companies charge based on the achieved sales target and expanded customer base.
Relaying your telemarketing efforts to a BPO company is cheaper than any other marketing method.
That is why hiring outsourced telemarketing and having an outsourcing partner is one of the best tactics to speed up the growth of start-ups to large businesses.
Flexibility
Flexibility and scalability can greatly increase the efficiency of your telemarketing campaign.
Partnering with an outsourcing provider gives you the option to increase the number of your agents, without committing to hiring internally.
Since telemarketing is not only about calling leads but is also about shortlisting out the potential customers from the list, you need to have a dedicated, and skilled telemarketing company to work with you and achieve great results.
Saves time
A BPO firm can swiftly provide you with a full working team in a short period. This helps eliminate the costly tasks of recruiting new people, spending money on office space and equipment.
Outsourcing your telemarketing service saves you the time and expense of hiring new employees while managing your whole telemarketing process.
It also allows you to seamlessly shift focus and resources to other aspects of your business process.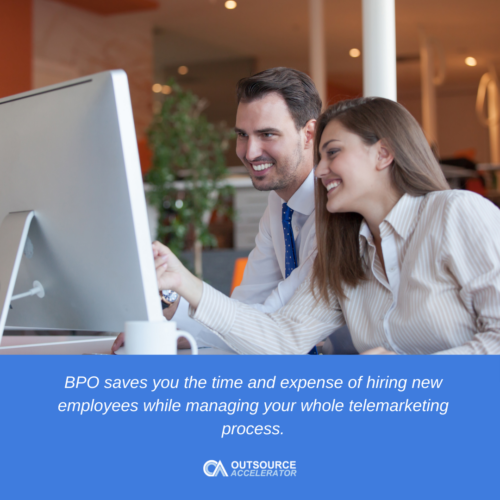 Consistent brand representation
An outsourced agent can give you an organized framework to ensure that your brand is consistently represented in the best way to attain the results.
An experienced telemarketing service provider will conduct research on your business and check to see that its core beliefs are reflected in each and every campaign.
In addition, using an outsourced telemarketing service enables suitable ways for scheduling follow-ups for the decision-makers.
Outsourcing your telemarketing is a worthwhile investment elevating queries while providing a comprehensive understanding of the brand.
Introducing 123Employee's telemarketing services
To help you with your telemarketing campaigns, 123Employee offers high-quality voice services that can serve several key verticals in your business.
They have a skilled team that can help represent and raise awareness towards your brand and offers a superb telemarketing service.
123Employee also provides ongoing training on their staff to ensure the high satisfaction of their existing customers and future clients.
123Employee's elite voice agents can assist you in any telemarketing service you seek. Other services they offer are appointment setting, helpdesk, and tech support, among others.
Visit 123Employee's website now and listen to sample audios of their voice talents.