The Philippine telemarketing industry: What you need to know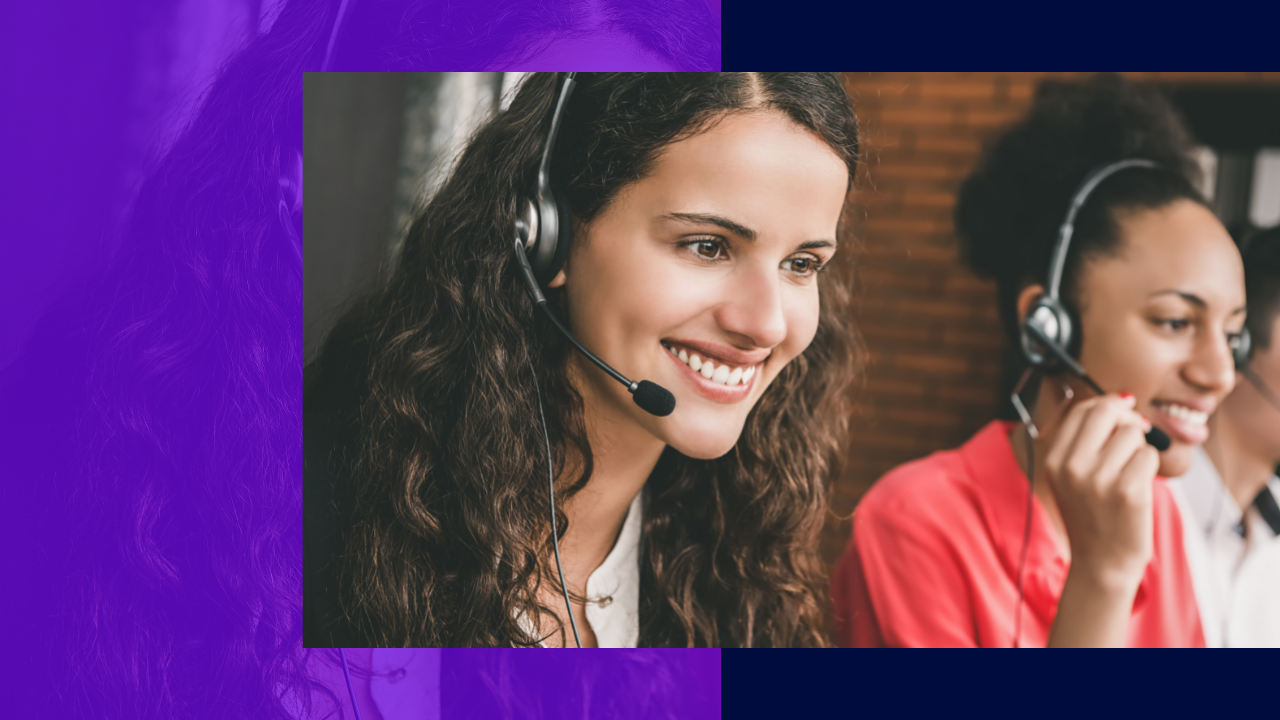 The Philippine telemarketing industry is a booming sector amidst the others. From cold calling to keeping leads engaged, telemarketers connect with all sorts of people from different walks of life.
While some people might connotate telemarketing with scams and annoying spam robocalls, there are legitimate telemarketing efforts still making rounds. 
As society develops, telemarketing efforts become more and more humanized too. Less cold calling, less hard-selling, and less treating customers as a source of endless sales and revenue.
Businesses these days are striving to connect with their audience on a levitated scale.
The Philippines as the world's top call center destination
When the first multinational call center in the Philippines opened its doors for the first time, Filipinos were given the opportunity to work in a budding industry. The Philippine telemarketing industry started in a call center.
As time went by, the industry grew and along with it, the subsectors of telemarketing, customer service support, and technical help evolved as well.
By this year, 1.3 million Filipinos are employed by call center companies—with one company starting the industry, it gave millions of jobs and opportunities to the masses.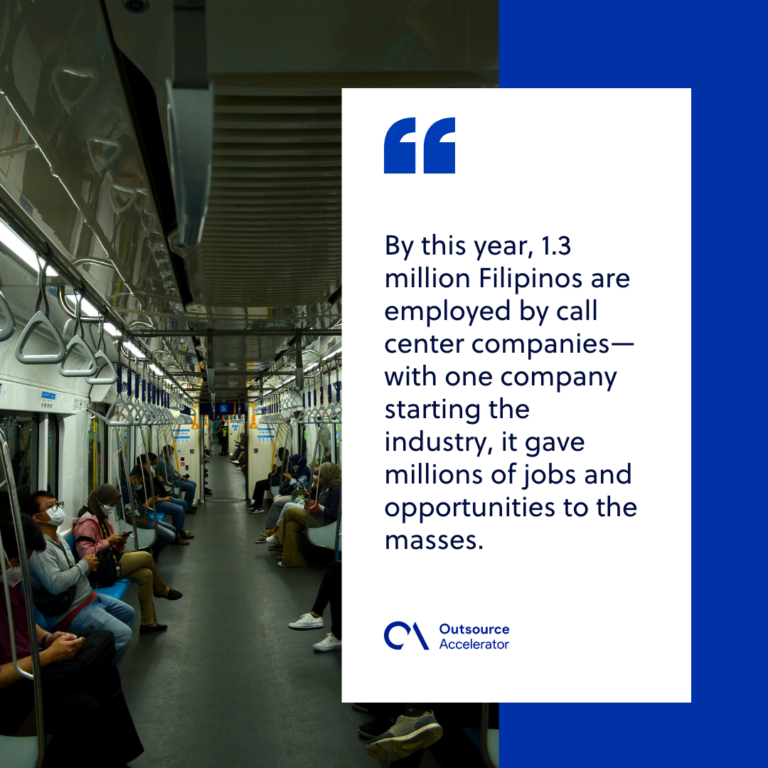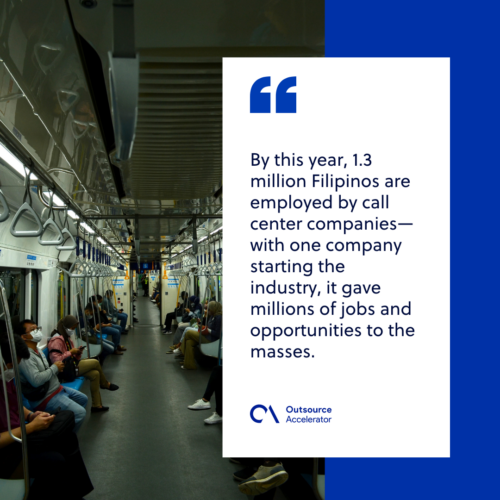 What is telemarketing?
To get things started, let's take a quick refresher on the definition of telemarketing.
Telemarketing is the process of gauging a person's interest in a particular product or service. As the name suggests, it's a way of direct marketing to the public. 
Some might say that telemarketing efforts are slowing down due to implementations of the nationwide Do Not Call registry and the user's ability to screen calls from unknown numbers.
Nowadays, most telemarketers don't outright cold call their prospects and leads. 
Usually, the names on their lists are gathered by lead generation specialists through contact forms, sign-up sheets, and landing pages.
It's rare to hear a telemarketing company still applying cold calling campaigns. It's been proven that cold calling is the least effective way of marketing products and services.
Telemarketing vs. telesales
By the name itself, telemarketing simply means getting a lead's or a prospect's attention and interest on a product or service. 
Telemarketers usually don't engage in hard selling. Instead, they keep these leads warm for a certain period of time.
On the other hand, telesales (as the name implies) is the process of actively selling a product or a service to a customer. 
This is when deals are closed over the phone. Telesales people engage in getting the buyer's information to get the product or service delivered or activated.
While some of their general responsibilities may overlap with one another, telemarketing and telesales often have to work with one another.
A Filipino telemarketer's general responsibilities
Telemarketers have responsibilities that may or may not be general to their roles. Some of their tasks may be specific to their company and department. 
The standards of Philippine telemarketing might be a little different from the western standards. Objectively speaking though, they share the same ideals. 
However, the responsibilities listed below are what encompass a telemarketer's day-to-day operations. 
Telemarketers may be assigned to do some administrative tasks from time to time—this generally includes the organization of contact lists and maintenance of call logs.
Keeping leads warm and engaged
The leads are usually from lead generation specialists—they gather information from the company's landing pages, sign-up forms, or from data scraping.
In major companies, they have their own lead generation team. Usually outsourced or directly hired. But in some smaller businesses, their lead generation efforts may overlap with the telemarketing department.
That being said, some may dabble into outsourcing or offshoring these departments—it's one of the reasons why most BPO companies offer lead generation as a service.
Contacting and following up on active leads
This task is one of the most important responsibilities that a telemarketer has. It doesn't matter which industry or which company they are from—contacting qualified leads is the essence of the job.
Talking to someone over the phone isn't as easy as one may think—telemarketers aren't conversing with a friend, they're conducting business.
As such, telemarketers have to walk the line between being approachable and friendly yet professional.
Showing empathy
Everyone who has an opportunity to call a complete stranger over the phone knows that messages sometimes aren't communicated properly. 
Misunderstandings are inevitable, even if the nature of the phone call is neutral. Showing empathy—even over the phone—will lessen unpleasantness during conversations.
This soft skill will also be applicable beyond the workplace. Not only that we (as a society) sorely need more empathetic individuals but being able to relate to other people as well.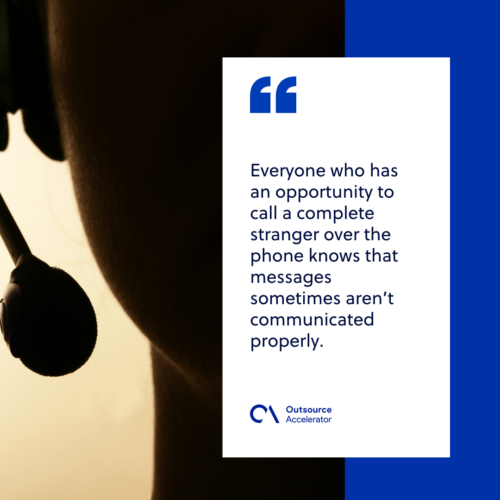 Active listening
Along with showing empathy, active listening plays a good part in successful calls. 
Remember that telemarketers aren't just peddling a product or a service, they're also providing a solution to an easily solved problem.
Practicing brevity
Brevity is not a "dying" practice, as some might say. Time is precious as we all know and some of us prefer if conversations are kept to a minimum.
When they call a qualified lead using a telemarketing script, they must get onto the point of the call. Given that they are not rushing and skimming over important information.
Liaising with the telesales department
Once the leads are thoroughly engaged, telemarketing specialists can now turn over the list of names to the telesales department.
As mentioned before, telesales people are the ones who are tasked to do the hard selling part. They close deals and upsell products and services in accordance with their KPIs.
Achieving departmental goals and KPIs
Speaking of KPIs, one of the most general yet important responsibilities of a telemarketer is to achieve goals and milestones set by management.
These key performance indicators are telling how productive an individual is.
Why do companies choose the Philippines as a telemarketing destination?
The Philippines is a melting pot of cultures and different ethnicities—its major central business districts are home to multinational conglomerates and organizations.
Listed below are some of the reasons why major businesses choose the Philippines as a hotspot.
Lower labor costs
In the heart of the central business districts (CBD), living costs are a bit pricier but, in general, living in Manila as a working professional isn't that expensive when compared to developed countries.
That being said, lower labor costs don't necessarily mean lower living standards. On average, a $500-700 monthly wage in the Philippines is a livable wage.
Of course, given that the person receiving that wage is living within their means and is budgeting wisely, living on roughly PHP 25,000 a month is doable.
The minimum wage in the Philippines ranges from PHP316 (US$6.57) to P537 (US$11.17) a day, according to ASEAN Briefing. Employees living outside the metro have lower wages compared to those who are working in the CBDs.
An eager workforce
With a relatively young workforce brimming with industry pioneers, recent college graduates, and career shifters, the Philippine talent pool is a force to reckon with.
Giving these individuals adequate training and ample time to learn, they will turn into the best employees in no time.
Any and every employee will grow with the company. As long as they are given the opportunity and chances to learn and to feel like they are supported by peers, colleagues, and the management.
Near-native level English speakers
Every Filipino who went to school and onto college knows just how English is taught on every grade level.
That's one of the reasons why most Filipino professionals are fluent in English—some might even don a "neutral (American) English accent." This level of language proficiency is enticing to companies, both local and international.
Some companies (universities and schools as well) prefer using English as their primary language. The English Only Policy is strictly implemented on multinational companies to integrate the language with their employees.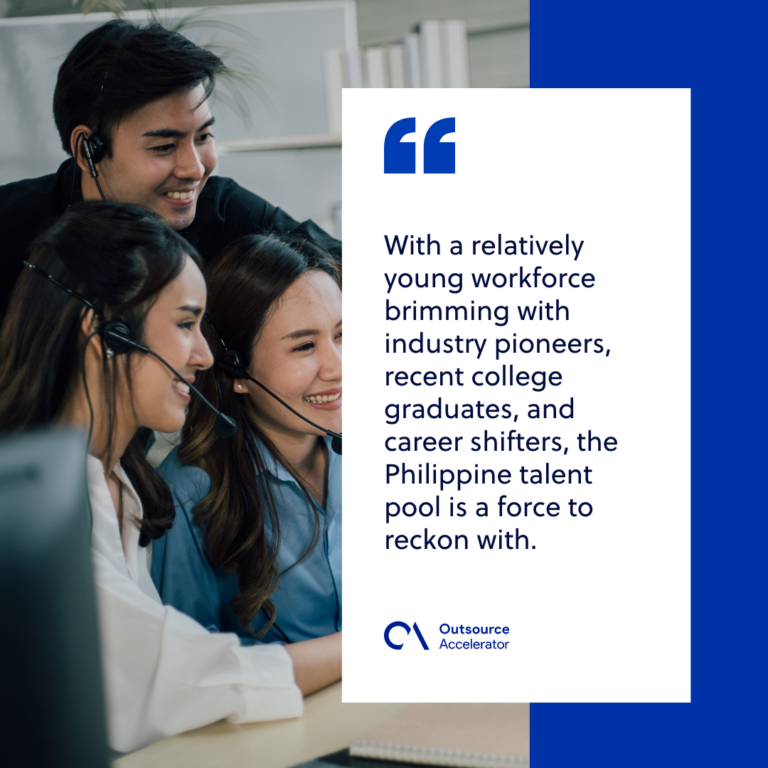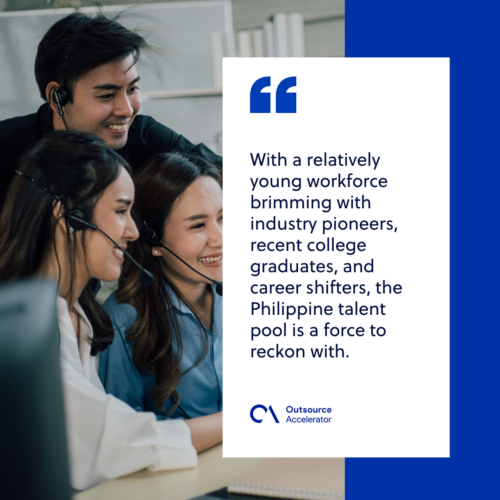 How Philippine telemarketing companies continue to survive the pandemic
2020 has been a hard year for many of us—even today, we're still feeling the repercussions of mandatory lockdowns and the closing down of small locally-owned businesses.
The economy had taken a dip during the height of the pandemic and most companies spent the latter part of last year salvaging what's left. So how did some industries and companies survive a devastating phase, and what's pushing them to move forward?
Some of them may have adopted a business model like outsourcing or offshoring, wherein they were given the chance to be more flexible in terms of expanding their workforce.
Outsourcing is the practice of offloading non-core jobs and responsibilities to smaller teams outside of your organization. 
As the world's outsourcing capital, the Philippines is home to many outsourcing companies, such as 123Employee, that offer exceptional telemarketing services.
In this model, however, partner companies can't really control the process. They are given adequate reports and analyses made by team managers, quality control specialists, and supervisors.
On the other hand, offshoring is simply moving your business process outside of your country. You still control the process and everything from top to bottom.
These business models are developed by industry experts with a lot of years under their belt—more and more outsourcing and offshoring companies are being innovated to withstand even the most drastic changes in any industry.