List of 30 call center terminologies you must know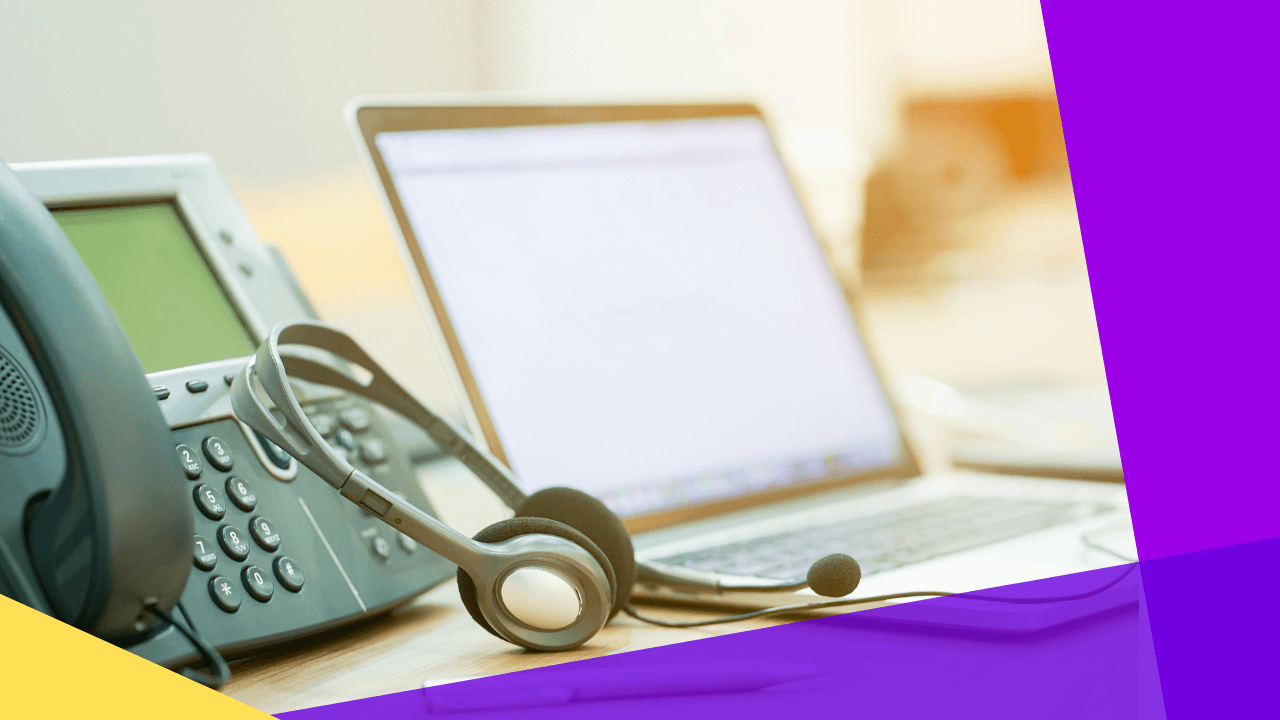 Call centers maintain and facilitate direct communication between businesses and customers around the world. Whether you're an industry veteran or newbie, it's essential to learn various call center terminologies to ensure smoother communication and workflow.
Given today's technological innovations, we now have various ways to communicate with other people globally. In connection to that, call centers at present are not solely focused on voice calls alone anymore. Most of the call centers in our modern age have transitioned into contact centers. 
Contact centers, like call centers, still manage both inbound and outbound calls. However, it also utilizes other communication channels to cater to customers and clients. 
Just like any kind of industry, there is also various jargon used by the working class employed in the call center sector. For people who are aspiring to build a career in this industry, we have piled up thirty call center terminologies that you should be aware of. 
Call center terminologies you need to know
Working in a call center 
Before you get acquainted with the various call center terminologies, let us give you a little brief about what it's like to work in a call center.
Traditionally, a call center refers to a centralized area within the working place that handles both incoming and outgoing calls. Anyone with a high school diploma is qualified to apply in a call center. There is also no specific college degree required to work in this industry. 
A lot of call centers also offer a competitive compensation package. In the Philippines, for example, it is among the highest-paying professions in the country. The majority of its working population is employed in call centers. 
Some companies prefer their call center in-house. A lot of businesses, however, opt to contract out this part of their organization to BPO providers locally or offshore to foreign call center BPOs. 
Another good thing about working in this industry sector is its flexibility. This is among the few professions that are highly conducive to telecommuting. No wonder, BPOs were able to easily transition into remote work when the COVID-19 pandemic hit every nation in the globe. 
Why is there a need to know about these call center terminologies?
As a call center agent, it is vital to know about these call center terminologies as you will be using these words in your daily work. These call center terminologies are specialized words or expressions that are specifically used in the call center field. 
Moreover, you will not be hearing these call center terminologies in usual conversations with local people. 
You will typically learn about these call center terminologies as you proceed with your training, and on the floor during your work shift.
Lastly, it is best that you fully understand these call center terminologies to make it easier for you to perform your job well. For example, if you encounter the term "first-call-resolution," you would easily know what to do and how to handle it.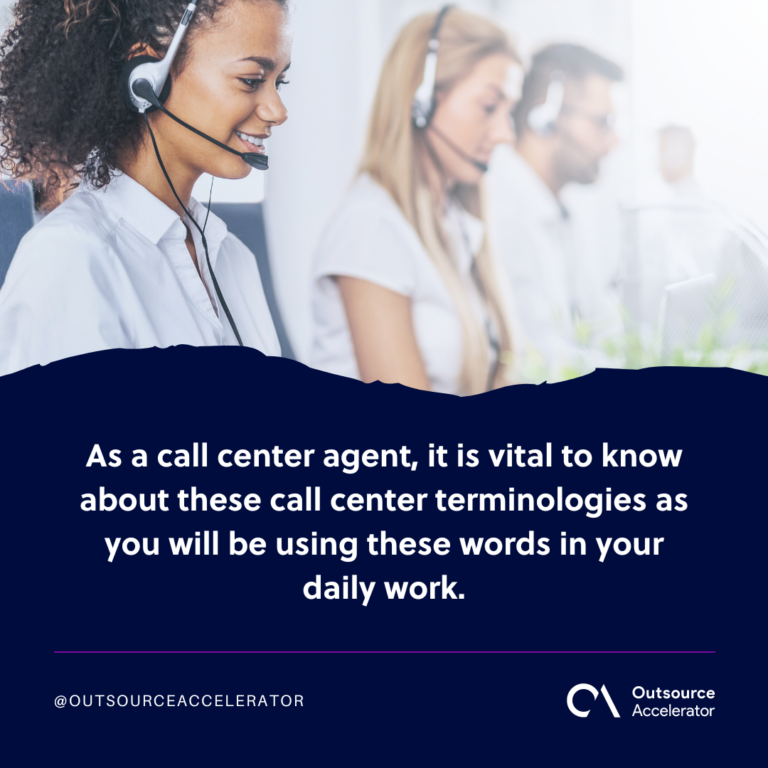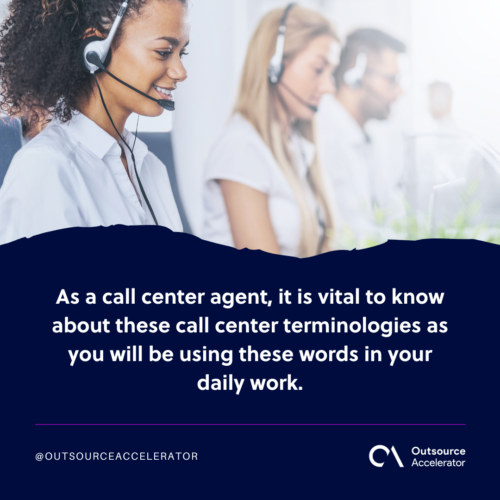 30 call center terminologies you must know 
Now, let us dive right into our list of call center terminologies. Here we have thirty call center terminologies to help you out: 
An abandoned call can happen to either inbound or outbound calls. For inbound call centers, this is when a customer initiates a call and drops it before an actual conversation begins.
As for outbound call centers, abandoned calls usually happen when a predictive dialer performs a call and is picked up by a customer. However, there isn't an agent available to handle the call.
ACD is a specialized phone system or a telephony facility that is built to handle incoming calls. Its main purpose is to identify the callers' specific information and transfer the call to the correct agent or department. 
AHT from the name itself refers to the total average time a call center agent devotes on every call. This includes the overall conversation, hold-time, and after-call activities. 
Average handle time is calculated using this formula: 
(Overall conversation time + hold time + after-call related activities) / Number of handled calls
4. Basic Rate Interface (BRI)
A BRI, also known as Basic Rate Access (BRA), is one of the two basic configurations of Integrated Services Digital Network (ISDN). 
A basic rate interface has two bearer channels, one for voice and the other for data. It also has another channel for signaling. 
Benchmarking in a call center refers to the set of standards of measurement in comparing specific areas within the company with other organizations. 
Benchmarking is often used to assess and determine which areas in the organization need improvement. Further, it is also applicable to Key Performance Indicators (KPIs)
Call blending is one method that organizes the flow of inbound and outbound calls. For example, one customer service representative is performing more incoming calls than outbound calls. The particular agent will then be receiving more incoming calls. 
Call blending will block the dialer from performing outgoing calls for that specific agent. This happens by removing the agent on the algorithm for a specific amount of time. 
Call routing refers to a call management procedure that is designed for both incoming and outgoing calls. This process ensures that calls are routed to the appropriate agent or department that can handle the customers' queries and issues.
Call routing can also determine VIP customers and route their calls to faster or shorter queues.  
Customer Relationship Management (CRM) is an approach that is used by organizations in engaging with their customers. A CRM utilizes several systems to determine their customers' needs, improve interactions, sales approaches, and customer contacts. 
This strategy helps companies to retain their customers, expand their customer base, and boost their sales. 
A DMS is a computer system that is utilized to track, receive, manage, process and keep files and documents. Its purpose is to help make document processing smoother, faster, and more efficient. 
It helps companies in mitigating the use of physical documents. It also helps in keeping track of changes made in a document, as well as version updates. 
A DNIS is a service offered by telecommunication vendors that enables call centers to identify the number dialed by customers in an incoming call. 
End of call disposition is a call status that shows the reason for the call and its outcome. It can also determine what next action should be taken. 
EWT in call centers, as defined in the term itself, refers to the amount of time a customer should expect to wait before speaking to an agent. 
An FCR is one important metric that measures the quality of service customers receive during calls. 
First call resolution is usually supported by a case management application or a CRM. It tracks down calls that were resolved during the first point of contact. 
14. Flushing out the Queue
Flushing out the queue refers to the process of redirecting volumes of calls to a different group of agents. This allows customers to have their calls answered faster, avoiding long waiting times. 
Healthcare call center, also named medical call center, specifically attends to clients in the healthcare industry. 
Besides performing inbound and outbound calls, it also supports other healthcare processes. Appointment scheduling, pharmaceutical services, insurance claims, and revenue cycle management are just a few examples of services in this field. 
A helpdesk is one of the call center terminologies that represents customer support of computer software and hardware providers. 
It can also be used in taking calls that are specified concerning a product or service. 
Idle time pertains to the time an agent was unproductive during working hours. Specifically the time an agent did not use on calls or after-call work. 
An IVR is an automated phone system that enables callers to procure information through a recorded message or a voice response. 
Specific information is given to callers either via voice recognition or telephone keypad signaling. If needed, the call will then be directed to the correct agent or department. 
In judgemental forecasting, ideas, beliefs, and opinions serve as the basis in forecasting a specific outcome rather than statistical facts. The key fundamentals in judgemental forecasting are market research, intuition, and the opinions of business leaders. 
A KPI measures the overall performance of an organization by evaluating and analyzing different specified metrics. 
Live monitoring is usually used to observe real-time calls performed by agents. It helps managers to gauge how agents assist callers and how they handle the calls they receive. 
Live monitoring is often used for agents' coaching sessions and quality assurance. 
22. Machine learning
Machine learning is a branch of artificial intelligence that utilizes algorithms and data to learn with little to no direct human instructions. 
NPS refers to a market research metric that is in the form of a single survey. It aims to determine the customers' loyalty, customer satisfaction, and how they are most likely to recommend the brand to other people. 
Omnichannel in a call center is when customer service and support are performed via multiple communication channels. Customer service and support can be done through live chat, texts, video calls, social media platforms, and other communication apps. 
A predictive dialer is an automatic dialer that automates outgoing calls. In a predictive dialer, outgoing calls begin while agents are still on calls. By the time they close the call, another call is automatically ready to be handled. 
Quality assurance is a process that is set by the organization to make sure that the specific qualifications required in a product or service are met. 
27. Real-time data
Real-time data are sets of information that are collected or recorded during a call. 
Screen monitoring lets managers or supervisors view remotely what the agents are currently doing on their computers. This action is made possible by using a specific screen monitoring tool
29. Telemarketing 
Telemarketing is a method that makes use of outbound calls to market, promote and sell products or services. 
A VRS is another telephone system that makes use of speech recognition to interpret dictations, automatically dial numbers, or collect information from callers. 
Overall, regardless of what type of call center you work for, it's important to know the proper call center terminologies so you can give great customer service, clearly explain complex issues to customers, and help improve customer satisfaction.
To know more about other call center terminologies, you may also head over to our Glossary page.