Definition
Voice recognition system definition
A voice recognition system is a computer software program that can recognize human voices. It is often used to control a device, execute instructions, or write without the need for a keyboard.
Voice recognition is now done over the internet using automatic speech recognition (ASR) software. Many ASR applications need the user to teach the ASR software to identify specific voices so that it can transcribe voice to text precisely.
Further, it helps to enhance efficiency in various sectors, such as healthcare, and it can record data considerably faster than typing. The voice-to-text function can also spell the same words as any other writing tool and is helpful for people who have difficulty speaking or seeing.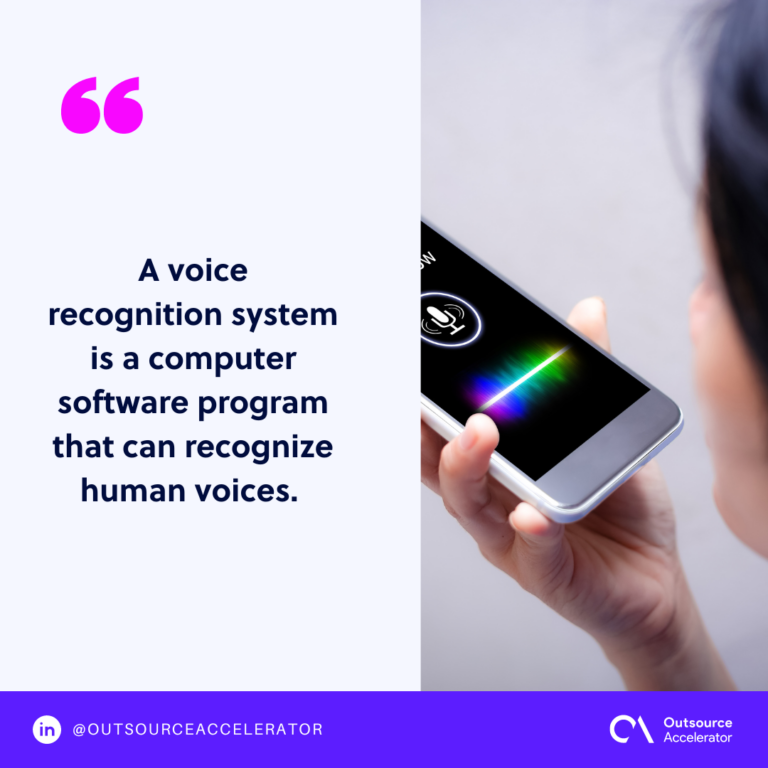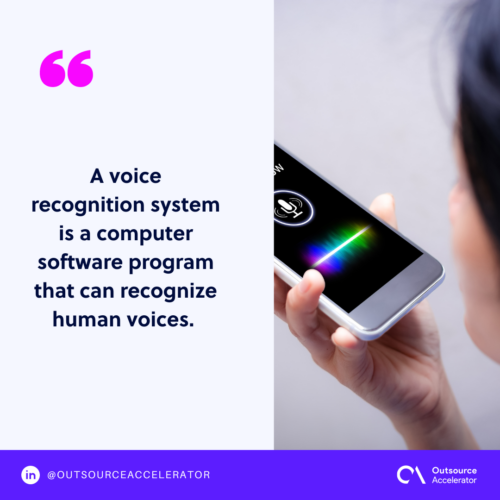 How does a voice recognition system work?
This system operates by capturing a voice sample of a person's speech using a speech capture device such as a microphone. 
The voice is transmitted as an analog signal routed over a noisy communication channel. The system then filters out the noise, separates it into frequency bands, and normalizes the sound. 
As a result, the sound is adjusted to fit the pre-stored templates of the voice in the system's database.
Types of voice recognition systems
Depending on the system used to generate them, some voice recognition systems operate differently from others. 
Speaker-dependent system.

Before they can use it, users must first read a series of words and phrases.

Speaker-independent system.

It identifies the majority of users' voices without any training.

Discrete voice recognition system

. It requires the user to stop between each syllable so that the voice recognition can recognize each word independently. 

Continuous voice recognition.

It can understand a regular rate of voice. 

Natural language voice recognition.

It can recognize the voice and provide responses to questions or other inquiries.
Applications of voice recognition systems
Here are some examples of where you can observe voice recognition systems:
Workplace
Voice recognition system's application at work makes tasks more efficient. For instance, meetings can be transcribed easily without the need for manual typing. 
Voice recognition is also applied to digital assistants, making it easy to search for files, print documents, or even hold video conferences.
Banking
In banking, voice recognition systems are used for various purposes, including getting information about transactions and balances without having to unlock your phone.
It also includes making payments and getting details about your transaction history.
Healthcare
Similar to its workplace application, a voice recognition system in healthcare makes it possible to find information from medical records quickly and enhance workflows.
Language learning
One of the most transformational uses of the voice recognition system is bridging the gap between different languages and cultures. 
It helps overcome linguistic barriers and promotes collaboration by facilitating language learning and translation. This allows people from different countries to communicate efficiently and confidently.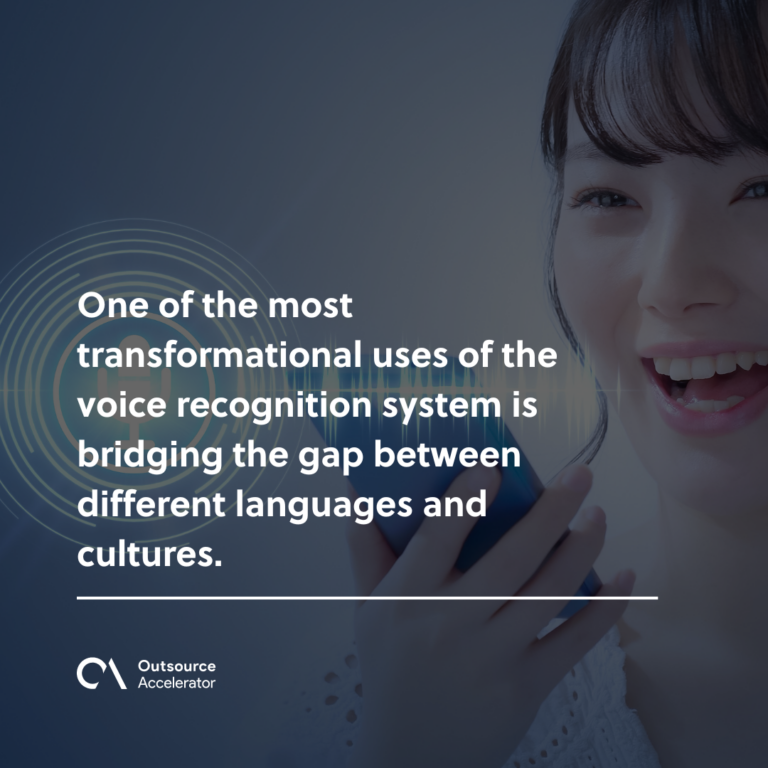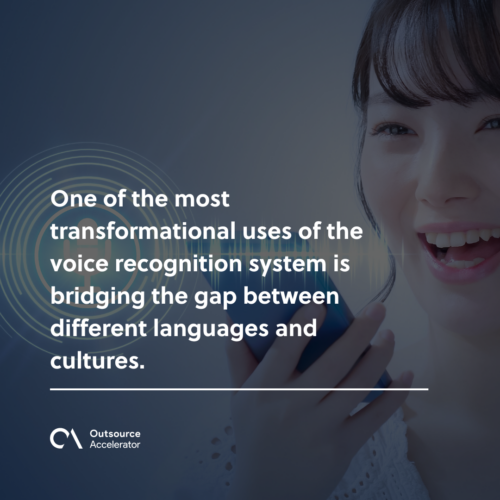 Advantages of a voice recognition system
Here are some of the advantages of using voice recognition systems:
Speaking is faster than typing
Voice instructions are a more efficient method of communication than typing a message. Voice recognition systems are increasingly integrated into gadgets to enhance convenience and efficiency. 
Systems are now far faster and more accurate at producing text than humans are at typing. Businesses may improve documentation processes and relieve the pressure of typing and other administrative work by incorporating this technology.
Voice recognition increases productivity
The most important function of voice recognition may be in the workplace, where it may support task management. 
For example, Amazon's Alexa can be used to manage and set up conference calls and provide reminders. The digital assistant even makes it easier to obtain information through voice searches over the internet.
It streamlines the process for everyone, increasing productivity and efficiency.
It speaks various languages
As mentioned, a voice recognition system can also help people who speak different languages communicate more effectively. 
The program may translate what's spoken in a foreign language into the local language so that the recipient of the information can understand. It assists in overcoming any language barriers in daily business procedures.
It improves security
Voice recognition enables businesses to develop a digital profile of a person's voice by assessing various precise features such as tone, pitch, intensity, dynamics, and prominent frequencies.
While all businesses favor utilizing voice to improve customer service, high-quality voice biometrics must be used to ensure that no sensitive personal information is leaked.