Document management system
Definition
What is a document management system?
A Document management system (DMS) is developed to digitally organize organizational files and records, whether they started on paper or were created by software programs.
Scanning is used to convert paper files to electronic forms. This allows for more compact storage, universal retrieval, higher levels of data entry protection. It also allows for quicker access to and control over business information.
A company-wide software development software, also known as corporate content management storage, manages digital files created directly by programs like those in the Microsoft Office suite, software development, and email. 
Document management systems are available in a wide range of sizes and configurations. Some are stand-alone applications, which implies they were explicitly designed to help users manage their files and documents.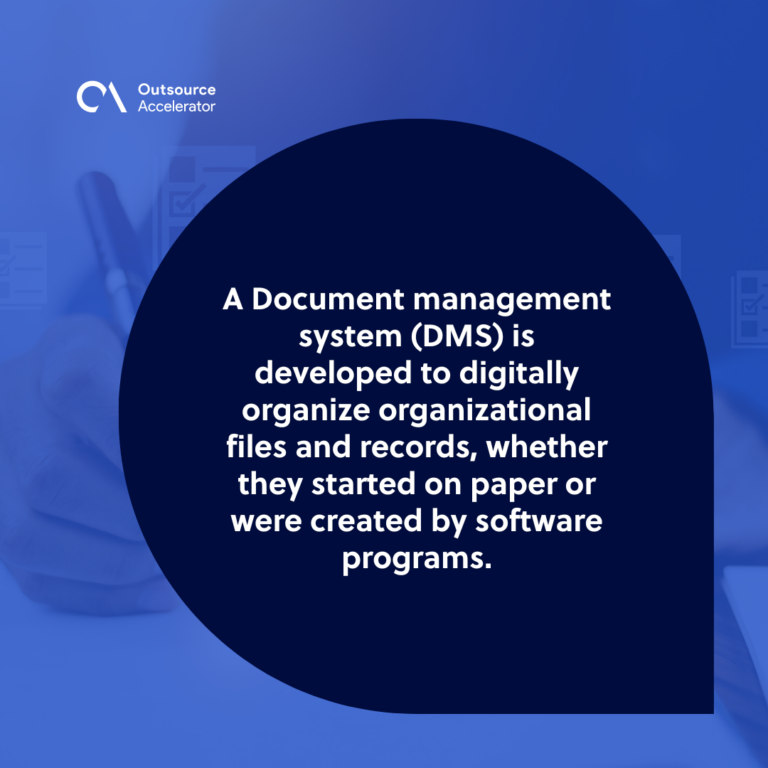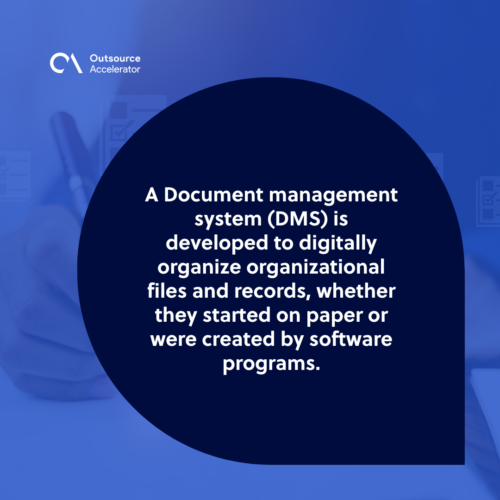 Benefits of using a document management system
Digital documentation is the way to go these days. The sooner you can transition, the better. Here are a few benefits of adopting a document management system:
Reduced physical storage
If your business still relies on paper documentation, you can certainly relate to the requirement for comprehensive storage solutions to handle piles of paper. Paying for storage space for paper papers may be out of the question if office space becomes more expensive.
Businesses can scan and upload the paper taking up office space by switching to this system, allowing them to dispose of papers and recover your space.
Lower costs
Building a business is a difficult task, especially regarding financial obligations. Modern business owners should do a budget plan to keep expenses as low as possible by minimizing depending on the paper.
Over a year, the paper may quickly pile up, primarily if it's utilized to transmit information to employees.
Save time—Instant access to documents
There is an increasing need for immediate efficiency in today's work capacity. Ignoring this requirement is the fastest way to fall behind.
When documents are stacked inside file cabinets, it may be pretty challenging to find something on the go. The document management system allows you and your team to instantly access any documents they need, no matter where they are.
The advantage over other businesses
Many start-up companies fail during the first five years of operation, which is an unfortunate reality. 
As you can expect, having a competitive advantage over other firms is not only beneficial, but also necessary in today's society. You get a competitive advantage by implementing a document management system.
Companies that don't take this step will eventually fall behind, while well-prepared for the future will survive.
Improved customer service
Keeping clients satisfied and focusing on customer service is critical for every organization. Since a document management system may also function as knowledge management software, you can provide your clients with immediate access to any information, technical advice, or documents you want.
This makes it considerably easier to answer problems than searching through piles of paper paperwork.
Higher rate of productivity
Increasing productivity levels might be challenging since identifying the roadblocks to growth is not always easy.
It's critical to make all required efforts to increase output levels to new heights, and simplifying company procedures fits nicely.
Your company's productivity will undoubtedly improve if you and your staff use a document management system to manage and organize information.
Environmental-friendly business practice
Going green is not only a fashionable trend, but it is also a necessity in a fast-evolving environment. People worldwide are taking measures to reduce their environmental impact, and this attitude has reached the corporate sector as well.
While running a green business isn't always simple, using a document management system is one of the most effective strategies to improve in the long run.
This procedure can save thousands of sheets of paper each month, resulting in a more ecologically responsible business model and lower costs.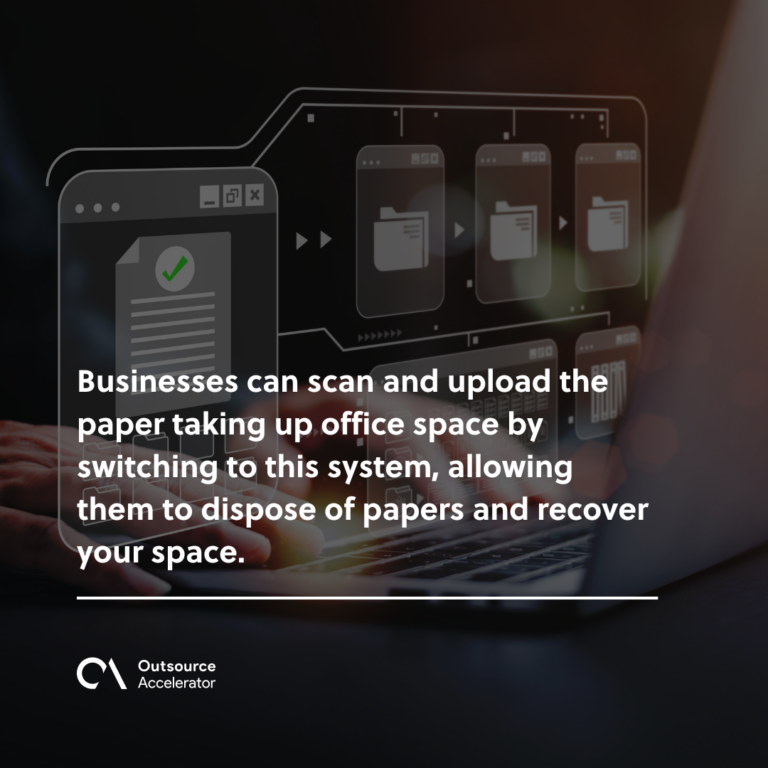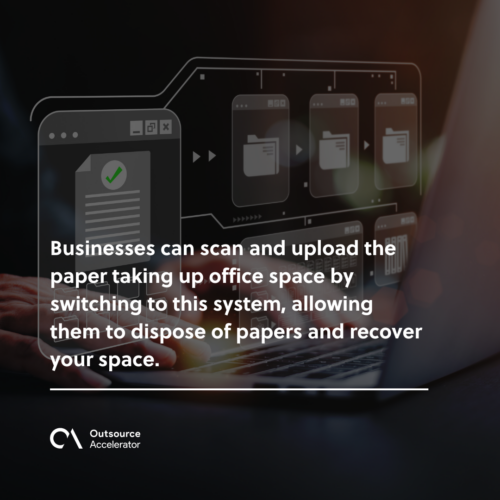 How do document management systems work?
Here's how document management systems work in businesses:
All documents' sources have been identified.
Paper records can be stored in file cabinets in a central filing section or departments, whereas electronic documents can be saved on each user's individual desktop computer or designated storage facilities in a networked system.
A competent DMS will identify where a certain document may be found and, in several cases, will produce the document on demand.
A system of classification for all documents
A simple strategy for organizing documents can help keep paper documents in properly labeled paper folders and file cabinets. It may also lead to creating a hierarchical system of disk folders and a document indexing system and improve their efficacy.
While directories can help you quickly find the content you're looking for, an index can assist you in finding it using a search engine.
Tools for modifying document processing of business operations
For instance, the DMS will send certain files through specific routes to examine, remark, and approve the documents. Automated notifications can bring outstanding papers to the attention of those who need to know.
Facilities for quick retrieval of documents
Information concerning document storage and categorization systems will be distributed to all. Individuals involved, as well as relevant information were made available at filing sections and workstations for rapid reference.
This can help individuals who require specific papers in determining where and how to get the document. Further, search technologies can improve the discovery of electronic documents, such as locating all papers relevant to a specific subject or categorization.