Specialising in Outsourcing Operational Excellence with Jamie Booth of Booth and Partners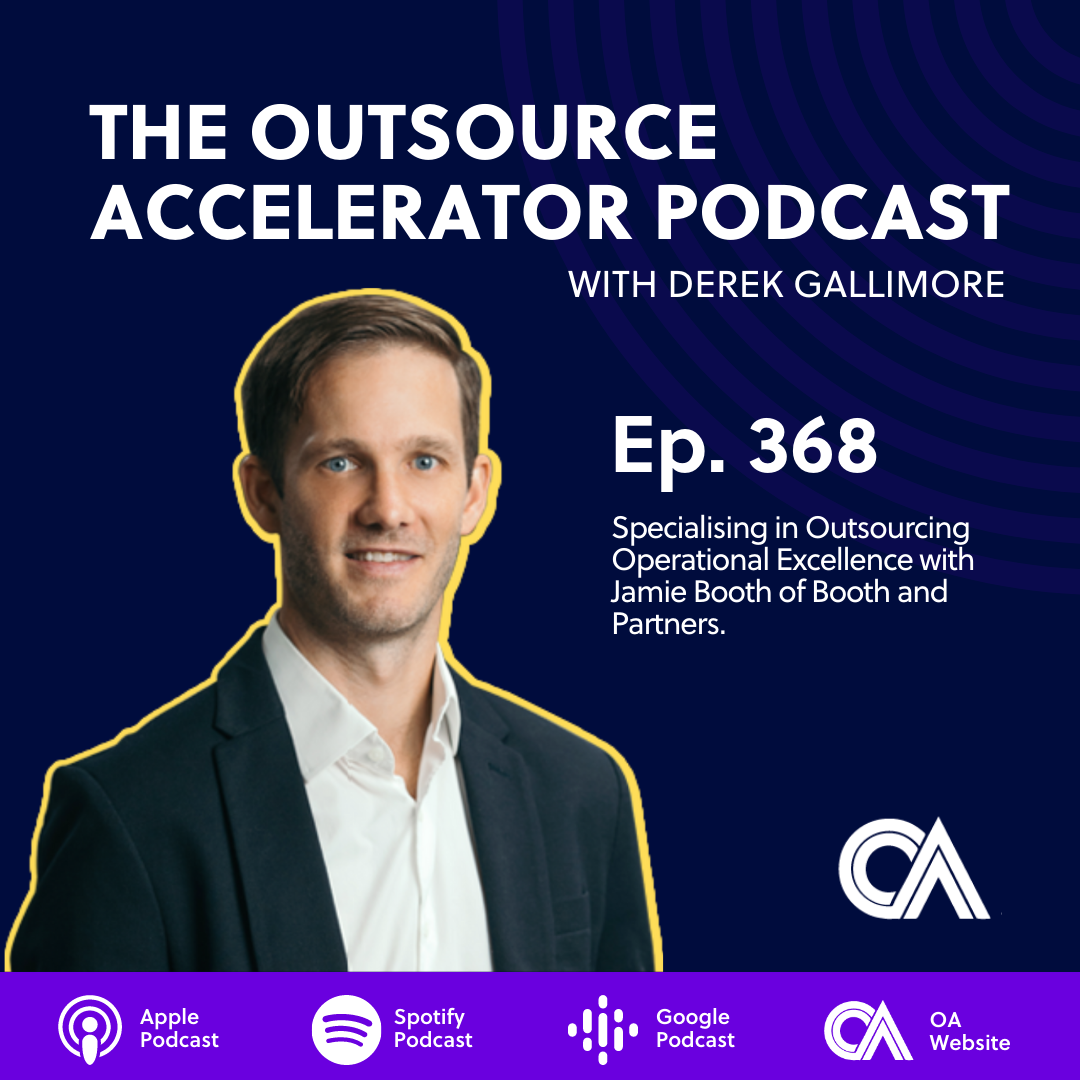 Booth and Partners
Derek Gallimore talks with Jamie Booth, Managing Director of Booth and Partners. A boutique outsourcing company in Manila, Booth and Partners offer staff leasing and co-managed outsourcing solutions for small and medium businesses globally.
Months after Booth and Partners CEO, Carmen Booth, became a guest in the OA podcast, the company continues to thrive in providing staffing solutions to their clients. In this episode, Derek and Jamie will discuss the company's background and beginnings and how staff leasing helps businesses conquer employment challenges today.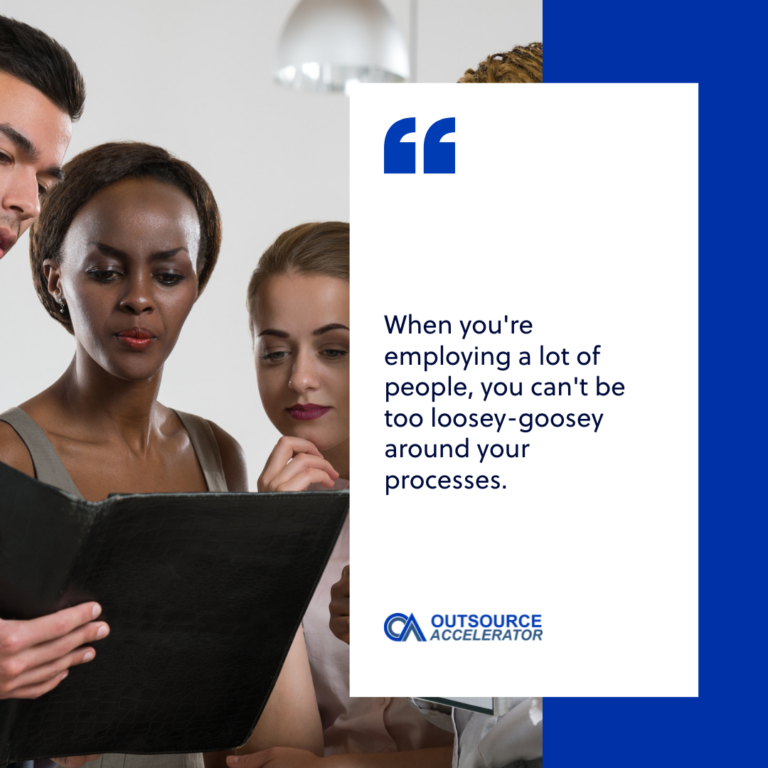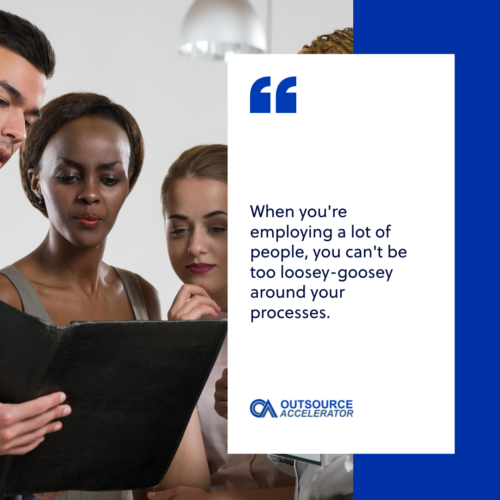 How Booth and Partners was founded
Jamie Booth is the Managing Director of Booth and Partners, a boutique outsourcing firm in Manila. The company's CEO and co-founder, Carmen Booth, was a guest in episode 334 of the Outsource Accelerator podcast.
Jamie and Carmen conceptualized Booth and Partners while living in Singapore. According to Jamie, Carmen mostly ran the business "from the outset" while he helped with certain aspects. He entered the company in its fifth year when it started to grow. 
He admitted that they "didn't know a lot" when they started, only learning about the outsourcing industry and its roundabouts while building their business. Though they got an engaging client right away, expanding beyond one client "took a lot of hard work" and connections.
Instead of focusing on a specific field, Booth and Partners decided to be a generalist and focus on their client needs. Being a client-focused company helped the company grow to what it is today.
What Booth and Partners offer to their clients
Per Jamie, being a boutique outsourcing operator allows them to focus on SMEs. This is since the size of their company enables them to "tailor [our] outsourcing solution specific to each client."
Booth and Partners has three core services offered to clients:
Staff leasing services

. Being a "cost-plus model," this offer allows their clients to "retain operational control."

Managed services

. Here, the service provider handles every aspect of their operations, including recruitment and quality assurance.

Employer of Record (EoR)

. Clients tapping them as EoR usually get their employment service for their existing teams in the Philippines.
Per Jamie, some of their clients' needs "might not fit into one of those categories," causing them to blend two or three of their services.
How Booth and Partners get the right people for their clients
Booth and Partners stick with their tagline: "Right people, right solutions." To them, getting the right people "[gives] positive results to their clients," helping them grow their operations as they grow their business.
Jamie explains that they "spend [a bit] more time with the clients in the beginning" to understand the roles and requirements in a staff. 
Once they got to know the roles to be filled, their talent acquisition team will then start to look for the talent. For the final stage, their clients are presented with the best clients to review, interview, and get hired for their team.
This method, as Jamie says, empowers businesses to treat their teams "as an extension of their [own] companies."
The difference between hiring in Seattle vs hiring in the Philippines
Since Booth and Partners deal with SMEs, their clients usually don't have enough resources to put up teams for talent acquisition, HR, and even accounting. Thus, these businesses need the support they can get from outsourcing firms.
Having a good service provider, as Jamie implies, erases these worries for SMEs. What usually starts as a cost-saving method ends up adding support and value to businesses that need it the most, and this helps them focus on growth and innovation better.
Integrating core teams with their offshore teams
Jamie recommends businesses that have offshore teams to "engage with them [as much as possible]" and make them part of team huddles. This boosts the team's positivity and motivation.
Further, getting remote teams engaged with the core team even pulls their retention rates higher than those with little engagement. 
Per Jamie, they do the same thing with their employees. Booth and Partners want their workers to feel "like they're part of a family aspect" instead of simply doing a job.
In terms of processes, the company follows its own set of procedures and integrations in connecting with its employees. Jamie believes that a business "can't be too loosey-goosey around [their] processes" when employing volumes of workers.
Jamie's insights on "quick wins" in new clients
Jamie recommends hiring "vanilla roles" or functions such as tech and customer support for clients new to outsourcing. This is since talent is abundant within these functions, making them easier to delegate.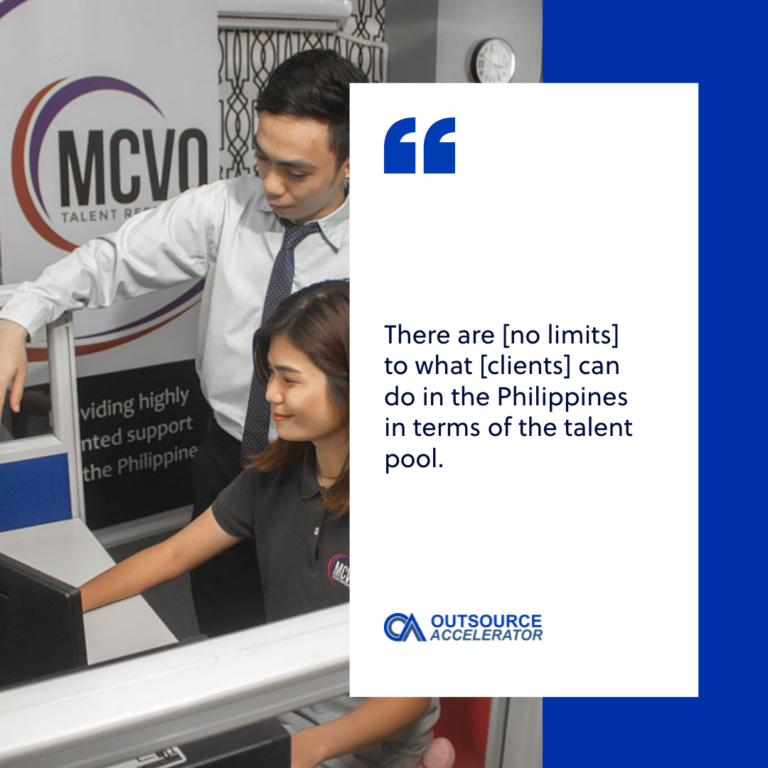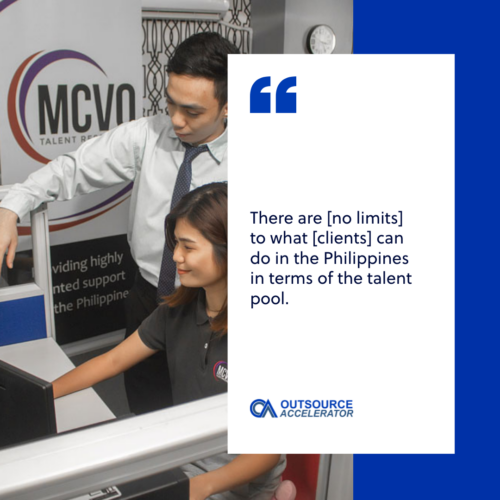 How the "great resignation" fared with outsourcing
The "great resignation" has become a hot topic for media outlets in the US and Canada. Even Jamie observed industries getting understaffed.
However, outsourcing providers such as Booth and Partners have been "tremendous" during these times. Since businesses are "struggling to recruit" with the increasing salaries and requirements, service providers filled up these roles with talents from the Philippines.
Jamie admits that most companies were hesitant about outsourcing before the pandemic. When COVID started, it "became a household name," knowing the benefits that clients can get.
All in all, the pandemic and the great resignation brought a "tremendous leg up" for global outsourcing for the following reasons:
Talent gap

. With the increasing employment demands, it has become "[difficult] to recruit and [people] are resigning."

Remote work

. Companies are now "comfortable with remote work" knowing that most functions can get done through the cloud.
Companies interested in reaching out to Booth and Partners can check out their website: https://boothandpartners.com/.
Listen to more podcast episodes here: