Definition
What is an Employer of Record (EOR)?
An employer of record (EOR) is a third-party company that handles employment responsibilities on behalf of a company.
It helps them outsource their tax compliance, human resources management, payroll, and other related tasks to minimize their liabilities and risks in setting up an offshore operation. 
When companies hire an EOR, the latter gets to be the formal employer of their employees. Though, they will render work in the company the same as a regular employee does. This is perfect for small companies that want to enter a new market while having limited HR capabilities.
Employer of Record Philippines
Hiring an EOR is applicable not just for overseas employment but also for offshore staffing. Many EORs in top outsourcing countries such as the Philippines offer comprehensive and affordable employment solutions for small and large businesses.
The Employer of Record is the authorized employer of the employees in the publication, as indicated by the name. Despite this, the EOR has no managerial or supervisory responsibilities.
All decisions about projects, job tasks, compensation, and termination are still made by the original company or customer.
To learn more about this topic, Outsource Accelerator has created a list of the leading EOR and PEO providers in the Philippines.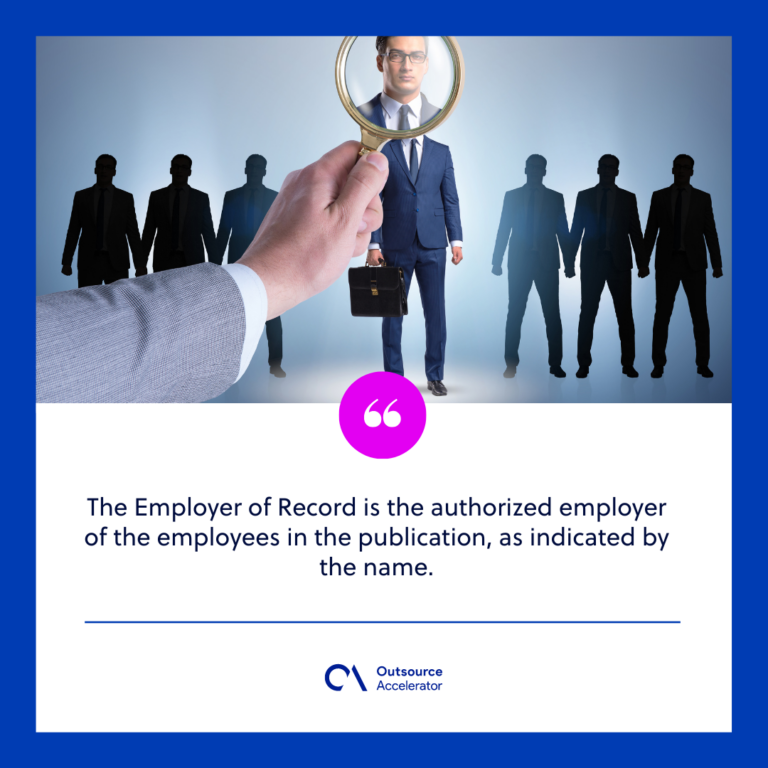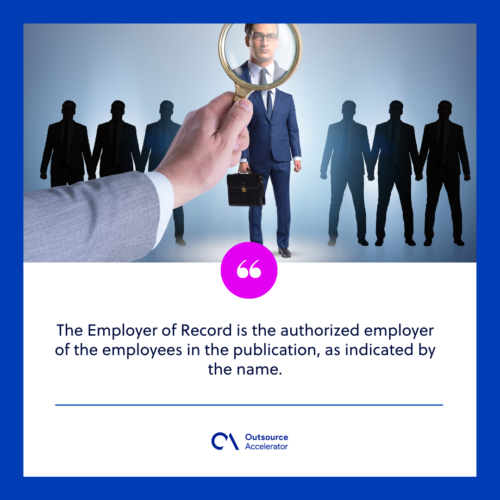 What does an Employer of Record do?
An Employer of Record is responsible for ensuring that immigration, employment, and payroll legal and regulatory obligations are followed, but is not involved in day-to-day operations.
In essence, the EOR is the worker's registered employer, but it has no supervision or managerial responsibilities to the employee's position.
The actual work relationship is maintained by the original employer, who makes all choices about compensation, responsibilities, projects, and termination.
The employer of record, in particular, is the state entity that:
Organizes all of the employee's visas and work permits to minimize delays or rejections.

Complies with all labor regulations in the nation, including those governing local agreements and worker rights.

Provides information about required employment contracts, termination procedures, and severance compensation to the customer.
Why use an Employer of Record?
When hiring people in a remote location, the primary purpose for utilizing an Employer of Record is to avoid regulatory and financial limitations.
For individuals doing business, each nation or region has its employment, payroll, and work permit regulations.
The difficulty of complying with certain laws can be a significant barrier to cross-border business expansion.
Employer of record (EOR) might be a great option for companies that are just entering a new market or have limited human resources.
What are the benefits of Employer of Record (EOR)?
Business owners can save time and resources as a client, which they may use towards more important tasks. Below are the significant benefits of hiring an employer of record (EOR).
Reduced employee accountability
Employer of record (EOR) is in terms of monitoring the employees' well-being.
The EOR performs a variety of duties that are mandated by the government and healthcare organizations. These responsibilities include payroll processing and insurance coverage.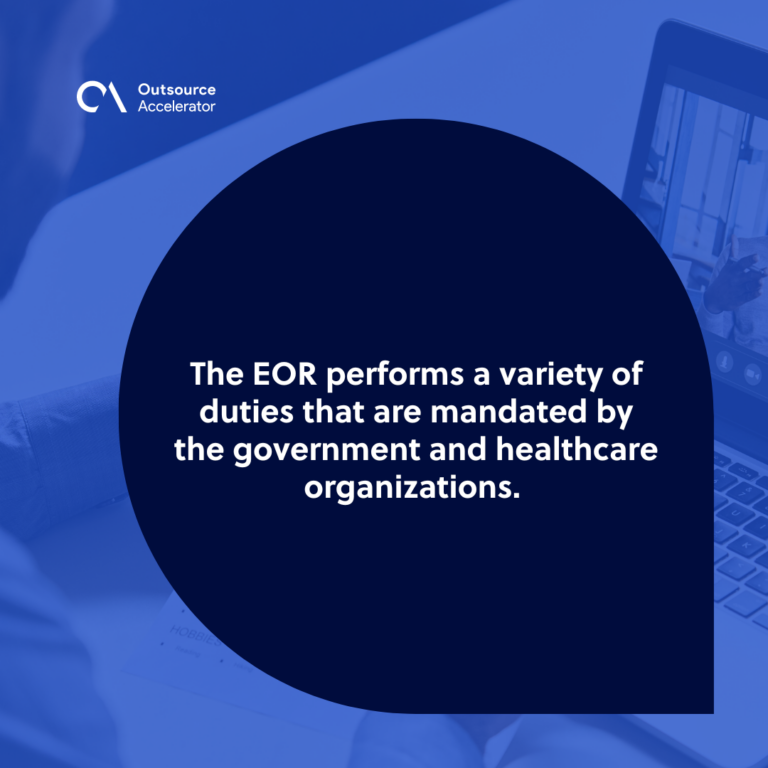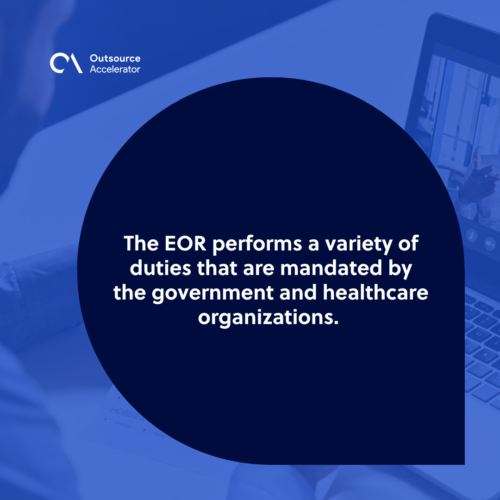 Compliance monitoring
It is not necessary to be familiar with the labor and tax regulations of the nation from where a customer is recruiting.
The EOR ensures that your payroll processing complies with the country's labor regulations.
The employer of record (EOR) should stay updated on local legislation to relieve the task of maintaining compliance.
This benefit is especially useful if the customer operates an international company. The firm will be compliant with all applicable regulations ensured by EOR.
Time and indirect cost savings
By collaborating with an EOR, company owners will have more time on their hands.
They will save time since companies will no longer have to deal with HR and payroll concerns.
Furthermore, because firms will pay the EOR a fixed fee for each hour the employee works, they will be able to save money.
Unnecessary local incorporation
If a company chooses not to hire a third party, local incorporation and registration are required.
Since companies would require professional accounting and legal assistance, these processes are costly and time-consuming.
By hiring an EOR, the business will be able to assure compliance without the inconvenience of the long processes.