Effective tips for successfully engaging a remote team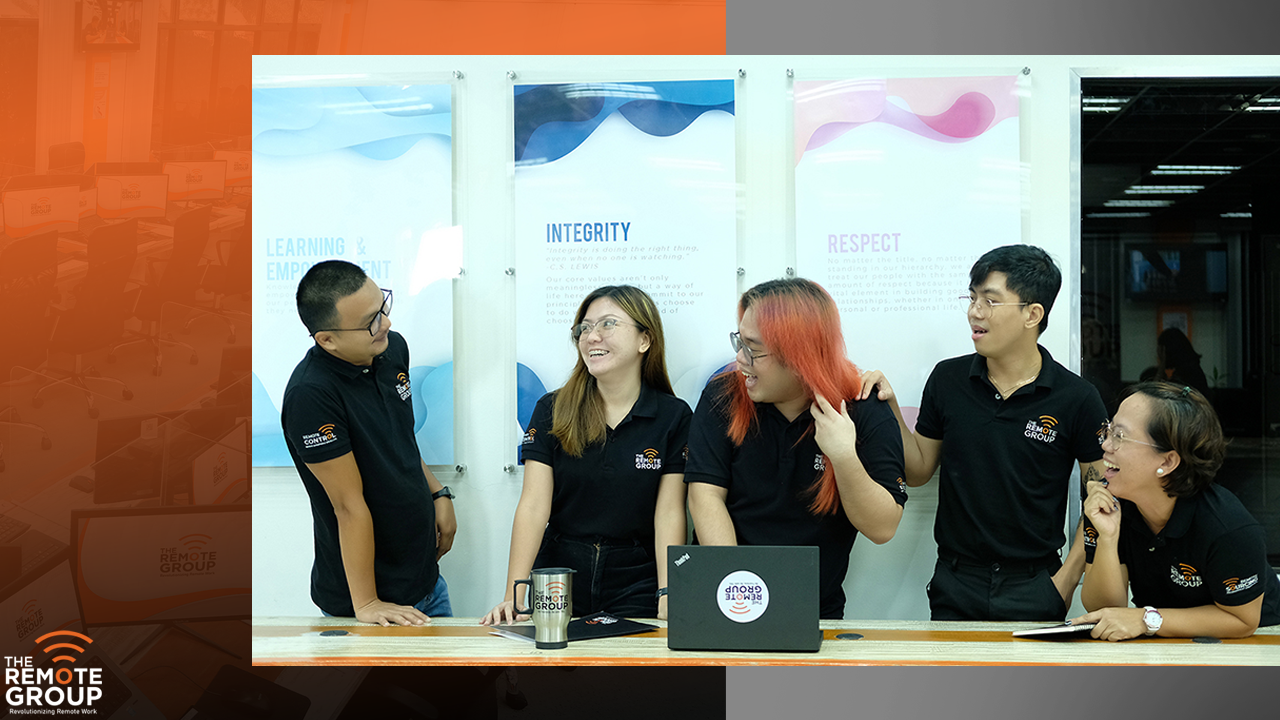 Remote work has been on the rise for years, even before the pandemic. Amid the health crisis, experts expect this movement to grow even further.
However, managing a remote team is not always easy.
One of the biggest challenges in remote working is employee engagement. This article can help you address this issue.
We will discuss below how a remote team works, the importance of employee engagement, and five effective strategies to keep your staff connected wherever they are working.
Remote team definition
A remote team is a group of employees who work on a joint project without working together in the same location. Some remote teams deal with diverse skills and cultures as they work through various time zones.
Remote teams come in various forms. Some organizations prefer a dispersed workforce who work away from the office. 
Others give their employees a flexible work option, while other companies prefer to hire top talents from other countries.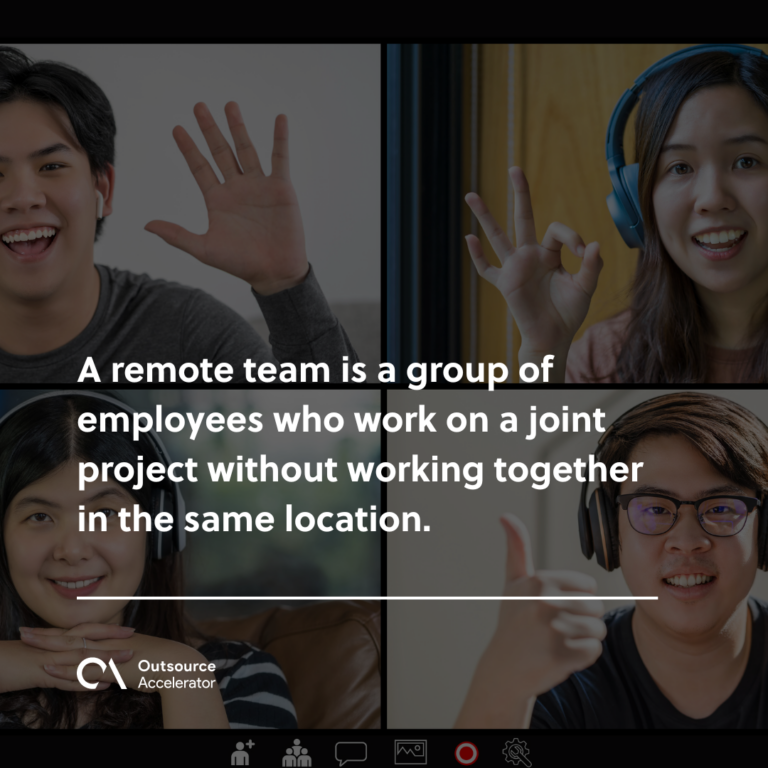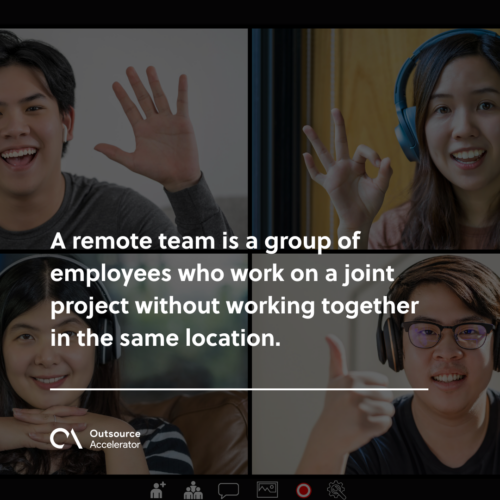 The importance of employee engagement in remote work
Employee engagement refers to how much cognitive, emotional, and behavioral energy employees devote to their jobs.
The past year has especially highlighted the need to prioritize engagement for remote teams. Organizations have to take a creative approach in reaching out to their work-from-home employees.
Keeping a more engaged remote team that is personally invested in their work and strives to do their best in every task. In turn, they are more willing to contribute time and effort towards their roles and the company's goals. 
How to effectively engage with your remote team?
Since remote work is expected to continue in the coming years, mastering employee management and engagement is essential. 
Use these following tips to keep your remote team happy and productive while they're not in the office.
Stay connected
Technology helped make remote working easier for everybody in the company. Through various messaging applications — like e-Zoom, Google Meet, Skype, and Slack — you can stay connected with everyone.
Utilize emails, chats, or video conferencing to help your virtual team feel more present in their office environment.
Aside from assigning tasks and schedules, team meetings and one-on-one conversations can also be used to ask about your team's concerns and possible issues with work.
Set expectations
Connecting with a remote team is more efficient when there are expectations in place for everybody. 
Establish the best ways and times of the day when everyone can reach each other. After all, no one wants to receive urgent messages and emails five minutes before their shift ends. 
Additionally, set clear expectations on their workloads and deadlines and ask for their feedback. A manager should not simply assume that every employee understands the tasks that they are given every time. 
Recognize contributions
According to Quantum Workplace's 2020 report, recognition is a top driver for employee engagement. Acknowledging your employees' excellent performance helps them feel connected, appreciated, and valued by the company.
This also boosts employee retention and motivates everyone to do their best at their jobs.
Keep them updated
Now that almost everyone stays at their homes, remote employees can easily get left out on the latest news in the company.
Keeping your remote team updated on projects, goals, company news, and progress through communication channels or trackers is important.
When remote workers feel that they are part of the dialogue, they will be empowered in their roles in the organization.
Avoid micromanagement
One of the most appealing aspects of remote work is its flexibility. Allows your employees enough autonomy around when and how they work the rest of their shifts.
Avoid micromanaging their workdays and be confident in their ability to finish the job on time. Trust is the key to fostering a genuine relationship with your remote team.
Plus, giving your remote team the ability to manage their time enables them to develop a healthier work-life balance while at home.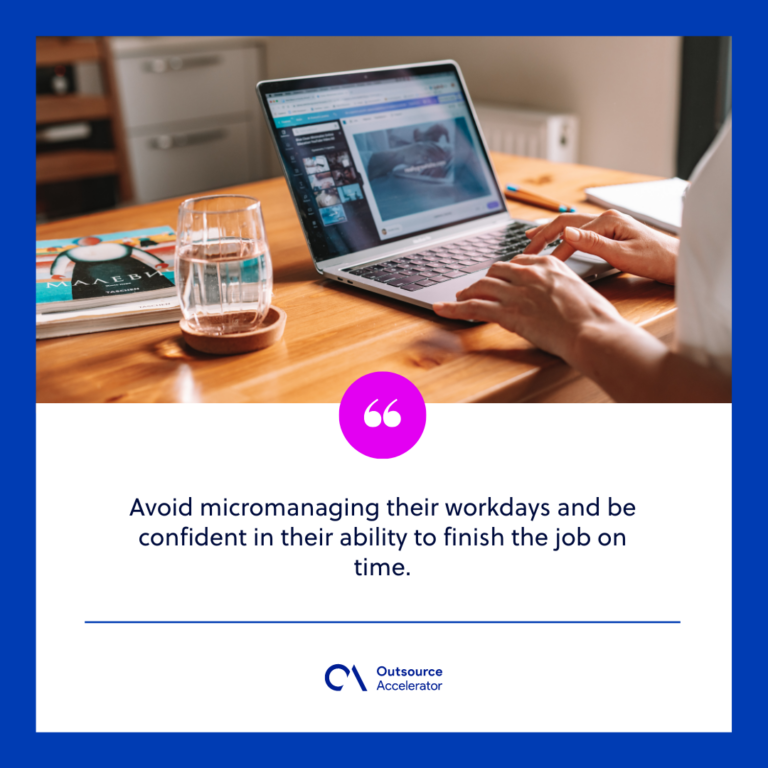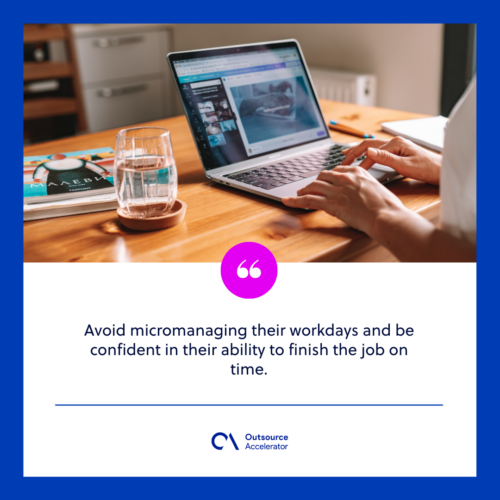 Introducing The Remote Group's team of specialists
One of the advantages of exploring remote work now is that you can hire an outsourcing partner to help you build your remote team.
The Remote Group's team of specialists can help drive your business to success – all while reaping the benefits of having an offshore team. Their focus on providing customized offshore staffing solutions allows you to build or scale teams "remotely." 
This Philippine-based firm offers its world-class expertise to help your business grow in the most cost-efficient and productive manner possible.
Visit The Remote Group's website now to learn more about their services.