15 outstanding messaging apps list for your remote teams
Part of managing your remote teams is effective communication. Without proper understanding with regards to tasks and each individual employee, remote work will not work. It is also crucial when it comes to the success of performing remote collaboration for projects at work. 
It is hard enough to keep your business up and running while at home, yet managing your remote teams. Apart from utilizing online collaborative tools, it is also best that you use messaging apps. 
For your team, here are 15 messaging apps to choose from. 
Top messaging apps for your team
Significance of messaging apps to virtual teams 
These messaging apps help you and your remote workers to interact with each other anytime and anywhere. 
Due to the pandemic, there are currently over 2.7 billion deskless workers or mobile employees across the globe. This amounts to over 80% of the overall global workforce.
These types of remote workers may usually not have the time of the day to answer relentless calls. Thus, they may not usually have access to work emails per se. 
These messaging apps help keep your employees synchronized even though they are not physically working together in an office. It will also be easier for each team member to reach out to everyone or individually for urgent concerns.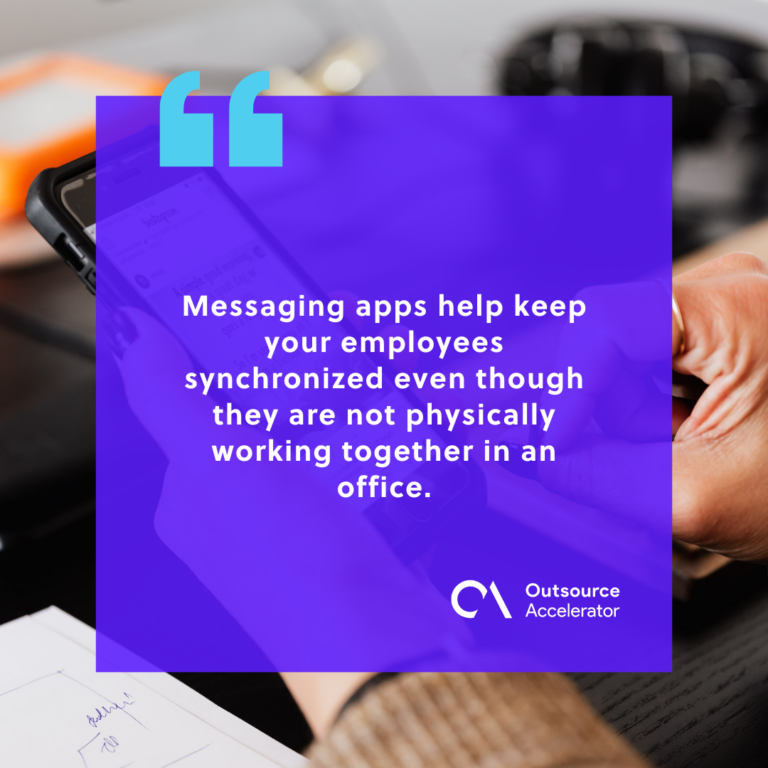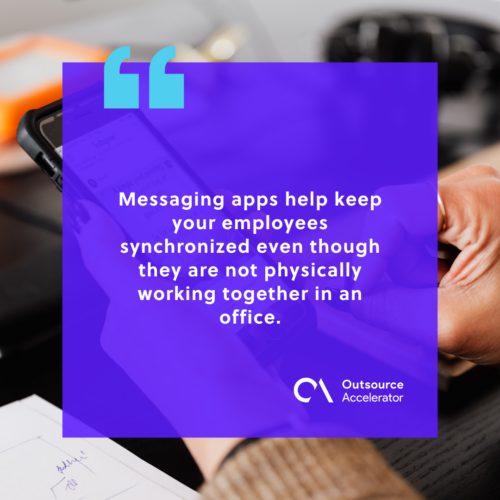 How remote teams can benefit from these messaging apps
To explain it further, these messaging apps offer your remote team the following benefits: 
Enhanced communication
Messaging apps allow you and your team to have seamless communication anytime of the day. Teamwork is hard enough to be well executed when you're not working physically with your staff. 
These messaging app tools let you and your remote workers share ideas freely, documents, videos, and other important files. 
Project management 
Project management has never been easier and much more coordinated without these messaging app tools. 
Since everyone is able to communicate with each other properly, it eases the possibility of miscommunication and confusions. Further, it is also one of the most suitable tools to manage  individual tasks and projects. 
Organization
Another great thing about this messaging apps list is that all apps included also have features that allow your team to work collaboratively. 
These tools let the entire team to be on track on certain tasks and projects. It also helps your staff to be organized on each individual task. As for your end, it enables you to monitor progress on specific tasks or projects. 
Time-saving
Remote work is not an excuse to be delayed on deadlines. Messaging apps help your employees to save time while working collaboratively with the team. 
A coordinated remote team helps you save on resources and unwanted expenses. 
Employee accountability
The main objective for utilizing these messaging apps is to strengthen internal communication within the organization.
Through these messaging tools, your remote employees can make regular updates regarding their individual workload. This helps create a sense of responsibility and accountability towards their specific role in the team. 
Improved employee engagement
Messaging apps don't just help you facilitate and monitor your remote employees, it also unites your remote workforce. It definitely helps enhance your employee engagement. 
On top of that, as your employees are able to interact efficiently with other remote staff, it also helps boost everyone's productivity. 
Solidifies remote team relationships 
This messaging apps list that we have outlined in this article, if used properly, promotes healthy working relationships within your organization. 
Whether it is in person or through a messaging app, connecting with fellow employees helps foster a healthy culture within the working environment. In turn, this opens up more opportunities for development and innovation.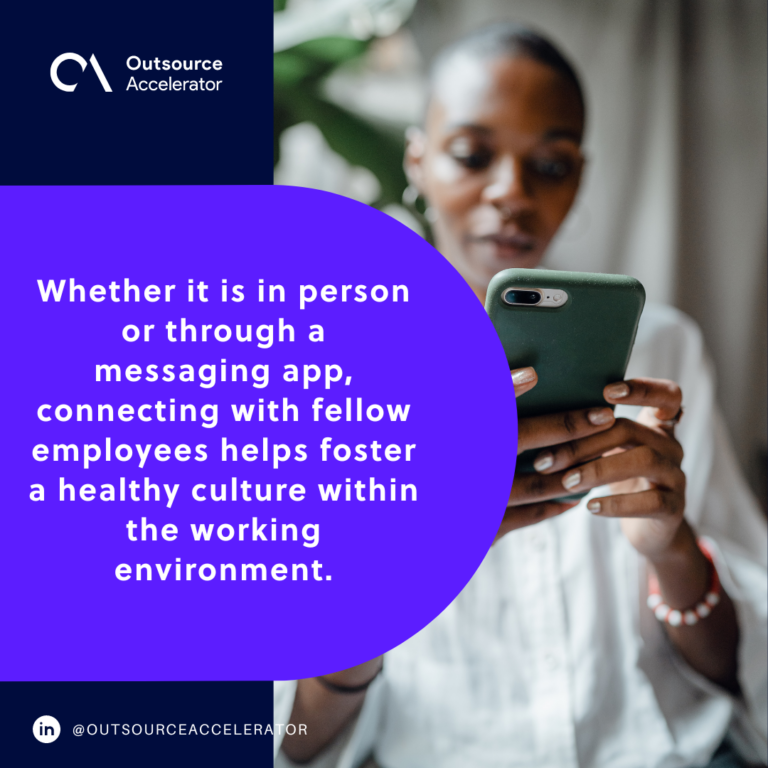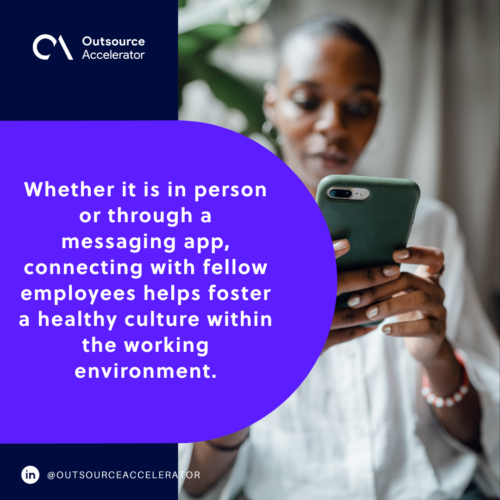 Top 15 messaging apps to consider
Now that we have detailed the advantages of utilizing messaging apps while your employees work from home, let us jump right into the main discussion points. 
Below we have outlined the top 15 messaging apps you can choose from: 
Apart from messaging, Troop Messenger also has other great features for remote teams. Examples of these features include voice and video calls, screen sharing, group chats, and audio messaging. In terms of its collaborative features, it allows file sharing, file preview, and content filtering. 
This messaging app supports MAC OS, Android, Windows, Linux, Web, and iOS platforms. 
Pricing: Apart from its Free plan, it also has a Premium Plan that amounts to $1 for every user, monthly. As for the Enterprise Plan, it starts at $3 per user, each month. 
Chanty's quality communication features include individual or group chat, audio and video calls, and screen sharing. It has its Teambook feature which allows each team member to view all messages, contacts and tasks in one place. 
Chanty app can be integrated with other collaborative apps like Trello, Google Drive, Dropbox, and others. Its supported platforms are WIndows, iOS, Android, Web, and Mac OS. 
Pricing: Its Free plan is for teams with up to 10 members. As for its Business plan, it starts at $3 for each user, monthly. 
Proofhub is a team communication software with all-in-one features for remote organizations. It allows private chat and group chats among team members. It also has a @mention feature that enables users to loop in specific staff involved in the discussion. 
Pricing: This messaging app has a 14-day free trial. It supports Windows, Android, iOS, and Web platforms. Its Essential plan is at $45 each month, for unlimited users.
Its Ultimate plan is billed $89 monthly for unlimited projects and users. 
Brosix has different collaborative features like chat rooms, screen sharing, video and audio calls, file sharing, and instant messaging. It also has an unlimited size feature for file transfers. Bosix messaging app utilizes P2P encryption for all communication channels. 
Its supported platforms include Linux, Mac, Web, Windows, and iOS.
Pricing: Its Startup plan is for free, exclusive to only 3 users. Business plan is at $4 for each user, monthly. Its Premium plan is $6 for each member, if it is billed annually. 
Rocket.Chat is a communication and collaboration application tool that was released in 2015. Examples of its special features are real-time chat, video conferencing, file sharing, and audio calls. It also has translation, admin transparency, and user-name restrictions features. 
It supports Windows, Mac OS, Android, iOS, and Linux platforms.
Pricing: Rocket.Chat has a Freemium plan, Pro plan ($3 per user/ monthly), and Enterprise plan (price is available upon request). 
Hangouts Chat is a communication channel that is created by Google. This allows remote workers to connect and engage in different communication platforms easily. Its features offerings include screen sharing, voice calls, HD video conferencing, and custom admin control options. 
Its supported platforms are iOS, Android, Web, and Mac OS.
Pricing: Its Basic plan is at $5 per user/monthly, with up to 30 GB storage. Business plan is $10 for every user per month, and Enterprise plan is $25 each use each month.
Besides being a messaging app tool, Connecteam also offers employee management solutions for remote organizations. This app's key highlights include private chat according to different categories (location, project,department, etc), employee directory, HR suggestion box, Surveys, and more. 
Connecteam's supported platforms are iOS, Android, and Web.
Pricing: Connecteam's Basic plan is at $29 each month for up to 200 users. Advanced plan at $59 each month/ 200 users and Expert plan is $119 monthly/ 200 users. 
Ryver makes use of Active Response Technology™ for its team collaboration and communication features. This messaging app allows group messaging, conversation searching, screen sharing, file sharing, and more. 
Its supported platforms include iOS, Windows, and Mac.
Pricing: Its Starter plan is $49/monthly for up to 12 users. Unlimited plan at $99 each month/unlimited users, and Enterprise plan at $399 monthly. 
Slack is among the widely used communication and collaboration tools across various remote organizations. It provides instant messaging features, file sharing, automatic synchronization across different devices, and many others. 
It supports different platforms such as Linux, Mac OS, Web, Android, Windows, and iOS.
Pricing: Slack has a Freemium plan, Standard plan ($6.67 per user/monthly), and Plus plan ($12.5 per user/monthly). 
Facebook Workplace has one-on-one instant messaging and group messaging for specific departments to communicate privately. It has features for collaboration within the users and specific admin controls. It also makes use of APIs for bots and custom integrations. 
Facebook Workplace supported platforms are web, Android, and iOS. 
Pricing: It has Standard plan, for free and Premium plan for $3 per user, for each month. 
Convo helps simplify remote collaboration and communication between various teams. This messaging app tool's key features encompasses file, image, and video sharing, custom notifications on web, desktop and mobile applications. 
Convo app supports specific platforms such as Android and iOS.
Pricing: Convo has a Free plan. Its Pro and Enterprise plans' prices are available upon request.  
Flowdock is a team chat software with a wide range of inbox and chat features, including up to 35 integrations. Its specialized features are message tags, custom emojis, gifs, and file sharing. 
Flowdock supports Mac, Windows, iOS, and Android platforms.
Pricing: It has two plans – Standalone at $3 per user/ monthly, and Enterprise $9 per user/monthly. 
Twist is another trusted communication and collaboration tool for organizations that are working remotely. It helps teams focus on their work while engaging in real-time. Among its key highlights include automated reporting, voice and video calls, search option, and more. 
Its supported platforms – Windows, iOS, and Android.
Pricing: Remote teams may avail of Twist's Free plan or Unlimited plan which is priced at $5 each user, per month. 
Glip is a collaboration software app created by Ringcentral. It provides free messaging, video conferencing, and various task management features. It also allows screen sharing, file sharing, including voice calls. 
Glip supports platforms like iOS, Android, Web, and other desktop applications.
Pricing: Besides its Free plan, it has a Standard plan for $5 per user/ monthly. 
Flock is another renowned tool for online collaboration and communication among remote workers. It has a drag and drop feature for file sharing, as well as a preview button for shared files. Over 60+ third party applications can also be integrated with Flock.
It supports iOS, Android and Web platforms.
Pricing: Flock has a free plan, Pro plan ($4.50 per licensed user/monthly), and Enterprise plan (price is available upon request). 
There are also other available messaging applications online that remote organizations may acquire for free or certain prices. 
As you can see, these tools do not just work for real-time communication alone. Most of these applications come with special features that allow effective collaboration among remote teams.