---
---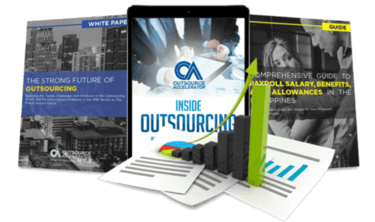 Outsource the right way, the first time
Get up to speed in outsourcing with this all-in-one tool kit
GET YOUR FREE TOOLKIT

PARTNER

PRO
About Booth & Partners
Booth & Partners is a boutique outsourcing company headquartered in Manila, Philippines.
We provide tailored outsourcing services to help small to and medim sized growing businesses improve focus, realize better asset utilization and generate ever-greater corporate value.
Since our inception, we've partnered with clients from all over the world. Client locations such as the United States, Canada, Australia, United Kingdom and Singapore. These global partnerships have helped us to redefine what great customer experience truly means.
What Booth & Partners offers its clients
Create an extension of your business in the Philippines with our full-scope outsourcing solutions.
We will help you build your own team of industry professionals and specialists and connect you with top-quality Filipino talent who have the right skills, attitude, and are culture fit for your organization.
How Booth & Partners outshines the competition
We do things better then our competitors. The proof is in our numbers and our ability to create a strong culture of engagement within the team members we hire drives long lasting results for our clients.
Booth & Partners company structure
We are a boutique BPO, owned and operated by 2 Western professionals that have a passion for quality services. Initially founded from solving a need for our own businesses & partner businesses.
Sample highlight service offering of Booth & Partners
We are flexible. We have office inventory for a small business looking to scale. Or we can operate a remote work from home team and support team members virtually. Our prices are fair and services can be tailored based on clients budget and needs.