Boutique Outsourcing Services with Booth And Partners' CEO, Carmen Booth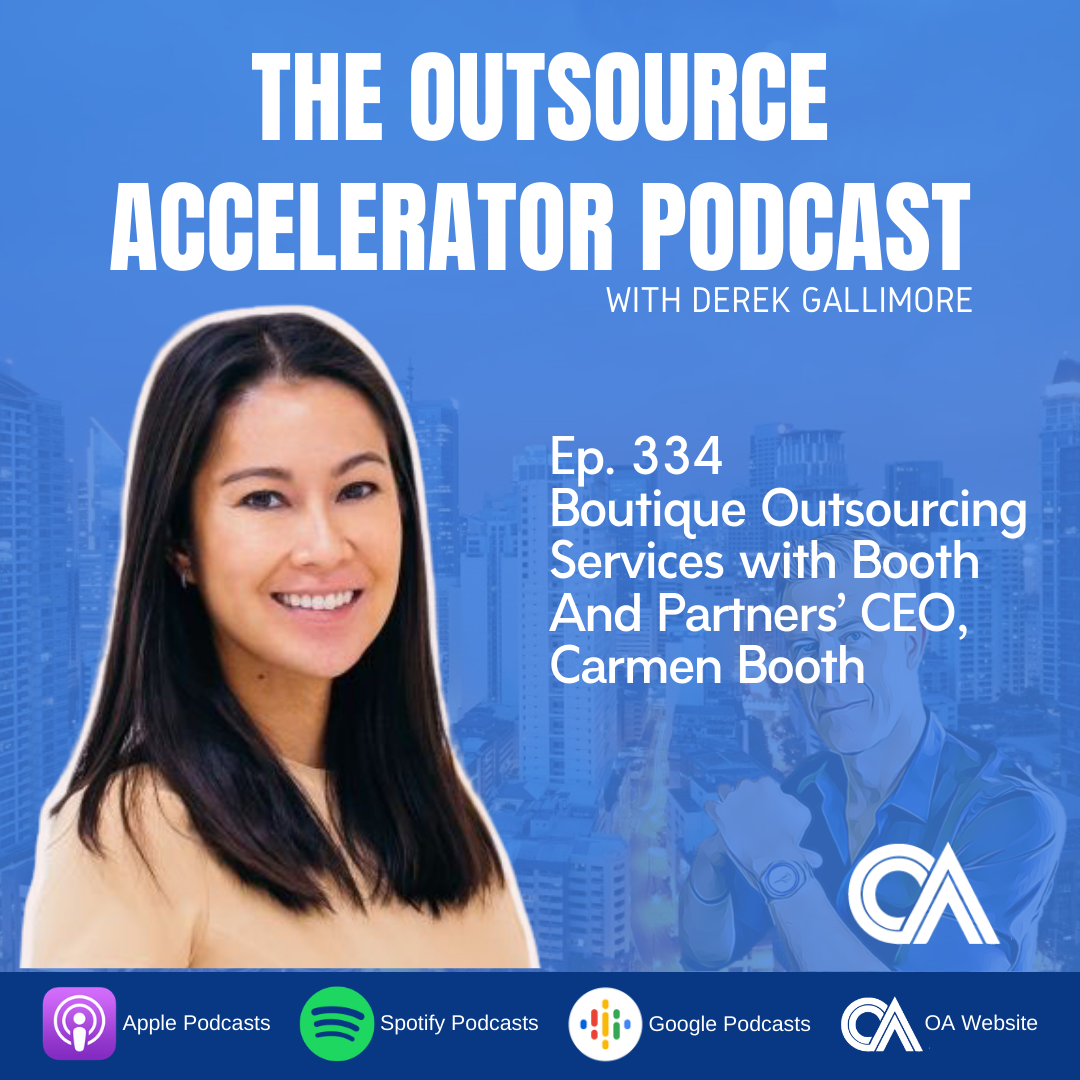 About Booth and Partners
Derek Gallimore talks with Carmen Booth, CEO and co-founder of Booth and Partners. A boutique outsourcing company in Manila, Booth and Partners offer both business process outsourcing (BPO) and knowledge process outsourcing (KPO) services.
Clearly, outsourcing has been far from its "sweatshop" image decades ago and has now established itself as an extension to a company's team. In this episode, Derek and Carmen talk about boutique outsourcing with B&P. They will also discuss its benefits and how companies can maintain the work and product quality while outsourcing.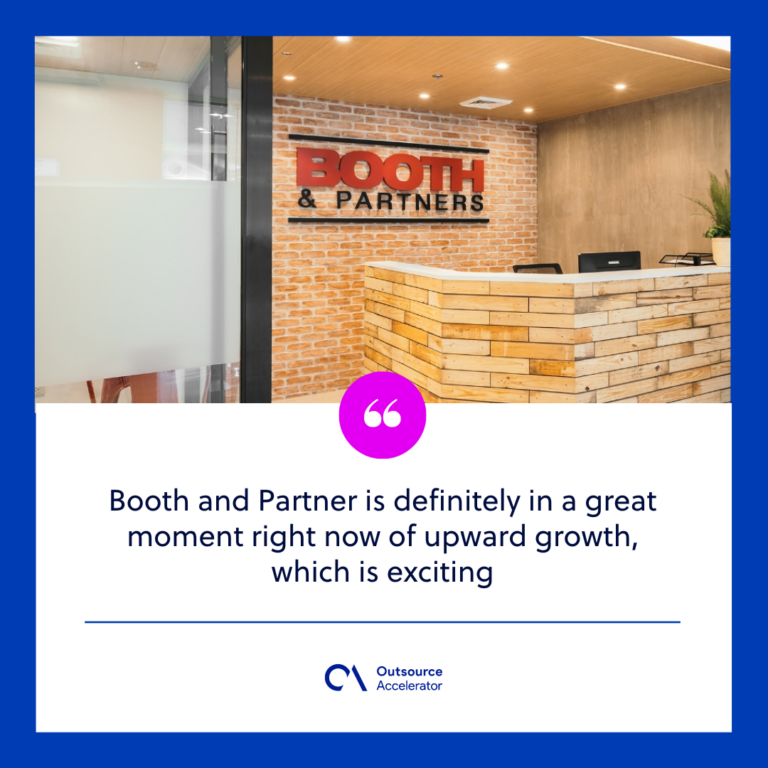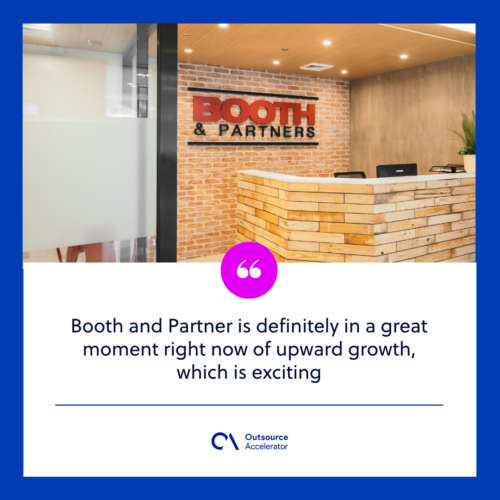 Booth and Partners' main service offerings
Carmen Booth is the CEO and Co-Founder of Booth and Partners (B&P), a boutique outsourcing firm headquartered in Manila. The firm is between Business Process Outsourcing (BPO) and Knowledge Process Outsourcing (KPO).
Carmen said that B&P "doesn't hold employees in a database to just implement and activate into a campaign or with a specific client." B&P "focuses a lot on the recruitment aspect and building teams for our clients that best suit their business requirements."
B&P started seven years ago, when Carmen and her business partner Jamie Booth needed customer service support for their company in Seattle. Carmen recalled looking at the Philippines as a great option for customer support services, then the opportunity – a bigger opportunity came out from that experience. 
Now, B&P offers three main service offerings:
Fully managed solutions.

The 'traditional BPO' kind of setup where clients engage, discuss their needs, mention their KPIs, then ask B&P to execute and hit the targets.
Co-managed solution / Staff leasing.

With this arrangement, clients will manage their team/s and monitor their output. B&P will then support from the back end, including HR, quality assurance, training, and guidance. Carmen mentioned that this is their most popular offering.

Staff augmentation.

This is for clients who want to have a Philippine presence, but need some help hiring.
Maintaining quality within the BPO industry
Carmen stated that outsourcing is "almost a no brainer for companies that are trying to hit a rapid growth." It's also about "really finding the right company that can grow with the business requirements that you have, and what's the best fit for you, as you build your team offshore and develop that trust and rapport with."
While the great cost effectiveness is outsourcing's main selling point, outsourcing staff and business functions don't have to sacrifice output quality. For this, B&P manages to maintain high quality of services by not scrimping on their employees' salaries.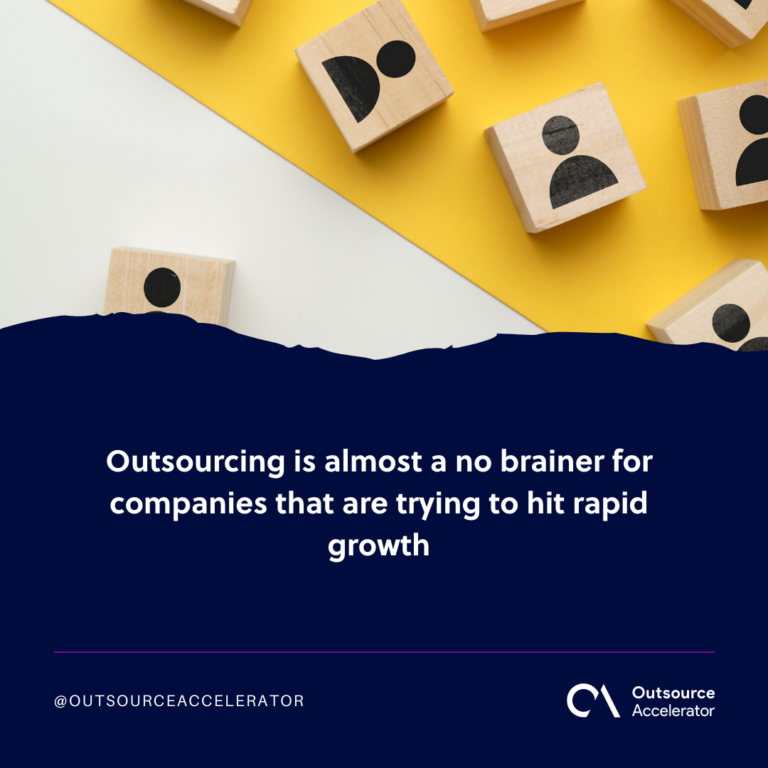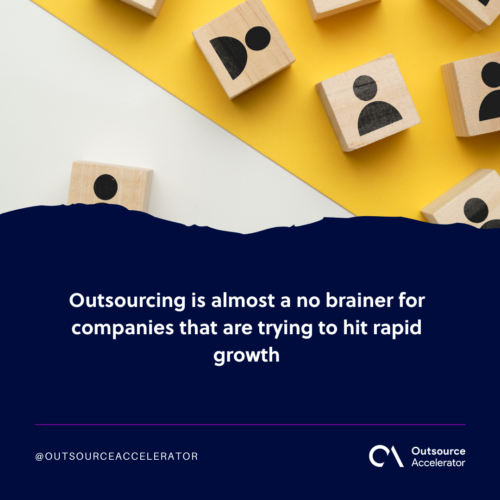 In addition, the B&P CEO noted the following:
Creating a Fair and Equal Employment Setup.

According to Carmen, clients nitpicking with costs don't align with B&P and its core values. She said the Philippine salary already presents significant savings compared to Western staff, and it's important for them to keep the salaries with a benchmark of the industry.

Having a conversation with the clients.

It goes back to convincing the clients to invest in their remote staff. She emphasized that employee retention is important, and clients will just be wasting their time and money if they can't retain their staff. 
Operations-wise, the company is not a fan of micromanaging. However, B&P's reliable operation managers and quality assurance managers are there to check employees' productivity.
Benefits of outsourcing
The BPO industry now is far from the 'sweatshop' misconception from 20 years ago. Carmen noted that outsourcing has "evolved a long way since then," adding that BPOs are "an extension of your team."
Apart from cost-savings, one of the many benefits of outsourcing is the process consolidation support. She mentioned working with a client that had offices all across Asia Pacific and wanted to consolidate one specific task to one office. B&P worked with 12 different countries to consolidate one process to bring it all into the Philippines to one team.
Of course, outsourcing provided many advantages to the Filipino employees themselves. Carmen added, "the BPO industry is bringing a lot of positives back into the Philippines, [] being able to keep people here, be close to family and earn fair wages."
As a way of giving back, B&P supports advocacies to help the environment. The firm is a big part of Climate Neutral, as well as 1% for the Planet. 
For more information, you can visit B&P's website at https://boothandpartners.com/. For those who'd like to get in touch with Carmen, feel free to send an email at [email protected] 
References:
Email: [email protected]
Listen to more podcast episodes here: