Hiring, onboarding, and managing great teams with Anne and Mark Lackey of HireSmart Staff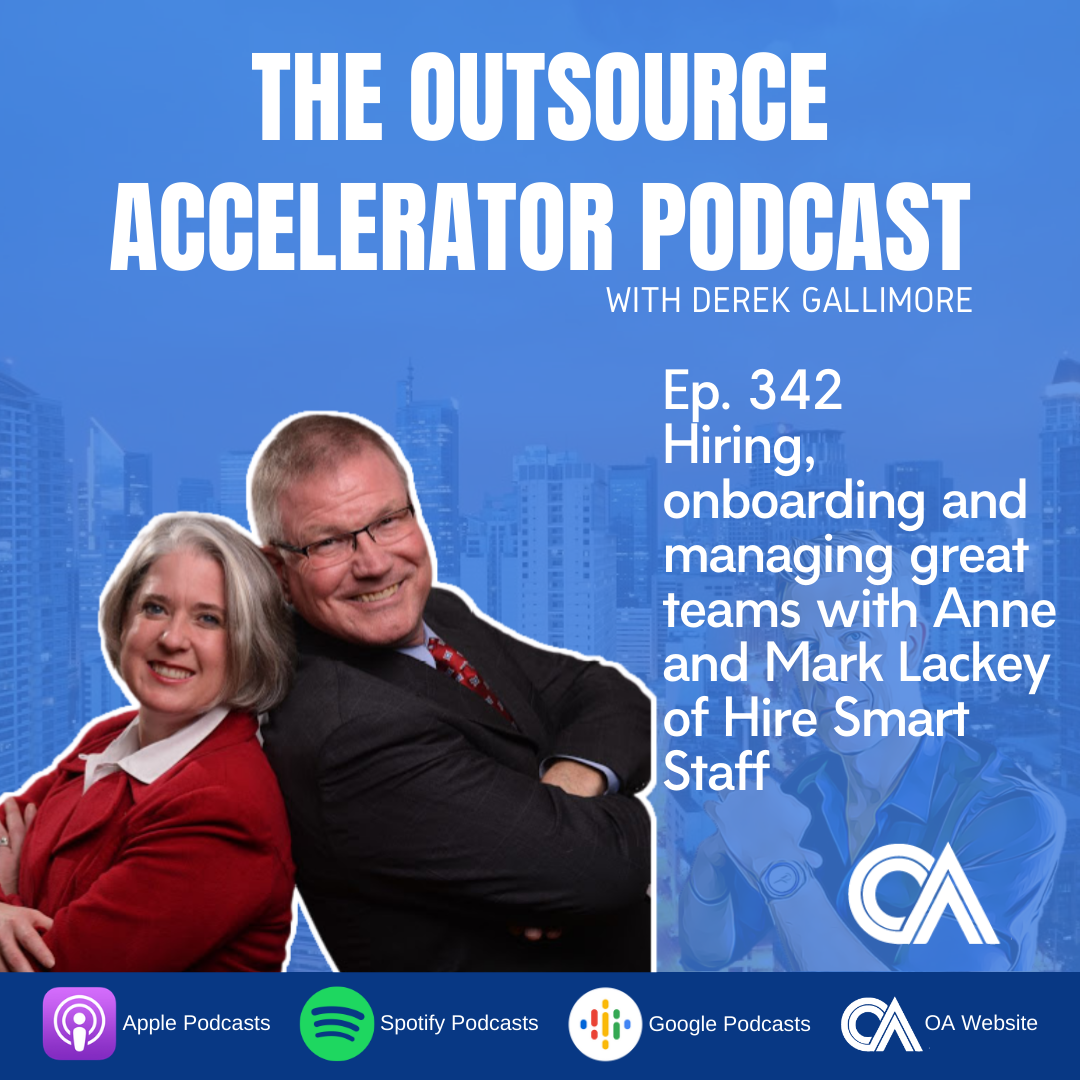 Hire Smart Staff
Derek Gallimore talks with Anne and Mark Lackey, founders of Hire Smart Staff (HSS). The company helps business owners find the right virtual staff in the Philippines for customer service, sales, marketing, and administrative work.
Being serial entrepreneurs, they have also experienced difficulties in hiring and managing their workforce in the past. in this episode, Derek, Anne, and Mark will discuss how Hire Smart Staff started, their method in matching virtual staff to their clients, and how employers can manage great onshore and virtual teams.
Anne and Mark's outsourcing beginnings
Anne and Mark Lackey are founders of HireSmart Staff (HSS), a virtual recruitment and staffing company based in the United States. Being serial entrepreneurs, Anne and Mark established seven successful businesses, including HSS. 
They got involved in outsourcing years ago. When taking a vacation after starting their fifth business, one of their key employees sent them a message stating that they quit on the spot. Anne said it is a "bit of a nightmare" for employers. 
They did a lot of brainstorming and research following the incident until they were introduced to the concept of full-time dedicated virtual staffing in the Philippines. Thinking it might work, Anne and Mark hired their first virtual staff six and a half years ago.
The reason they started the company, meanwhile, came from a lunch meeting with CEOs. They got curious about hiring a virtual staff after not hearing complaints from Anne herself. Then, one of them offered a great amount to set up staffing for them in a few weeks.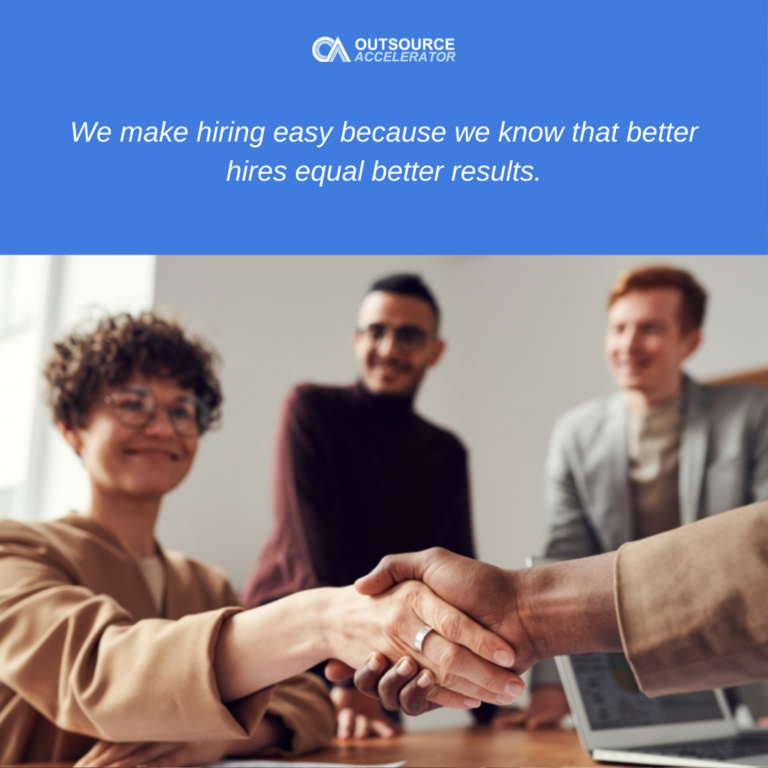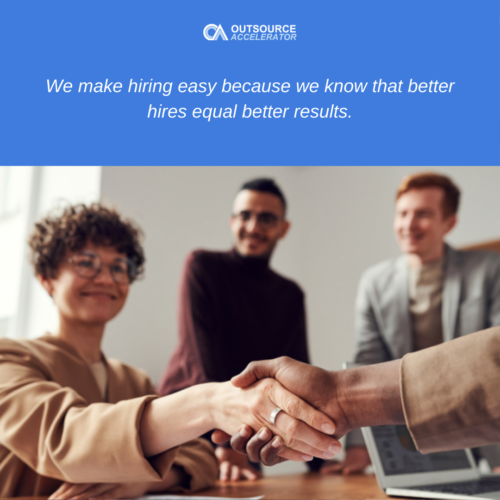 HSS' mission on helping businesses outsource
According to Anne, HSS aims to help other CEOs and business owners "find those 'perfect pearls' in the Philippines and [help them] grow [their business] through outsourcing." 
Anne's 30-year background in human resources helped create the perfect formula in making outsourcing simpler. The couple forms a tag team in taking care of their processes, placements, and strategies in matching their clients. 
To them, it's important to measure successes and failures, what did and did not work out in their processes, and try to put their focus on their successes. This helped Anne and Mark match the right client with the right staff to help them stick longer.
Anne added that what made them different and special is that they make hiring easy because "better hires equals better results". 
A comparison in hiring onshore vs virtual staffing
HSS has a US-based testing platform in matching and hiring virtual staff which does over 20,000 assessments a year. Upon looking at their data, they found a few key differences and similarities between onshore and offshore staffing.
Cultural bounds 
Being a former colony of the United States, the Philippines has a close cultural alignment with the nation. However, using the US cultural profile in their Filipino workforce won't always work for them. 
One good thing to consider for them is finding out how they can manage these differences and set their operations up for success.
Workforce management
Anne iterated that using emotions over analytics usually sets an organization up to dissatisfaction and failure. This usually occurs when hiring onshore staffing, where employers tend to hire an employee because of their familiarity.
Thus, HSS enters to help them have a proper way to manage their staff and establish proper communication between the two parties. 
Skepticism
It is also usual for business owners to be skeptical about hiring virtual staff. Most of them might think that cheap staff won't work, while some might have heard nightmare stories before. 
Per Anne, the key to hiring the right staff is through proper screening and analytics. Employers might struggle in managing their employees if they hire the wrong person in a certain position.
Developing and nurturing virtual staff to success
Throughout the conversation, one thing that Anne and Mark highlight is that business owners should establish communications with their staff. It is crucial for them to communicate with their employees about their expectations at work, whether they're in the office next door or a different part of the world.
Because according to Anne, "how do you expect people to understand what you want if you are not willing to sit down and explain it to them?"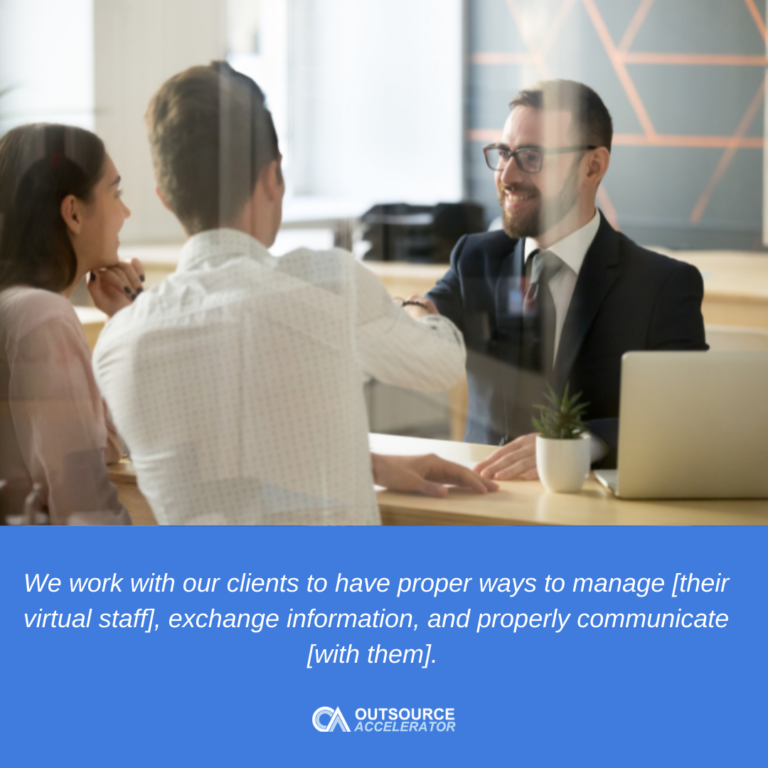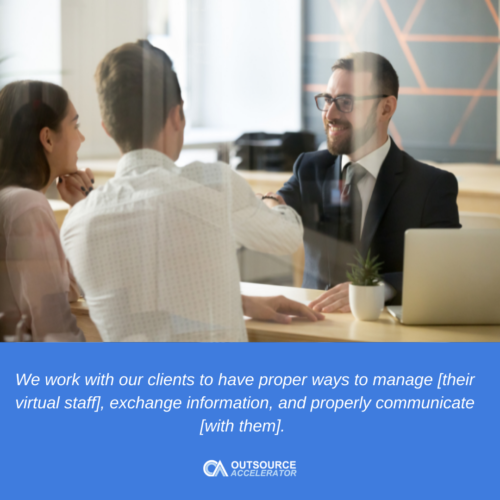 Other ways to develop and nurture their virtual staff include:
Setting staggered hurdles.

Start with small tasks first and see what they can do naturally. For HSS, they don't set

key performance indicators (KPIs)

for their employees until after 60 days of working with them.

Starting easy

. Despite having processes and metrics in place, businesses are "never ready" when hiring staff. These also do not assure that their employees will be at 100% productivity all the time.

Treating staff properly

. Anne strongly iterates HSS's specific culture and support for their virtual staff. As much as they take care of their clients, they also communicate with them to ensure that the staff is also taken care of.

Setting weekly meetings.

Mark recommends having weekly meetings to make sure everybody's on the same path and updated with their work. This works with their clients as well, showing transparency on their part.

Providing incentives and raises.

Filipino workers are content in having secured work and benefits at hand. With this, as Anne suggested, businesses should also talk to them about providing incentives and salary raises as they do with their physical staff.

Having a diverse mix of staff.

Anne suggested that a company should not always have rock stars. Rather, they should have at least a diverse mix of rock stars and steady 'Freddies' to still retain a smooth workflow.
HSS on their market and offerings
In terms of the market, HSS finds "high-transaction" clients or those with high volumes of customer service and administrative work to deal with. From there, they figure out what their clients need, then curate their staff.
Another aspect that makes them unique to a traditional call center is that their virtual staff render work from home. They recognize the struggles of traveling to the office in Manila, with heavy traffic even before COVID, and the risks of getting into one during the pandemic. 
After all, the extra time their staff takes in commuting can be used to spend time with their family instead. This also benefits their clients in terms of flexibility and stability. 
HSS offers virtual staff in five different areas: sales support, marketing support, administrative, accounting, and customer service. They market their offers as the tendency to crack the client's CODE – Churn, Overwhelm, Dread, and Employee performance.
The company charges their clients with a recruiting fee, an hourly rate that transitions into their staff's monthly salary, and an optional consultation fee in case they need 
Advice on first-time outsourcing clients
Like other outsourcing companies, HSS also experiences clients who tend to hold back in outsourcing for the first time. They give the following advice to first-timers who feel the same:
Fear is part of it.

This is why outsourcing partners like them are there to guide their clients along the way.

Look for partnerships.

According to Anne, businesses should look for an outsourcing partner whose message resonates with them.

Communicate

. Always follow up with everybody especially when the virtual staff starts working with them.
Businesses interested in learning more about HSS and hiring virtual staff can contact them through meetwithanne.com or https://hiresmartstaff.com/ .
References:
Listen to more podcast episodes here:
Enterprise-level customer service, product and digital solutions with Everise President, Dave Palmer