Connecting Business Owners to Outsourcing Suppliers – Source Connect
Last updated August 19, 2019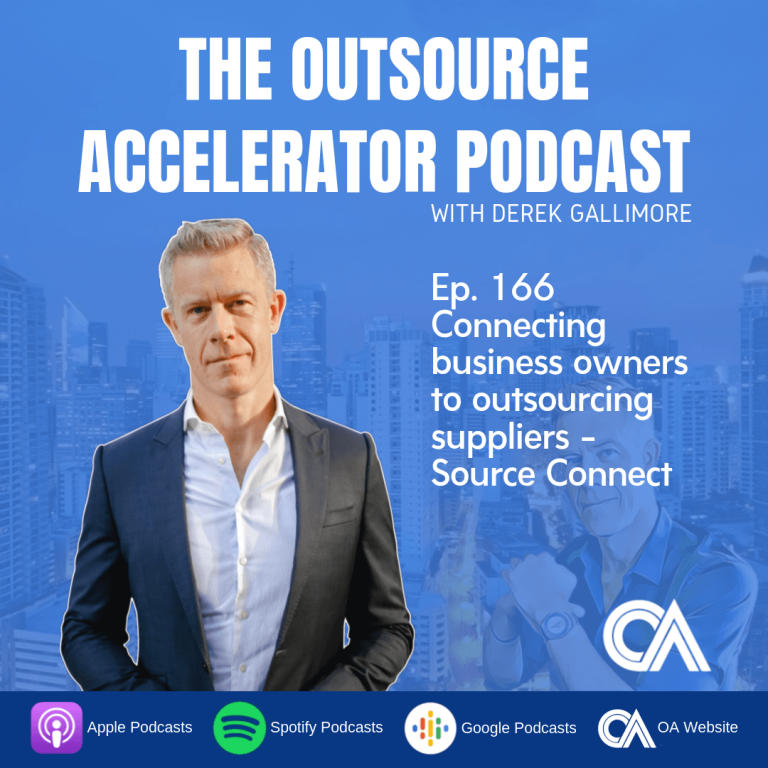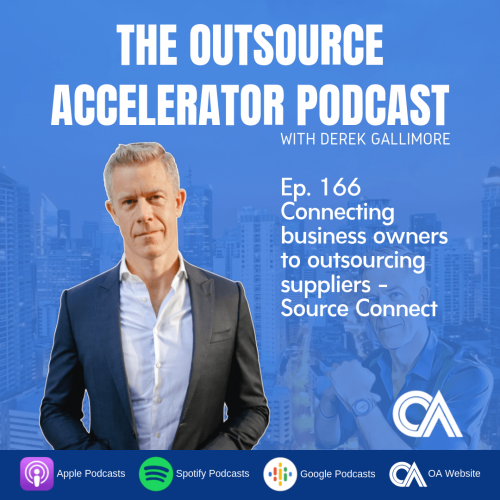 Derek Gallimore hosts our 166​th ​podcast episode and features "Source Connect". "Source Connect" is a module that can be used by the clients, the entrepreneurs, and business owners who are willing to enter the outsourcing service world. In this podcast, we will see how this module can help not only those who are in BPO industries or SMEs but to all the clients who are aspiring to be one of the best entrepreneurs and business owners in the world.
Summary:
Derek talked about a fantastic module called the "Source Connect". It is fully verified and registered and has very high quality outsourcing supply partners.

Derek focused on the things that you will learn from the module and that will really give you an interest to know about the said module and dig deeper in it.

He also explained the benefits that you could get once you have the module. This is not just for the BPO but for you as well. Both parties could get an awesome surprise, which is the 30 percent cash back.

Once you have this module and completed the forms needed in taking the courses on their website, which is the outsourceaccelerator.com/quote, you have the chance to win the bid. They are going to choose three bidders and get connected to outsourcing service suppliers.
Key Points:
The module creates an environment of cooperation, an environment of respect, an environment of fairness, and an environment that encourages jobs and deals get done.

Their mission really is to aggregate everything to make it easier, to educate and to promote outsourcing.

This module connects the two sides of the market place. The bidder and the taker.
References:
[read more="Read Full Transcript" less="Hide Transcript"]
Derek: Hi and welcome to another episode of the Outsource Accelerator Podcast. My name is Derek Gallimore and this is episode number 166. So, today it's a little bit different. It's just me. Yay! Hi! And we are today talking about our fantastic quote module. I won't say anything further because I am talking about it for the next ten minutes in this podcast. But, it's super exciting and I am really excited to be releasing this. It is a fantastic opportunity for all of you out there, the business owners, the entrepreneurs and those that are interested in to looking into outsourcing. So, I hope you enjoy and of course if you want any of the web links or details then just go to our show notes which is at outsourceaccelator.com/166. Enjoy!
So, today I'm really excited to announce the release of a new service we have on Outsource Accelerator. So, Outsource Accelerator is fast becoming the authoritative outsourcing aggregator platform in the world.
We are becoming the tripadvisor of outsourcing or the booking.com of outsourcing, however you like to put it, But basically, what we are trying to do is connect the business owners, the SMEs, the entrepreneurs in the West with the outsourcing suppliers here in the Philippines. So, we really position the Philippines as the Swiss banking of outsourcing. Philippines really offers a high quality outsourcing option and then we list on our website over five hundred and fifty outsourcing service suppliers from the Philippines. But, we only register and verify very high quality outsourcing supplier partners.
So, we have now launched a module called "Source Connect". And this is actually truly the function where we take the information from our clients, which is the business owners and entrepreneurs over the west and we go through a series of fifty-one questions that takes them through a quotation and a feasibility and a readiness analysis.
As a result for those fifty-one questions and any comments that they leave, we are able to aggregate a needs analysis and we put that into source connect marketplace. We have the registered and verified outsourcing service suppliers and they are able to bid on the client's lead.
The result of that is, we get three top bidders that we will introduce to our clients. We will ensure, of course, these are suppliers that are verified and registered – these are top quality suppliers here in the Philippines, and of course, if these suppliers are bidding for the lead for, the contact with the client, then of course just market forces really suggest that the best suited BPOs will contact and reach out for that client.
Now, we keep it competitive but also we keep it very transparent and very fair. This is all within an open public market place and the client's details, the client contact details are of course kept anonymous. Once the auction is completed, then the three top bidding BPOs are the winners and they will be contacted and introduced to the client.
EXPLORE OUTSOURCING: GET 3 FREE QUOTES
So, what it does, again, it maintains an environment of competition. So, the top three then bidders need to discuss the needs with the client. And the client is then able to seek pricing, it's able to seek general structural advice. So, basically, from just completing a couple of forms, the client can be hugely informed into around their outsourcing needs and really learn a lot and be connected to some of the best outsourcing service suppliers in the world.
So, from the clients perspective, it's an absolute win. It is free to use for the client. It takes them maybe five minutes to complete this needs analysis. As a result of completing the form, they actually basically get a needs analysis report back which helps consolidate their requirements. And of course, they are then sent out to a panel of verified and registered outsourcing service suppliers.
This is absolutely free. It's absolutely hassle-free. But also, it is a completely obligation-free. So, the service suppliers – it's made very clear that these are our clients, they are leads. However,  they're to be treated well and of course like any sales engagement; it's really about the value that you can offer to the client. It's not about the hard sales call. So, the nice thing is that we are able to regulate this and ensure that the clients are treated well and it's within a pressure-free environment.
So, for the clients, again, the business owners, that's hopefully you listening out there, there is huge opportunity here to basically get connected to outsourcing service suppliers. They're all listed on our website. So, if you just want to kind of browse BPOs, then just go to our website. I have certainly five hundred and fifty on our website now and we are a bit like tripadvisor with set of always updating. We are trying to improve the information we have on each of those service suppliers, so it gives you the best picture possible of what's out there.
Once you are connected to the three BPOs that have bid and won your contact details, we will personally introduce you to the three parties over e-mail and of course, you can make your own arrangements then to talk to the BPOs at your leisure. This is a huge learning opportunity, it's a huge learning curve. Again, it is a sales call but it's also a free advice and it's interesting to compare and contrast the different approaches and the different BPOs will give you.
So, how do we make our money? We, receive bids from the outsourcing service suppliers. The top three bidders pay us their bids and we retain that money. We take a front end fee. We do not receive any commissions. So, again, we aren't pressuring you to do a deal and there is no under the table deals, there is no long-tail commission. It is purely just that one fee.
However, we also encourage deals to be done; we also encourage things to happen. So, in order to do that, we actually give thirty percent of the winning bid back to the BPO. So, if the BPO with its winning bid pays X amount, we pay thirty percent of that back to them if a deal is done. But also, you, the client, the entrepreneur out there, the business owner that is interested in outsourcing, if you do a deal with one of the three introduced BPOs, we will give you thirty percent cash back. So, whatever that winning bid that was paid for that BPO to speak to you, we will actually give a thirty percent of the bid that they paid to you if you do a deal. So, we hope it's a virtuous cycle. We are giving thirty percent back to the BPO and we are giving thirty percent to you, the client, if the deal is done.
And we hope that that creates an environment of cooperation, an environment of respect, an environment of fairness, and an environment that encourages jobs and deals get done; but one where there is no pressure, and we are trying to encourage what we believe is positive behavior, which is getting deals done so everyone's a winner. The cash back can be considerable if you sign up with one of the winning BPOs. It could be a considerable amount that I wouldn't want it to swing your decisions, but, it's certainly a nice cash back incentive. Who doesn't mind a little bit of fund, a little bit of cash every now and then.
So, anyway, I really am excited about this little module.  I don't want it to distract from what Outsource Accelerator is overall. We are becoming the world's most authoritative aggregated platform and in doing that, it's our mission to basically educate, promote, and offer independent advice about outsourcing. Part of the education is about helping business owners and SMEs in the west get into outsourcing. We are trying to provide easy on ramp for outsourcing. Because otherwise, it can be a little bit more difficult to understand, a little bit more difficult to get into, because it's not so easily kind of touched and felt.
So, again, our mission really is to aggregate everything to make it easier, to educate and promote outsourcing. And this little module, which is "Source Connect", is just one of those features that I think helps literally connect the two sides of the marketplace.
So, I would love a feedback from on you from this. I would love you to try this. I think every business owner should try this quote module. I really believe that every business owner should at least consider outsourcing. I am not saying it is necessarily imperative. I am not saying that it's right for your business. But I am saying everyone should at least consider outsourcing. Because I really believe that it is one of the most transformative business tools out there today. I really believe it is super powerful. And also, it can be applied to ninety-nine percent of businesses within ninety-nine percent of industries. So, it really is a very powerful tool and easily applied to almost any business in any sector.
So, give it a go. You can of course just go to our home screen and there are links there. But, if you want the link to "Source Connect" directly, just go to outsourceaccelerator.com/quote. That is outsourceaccelerator.com/quote and that will take you to the quote page for "Source Connect". And that's of course if you are our client.
Now,  I'll be upfront, I'll be honest with you. There's about fifty-one questions they are across three different forms. Now, you make a choice, you can spend maybe two minutes filling in one of the forms which is about a third of the questions. You can spend a little bit longer and you can complete two forms and about sixty-five percent of the questions. Or a little bit longer again, total time is certainly under ten minutes. Filling all three forms, answer all of the questions, and then, what we are sending even stronger signal to the BPOs that you are serious; you're providing them more information that they can better tailor their advice to you. And it's sending a really strong signal that you're a serious payer, you're not just kicking tires and you get significantly better responses and better engagement from the outsourcing service suppliers.
So, I really believe it's a win-win. I have put in quite a few questions there because I don't want to test your metal as well. We don't want tie, because I don't want to waste the time of these outsourcing service suppliers. So, all of these little mechanisms are put in place to hopefully trying to show both parties that this is really a good opportunity for them.
So, give it a go. It is outsourceaccelerator.com/quote. And of course, I will put that in the show notes and of course, if you just go to our website, you will see links to the quote option on most of the pages.
So, thank you so much for listening. Please give me any feedback and I look forward to our next podcast with you.
Okay and that is me talking about the quote module that we have just released. That I am super excited about.
So, again if you want any of the links that I've mentioned, please go to our show notes which is at outsourceaccelerator.com/166 and if you want to ask us anything, as always, just drop us an email to [email protected]
See you later!.
[/read]