Top 10 UK customer service companies this 2024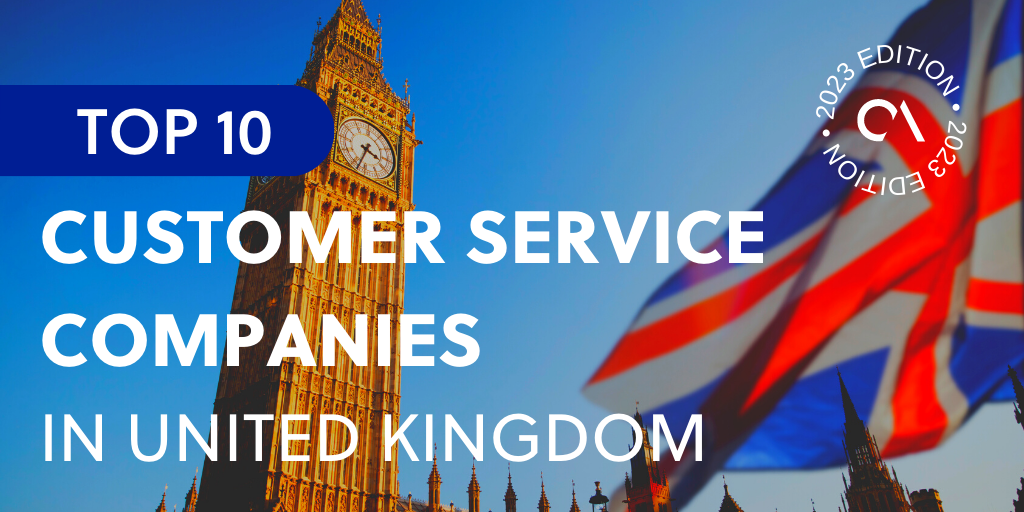 List of UK customer service companies 
Customer service has emerged as a crucial factor in defining the success of companies. Exceptional customer service goes beyond mere transactional interactions. It builds trust, fosters loyalty, and sets businesses apart from their competitors. 
Within the vibrant UK market, several companies have established themselves as leaders in delivering outstanding customer service experiences.
These companies understand that happy and satisfied customers are the cornerstone of their success and have invested in building customer-centric cultures and service strategies.
From renowned retail brands to telecommunications providers and financial institutions, these companies have established themselves as paragons of exceptional customer service.
This article explores the top UK customer service companies consistently demonstrating a commitment to excellence.

Key elements of good customer service 
Customer service encompasses a range of key elements that are crucial in providing a positive and satisfying customer experience. 
This includes the following:
Prompt responsiveness
Good customer service involves responding to customer inquiries, concerns, or issues promptly. This demonstrates attentiveness and shows that their needs are a priority.
Active listening
Practicing active listening involves fully understanding and empathizing with the customer's perspective. It helps to identify their needs, concerns, and preferences accurately.
Clear communication
Communicating clearly and effectively is essential in customer service. Using simple and concise language, avoiding jargon, and ensuring information is easily understood helps build trust and prevents misunderstandings.
Knowledge and expertise
Customer service representatives are required to have comprehensive product or service knowledge. This allows them to provide accurate information, answer questions, and offer appropriate solutions to customer issues.
Professionalism
Maintaining a professional demeanor, both in verbal and written communication, creates a positive impression. It's vital to be courteous and respectful while maintaining a calm and patient attitude in challenging situations.
Personalization
Tailoring interactions to each customer's unique needs and preferences helps create a personalized experience. Addressing customers by name and utilizing relevant information about their previous interactions can enhance the level of service.
Problem-solving
Effective problem-solving skills are crucial in resolving customer issues. Customer service representatives should be proactive, resourceful, and empowered to find solutions that meet the customer's needs.

Empathy and understanding
Demonstrating empathy towards customers shows that their concerns are acknowledged and understood. It involves putting oneself in their shoes, showing compassion, and validating their feelings.
Follow-up and follow-through
Following up with customers after resolving an issue or completing a transaction shows a commitment to their satisfaction. Following through on promises, such as callbacks or providing additional information, helps build trust and credibility.
Continuous improvement
Customer service teams must embrace a mindset of continuous improvement. This mentality enables them to learn from feedback, identify areas for enhancement, and adapt to evolving customer needs and expectations.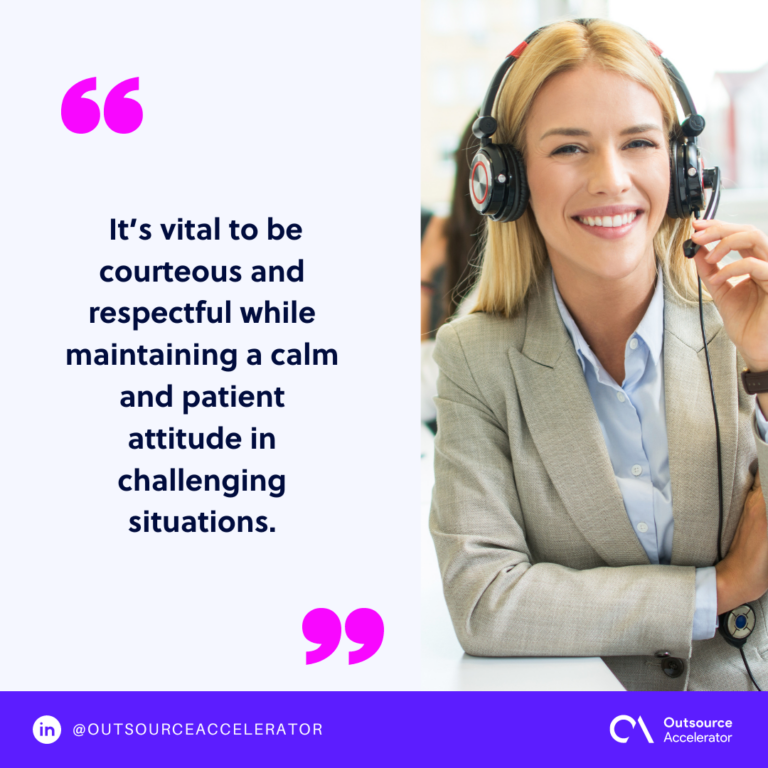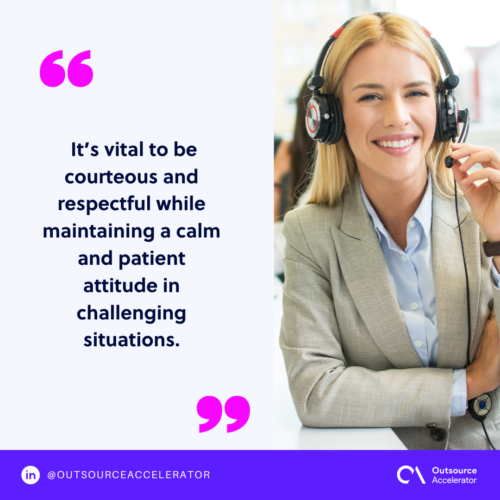 Top global outsourcing lists
Outsource Accelerator is the world's leading outsourcing marketplace and advisory. We list over 700 BPO firms located across the globe in our global directory, and we provide detailed information, price guides, and reviews.
Whether you're a solopreneur, SME owner, or corporate executive, we can help you find the most suitable outsourcing provider for your business.
Explore our outsourcing directory now. You may also check out our Top customer service companies lists per country here:
Top UK customer service companies 
This list comprises the top UK companies that have been praised for their excellent customer service. 
They run a range of industries, with five being in the retail and commerce sector, two in the banking sector, two in the telecommunications sector, and one airline.  
Location: London, England
John Lewis & Partners, frequently referred to as just John Lewis, is a UK retailer that operates department stores, home stores, and supermarkets. The brand currently manages over 41 branches nationwide and caters to over 30 countries internationally. 
John Lewis is a well-known and trusted brand in the UK. Their customer service, both in-store and online, has consistently been lauded, with their staff providing exceptional service. 
Location: Leeds, England
First Direct is a retail bank that provides mobile, online, and telephone banking services. Operating since 1989, the bank assists over 1.7 million customers. First Direct is a division of HSBC UK Bank plc, which is counted among the "Big Four" banks of the UK. 
First Direct is known for its outstanding customer service. Customers say that their inquiries are dealt with quickly and efficiently. Much praise is given to the fact that its agents are UK-based.
Location: London, England and Manchester, England
Amazon is a web service provider and online retailer, particularly specializing in e-commerce. Its UK branch opened in 1998 (along with its German branch) as part of the company's endeavors to begin international operations. 
Amazon is said to be great with its customer service department. Despite some complaints regarding the quality of products, issues are resolved smoothly, and many long-time customers speak positively of the company. 
Location: Welwyn Garden City, England
Tesco deals in international general merchandise retail. The company is a well-known European grocery brand committed to serving customers with affordable, healthy, and sustainable food products. 
Many customers recommend Tesco's customer service department, particularly their in-store staff. Much has been said about how its staff go the extra mile to assist customers with their shopping. 
Location: London, England
Marks & Spencer is an international retailer of home products, apparel, and food items. It's also rather popularly become a frequent source for high-quality gift items. The company has a presence in Europe, the Middle East, and Asia.
The customer service of Marks & Spencer is consistently good across their many branches. Customers speak frequently about helpful staff and professional resolutions. 
Location: London, England
Sky Ltd, or simply Sky, is a satellite broadcasting and telecommunications company that specializes in providing multi-channel, multi-platform television services. The company is a subsidiary of Comcast Corporation. 
Reviews from Sky patrons have praised the customer service. New customers, in particular, are treated very well. 
Location: London, England
British Airways is the UK's flag carrier, a global airline that has operated for over 100 years. The company runs a network of internationally-scheduled airline routes.
British Airways has invested heavily in call centers for its customer service department. The trained staff have access to a cloud-based system with insightful data to personalize the customer experience further. 
Location: Reading, England
Virgin Media is a telecommunications company that's involved in the entertainment and communications industry. They provide broadband internet, television, mobile telephony, and fixed-line telephony services. 
Virgin Media is quick to respond to customer concerns. The company has also been experimenting with implementing AI in its customer service. 
Location: London, England
J Sainsbury Plc, commonly known as simply Sainsbury's, is a retailer of groceries, general merchandise, and clothing goods. It's a multi-channel retailer that operates outlets of different formats. 
Sainsbury's has excellent customer service, with its delivery service being particularly helpful in recent years. Refunding issues are also resolved promptly.  
Location: London, England
Lloyds Bank is a leading UK-based financial services group that's focused on retail and commercial customers. It also offers wealth management, leasing, capital markets services, foreign exchange, and private equity. 
Lloyds Bank has received approval for its customer service, especially with assisting immigrants. Its online customer service channel has been especially progressive. 
Importance of excellent customer service
The importance of excellent customer service cannot be overstated in modern business. It serves as a crucial pillar upon which successful companies build their reputation, foster customer loyalty, and drive sustainable growth.
Here are the main benefits you can expect from delivering excellent customer service: 
Positive experience 
At its core, excellent customer service revolves around meeting and exceeding customer expectations. 
Customers expect to be treated with respect, attentiveness, and care whenever they interact with a company. This is true whether it's purchasing a product, seeking assistance, or resolving an issue. 
By delivering exceptional customer service, businesses can create a positive and memorable experience for their customers. This leaves a lasting impression that can significantly impact the brand's perception for the better.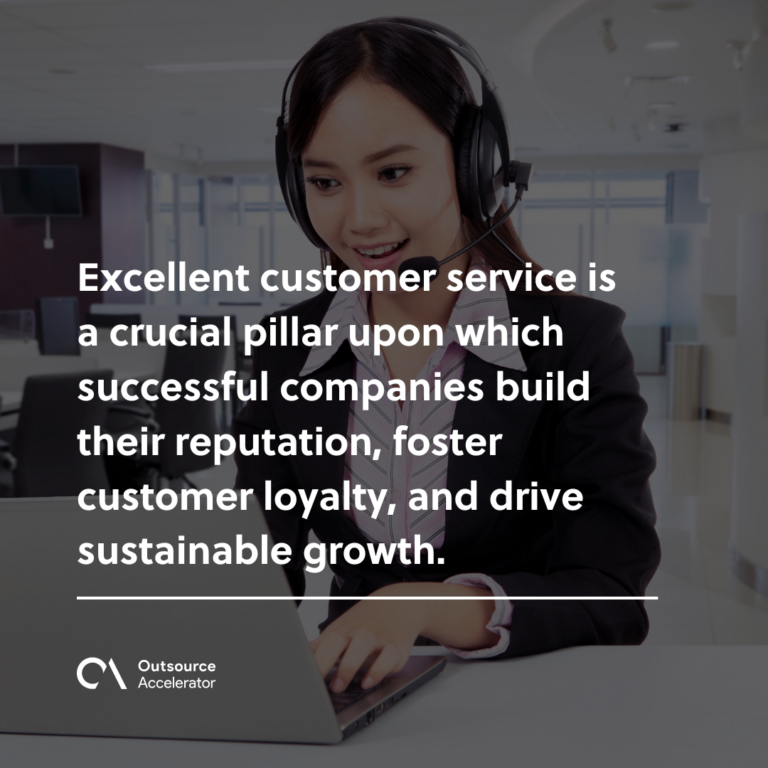 Customer retention
One of the key benefits of providing excellent customer service is customer retention. Building strong relationships with customers is important for long-term success. 
Satisfied customers are more likely to continue doing business with a company. They become loyal patrons who repeatedly choose its products and services. This loyalty not only contributes to a steady revenue stream but also reduces the costs that come with acquiring new customers. 
By investing in customer service, brands can cultivate customer loyalty and enjoy the benefits of repeat business. 
Brand reputation
Excellent customer service also plays a pivotal role in shaping a company's brand reputation. Positive word-of-mouth recommendations are invaluable and can heavily influence the decision-making of potential customers. 
When customers receive outstanding support and assistance, they're more inclined to share their positive experiences with those close to them. 
This organic promotion will accomplish the following:

Enhances a brand's reputation

Instills trust

Attracts new customers who seek the same 
Competitive edge
Customers today have access to a plethora of options, so customer service becomes a key differentiator. It sets a company apart from its competitors by providing unique and resonating experiences. 
When faced with similar services, customers are more likely to choose a company that delivers good customer service. Investing in customer service positions brands as leaders in their respective industries. 
Increased sales and revenue
Excellent customer service directly correlates with increased sales and revenue. 
Satisfied customers are not only likely to make repeat purchases but also to spend more money. When they have a good experience, they develop trust and confidence in the brand, leading to larger transactions and higher average order values. 
Loyalty and advocacy
Beyond the financial implications, excellent customer service fosters loyalty and advocacy.
There's a strong possibility for loyal customers to become brand advocates. They willingly promote the company's products and services to others. This generates positive word-of-mouth referrals and expands the customer base. 
Problem resolution
No business is immune to occasional mishaps or customer dissatisfaction. However, it is how these issues are addressed that truly matters. 
Effective customer service involves promptly acknowledging and resolving concerns to their satisfaction. By handling problems efficiently, companies can salvage customer relationships and turn dissatisfied people into repeat customers. 
Employee morale and engagement
Lastly, exceptional customer service positively impacts employee morale and engagement. When employees witness the tangible impact of their efforts on customer satisfaction, it fosters a sense of pride, job satisfaction, and motivation. 
Engaged employees are more likely to go the extra mile to meet customer needs. This results in consistently high-quality service delivery leading to business success. 
In conclusion, remarkable customer service is fundamental to any successful business. It encompasses the values of respect, attentiveness, and customer care while enhancing your brand. 
These ten UK companies have it solved. By prioritizing customer service, they've ensured their spots as top businesses.