Top 30 customer service companies in Australia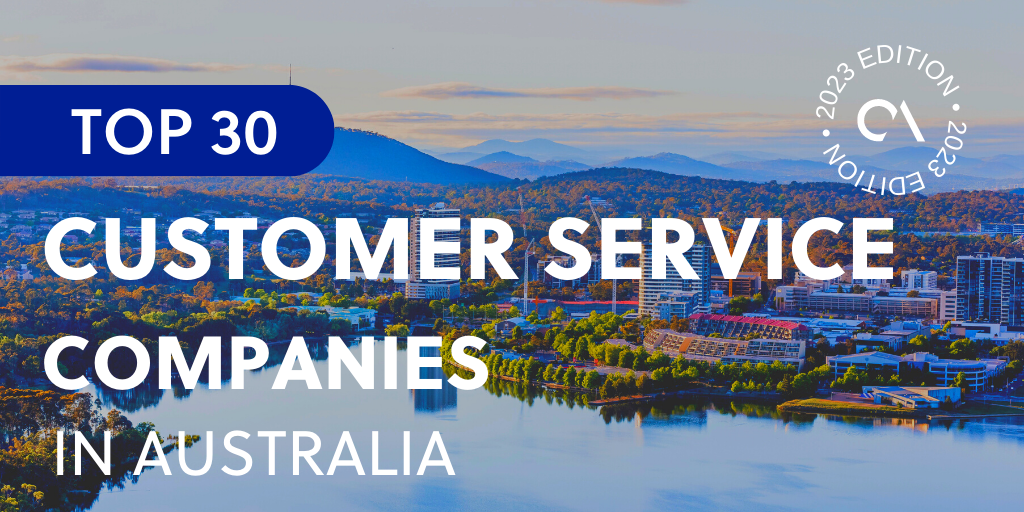 List of top customer service providers in Australia
Customer support is essential for any business. However, there is an art to handling client concerns, and not everyone might have the right resources or expertise.
This is where customer service companies come in. Outsourced service providers specialize in handling voice and non-voice customer support requirements. Australia remains one of the most sought-after marketplaces for these services in the global market.
If you're planning to outsource your customer service processes, this article outlines their advantages. Check out 30 of the top customer service provders in Australia.

How outsourced customer service helps your business
Like other forms of business process outsourcing, customer service providers take charge of a particular requirement, at a cost. 
By entrusting this crucial part of your enterprise to a third-party provider, you get to enjoy the following advantages:
Reduced costs
The main benefit of outsourcing is that it drives down costs. By working with a third-party contractor, you get yourself a plug-and-play partner who can get the job done immediately.
This saves you the costs of headhunting, hiring, onboarding, and retaining an employee with all their benefits. Additionally, there's no more need to invest in an office space and equipment to handle your customer service needs.
Improved customer experience
A study from American Express reveals that customers are willing to spend up to 17% more in exchange for quality customer service. Most of these customer service companies use the latest technologies and adapt the best practices to give the best services possible.
With a faster turnaround time and improved coverage, customers get to reap the added care and convenience of a dedicated customer support representative.
Streamlined process operations
Lastly, by entrusting your customer support to a specialist, you can focus on running your business. 
In this period of remote work and startups, over employment has risen. According to a survey, 79% of remote workers admitted to doing two jobs simultaneously in 2022. 
Taking the customer service load off your other team members will allow them to focus on their other, more important roles

Outsourcing your customer care needs
Outsource Accelerator is the world's leading outsourcing marketplace and advisory. We list over 700 BPO firms located across the globe in our global directory, and we provide detailed information, price guides, and reviews. 
Whether you're a solopreneur, SME owner, or corporate executive, we can help you find the most suitable outsourcing provider for your business.
Explore our outsourcing directory now. You may also check out our Top customer service companies lists per country here:
Top 30 customer service providers in Australia
In recent years, Australia has become a strong contender in the customer service outsourcing market. It caters to clients from the United States and large parts of Europe. 
If you're looking to work with them, below are the leading customer service providers based in the Land Down Under:

Matchboard is a full BPO firm with offices in Australia and the UK. It offers a free matching platform to help minimize the search process and recommends a shortlist that suits your needs. 
Its outsourcing capabilities also extend beyond customer service, offering tech support as well as in-house training for your staff.
ProbeCX is a global customer experience organization that leverages cutting-edge technology and human intelligence to boost businesses. 
It's a major BPO player with locations in the US, India, the Philippines, and Australia. The last one was made significantly larger thanks to its acquisition of Stellar, already a notable BPO firm.
They offer full onshore and offshore contact support on top of their full customer management capabilities.
Since its creation in 1974, TMC has been at the backbone of the Australian BPO industry. It specializes in voice and non-voice back-office support.
From virtual receptionists to full help desk support services, TMC continues to provide quality support for both local and foreign clients from its Heidelberg location.

Fusion BPO Services is one of the top customer service companies in Australia. With additional centers in the Philippines, India, Indonesia, and Thailand, it delivers global services with omnichannel customer experience (CX) services.
One advantage Fusion BPO Services has over its competitors is its expert multilingual services, helping brands improve rapport with non-English speaking markets.
Startek offers both live agent and automated customer support services. It has become a preferred option for customers looking for customizable modular solutions for unconventional business needs.
With over 38,000 associates on top of every voice and non-voice requirement across twelve countries, Startek is a preferred partner for leading brands.
With a focus on taking the Australian brand of CX to the global stage, TSA Group works with partners by assigning them competent agents to handle their customer service needs. 
Aside from full outsourced solutions, they also offer consulting services to help improve your existing processes. With a combination of customer care and sales expertise, TSA doesn't just handle your clients for you; they use the opportunity to accelerate your growth.
From its office in Scoresby, Victoria, Lead Express has been a trusted partner for improving customer experience as well as driving sales.
Although primarily known as a lead generation company, Lead Express has expanded to cover a range of other outsourced services. With a growing roster of in-house calling agents, they can manage your customers for you.
Sharesource is a B Corporation-certified BPO firm, which speaks volumes about the quality of services they offer. Not only do they take over your customer service requirements, but they build a team that will attend to your specific needs.
As such, Sharesource has been a preferred partner for a variety of industries, such as AirborneLogic and TechConnect.

Not to be confused with the global computer company, OracleCMS is one of the top customer service companies in Australia. Its omnichannel customer care support focuses on efficiency and giving clients the maximum value for their money.
OracleCMS focuses on extending its services to Australian clients, with a specialization as an inbound contact center.
Positioning itself as a provider of "Concierge-Level BPO" services, Helpware offers digital customer experience management solutions. Whether it's answering services via call or chat, or providing tech support, they have flexible offerings for clients.
Aside from traditional customer service companies, they can elevate your operations with AI-driven tools for analyzing customer inputs and behavior.
While it doesn't offer as many outsourced services as other entries on this list, LeadCallers offers niched services and is good at it. By focusing on lead and customer calls, they not only sustain your existing customers; they help convert your inquiries into qualified leads.
Across Australia, LeadCallers continue to enjoy the trust of over 300 companies. This includes the Simonds homebuilding firm, Cleanaway waste management, and Selmar Institute of Education.
Influx is a customer support specialist based in Victoria. It envisions itself as the world's largest remote-first customer experience. With a team of over a thousand professionals over the world, they promise scalable teams that can be deployed as fast as possible.
Its fully managed omnichannel customer support are accessible even for smaller enterprises, thanks to its transparent, pay-as-you-go pricing.
Cox Purtell brands itself as a people-matching company. Its specialty is staff augmentation and could cater to your needs for temporary, fixed-term, or permanent arrangements.
As one of the leading customer service companies, Cox Purtell emphasizes providing corporate support, including front and back-end office management solutions.

For a reliable and versatile customer service partner in Australia, consider OneContact. It has the competency and resources for both voice and non-voice customer support.
OneContact allows its clients to establish contact centers in Australia that looking for consistent ancillary support.
TransPerfect offers a wide range of services, including language services and content marketing efforts. As a customer support firm, they have a standard package enough to meet most business needs.
Aside from the usual services, their customer experience even includes over-the-phone interpretation and video remote interpretation, providing you with valuable insights on your customers.
For inbound and outbound customer service, plus outsourced sales solutions, Forrest Marketing Group (FMG) is an Australian leader.
As a major sales and outsourcing solutions provider, FMG has served clients across different industries. They offer support for businesses in finance, SAAS, automotive, construction, and more.
Hammerjack is a joint venture between Australian and Philippine industry experts, operating mainly as an offshore outsourcing services provider. One of their major businesses is in catering to customer care needs across the globe.
Instead of simply taking your requirements and tossing it to its in-house teams, Hammerjack builds a team dedicated solely to your needs.
Operating mostly in Australia and New Zealand, this Melbourne-based firm is a revenue-focused partner—something that extends to each of the clients it serves.
Beyond just answering calls and addressing inquiries, Evolved Contact commits to maintaining customer engagement. Their services include appointment booking, lead qualifications, and outbound sales, among others.
Operating from Smeaton Grange in Sydney, Turnkey Receptionist has teamed up with over 800 clients, both from Australia and overseas.
One of the firms offering full 24/7 support, Turnkey Receptionist builds on the values of timeliness and efficiency. As the name suggests, they have trained professionals capable of extending turnkey solutions to most of your customer service needs.
This Australian-owned and managed BPO firm has over 15 years of experience supporting private and Australian-listed companies to address customer service challenges.
Acquire BPO also serves as the mother company of the SMART group, another onshore outsourcing provider from Melbourne. This has expanded their capabilities, reach, and customer base with a 100% acquisition in 2020.
Through its locations in Australia and the Philippines, Flexisource IT has been helping clients manage their customer service and tech support needs. Its agents are specifically trained to establish rapport and prioritize customer experience.
Aside from customer support agents, Flexisource also covers other outsourcing needs such as digital marketing and managed IT services.
Established in 2013, Aidey continues to cater to the global workforce while connecting them with companies experiencing customer service gaps. With locations in the US and Israel, it remains a valuable partner for enterprises of different sizes.
Instead of simply listing their services, they offer customized packages depending on what industry you operate in.
Unity4 leverages the latest technology to run its intelligent routing solution, which automates customer care but without sacrificing quality of service and accuracy. As one of the leading customer service companies in Australia, its intelligent routing capabilities are available to clients through a convenient dashboard.
Some of the industries served by Unity4 include communications, energy, travel, and nonprofits.

A proven specialist in outbound telemarketing, Imperatif Call Centre Partners is filled with talented agents and marketers who are trained to handle even the most demanding customer service requirements.
Their growth has allowed them to cover full services in the customer service space, making them an even more valuable partner for firms looking to outsource.
BruntWork is a BPO and placement firm that caters to the global market. While it retains offshore team members, including those from the Philippines, it manages to maintain quality services that keep clients with them.
Their customer support capabilities cover most industries, from automotive to finance to real estate. 
Robert Half is primarily a talent solutions provider, meaning they specialize in getting the right person for your company. However, they draw from their talent pool to accommodate varying employment arrangements, making them a viable source of outsourcing solutions.
Whether you need receptionists, customer support representatives, or administrative support specialists, RobertHalf has something for you.
Fonebox makes this list on the strength of its voice services alone, which is one of the most preferred in the region. Fully Australian-owned and based in Queensland, it boasts over a decade of supporting local enterprises.
With over 70+ voice technologies to include in your customer service packages, Fonebox is a flexible end-to-end solution provider.
Hoban is a full staffing and workforce solutions provider trusted by Australian companies for over 50 years. 
Whether you're looking to hire a team member or find an outsourcing team to handle your customer service concerns, their deep experience and extensive network always guarantee the best candidates.
It's worth noting that HOBAN also caters to any work arrangement with their own employee and payroll portal for full transparency.
Sales outreach specialist Salesdeck drives business growth at every turn. It doesn't just manage customer service requirements, it engages with your prospects for both conversion and retention.
By combining business intelligence with expert agents, Salesdeck continues to deliver accelerated growth and consistent value for its clients.
Auxilio Business Solutions is a customer service provider and a digital marketer rolled into one. It continues to position itself as an all-around outsourcing partner for non-core processes. For its customer service, it assigns agents to be the extra hand your business needs.
Unlike other customer service providers, Auxilio Business Solutions often hires professionals that meet your business requirements and then assign them to you.
Tap into the customer service market in Australia
Whether you're a local business or a foreign entity looking to work with the top customer service companies in Australia, it's worth noting that there's no one-size-fits-all solution in outsourcing. 
Make sure to conduct a thorough research, don't miss out on your due diligence, and find a partner that will help you achieve your goals.
Also, if you're part of a customer service provider that we haven't included on this list, make sure to let us know. Be a part of the Outsource Accelerator database via [email protected].