Top 50 US customer service companies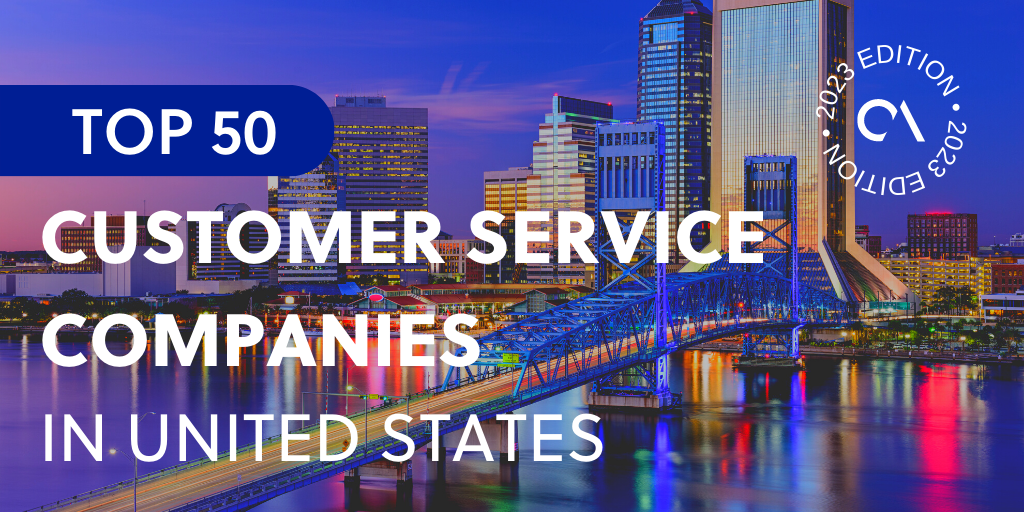 List of US customer service companies 
Customer service companies refer to organizations that provide customer support. They have a team of professional agents who handle queries and assist customers in different ways. Communication can be in the form of calls, e-mails, or chats. 
The top US customer service companies are known for their excellence in customer care and support. As per Future Market Insights, they contributed to the whooping $21.7 billion revenue of the call center market in 2022. 
Read on to find out the top US customer services companies you should be partnering with if you want to give the best customer experience.
Questions to ask when choosing a US customer service company
Choosing the right US customer service company is crucial for your business. Below are a few guide questions to help you make an informed choice:
What type of services or level of customer support do you provide? 
To save more money, it's wise to get all kinds of customer support from one vendor. Hence, it's important to ask about the level of customer service a company can provide you. 
Inquire about their services and communication channels. Be sure to compare pricing models to see which one offers the best value for money.
What is your industry focus? 
The right customer support agency provides services to businesses in your industry. This company makes a better partner because it understands your unique requirements and knows the recent trends.  
What tools or technologies do you use?
Before you ask this question, it's good to read up on the latest trends in customer service first. Understand what tools are the best so you can gauge the company's capabilities. 
Some customer service companies develop their own platforms, while others use third-party tools. Regardless of your choice, be sure to choose a company that can explain the technologies they use and why they use them. 
How do you measure customer satisfaction?
The reason why you are outsourcing your customer service is to ensure your clients are getting the best experience. The best agency uses reliable metrics that evaluate customer satisfaction and provides insights into the quality of engagements.

How can you ensure security? 
Data security is a big deal these days. You need to make sure that the applications or tools are secured otherwise, your business and customer's data privacy are at risk. So, ask about how they can ensure cyber security at all times. 
Advantages of partnering with a US customer service company
In today's competitive market, high-quality customer service matters. It can mean a difference between converting a lead to shooing away a potential customer forever.
What better way to ensure that your customers feel that they are being treated right than partnering with the experts? 
Below are the advantages of working with a reliable US customer service company:
Expertise and specializations
Top customer service companies give businesses access to experienced agents who know how to speak with customers in a friendly and professional manner. These people underwent rigorous training in all aspects of customer service. 
24/7 availability
Most companies provide 24/7/365 support. This ensures that your business is always ready to engage with customers, answer their inquiries, and provide assistance at any time. 
Round-the-clock support is great for international brands. 
Business focus
Customer service should always be part of any business model. But it can be challenging to perform this when you have so many responsibilities on your plate. 
Customer service companies are here to join your team. Outsource your call center, virtual assistance, and customer support and focus on the core business competencies.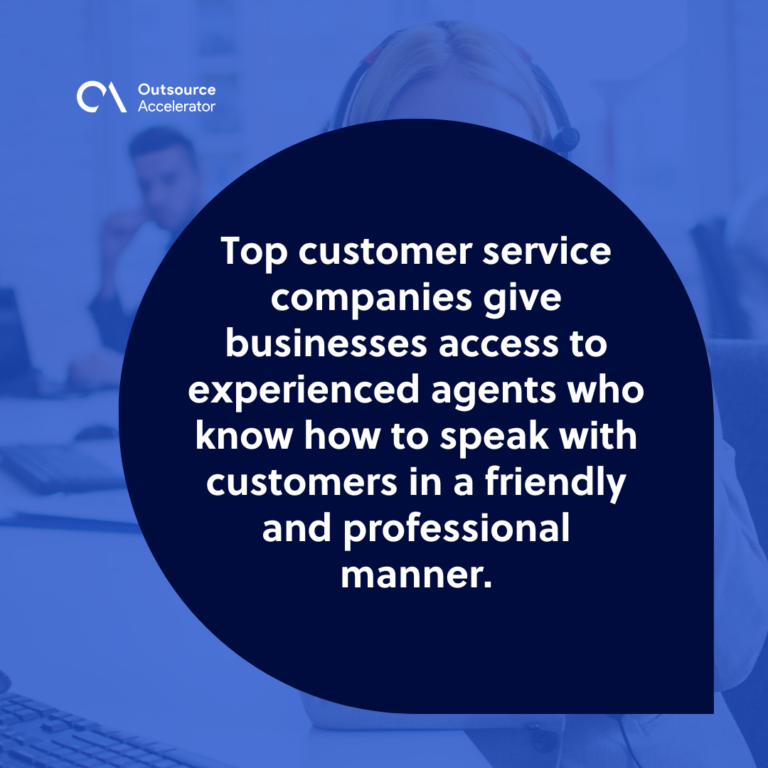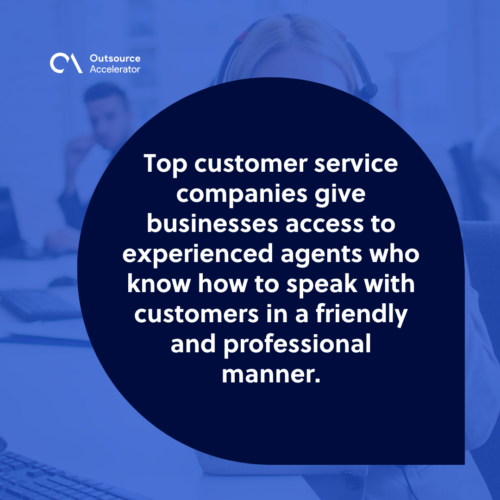 Top global outsourcing lists
Outsource Accelerator is the world's leading outsourcing marketplace and advisory. We list over 700 BPO firms located across the globe in our global directory, and we provide detailed information, price guides, and reviews. 
Whether you're a solopreneur, SME owner, or corporate executive, we can help you find the most suitable outsourcing provider for your business.
Explore our outsourcing directory now. You may also check out our Top customer service companies lists per country here:
Top 50 US customer service companies
Here we have a list of the leading customer service firms in the US:
SYKES is a Florida-based BPO company that is present globally. It is known for providing customer experience management services to more than 2000 companies. 
SYKES caters to clients in the finance, IT, communication, healthcare, leisure, and transportation industries. It aims to engage customers in every possible touchpoint, from digital media and acquisition to technical support.
Working Solutions is an award-winning US customer service company offering CX solutions to businesses across different sectors. It has professional agents in the US and Canada. 
Working Solutions bridges the gap between clients and customers through different communication channels. These include e-mails, live chats, phone calls, videos, and social media. 
Headquartered in Lexington, KY, Helpware provides concierge-level customer service to help businesses grow, scale, and give back. The company has BPO offices in the Philippines, Mexico, Puerto Rico, Mexico, as well as Europe.
Helpware creates superior customer experiences through back-office support, chat support, technical support, and AI operations. 
VXI Global Solutions is among the biggest names in the global BPO industry. Aside from Los Angeles, it also has offices in Atlanta, Austin, Beverly Hills, and other cities in the US. It is also present in various countries.
VXI Global Solutions invests in top talents and tools to offer the best customer experience and make its process seamless. It serves a broad range of industries, including automotive, communication, retail, and hospitality.

With offices in over 100 locations around the world, Influx is a reliable partner for all kinds of businesses, from start-ups to enterprises. Some of the brands it has worked with include Linktree, Classpass, and Adobe. 
Influx offers e-commerce customer support, SaaS customer support, technical support, WordPress support, and mobile application support, among many others.
Teleperformance offers its top-notch customer services not only in France but also in the US and other countries. It's one of the leaders in customer experience management, providing omnichannel support to reputable brands.
Teleperformance advances brands through digital transformation, investing in world-class talents and support technologies.
Operating in America and Europe, SkyCom is a 17-year-old customer service company that has HIPAA, PCI, and SOC 1-2 certifications. It is proudly serving industries from healthcare and technology to travel and e-commerce. 
SkyCom offers services beyond customer support. It also helps businesses with telemarketing, sales, collection, back office, and IT support.
Integra Global Solutions USA is based in Pittsburgh, PA. It has headquarters in London, Ontario, Cebu, Coimbatore, and other cities around the world. 
The customer service company offers outsourcing and automation solutions for businesses of all sizes. It aims to help them achieve efficiency and get ahead of the competition.
If you are on the lookout for English and Spanish-speaking customer service representatives, choose Telus International. It has two digital CX centers and more than 3000 employees who are ready to meet your unique CX needs.
Operating in Nevada and South Carolina, Telus serves healthcare, automotive, gaming, fintech, travel, hospitality, and many other industries.

Ubiquity delivers world-class customer experience through a bespoke approach. It provides a full suite of services, including customer care and retention, technical support, inbound and outbound sales, and payments and collection.  
If you want to scale your CX and grow your business, partner with one of the experts in customer experience management.
Upcall is a California-based customer service company that assists businesses in lead conversions. It's one of the experts in outbound calls, market research, and sales calls.
Upcall aims to empower the sales and marketing departments in your business by creating real phone, email, and text conversations with your clients. It's currently working with some of the biggest brands in the hospitality and technology industry.
Liveops offers VirtualFlex, data-powered a platform that delivers on-demand CX to enterprises and their customers. Through this, agents can perform chat, email, text, post-automation support, back-office solutions, and inbound/outbound calls.
Liveops provides virtual call center solutions for businesses in different industries, including healthcare, retail, insurance, travel, and hospitality.
When it comes to on-demand virtual customer support, you can rely on the capabilities of Arise. This company has been on a mission to redefine customer service outsourcing for more than 25 years.
Its platform is designed to deliver cost-effective and unsurpassed scalability, flexibility, and continuity. It tailors solutions according to the industry requirements and needs of every client.
Apex Call Centers is one of the best BPOs in Fort Lauderdale, FL, with offices in Mexico and the Philippines. It was founded in 2017 with the goal of providing a full-service center where businesses can meet all their needs.
Apex Call Centers is an award-winning company with ISO9001-2015 certification. It is an A+ BBB, PCI Compliant, and HIPAA Compliant business that offers a variety of outsourcing solutions.

Wing Assistant was established in 2018 in Berkeley, CA. It proudly serves startups and SMEs in the e-commerce, advertising, IT, real estate, and medical sectors.
Wing Assistant provides businesses with reliable virtual assistants at low monthly fixed prices. From receiving calls, tracking expenses, and managing team calendars to responding to emails, their VAs are here to assist you with anything. 
Since 2016, the company has been serious about providing the best omnichannel customer service for hundreds of clients. It delivers outstanding call centers, SaaS customer support, and live chat answering services.
WOW24-7 operates in 33 time zones and offers services in 18 languages. It's known for its 24/7 global coverage, working with well-known brands worldwide.
Uassist.Me has been delivering BPO solutions to small and medium companies in the US for more than 13 years. It serves hundreds of clients across the globe. 
Uassist.Me provides flexible, scalable, and efficient customer service to meet specific client requirements. It has a dynamic team of professionals in business, marketing, sales, and lead generation.
IdeasUnlimited is a global firm with offices in every continent. This company was established in 2010 and is headquartered in Sugar Land, TX. 
IdeasUnlimited brings extensive years of experience in 24/7 call center services, virtual assistance, e-commerce support, transcription, translation, IT services, and backend operations support. 
Remote CoWorker was founded in 2013. Since then, it has been dedicated to serving clients across industries. It offers a variety of outsourcing services such as call center, back office, and accounting
When you partner with Remote CoWorker, taking your company to the next level is easier. With its highly-skilled, professionally trained virtual assistants and plans at competitive prices, you can achieve business goals affordably.
DialAmerica is a B2B & B2C customer engagement service provider that employs more than 9,000 professionals. This company has offered reliable domestic call center services since 1957. 
Throughout those decades in the contact center outsourcing industry, DialAmerica has focused on human connection and tailored solutions. They are some of the ingredients to their success.
GCS puts the 'custom' in customer service. Its approach to business is tailoring its services to meet the unique needs of each clientele.
As one of the industry leaders in managed contact centers, GCS has the right team, tools, and expertise to handle your customer contact needs. It is currently located in Salisbury, NC, and Long Island City, NY.
If you are looking for a trusted customer service company in King of Prussia, PA, choose Specialty Answering Service. It's an award-winning live answering service provider that ensures 24/7/365 coverage.
The company started in 1985 and has partnered with hundreds of local businesses. Its agents perform appointment services, after-sale calls, registration, and outbound and inbound calls.
Resconcierge is a Frisco-based company that offers concierge customer support to online and brick-and-mortar businesses. It can also help with recruitment and provide an omnichannel tech-enabled platform.
ResConcierge's customer service solutions include answering services, inbound and outbound calls, lead generation, live chat, CRM management, and social media management.
Tri Source International is located in Santa Clarita, CA, and Tijuana, Mexico. It proudly offers strategic and seamless SEO solutions so businesses can focus on what they do best. 
Partner with Tri Source International when you need back-office support, talented call center agents, and experienced HR consultants.

Since its establishment in 1968, it has received a lot of awards and recognition for being the best call center and the top place to work in Houston. It continues to provide reliable customer service, back office, sales, and call center services.
Westpark Communications is a call center in Spring, TX, catering to businesses in consumer products and services, dental, education, energy, and financial industries.
Ansafone Contact Centers offers 50 years of customer service experience in Ocala, FL, and beyond. It's one of the most reliable call center service providers and BPO companies. 
Ansafone Contact Centers is dedicated to creating tailored solutions to answer their client's needs. In fact, the company was awarded by the Business Intelligence Group, winning the 2019 Excellence in Customer Service Award. 
RemSource offers virtual support and business consulting to business services, medical, real estate, financial, and manufacturing companies. This Baltimore-based organization started operating in 2009.
RemSource specializes in helping small businesses grow and improve customer relationships through high-end service and attention. It provides outsourced administrative, bookkeeping, and project management.
Do you have a business in Dover, DE? If you need back-office support, partner with Pharmbills. 
The company started in 2018 in the healthcare industry. Now, it has expanded its services to serve the real estate and insurance industries.
Pharmbills employs almost a thousand professionals with skills in bookkeeping, client and vendor communication, tech support, and real estate management.
Looking to hire professional virtual assistants in Kansas City, MO? Look no further than Tasks Expert. Since 2017, this business has been dedicated to providing the best customer service that matches client requirements at affordable prices.
Task Expert also operates in its office in Mumbai, India, allowing itself to serve global markets. The company's well-rounded virtual assistants perform admin tasks, bookkeeping, and data entry, among many others.
Intelligent Office began providing call center services, customer service outsourcing, and back office support in 2010. Since then, the company has journeyed with different kinds of businesses toward their success. 
Based in Denver, Intelligent Office caters to local, national, and international clients. Besides custom call answering, virtual assistants, and virtual addresses, it also offers meeting rooms and private office space. 
Headquartered in Capon Bridge, WV, Direct Answer is committed to helping companies by offering first-class, turn-key response management services. It has been operating since 1991.
Direct Answer was named the top contact center for multiple years and has received recognition for its outstanding lockbox, data entry, and fulfillment services. 
New York-based company FirmsDesk offers 3rd generation customer support since its establishment in 2016. It has driven reliable results for more than 2,000 world-class brands and organizations of all sizes.
FirmsDesk has dedicated account managers, an experienced customer support team, and multilingual experts.
Alpha BPO treats every business as a partner, providing them with tailored customer solutions that meet their needs. The company was founded in 2018 and has offices in Miami, FL, as well as Nicaragua. 
Alpha BPO can support your organization in different ways. These include providing tech support, bilingual customer care, back office support, and digital marketing services.
When it comes to back office and virtual assistant services, The Hour is the best provider in Great Neck Plaza. It can provide you with the right team to scale your business and achieve its unique goals.
The company has professionals who are trained and experienced in all aspects of admin operation and marketing. They can perform project management, email management, online research, and social media promotions.
This Pasadena-based company has an A+ certification from the Better Business Bureau. It aims to make customer service, accounting, outsourcing, and accounting easy with its top talents. 
GlobalityNet focuses on delivering solutions for small and midsize businesses. It helps clients keep up with the competitive market locally and globally.
AdvancedMD is the top choice for healthcare companies and independent physicians. It's a trusted healthcare technology company that delivers exceptional call center services, back office support, and medical billing. 
AdvancedMD offers an all-in-one medical office software that is 100% cloud-based. It is designed to automate workflow and streamline day-to-day operations.
Xync was founded in 2017 by marketing and service professionals with the desire to make outsourcing better. It Offers omnichannel lead generation services, database solutions, and event marketing. 
Xync has a combined industry experience of 20 years. Its expertise has helped businesses see growth and maintain customer relationships.
Founded in 2011, the company provides outbound and inbound call center and virtual assistance. It serves businesses in IT, insurance, real estate, retail, and commerce. 
Hit Rate Solutions doesn't only increase leads and enhance businesses but also helps them decrease operational costs and save money. The company is located in Sheridan, WY. 
If you want to partner with Sycamore's top debt collection company, choose Rozlin Financial Group (RFIG). It snatched the number one spot for the Best Pick Consumer Collection Agency in 2020 by Business.com. 
RFIG has debt-collection experts with many years of experience. It also offers back office outsourcing and legal outsourcing. 
Sunshine Communications is a bilingual customer support company that started in 1975. It provides its services from its headquarters in Coral Gables, FL. 
Sunshine Communications is known for its reliable and affordable answering services for businesses in the medical, real estate, and legal industries. 
Since 2007, ReceptionHQ has been serious about becoming the best virtual reception and call answering services provider in Phoenix, AZ. It offers tailored solutions to help businesses grow.
The company has worked for entrepreneurs and professionals, from governments and corporates to non-profit organizations in Arizona, the UK, and New Zealand.
89bots.com is an expert chatbot agency that uses chat to establish and maintain good customer relationships. It creates chatbots that help increase sales, generate leads, and automate pipelines. 
With 89Bots.com, businesses across industries can deliver 24/7 customer service. Through this technology, they can sell products, re-market brands, answer customers' questions, and convert leads.
For law firms and attorneys, Alert Communications is the best customer service company in the US. This organization is currently the top legal call-answering service provider, helping law firms grow their practices and increase revenue.
Alert Communications offer legal answering, intake, live chat and text, and virtual assistants. It also provides advertising, marketing, and web design services.
Perfect Data Entry is based in Bradenton, FL, and is known for its data entry services. The company can also provide businesses with reliable virtual assistants who perform customer support, telemarketing, email management, social tasks, and online research.
Perfect Data Entry's services are available for a variety of companies in the advertising, marketing, retail, medical, and legal industries. 
Softfile started in 1988 as a document imaging service provider to corporate businesses and government organizations. Today, the company also offers BPO services. 
Softfile employs talented professionals who help businesses ensure the best customer service experience. They assist in day-to-day operations, offering accounts payable, mail processing, and open enrollment.
Centro is a multinational BPO company that offers CX and DX services and solutions to different industry sectors. It has clients all over the world, including Canada, Europe, and Egypt. 
Centro ensures customer satisfaction by adopting innovative technologies. It leverages human talent and data to provide professional contact center services, HR and IT outsourcing, and medical billing services.
Based in Ann Arbor, MI, Online VA Team employs experienced virtual assistants to help skyrocket businesses. It can assemble a competent remote team at a low overhead cost for your company.
The company aims to help busy entrepreneurs focus on what they do best by allowing time-consuming tasks to their reliable virtual assistants. Since 2014, it has partnered with different telecommunications, financial, and medical clients.
LiveSalesman is the trusted call center company of well-known companies, including GE Money, Skype, Nissan Connect, and Borderlinx. It provides native multilingual support all over the world.
LiveSalesman offers customer support, online personal shoppers, live chat support, disaster backup call center, back office, and other BPO services.
PCMSI began offering affordable and customized solutions in 1962. It also provides HIPAA-compliant medical answering and messaging services, emergency dispatch, and online appointment scheduling. 
PCMSI provides businesses with friendly and professional phone operators who ensure quality and reliability in every call. It delivers premium answering services for real estate, IT, transportation, and utilities clients. 
Stafford Communications is a well-known customer experience management company globally. Since 1995, it's been dedicated to delivering best-in-class call center outsourcing services, from inbound/outbound calls, text messaging, email, and chat to postal mail and social media.
Stafford Communications caters to companies of all sizes. It offers unique business models as well as marketing services to maximize results.