Top 20 sales outsourcing companies to grow your sales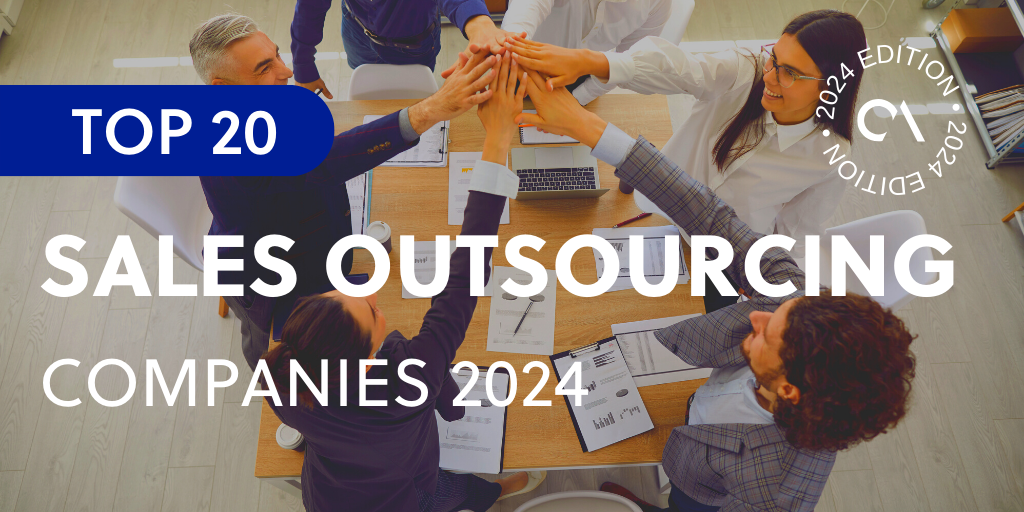 Every successful business today started with a goal – to grow. There are several avenues to reach that specific goal. However, nothing has a more immediate impact on revenue growth than increasing your company's sales. 
Your sales team needs to keep up to increase sales opportunities. Do you think outsourcing can help? Working with the top sales outsourcing companies and management teams might. They can take the burden off your in-house team's shoulders to contribute more to the business. 
List of top sales outsourcing companies
What is sales outsourcing?
Sales outsourcing means delegating some of your sales activities to a third-party company. They have experts who can handle your sales operations using proven methodologies and expertise. Think of them as the extension of your in-house sales team. 
If you think outsourcing can make your sales piping hot, you must first assess if it fits your strategy. Businesses that lack resources outsource to turbocharge their sales operations without breaking the bank. 
Salespeople spend their time doing administrative work. What about the selling part? 
Partnering with credible sales outsourcing companies can help you stay focused on growing your business. They also allow your in-house salespeople to focus on higher-level tactical tasks or strategies.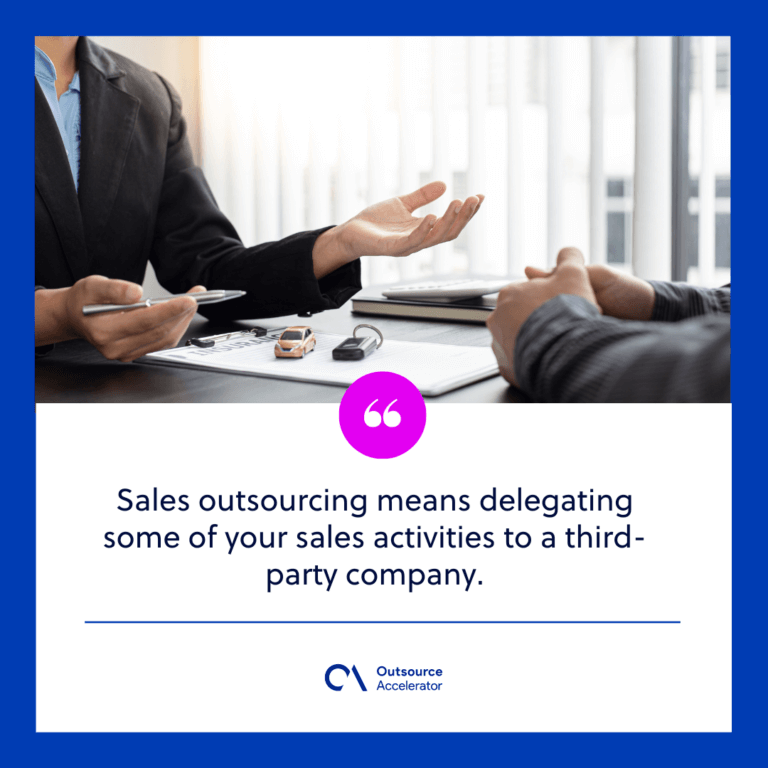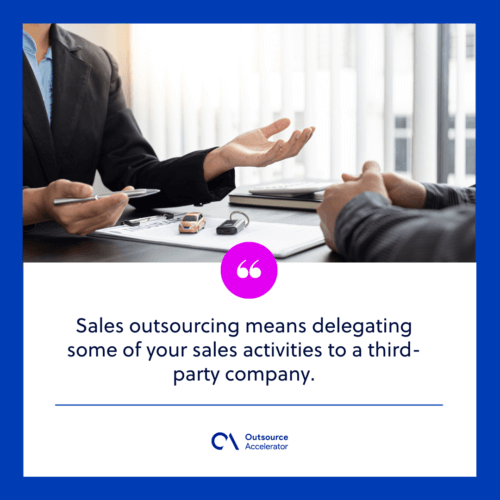 Top global outsourcing list
Outsource Accelerator is the world's leading outsourcing marketplace and advisory. We list over 3,000 BPO firms located across the globe in our global directory, and we provide detailed information, price guides, and reviews.

Whether you're a solopreneur, SME owner, or corporate executive, we can help you find the most suitable outsourcing provider for your business. Explore our outsourcing directory now. 
List of top sales outsourcing companies to boost sales
Outsourcing sales strategies can impact your sales results and bottom line. Each company in this list has a different specialization but can contribute great results to your existing sales operations. 
Check out the outsourcing sales companies that made the list: 
Salesroads is an award-winning B2B sales outsourcing firm that has been in the business for over 15 years. This company has proven its mark in the industry, given its successful track record and decorated portfolio. 
What makes Salesroads successful? The company knows what your business needs. It can build your outsourced development team complete with dedicated sales experts, data experts, client success managers, and sales coaches. 
Salesroads is not a fan of cookie-cutter sales programs. Its solutions for fueling your revenue include B2B appointment setting, list building, sales intent data, and lead generation.  
Martal Group serves B2B tech companies. This company can be your sales partner, generating qualified leads and providing support staff powered by human intelligence and business data. 
With over 14 years of experience, Martal Group has helped several industries, including financial services, IT, retail, telecom, e-commerce, and more. It has more than 200 sales executives and account managers who can help you scale your company faster. 
Martal Group takes on these sales functions: customer onboarding, account management, personalized outreach, and lead generation. 
Nerdy Joe works with SaaS businesses and e-commerce brands. Its experts can help the in-house sales team develop strategies that win customers. Their work does not stop after generating leads; it is only the beginning. 
Nerdy Joe nurtures and focuses on leads that are not only interested in your product or service but are most likely to turn into loyal customers.
You can work with Nerdy Joe if you need help in the following areas: Outbound lead generation, lead research, and appointment setting. 
Founded in 2017, Belkins has worked with many brands from North America, Europe, Australia, and South America.
It is an award-winning B2B lead generation and sales outsourcing agency, helping its partners unlock their full potential.
Belkins is not all talk. Its case studies and customers' testimonials speak for the company's success. Working with Belkins gives you access to its seasoned sales team, including an account manager and sales development representative (SDR). 
Belkins' services include appointment setting, demand generation, cold email outreach, sales development, LinkedIn marketing, CRM consulting, and sales enablement. 
Cience focuses on B2B lead generation sales. It has over 1,200 employees who helped thousands of clients in many industries grow through multi-channel outbound and inbound sales development, sales research, and sales operations work. 
Cience understands that your sales team should be selling. It is why the company's strategic thinkers developed precision prospecting using their gathered data, expertise, and experience. 
Moreover, Cience has developed CIENCE GO platform, which has seven software modules that your sales and marketing team needs.
It includes sales intelligence, prospect awareness, web chat, booking sales meetings onto the calendar, and data integration. 
TaskDrive is a B2B sales and marketing company that provides market research and lead generation services.
It works with your in-house sales team and can take over the key sales operations while you focus on your business milestones.
TaskDrive wants its partners and prospects to make well-informed decisions using the valuable account-based insights that they have gathered. The company's specialists will also stop you from prospecting and push you to start closing deals. 
TaskDrive's package includes lead research, lead qualification, managed email outreach, cold calling, and LinkedIn social selling. 
Next on the list is Operatix, an outsourced SDR company specializing in boosting the sales of B2B software companies.
This company caters to the tech industry, software vendors, and startups across North America and Europe. 
Over 500 software vendors have accelerated growth and sales because of Operatix's outsourced SDR services.
Operatix can handle your core sales activities, including outbound sales development, cold prospecting, lead qualification, deal management, and account-based selling. 
From starting from a small co-working space in Toronto, The Sales Factory is now one of the largest business development services companies helping its partners grow exponentially.
The Sales Factory's sales representatives do this through their multi-channel outreach initiatives and proven marketing and sales strategies. 
If you want to energize your path forward, The Sales Factory can build an outbound sales playbook and get you an ongoing contact list of over 150 million. The company also handles account management and CRM operations.  
If you want to scale your business, you must adapt and make tough decisions. However, implementing the right strategy and working with an experienced outsourcing partner can bring profitable and sustainable growth.
This is what MarketStar is about. 
MarketStar is another B2B outsourcing and lead generation company that helps its partners boost their sales figures and unlock profitable growth. 
Its team of skilled sales and marketing professionals can help you in many areas. They identify qualified leads, acquire customers, nurture client relationships, engage with customers, and strengthen sales performance.  
Working with Pareto's data experts and AI-optimized workflows allows you to maximize your sales efforts.
They help businesses:
Increase revenue

Make strategic decisions, and

Improve efficiency with market research and targeted lead generation
Outsourcing your sales activities to Pareto means you can take advantage of cutting-edge technology and its team of data experts.
It leaves you more time and energy to develop marketing strategies while Pareto does the heavy lifting for your targeted campaigns. 
SalesNash started as a sales development company that caters to software teams. Today, it is a multinational company with multiple divisions, helping businesses with B2B lead generation, prospecting, sales development, inbound marketing, and more. 
SalesNash's experts have been in the game for years. They fine-tune your winning strategies to ensure you connect with the right leads. It is because SalesNash is after one thing – generating quality leads.  
Your visions will turn to results with 1840 & Company. For years, this company has mastered the art of finding the right sales talent to close deals.
It has a global network of sales experts who know the twists and turns of every industry. 
The 1840 managed model allows you to manage the talents directly. Whether you need representatives for outbound sales, sales development, business development, or appointment setters, 1840 & Company can help your business scale. 
Having many leads does not equate to campaign success. You need the right quality of leads, which SalesPanel can help you with. SalesPanel is a lead generation and sales intelligence software that can help your business identify, track, and qualify quality leads. 
You can outsource or automate your sales activities, including real-time sales email tracking, data gathering, qualifying leads, and knowing purchase intent. 
You are probably looking for a partner who can unlock your sales goals with speed and experience. JumpCrew can transform your business and take your revenue to new heights.
It is a lead-generation agency that leverages data to develop sales strategies to move your prospects to the sales funnel.
Partnering with JumpCrew means working with the right people who know what efficient sales and processes are.
Addlium helps B2B companies streamline their processes using the social selling approach. But what does this company do exactly?
Addlium's mission is to reduce your sales team's time processing your targeted contact by 30%. They will start with researching your target markets and using proven methods in outbound lead generation. 
Increasing brand awareness and engaging with the target audience is also part of their routine. These services aim to deliver one thing–more profit for your business. 
SalesHive is another leading B2B sales outsourcing company specializing in lead generation and marketing. The company's mission is to help its partners boost their sales revenue through cold calling, email marketing, LinkedIn outreach, list building, and direct mail. 
SalesHive's long-term marketing strategies begin by understanding the needs of each client. After identifying the business objectives, they devise a personalized plan to increase their sales numbers. 
Cleverly has generated LinkedIn leads for over 5,000 clients. This company specializes in generating qualified leads and driving revenue.
It uses the data they collect from its successful campaigns to craft icebreakers and personalized messages to its prospects. 
After building the prospect list, they target and engage decision-makers using the outreach message customized for each individual. 
Cleverly has account managers who monitor your campaigns, provide weekly updates, and make improvements based on real-time data. 
Leadium describes itself as "the future of sales." The company consistently delivers better processes with its experienced team to generate more revenue.
Its years of experience in outbound sales led to sustainable growth, less burden on the HR's shoulders, and reduced customer acquisition costs. 
Once you sign up with this company, you will receive a full-service appointment-setting, channel-optimized lead research and top-of-funnel sales strategy.
Leadium also helps its partners establish the proper tech stack to ensure that every campaign reaches its targets. 
If there is something Pearl Lemon Leads can do, it is to book 20 calls in 30 days in six months. 
Pearl Lemon Leads is an award-winning lead generation agency based in London. This company can help you maximize your reach and convert more prospects with proven lead-generation services. 
Pearl Lemon Leads does not only deliver results–the company's specialists overdeliver. They can handle your cold emails, calls, appointment setting, and lead generation. 
Again Again Agency is a B2B lead generation agency with professionals who look for new ways to improve its partners' campaigns. The company has served over 15 industries, including IT, consulting, logistics, healthcare, and more. 
Again Again Agency provides lead generation services through email marketing, remarketing, and targeted advertising campaigns. This approach can help your business leave a positive impression on future partners. 
Transform your business with sales outsourcing
You might be wondering how to ramp up your sales output. Pray emails would not work. Dial tactics are not so effective. How about ads? You must ensure you target the right audience before your budget disappears. 
Your sales team needs a clear roadmap to help them achieve the desired results and optimize sales growth.
Putting pressure would not help, but outsourcing sales operations might. You have several options once you are ready to outsource your sales efforts.