Top countries to outsource your sales development activity
Last updated: October 10, 2022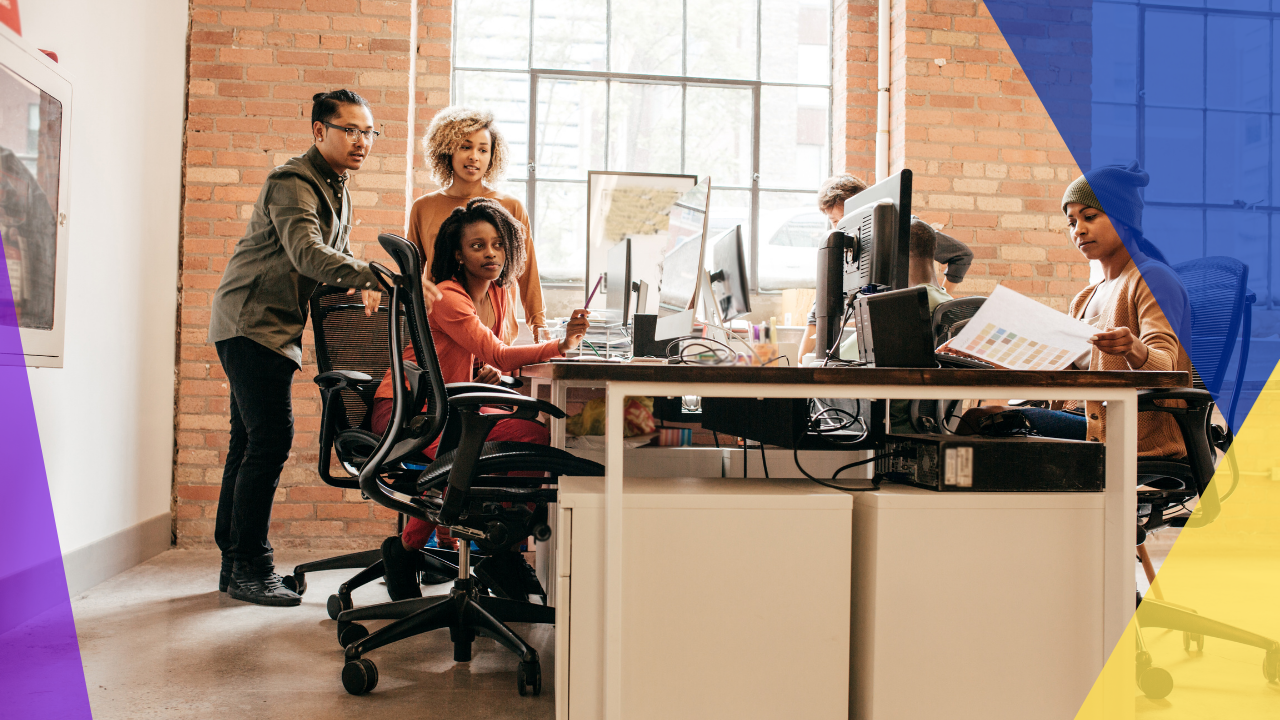 Sales development representatives bring in more high-quality leads for every business. They determine the people who can be turned into paying customers, allowing the sales team to focus on selling your products or services.
However, not all organizations have the budget to hire a full-time in-house team and provide them with the latest technology, data, and support for performance optimization.
Enter outsourcing. The following article will lay out the advantages of hiring an outsourced sales development team and where to get the right staff for your company.
Outsourced sales development vs. in-house sales development
Sales development is the new approach to doing sales, utilizing and striking a harmony between processes, people, and technology. It prioritizes searching for and identifying the right leads to pass on to your local sales team.
Sales development representatives or SDRs identify, connect with, and assess the right people to add to the company's official pipeline.
Creating a successful sales development strategy fit for your brand takes a lot of time and effort. For instance, you have to think about whether to recruit an in-house team or outsource it to third-party providers.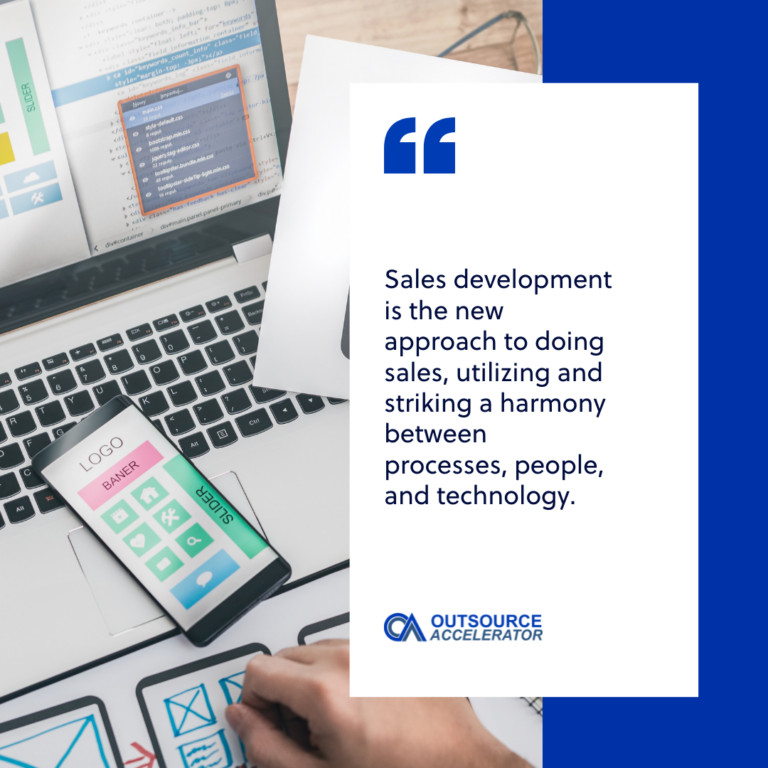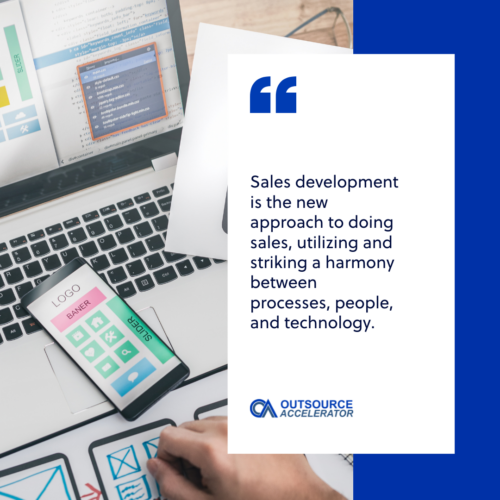 Advantages of in-house sales development
An in-house sales development team is ideal for a company with a bigger budget. With their help, you could have the following advantages:
Full control on the sales development operation

Ability to review customer feedback

Loyalty from employees as they work solely for your organization

Direct evaluation of the skills, training, and performance of your employees
Advantages of outsourced sales development
On the other hand, there is no one-size-fits-all solution to everything. Other businesses may find it easier to hire an outsourcing agency.
The benefits of acquiring an outsourced sales development team include:
Access to skilled sales development staff

Omnichannel lead generation and appointment setting solution

Up-to-date technology that can simplify processes 

Priority on planning and closing sales

Opportunity for your company to expand easily to other locations
Best countries to outsource your sales development
When looking for outsourcing partners, it is crucial to look into countries known for excellent manpower and services.
That is why we have compiled a list of the top countries to consider when outsourcing sales development representatives.
Philippines
For over two decades now, Filipinos have provided the best outsourcing services in Asia — and even the world. The Philippines became renowned as the "call center capital of the world" due to its expertise in the outsourcing industry.
This is mostly attributed to the population's exceptional English skills. In fact, it is one of the main languages in the country, next to Filipino. Their hold on the language allows them to perform their tasks efficiently and communicate with an English-speaking audience.
This is an amazing advantage in sales development as your agents have to talk with customers most of the time — explaining what your products and services can do.
United States
Until recently, most people believed that American companies are the ones hiring foreign workers. But now, domestic providers are rising as an alternative solution to outsourcing in the United States. 
Outsourcing your business to the US means that you are protected by strict US laws and have access to 24/7 monitoring, hardware VPN, and other security measures for your operations.
Further, US workers are known to be highly competitive in any industry. So, hiring an American sales development team could help your company maintain success in finding prospective customers.
India
Despite taking a big hit from the recent pandemic, India still landed in second place in Tholons Top 50 Digital Nations list for 2021. This feat proves that it maintained its outstanding outsourcing performance amid interruptions.
The main reason why companies turn to India for outsourcing is its cost-efficiency. The country's low cost of living results in a low average salary for local employees. However, the quality of work is not sacrificed as its outsourced professionals are highly trained in the industry.
There are also plenty of Indian citizens who are fluent in English, making it ideal for European and North American companies aiming to outsource sales development teams.
Mexico
Mexico shares a time zone with the United States and Canada, making it an ideal nearshore location.
Recruiting Mexico-based teams means that there would be no issue in scheduling meetings, deadlines, and even impromptu check-ins. The speed of communication is also fast as there are no gaps between your local team's and the outsourced team's schedule.
Brazil
If you want to explore beyond Mexico but still stay within the Latin American region, Brazil is another worthy prospect. With its deep talent pool and up-to-date tech infrastructure, you can find an outsourcing partner easily in this country.
It also helps that the government is actively promoting its local outsourcing industry to the world. Brazil has worked on transforming its business outlook and framework and training its workforce to meet the demands of the global BPO market.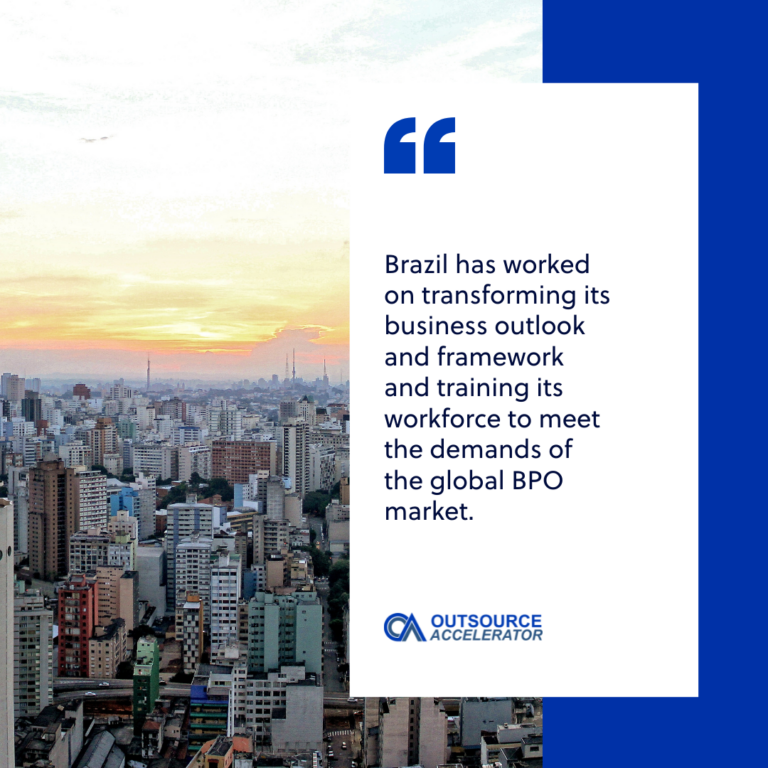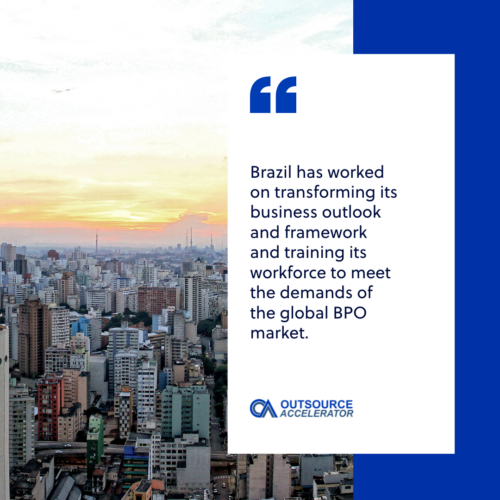 Introducing DOXA
For your outsourcing needs, look no further than DOXA to help build your first-rate sales development strategy from scratch. Its team of English-speaking, highly skilled Filipinos allows your company to seamlessly connect with high-quality leads for your pipeline.
You can have access to a deep pool of qualified talents while saving up to 70% on hiring costs. DOXA also assists businesses in enhancing their productivity by using process mapping such as robotic process automation (RPA).
DOXA closely collaborates with its clients and understands their business objectives, values, and culture. This way, you can be connected with the right team for your organization.
Visit DOXA's website now to start mapping out your sales development journey.