Email marketing: How to choose an outsourcing partner that fits your needs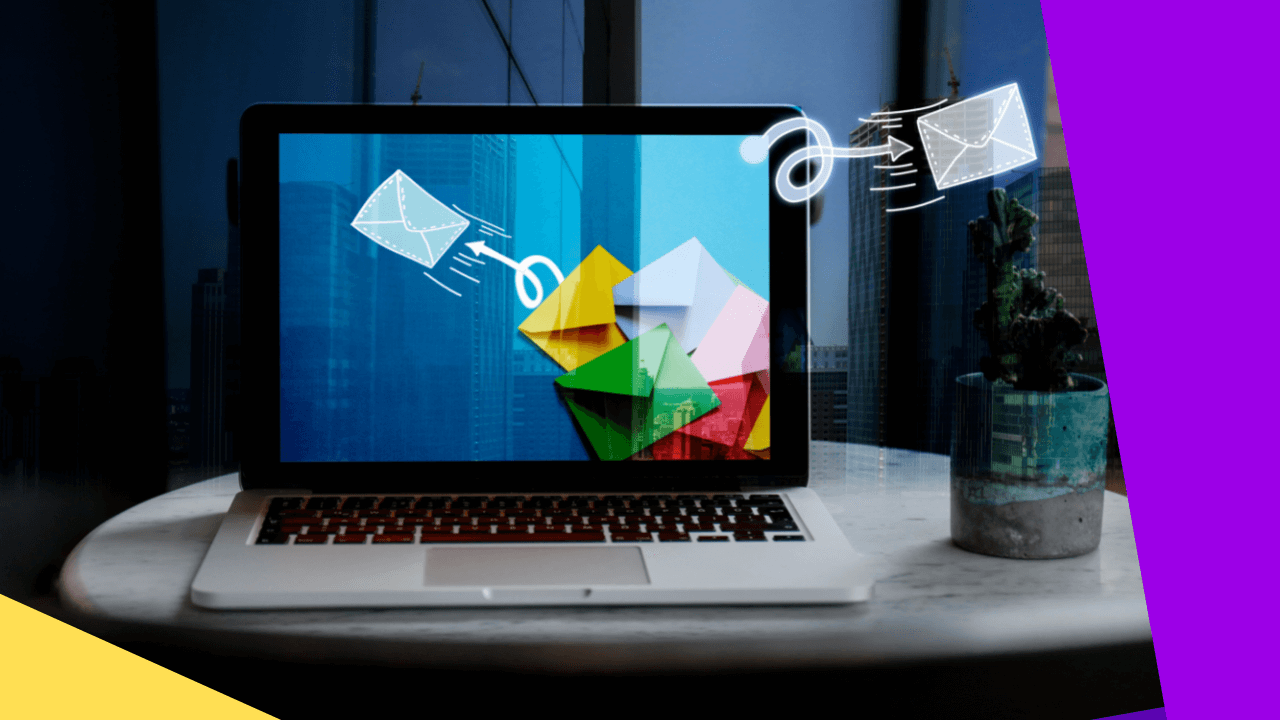 Email marketing is still one of the most effective ways to engage your brand's existing customer base and reach out to new ones.
Despite the prevalence of social media platforms, such as Facebook, LinkedIn, and Twitter, the use of personal and commercial emails remain high. Thus, utilizing emails for marketing campaigns is yet to fall out of style with experienced marketers.
What makes email marketing an effective marketing strategy, as mentioned earlier, is it allows you to connect with both existing and potential customers. It lets you address your clients directly through their inbox when it's most convenient for them.
With the correct approach, you can transform emails into one of your most effective marketing channels.
Is email marketing worth outsourcing?
Email marketing entails a more personalized approach than most other forms of marketing. For this reason, it's important to partner with an outsourcing company like Doxa7 that can function as your extended team.
Choosing an outsourcing partner that fits seamlessly as an extension of your company's existing teams ensures that your email marketing is executed with the expertise aligned with your marketing strategy and company values.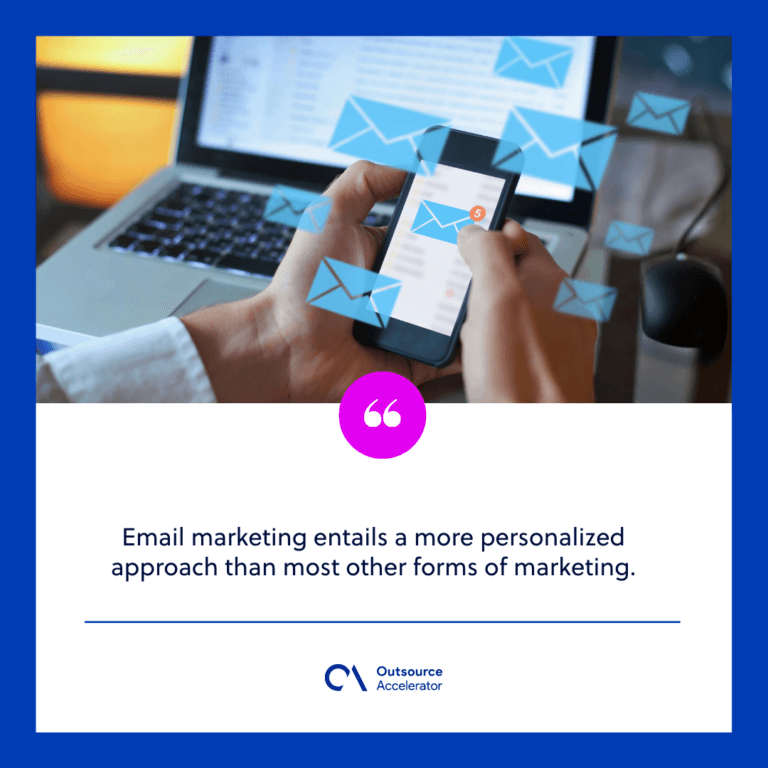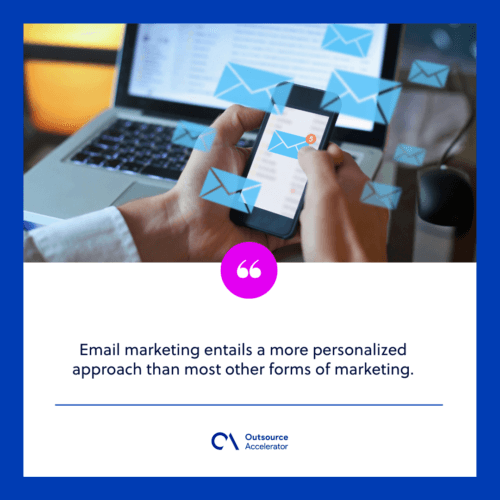 Aside from the benefit of having a trusted overseas partner for your email marketing needs, there are also other advantages you can gain from outsourcing, such as:
Improved output quality and delivery
Outsourcing companies employ specialized teams – copywriters, graphic designers, editors, etc. – to handle your email marketing. These professionals are commonly trained in various marketing styles and have in-depth copywriting knowledge and experience.
Moreover, these companies often already have these experts at their disposal. By partnering with them, you'll be able to produce better copies at a lower cost and faster rate.
Reduced costs
Recruitment and training of copywriters for your email marketing team incur additional operating costs on top of the increased costs for creating effective email marketing programs.
Additionally, these experts will need constant training and upskilling to keep up with the ever-changing market trends – further raising operational costs.
Delegating your email marketing to an outsourcing company like Doxa7, which hires, trains, upskills, and manages its own email marketing professionals, will significantly reduce your brand's email marketing costs.
Improved productivity of in-house team
Email marketing takes a lot of work, which eats up a large portion of your team's time. Letting your extended team handle this process will give your marketing team more time to focus on the other core aspects of their jobs.
What to consider when outsourcing email marketing
Although outsourcing your email marketing operations can benefit your brand, there are some aspects you still need to consider before partnering with an outsourcing company. These include the partner company's values, work ethics, etc.
Before making your decision, remember the following:
Request a sample of their work
It's important to have firsthand knowledge of the output your potential outsourcing partner can produce for you.
You'll want to know if their output will be worth your money and if it fits well with your brand's established voice and values.
This way, you'll have no regrets in the long run.
Know your brand's goals
Though you may have pre-defined business goals for your marketing campaign, your outsourcing partner will inevitably have their own. Thus, you should be able to set refined goals based on realistic expectations of what your partner company offers.
While asking for actual numbers is impractical until the outsourced team has started working, you can settle standards on open, click-through, and engagement rates from their previous works.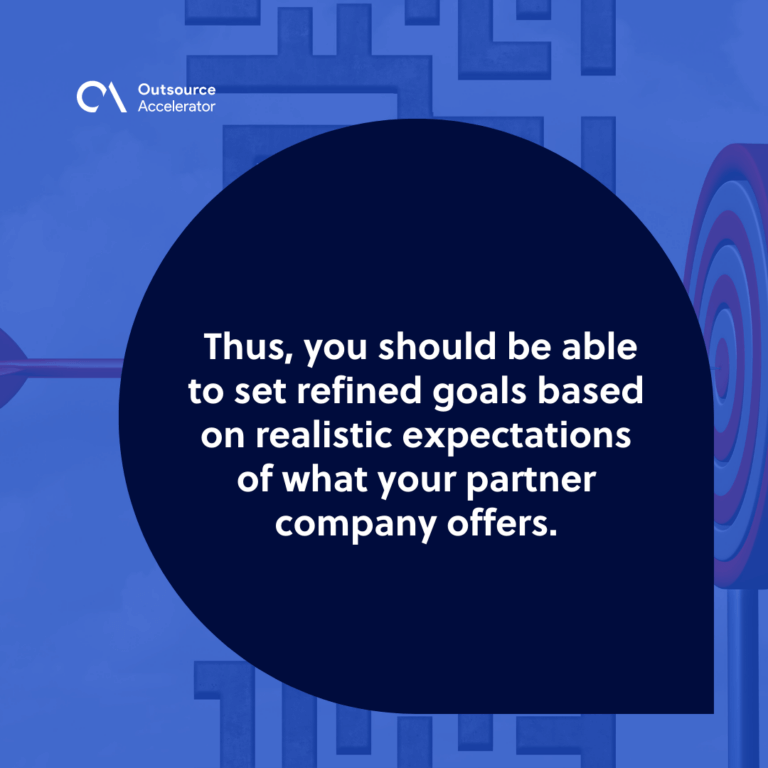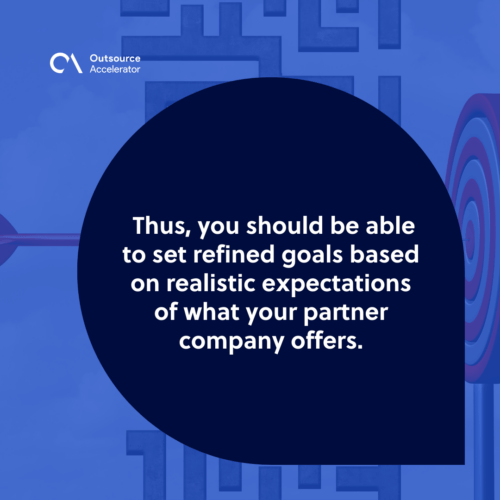 Know what the outsourced team requires from your side
There are several details that your outsourced team will need from you, such as your brand's logo, marketing guidelines, and image assets. Be sure to provide these materials to ensure that they can produce output that matches your brand identity.
This is most crucial when asking for work samples during your outsourcing selection process, as it will help determine which company best complies with your standards.
What to look for in an outsourcing partner
It's not enough to know your non-negotiables in your email marketing campaign; you should also have a set of standards to look for when choosing your outsourcing partner.
To help you narrow down your list of potential partners, consider the following factors:
Track record and experience
Working with an outsourcing company with a proven track record and a list of satisfied previous and current clients guarantees that your brand is in the right hands.
When verifying a company's records, you can ask their former and present clients about aspects of the company that you want to know more about. This will give you more insight than just taking the company's word at face value.
Values alignment
When you partner with a company that shares the same values, you're essentially working with an extension of your team.
Values alignment ensures that your partner shares the same motivations and strives to achieve the same outcomes as you.
Talent quality
An outsourcing company is only as good as the talents they provide.
As such, it's essential to know your outsourcing partner's hiring and recruitment processes and how they acquire the top talents for their clients' industries.
You can also run background checks through their client base and LinkedIn profiles connected to the company.
Tech and infrastructure
Equally important is the technology and infrastructure that the company has. Working with a company with unreliable technology and infrastructure will leave you wanting and frustrated.
That's why it's crucial to ensure that your chosen outsourcing company has adequate infrastructure equipped with the technology you'll need for your operations' needs.
You can ask to have an on-site ocular inspection of the company's office or site of operations to see for yourself the facilities they offer.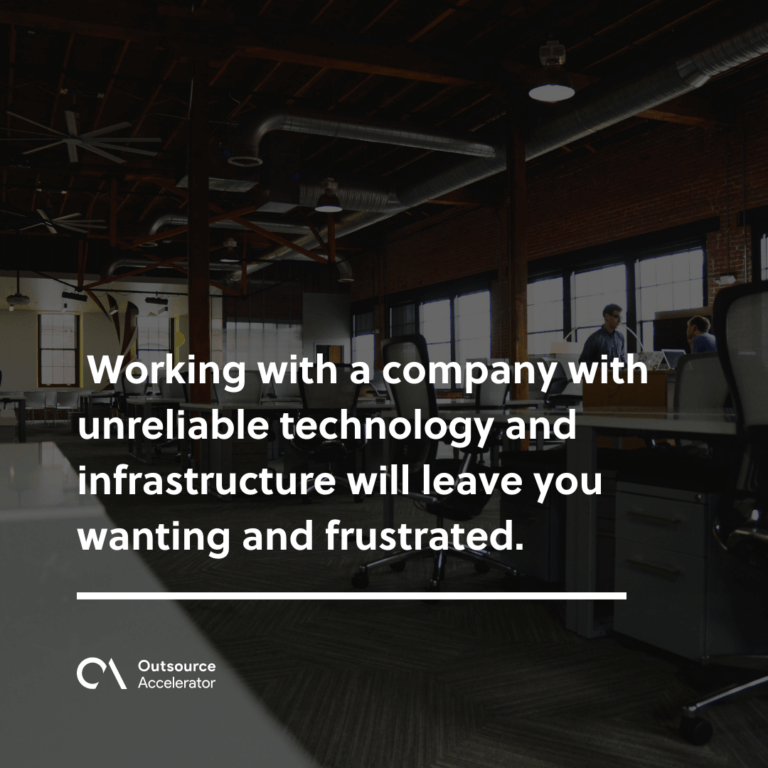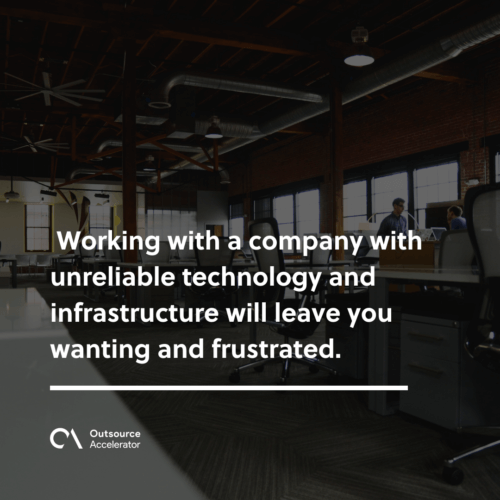 How Doxa7 can help your email marketing grow
If you're looking to outsource your email marketing but struggling to find an outsourcing partner that matches your company values or ticks all of the essential factors discussed above, look no further than Doxa7.
Doxa7 offers a global outsourcing network with a talent pool focused on the Philippines. This company's roster of Filipino skilled and English-proficient agents will ensure that your marketing campaign will have an empathic connection with your clients.
Doxa7 also boasts "expertise in remote technology management and cybersecurity," ensuring that your company and clients' data are protected with the highest level of digital security.