How to create a marketing plan: 5 foolproof ways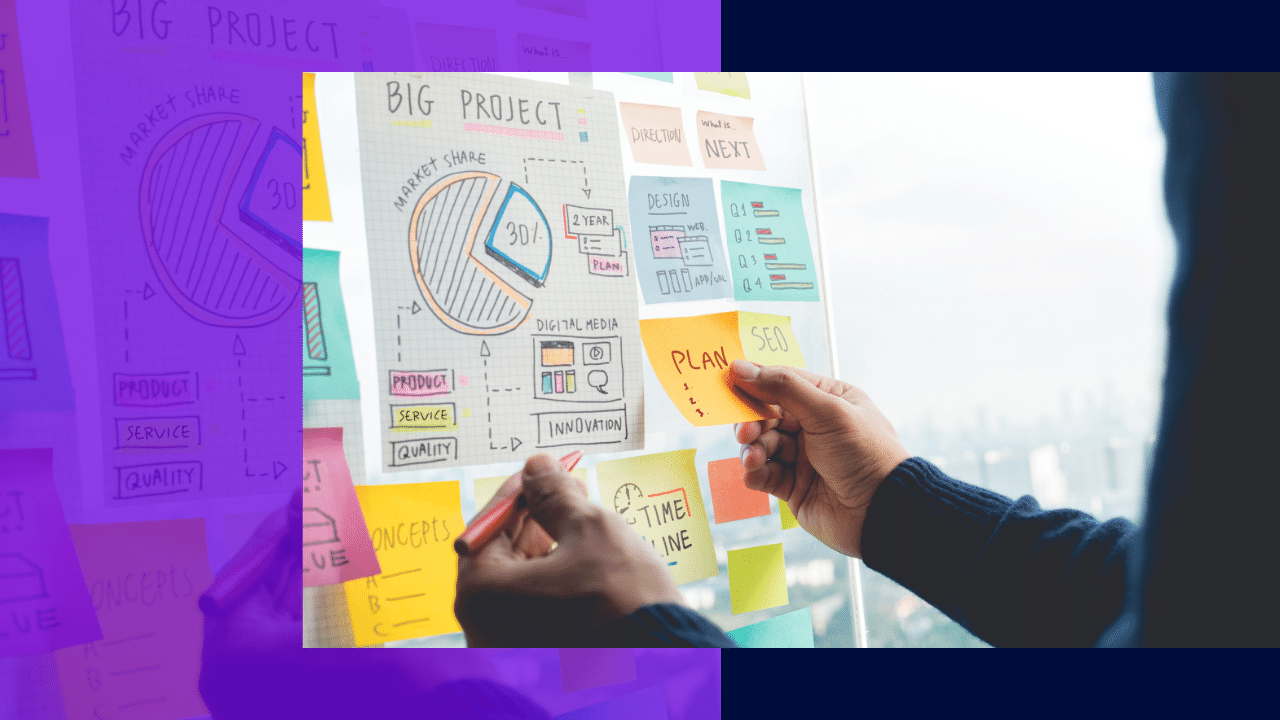 For a modern business, your growth lies in expanding your audience reach and making your brand known. 
Digital marketing plays a huge role in your branding as a company and your approach to attracting customers. Depending on how your company grows, your branding should be at par with your marketing strategies. 
If you don't have a marketing plan now, you might miss out on maximizing the best strategies to increase your customers. Find out the foolproof ways on how to create a marketing plan for your company in this guide.
What is a marketing plan?
A marketing plan refers to a document that shows a company's marketing and advertising strategies. It outlines the action plan on generating leads and reaching their target markets in a specific period.
Marketing plans are a crucial part of a company's business plan since it lays out how they can attract customers and increase sales. Considering several factors such as their target market, current audience, and marketing ROI, developing strategies takes time and effort.
Depending on their practice, organizations can set their marketing plans monthly, quarterly, or yearly.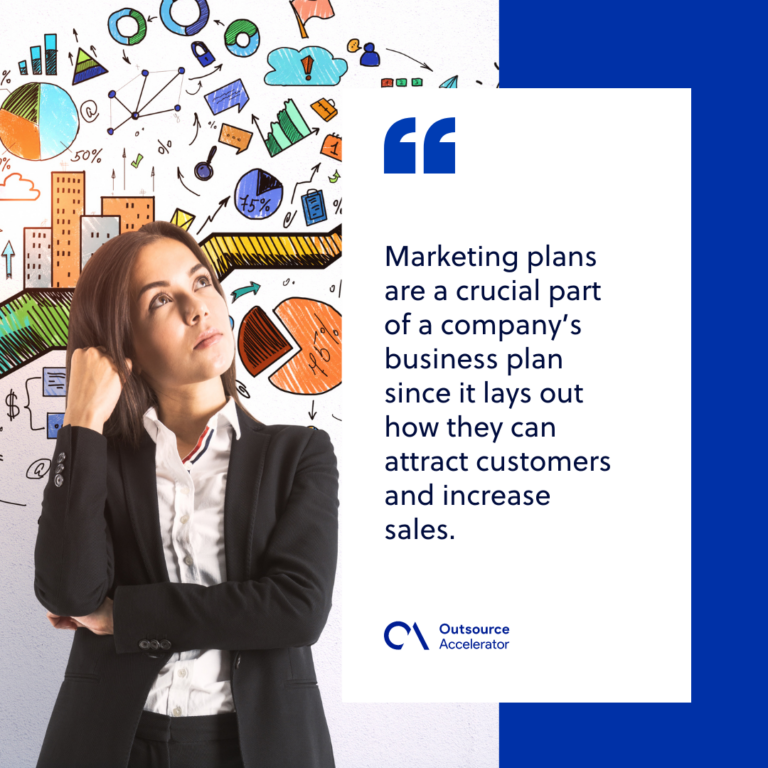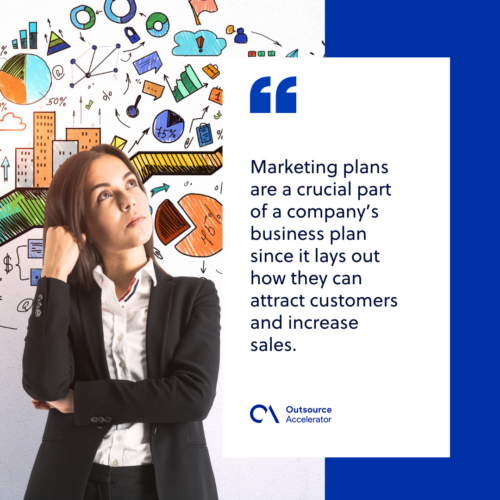 Why do you need a marketing plan?
Having a marketing plan involves more than plotting strategies and steps for marketing. Rather, it should serve as a guide for businesses to understand how they can attract and retain more customers the right way. 
Aside from defining and reaching sales targets, marketing plans also help understand various aspects of the business. These are some of the things a marketing plan can help a company accomplish:
Determine a market where their products and services are most needed

Formulate more realistic marketing objectives and timeline

Evaluate a company's current strategies and their effectivity

Determine how they can retain existing customers better

Get the best out of their marketing efforts and investment
What makes up a marketing plan?
Marketing plans may vary in format, depending on a company's industry, consumers, and online presence. However, these are the most common elements comprising a marketing plan:
Goals and objectives
A marketing plan won't have a clear path without its goals and objectives, which should be "smart."
Companies can write their marketing goals using the SMART format: specific, measurable, achievable, realistic, and timely for everyone. From here, they can then write more detailed objectives to achieve in a certain period.
These goals usually include sales and customer-related achievements, such as "increase sales to x% in x months" or "convert x number of online leads this month."
Target market
Companies should fully describe the demographics, behavior, and characteristics of the market they want to tap.
Their target market may vary depending on the nature of their business. For instance, an e-commerce store that sells formal attire to women would want to expand its market to adult men aged x to x with a new men's line.
Different approaches are used whether an organization deals with individual consumers (B2C) or another business (B2B).
Positioning and competitive analysis
Market positioning is another crucial aspect of creating a marketing plan. Usually, a newly-opened shop focuses first on building its presence, while a company in its first year can see how they currently do.
Market positioning also determines how their current and target market sees their products. For instance, a bookstore may be seen by customers as a good place to buy rare and secondhand books at low costs.
At the same time, they have to research their competitors, their positions, and their best practices that made them reach their standing.
Market strategies and tactics
Market strategies are the actual steps a company takes to achieve its sales goals. They should explain how a business can attract its target market and reach its defined goals.
Market strategies may include email marketing, social media marketing, content creation, and influencer partnerships. These strategies may change depending on customer behavior and new channels to be introduced.
Budget allocation
Most importantly, the business should allot a monthly budget for its marketing strategies. This prevents getting overboard on marketing costs, helping the company utilize its resources and reach the expected return on investment (ROI) easier.
Meanwhile, some tactics would require more time, effort, and money. With this, the team can plan what functions to keep in-house and what to outsource to marketing experts offshore.
Growth metrics
Metrics determine if an organization's marketing performance works well. With this, they will know what tactics work better in attracting an audience and what does not, giving them ways to adjust their plans in the future.
Aside from its reach, new customers, and sales, companies should consider calculating their actual budget over their ROI to see if they truly made a profit for a given period.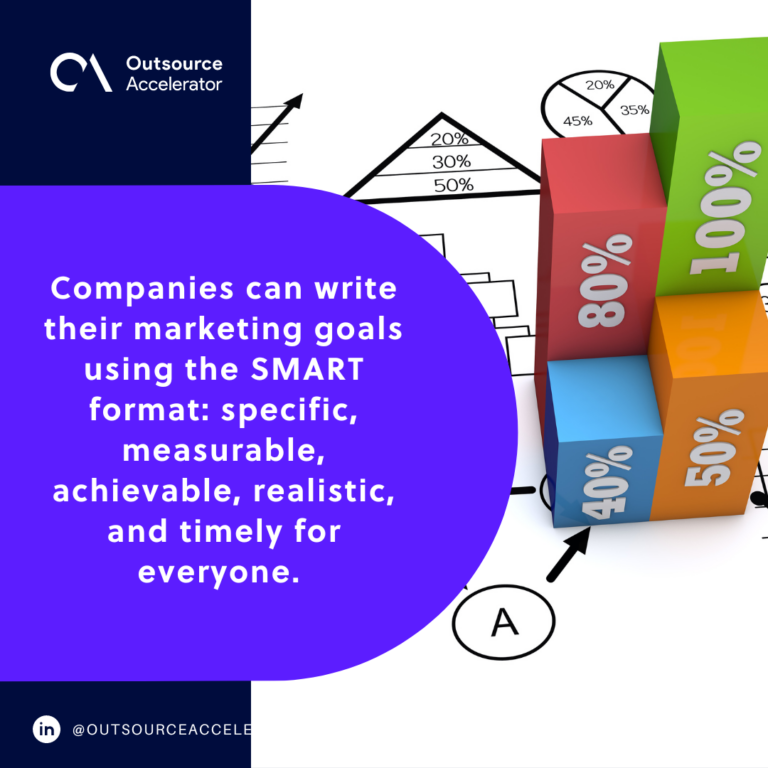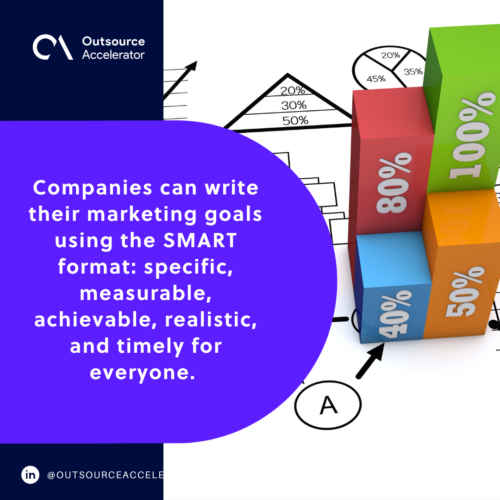 5 foolproof ways on how to create a marketing plan
There's no single format in creating a marketing plan, since it's tailored to each organization's needs. However, you can tailor one for your team by following these foolproof ways on how to create a marketing plan.
Define clear goals and objectives
As mentioned, your goals and objectives will define the direction of your marketing plan.
Keep in mind the SMART framework when forming your goals. With this, you and your team won't have to exhaust your efforts in reaching unrealistic goals in a short period.
Invest in market research and analysis
Market research and analysis are a crucial part of creating a marketing plan. Being the backbone of your document, it fills up most of the details you need in terms of your positioning, your market, competitors' performance, and marketing trends.
There are different ways to do market research for your company. Some think tanks offer both free and paid access to industry research, trends, and analysis that will help determine your strategies.
Target the right market
One of the reasons your business could fail is targeting the wrong market for your business. Make sure to identify who your target market is according to their demographics and behavior.
For instance, you can't easily sell tote bags to working professionals who need more durability and space for items such as a laptop, wallet, and notebook. Find a demographic that will fit the product better.
Doing market research further helps you create your buyer persona if you don't have an existing one.
Outsource marketing as needed
Overall, marketing is costly when done in-house. It's not always practical for a small business to handle everything on its own, especially if they want to maximize their profitability and market. 
It's best to outsource when you want to expand your business.
You can hire an offshore marketing team to help curate your plans or delegate a strategy to them.
Hiring a trusted and competent outsourcing company like Doxa7 can make your brand expansion smoother and less costly.
Monitor and update your marketing plans regularly
Lastly, regularly monitor and update your marketing plans. Using your metrics and performance, determine which methods should be improved and maintained to achieve your marketing goals.
Have a separate team update your plans and strategies regularly to allow your core team to focus on more crucial tasks.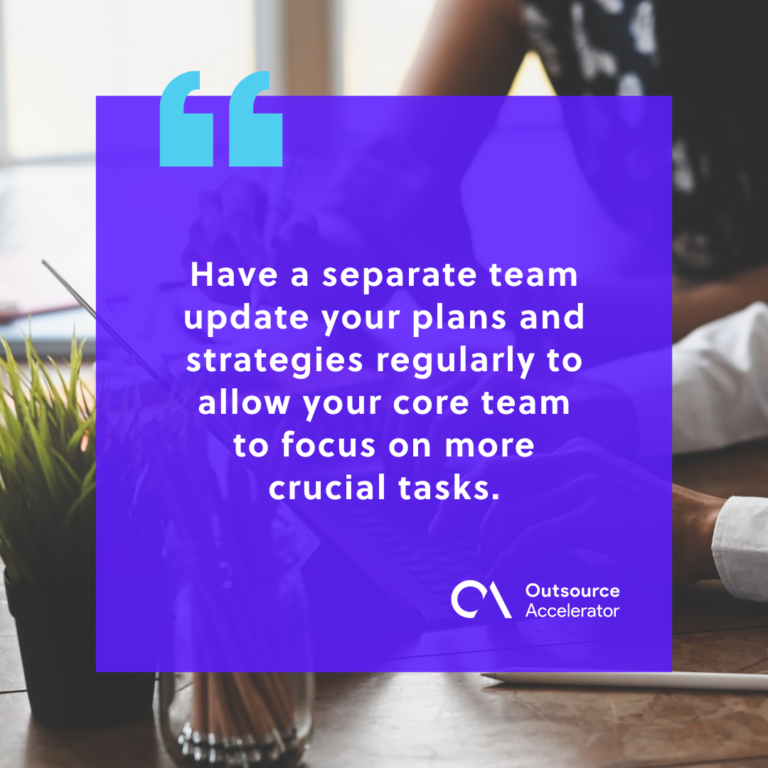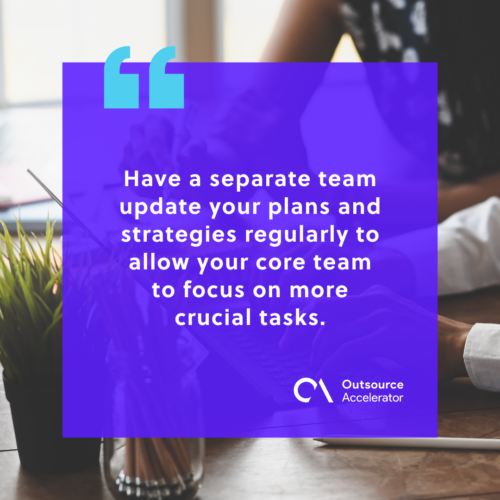 Marketing plan templates
Selling and promoting your products is easier with a marketing plan. By having proper plans and strategies, you can attract more customers and build your brand reputation better.
It's easy to create a marketing plan from scratch using the basic elements mentioned earlier. However, if you want a more specific approach, there are free marketing plan templates online that you can use anytime.
These templates vary in format and details depending on the company size and industry you are in. The visuals were also optimized depending on the graphic design templates you've chosen and your target goals.
They can range from a one-page template to a more detailed plan on using different channels, including:
Social media marketing

Content marketing

Editorial calendars

Website optimization

Email marketing
You won't have to worry much about how to create a marketing plan since most of the resources are already accessible. You only have to get the work done and strategize your marketing properly to be successful.