Service Level Agreement (SLA)
Definition
What is a service level agreement (SLA)?
A service level agreement (SLA) is a formal or informal document that outlines the expectations between a service provider and end-user. Originating from internet service providers, it has become a standard tool, not only in business process outsourcing but even within corporate structures.
The key benefit of an SLA is that it provides clear, measurable outcomes that are subject to periodic review by designated representatives. It ensures that a service provider's performance is at par with what is agreed upon by all parties involved.
Most service providers usually outline the service level agreement for their clients. However, the latter can also provide their set agreement when needed.
Characteristics of a good service level agreement
A good service level agreement has the following characteristics.
Services to be provided by the vendor
Service expectations for reliability, availability, and responsiveness
Clear performance metrics for measuring and monitoring service levels
A standard reporting procedure such as weekly status reports
A timeframe for issue resolution
Penalties for failure to meet expectations or "service credits"
A timeframe for a periodic review of the service and the service level agreement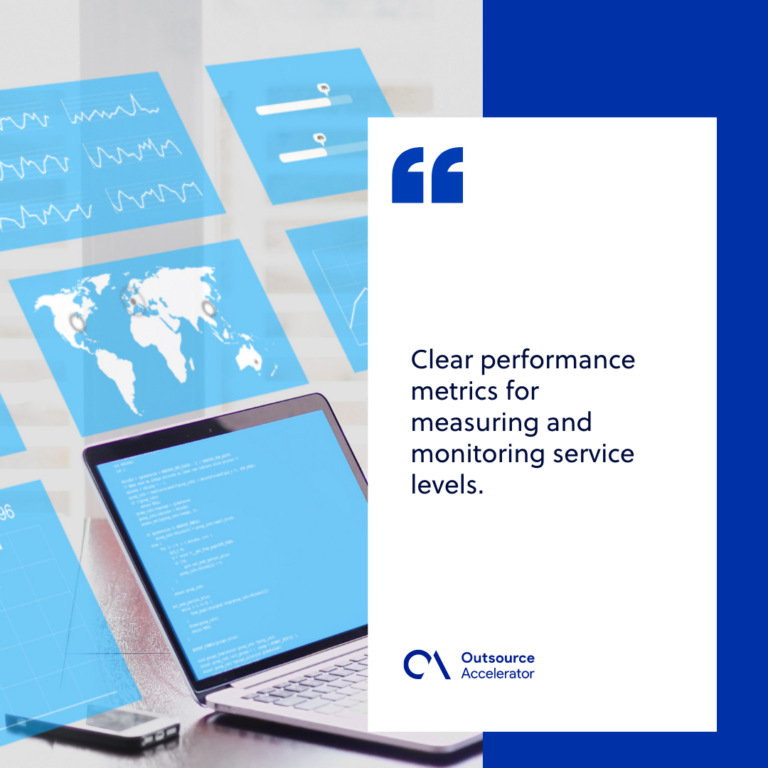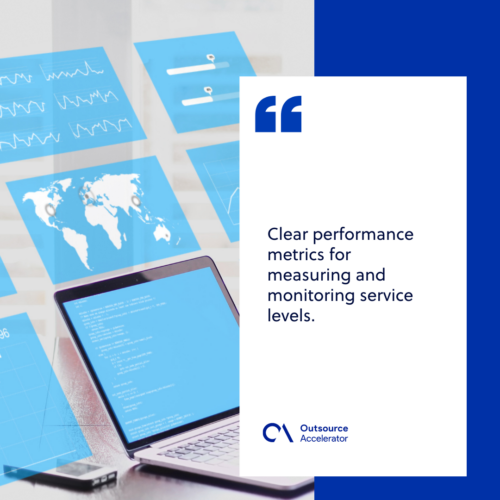 Service level agreement vs key performance indicators
A service level agreement (SLA) details in a paper how the relationship between the service provider and their client will go through.
Key performance indicators (KPIs), meanwhile, gauge how a company performs in line with its goals and objectives. At the same time, these are metrics used to measure a team's performance against the standards set in the SLA.
Usually, the SLA may indicate specific KPIs that both parties involved may use to monitor service levels.
Service level agreement call center
Outsource Accelerator is the most trusted source for independent information & advisory for Business Process Outsourcing (BPO).
We have over 5,000 articles, 350+ podcast episodes, and a comprehensive directory with 2500 BPOs… all designed to make it easier for clients to learn about, and engage with outsourcing and have effective service level agreements with companies or call centers.
SLA in BPO
An SLA is a measuring instrument that determines the BPO company's baseline performance levels. It includes a description of the services to be delivered and the criteria by which the services will be measured.
In addition, the hiring and BPO company's roles and obligations, the remedies and service credits, and instructions in the case that the agreed-upon SLA has to be amended or adjusted.
Both the service provider and the clients are responsible for making sure that the service levels indicated are met by their teams.
SLA call center
The SLA call center is a set of internally defined criteria that management uses to make decisions. Decisions may be made and implemented based on these guiding factors to increase efficiency, save money, and improve customer satisfaction.
Each call center must determine its own SLAs and how to best meet them. The call center service level is the rate at which the goals are accomplished.
It might be difficult to determine the measurements. Each company must be able to identify abandoned calls, calculate realistic time intervals for each phase of the customer experience, and track everything.
​​What are the types of service level agreements?
Here are the three main types of service level management:
Customer service level agreement
A customer service level agreement is an agreement between a vendor and a particular customer to provide a certain level of service. It is also known as an external service agreement.
The vendor can outline a generalized service agreement for all customers (service-based SLA) or a tailored agreement for each client (customer-based SLA) depending on their offering and what certain customers will get.
Internal service level agreement
An internal SLA solely applies to corporate employees and does not apply to consumers. While a company may have an SLA in place with each of its customers, it can also have a separate SLA in place with its marketing and sales departments.
Aside from this, an internal SLA can also apply to other roles in a company, including their customer service team.
Multilevel service level agreement
Multilevel service level agreements come in various shapes and sizes. Customers or other internal departments of a company can benefit from this type of agreement.
If there is more than one service provider and one end-user, Multilevel SLA is used to define the type of service expected from each party.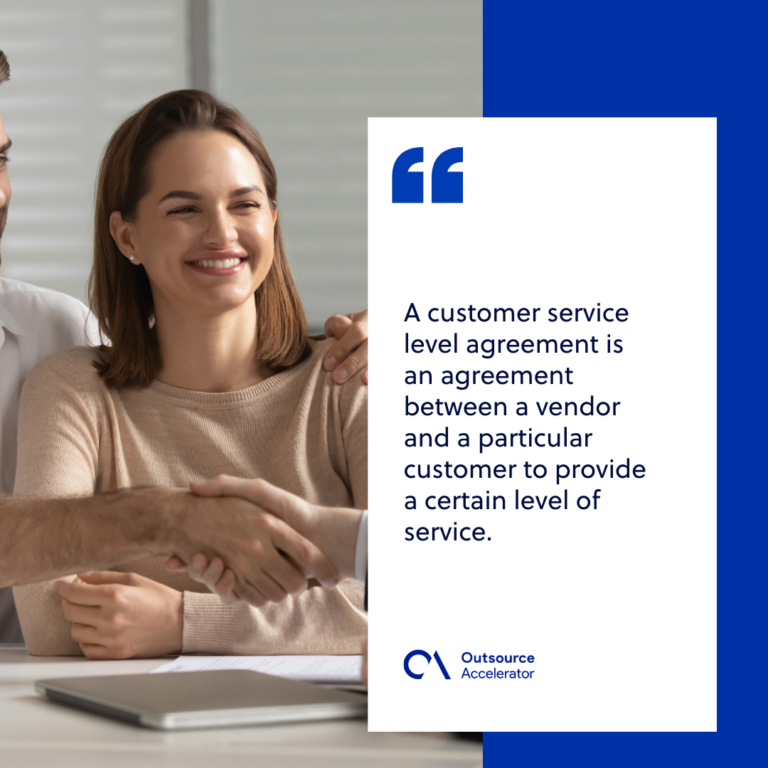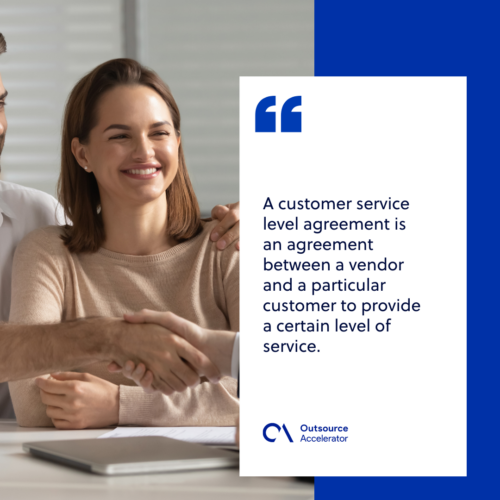 The importance of service level agreements in the customer service industry
In the customer service sector, a service level agreement (SLA) acts as a framework for the service the provider allows us to develop and safeguard the company's assets and reputation, which are crucial.
Three reasons why your company should have a service level agreement in place with its technical customer support services provided are listed below.
Helps establish measurable guidelines
A Service Level Agreement is essential for ensuring that both parties involved are on the same page when it comes to standards and service.
You and your provider can figure out your needs and expectations and guarantee you receive what you invest for by drafting a service level agreement.
Setting clear and measurable standards is essential as it manages expectations and ensures that your technical support services provider is held accountable.
Provides protection for uncertainty
If your service provider fails to fulfill its responsibilities, it can have a significant impact on your company's reputation and results.
If performance indicators are not fulfilled, you should include a backup plan in your Service Level Agreement. You might implement monetary penalties that could help your company if it suffers losses. This will help you in protecting your company in times of uncertainty.
Helps manage customer expectations
Those seeking the services of a technical support service provider can have a sense of security with a contract in the form of a Service Level Agreement.  It holds your service provider accountable and establishes the level of service you may demand.
If agreed-upon requirements aren't met, you can reduce some of the consequences by requiring your supplier to make up the difference. SLAs are also preferred by service providers since they help retain consumers.
Excellent customer service supported by great SLAs is one method for service providers to distinguish from their competitors.