Definition
What is sales?
Sales is a process where the ownership of a property or the performance of a service is exchanged for a price—also called a direct sale. Typically, the sales process involves acquaintance, assessment, persuasion, and closing.
The process of making a sale is distinct from marketing in that a sales transaction is typically conducted on a person-to-person basis, whereas a marketing campaign is tailored to target groups or business-to-business.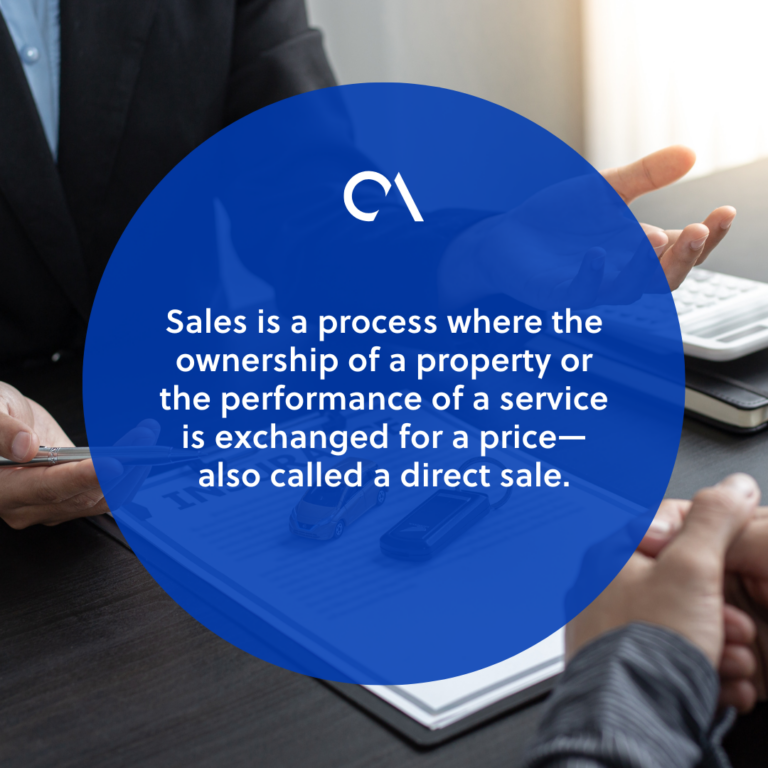 The sales strategies in BPO
In BPO sales teams, the sales process starts with targeting a contact and generating leads for the business. These leads will then be contacted by the sales representatives to see their needs and tailor fit the services of the company to them. They will then sell an offer for each customer they can freely accept or decline.
The presentation part may be a tricky one since not everyone will accept every offer. If the sell attempt got rejected, they should restart the sales process until they reach a deal.
A good sales department knows how to manage the sales process. They invest in creating a good first impression, understand a customer's needs and wants, and can tailor the customers' talking points to the solutions they sell.
They also help manage the process of transferring custody of the product or service to the customer. Such a process requires skills in empathy, communication, creativity, and thoroughness, and the expertise in applying those skills to specific products or services.
Sales outsourcing
As with any skilled professional team, great sales teams require continuous efforts of training and excellent management protocols to achieve your business goals.
Some businesses opt to farm out their sales and marketing teams from an external provider. This is because they need to get help in handling their entire marketing organization to improve their sales enablement platform.
Other times, some businesses need help with crafting a sales strategy that works for their business environment and attracts their prospective customers and turn them into loyal ones.
Outsource Accelerator specializes in helping small & medium-sized enterprises (SMEs), with 2-500 employees, typically based in the high-cost English-speaking world. We are the experts in transforming these businesses with sales outsourcing.
Who needs sales outsourcing?
Businesses that lack resources, such as manpower or time, to enhance their sales process often consider sales outsourcing. Without the right tools, salespeople would spend less time on sales.
A typical salesperson spends the majority of his time updating excel sheets and status, going to meetings, filling out timesheets, and other administrative tasks.
Sales outsourcing allows salespeople to concentrate on selling products and services. It also enables sales teams to focus on sales strategies, engage with customers, and increase revenue growth.
5 reasons to consider sales outsourcing in your company
Sales outsourcing may not be suitable for all organizations. Look at the following instances to see if they occur in your business before considering outsourcing sales and marketing:
Less manpower. You have a small sales team that can't keep up with the number of leads coming in.
Financial restrictions. You don't have enough money to recruit skilled salespeople.
New marketplaces have opened up. Your startup needs to expand into new industries, but you don't have the sales resources or skills to do it.
Limited supply. Your sales team's inability to sell due to a lack of research, advertising, and offering.
Overwhelmed with manual tasks. Your sales team is overwhelmed with administrative responsibilities, leaving little time to sell your products and services.
Benefits of sales outsourcing
Here are some benefits of sales outsourcing:
Reach out to potential customers
When it comes to having enough salespeople to sell in regions and sectors, startups and small to medium-sized businesses are often pressured.
Furthermore, companies frequently have a large number of business prospects that they are unable to pursue due to resource restrictions. Companies can also use an outsourced sales team to study the selling process, conduct sales strategies, and establish long-term business goals.
Advanced sales and speech analytics can then help you fine-tune your marketing before extending it to a larger group of clients and prospects.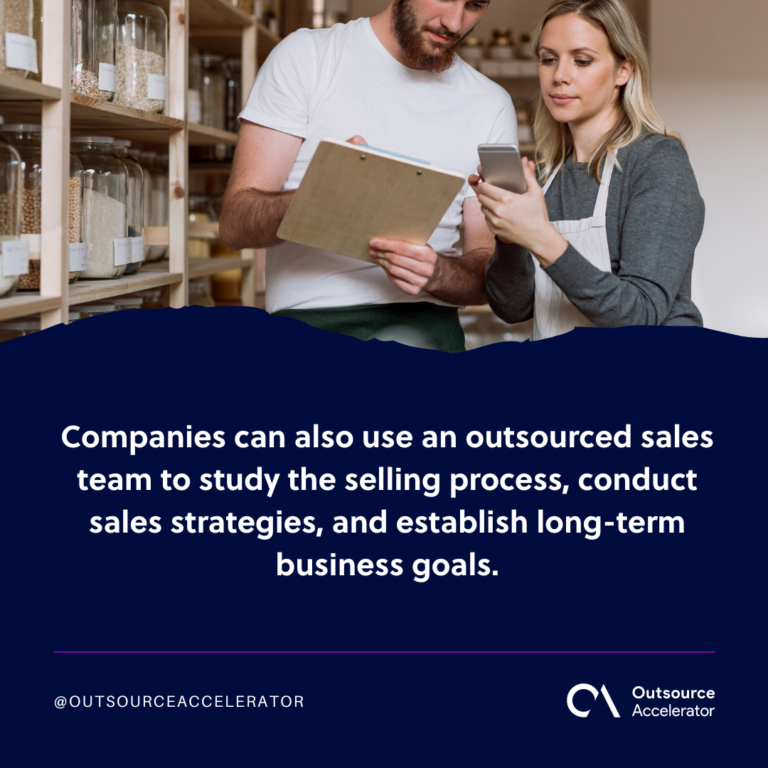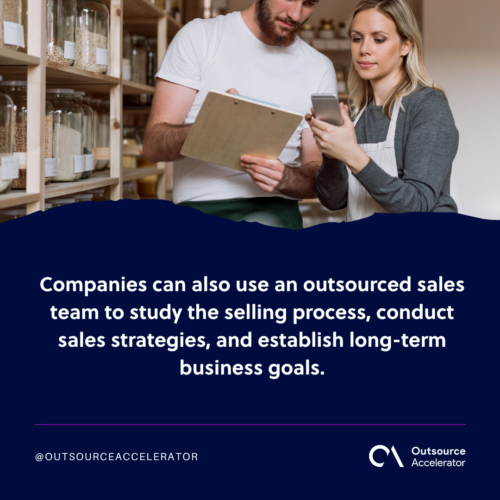 Support new product or service rollouts
One of the greatest benefits of outsourcing sales is that it may be used as a platform for testing new sales strategies and promoting innovation.
In some situations, experts assist in determining how a certain product and service is accepted in the marketplace. This includes determining appropriate pricing for offerings.
Improve omnichannel customer engagement
Organizations that use the experience of sales representatives that have demonstrated success in digital channels including online, chat, and social media will improve their omnichannel performance.
Meanwhile, many sales executives are only now recognizing the engagement between prospective customers that chat and messaging can provide.
By interacting with consumers who prefer to use chat, companies that rely on outsourced partners with proven digital engagement abilities among their salespeople may achieve remarkable results in boosting unit volume and Net Promoter Score (NPS).
Collaborating with a partner who becomes a brand extension
Outsourcing provides a significant competitive advantage for businesses since it allows them to expand with resources that are compatible with the company's social values. Outsourcing sales also enables businesses to standardize their process to gain a competitive edge in the industry that they belong to.
Outsourcing firms can help you find the best business solutions and skill sets that your company need to offer a satisfying customer experience.