Definition
What is content marketing?
Content marketing harnesses the power of the internet to advertise products and services to a broader audience. It involves creating, publishing, and distributing content across the internet to achieve a wider and further customer reach.
This form of marketing aims the following:
Expand the customer base
Increase brand awareness
Generate leads
Increase sales
Get noticed by search engines
Engage in an appropriate user community based on the products or services being offered.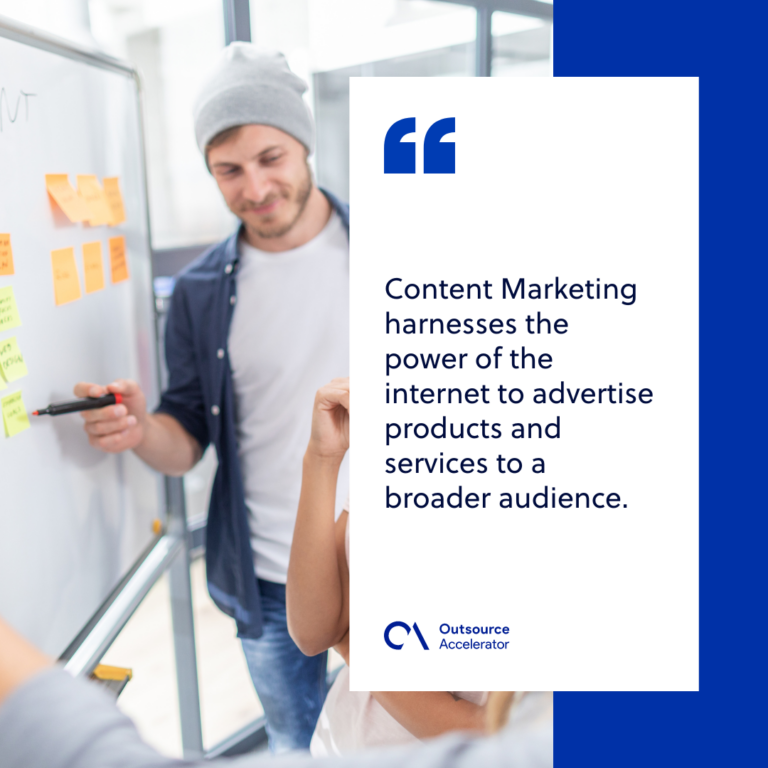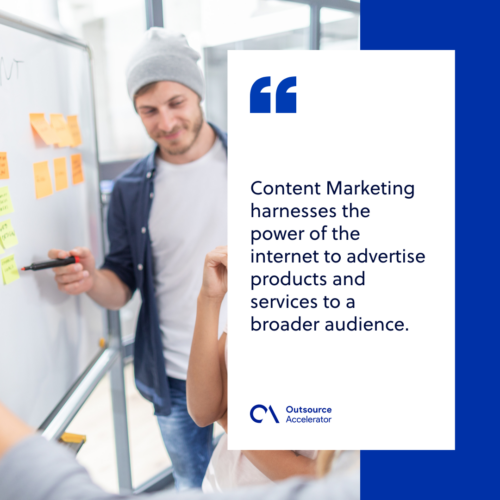 What is content marketing?
Through content marketing, businesses can share free and valuable content with their current and prospective customers.
Upon understanding customer needs, marketers can create content through white papers, email newsletters, podcasts, infographics, videos, blogs, and many more.
Above all, content marketing strategies can be customized to fit the type of business, behavior, customer demographics, and the willingness of the management to allocate resources for this area.
How a content marketing strategy works
A content marketing strategy is a comprehensive plan that aims to attract and engage a target audience by creating and distributing valuable, relevant, and consistent content.
It works by identifying the specific needs and interests of the audience, then developing content that addresses those needs and aligns with the brand's objectives.
A successful content marketing strategy involves careful planning, research, and analysis of the target audience and competitors. It also includes defining key performance indicators (KPIs) to measure the success of the content efforts catered to new and existing customers.
The content can be distributed through various channels, such as:
The brand's website
Social media platforms
Email campaigns
These content marketing efforts will drive traffic, generate leads, and ultimately contribute to the growth and success of the business.
Importance of content marketing
Content marketing has been a go-to strategy for establishing a brand online, though it constantly changes. It benefits companies in more ways, including the following.
Generating leads
Content marketing is most helpful in generating leads from the traffic generated on a website.
It is said that companies with blogs get 67% more leads monthly. This is because they get to share valuable content consumed by their audience.
Establishing authority
Content marketing is also a great way to establish brand authority. By posting insightful content, they get to build trust with their customers in terms of information and updates regarding their industry.
Creating valuable content even allows the organization to become the most authoritative in a particular topic or field.
Boosting customer loyalty
Through content marketing, companies can answer their customers' pressing questions regarding their brand and industry.
This makes this strategy the most effective in boosting customer loyalty and establishing relationships with their patrons.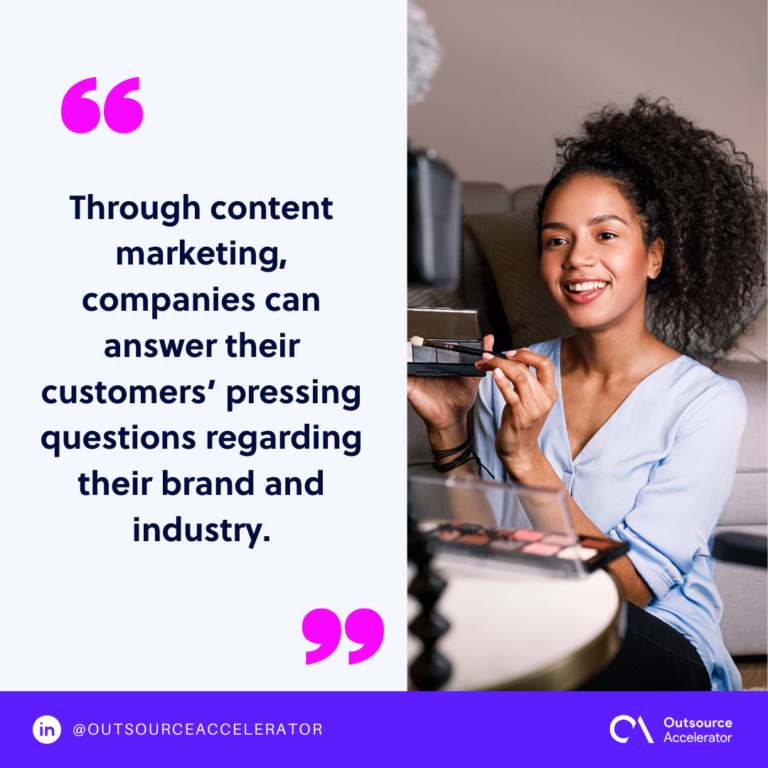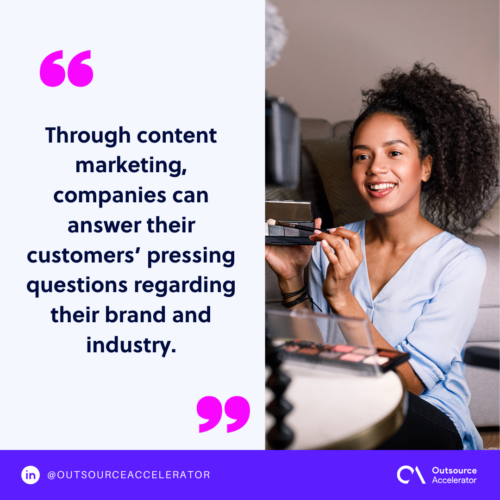 Increase online presence
Constant posting of content, whether video, article, or infographic, helps organizations get crawled by search engine sites such as Google.
With this, they get to increase their online presence simply by getting bumped into the first page of search engines.
Shortening the sales cycle
Aside from increasing brand awareness, businesses have the chance to shorten their sales cycle and generate more revenue through content marketing.
Companies can post content that can increase buyer awareness about their product and the industry. Through this, customers can create a more informed decision about buying their products and subscribing to their services.
Content marketing examples
Organizations can use and maximize different types of content marketing to their advantage. Here are the popular types of content used by companies worldwide.
Articles
Blog content articles are the most common examples of content created by most companies worldwide. It is a powerful form of inbound marketing strategy where companies can blog articles on topics related to industry trends or lines of business.
Videos
Video marketing is another popular example, given the popularity of YouTube and other related platforms. This is because most customers prefer learning about a company's products and services through video content.
Here, businesses can create visual presentations regarding different topics or reasons. How-to explainers and short-form advertisements are some of the examples one can create in video form.
Infographics
Creating infographics is an ideal online content marketing strategy for organizations presenting valuable statistics and explainers. Though this is created in image form and uses charts, graphs, and other related visuals.
Infographics can be applied to articles and videos or posted as standalone content.
Podcast
Lastly, podcasting is an emerging example of online content marketing. With more than 60 million people listening through platforms such as Spotify and Apple Podcasts, a podcast is a great space to share and gain insights from industry experts.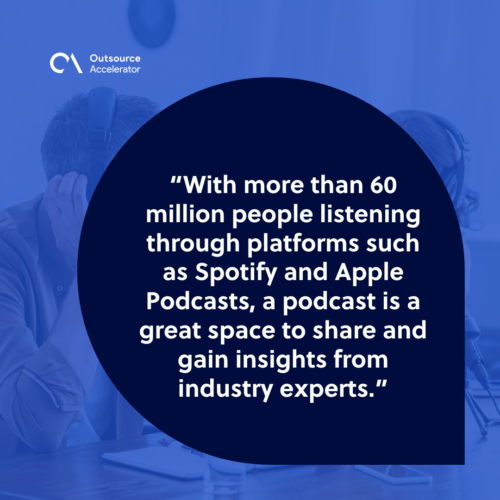 Outsourcing content marketing
Forming an effective content marketing strategy requires constant planning and effort on the marketing team's part.
Organizations have been outsourcing content marketing services to marketing firms worldwide to strengthen their efforts.
Through this, they can create content more constantly without sacrificing other core aspects of their business.
Outsource Accelerator matches you with the best content marketing companies based on our comprehensive directory, listing over 3,000 outsourcing companies in the Philippines.
Choosing the best-outsourced content marketing company for your business can drive innovation and growth to your business.