TaskUs vs. Top competitors: Review, alternatives, features and pricing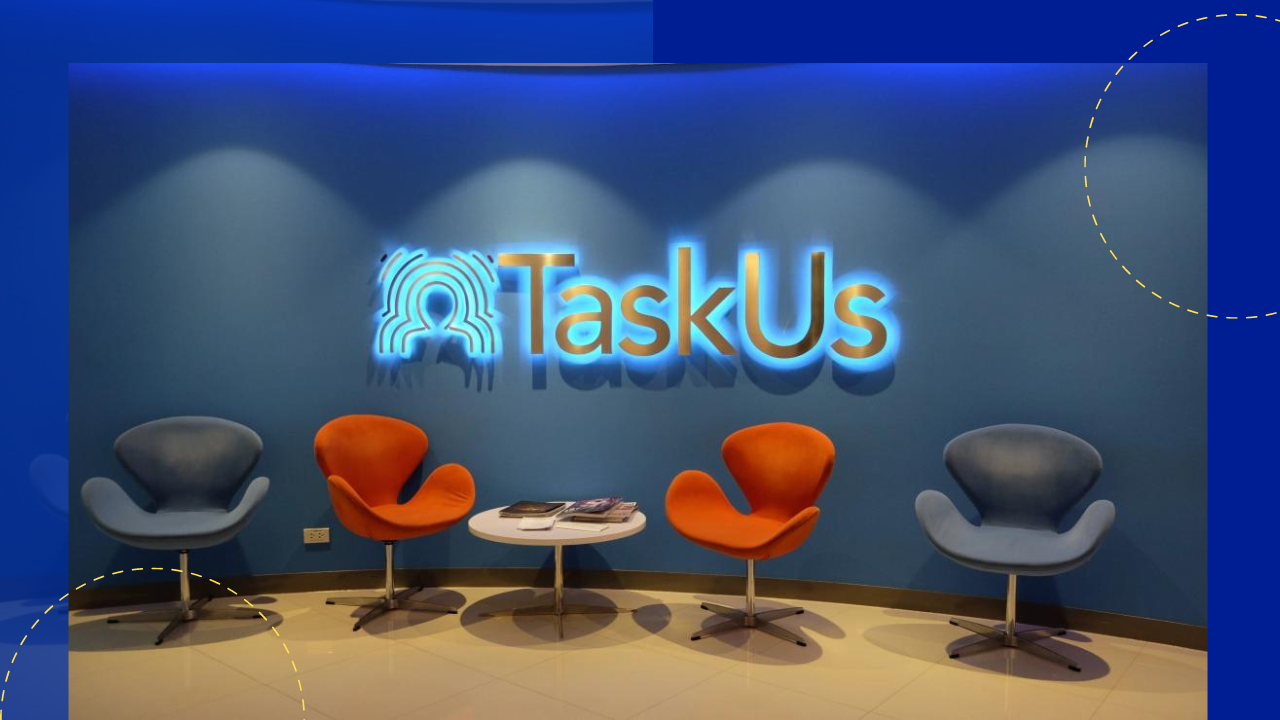 As companies worldwide strive to optimize their operations and enhance customer satisfaction, searching for the right BPO partner has become increasingly critical. 
TaskUs has emerged as a formidable player in the global outsourcing industry, garnering widespread acclaim, especially in Silicon Valley. With its comprehensive services and technology-driven approach, it has established itself as a leader in this arena.
If you want to know why companies rely on TaskUs and its services, look no further. 
Here is an in-depth insight into the company compared to top competitors, evaluating factors such as review ratings, alternative options, distinctive features, and pricing models.
Overview of TaskUs
TaskUs is a renowned and industry-leading provider of outsourced business process services. 
Established in 2008, TaskUs has a formidable reputation as a trusted partner for numerous global companies seeking to enhance their operational efficiency and customer experience.
The company believes that "happy customers re possible with happy employees." This leads them to invest in their people as a crucial part of their resources.
TaskUs partners with the world's most disruptive and innovative brands with similar mindsets.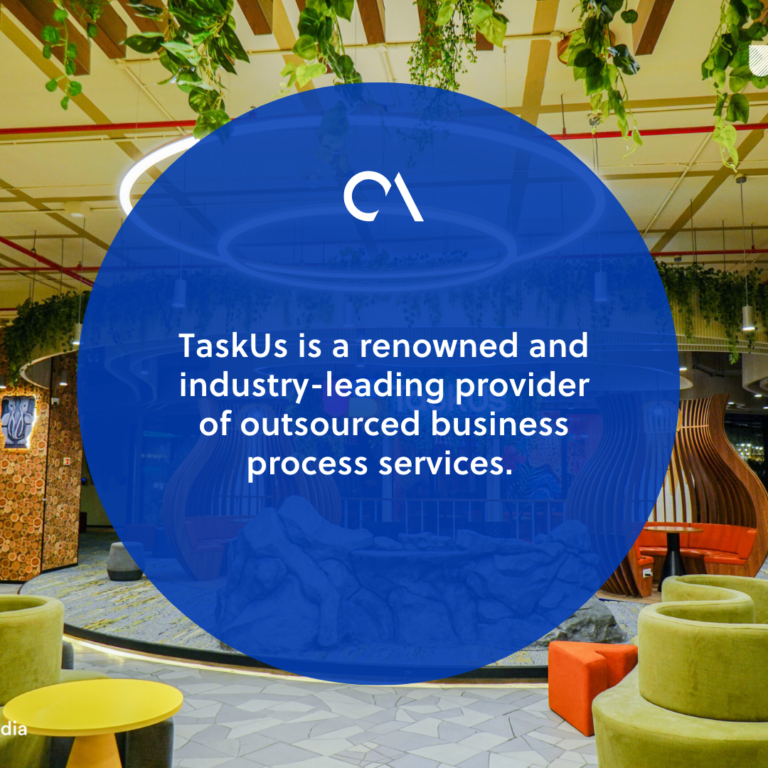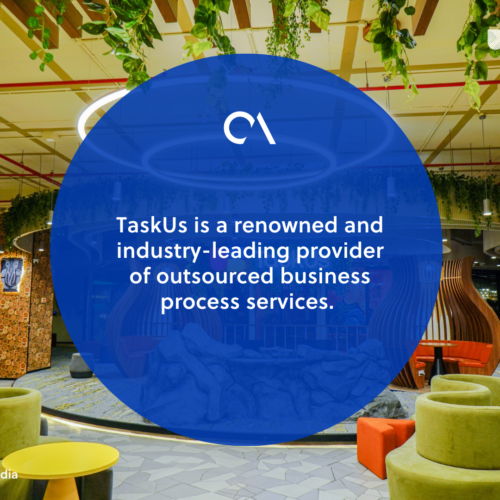 TaskUs features and pricing
TaskUs provides offshore staffing specialized in the following services:
Digital customer experience
TaskUs understands the significance of delivering a seamless and personalized customer experience.
Leveraging its workforce and advanced technology, TaskUs provides outstanding customer support services across multiple communication channels. This includes phone, email, chat, and social media platforms.
Trust and safety
As a pioneer in content moderation, TaskUs places utmost importance on trust and safety. 
The company recognizes that users on every platform are vulnerable to malicious and risky content. This is why they employ cutting-edge technology and a highly trained workforce to review and moderate user-generated content meticulously.
Its content moderation teams use sophisticated algorithms and comprehensive guidelines. They identify and filter out harmful, inappropriate, or offensive materials from their client's websites.
AI services
TaskUs recognizes the transformative power of artificial intelligence (AI) and offers a range of AI services to support its clients' AI initiatives.
TaskUs powers the world's disruptive companies with data labeling services. They combine human intelligence with AI products to deliver caliber tech processes and solutions.
Its teams ensure the integrity and accuracy of the training data by collecting, annotating, and validating them carefully. This helps organizations develop robust and reliable AI models that drive innovation and automation.
Risk and response
TaskUs offers risk and response services to assist organizations in proactively identifying and mitigating potential threats to them and their customers.
From identity verification to compliance and digital transformation, TaskUs combines technology with expert consultants. These specialists develop comprehensive risk management strategies and incident response plans.
Businesses can navigate complex security landscapes and protect their assets and reputation.
Consulting
TaskUs provides consulting services to help businesses optimize their operations and customer experiences. Their experts offer valuable insights and recommendations on:
Process improvement

Technology adoption

Customer engagement strategies
By leveraging best practices and innovative solutions, TaskUs helps firms of all sizes achieve operational excellence and drive business growth.
Startup services
TaskUs recognizes the huge potential of startup businesses and the challenges they face. This motivates them to provide services according to their needs.
TaskUs collaborates closely with startups, providing flexible and scalable solutions that accommodate rapid growth and changing requirements.
From content moderation to AI training data services, they equip startups with the necessary tools and expertise to succeed in their landscape.
Talent management
TaskUs places significant emphasis on talent management and recognizes that its workforce is a key driver of its success. 
Being a "people-first" company, it invests in employee development, fostering a culture of continuous learning, collaboration, and growth.
One way TaskUs attracts and retains top talent is by offering training programs, career advancement opportunities, and competitive compensation packages. These strategies ensure a skilled and motivated workforce consistently delivering high-quality client services.
TaskUs pricing
TaskUs provides flexible pricing options to accommodate its clients' specific needs and budgetary considerations.
TaskUs works closely with clients to develop pricing models that offer transparency, cost-effectiveness, and value for money. Pricing structures may vary depending on the services required, the scale of operations, and the level of customization desired.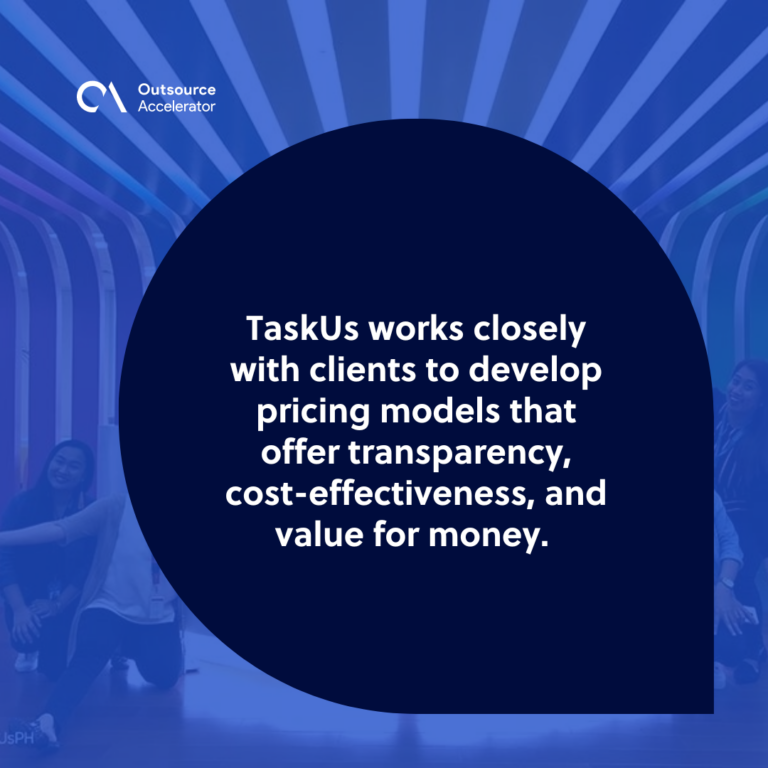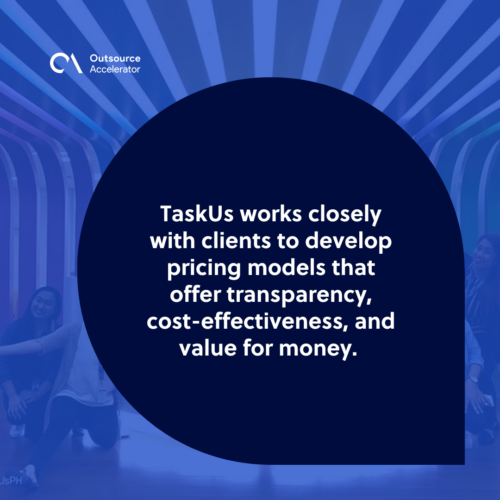 TaskUs reviews: What everyone has to say
TaskUs is well-received by its employees and clients alike. This is shown through feedback on different websites such as Glassdoor and Indeed.
Here's what everyone has to say about the company:
Great work environment
TaskUs is lauded for having a great work environment and friendly people. Employees have no worries about getting along and working together since the company encourages a good office culture.
Competitive benefits
As part of taking care of employees, TaskUs provides competitive salaries and benefits within and outside their workplace.
The staff can enjoy subsidized healthy meals at work, educational grants for them and their families, and retirement savings programs when they reach their retirement age.
Mental health champions
TaskUs is aware of the stresses and hardships that the teams face at work daily. This is why it implements programs to help care for their employees' welfare regarding their mental health and wellness.
Dedicated to success
In terms of client reviews, TaskUs is praised for its flexibility and dedication to make clients successful.
One of its clients lauds TaskUs for being innovative and making various recommendations to help them achieve better results.
Quick response and action
Another thing that makes TaskUs attractive to clients is its quick response and action. It ensures smooth communication and collaboration and speedy delivery of outputs to help guarantee customer satisfaction.
At the same time, the management is similarly extremely responsive, easily adapting to rapid changes in client needs.
First-class service
All in all, clients believe TaskUs provides first-class service by taking care of employees and customers. It is lauded for its award-winning excellence in all aspects, from workforce management to leadership and people.
TaskUs vs. Competitors
To give a better insight into its performance and offerings, let's compare TaskUs to some of its main competitors based on information available from reliable review sites.
TaskUs vs. CompuCom
CompuCom is a global IT-managed services company that offers IT staffing specialized in help desk support and end-user device management.
While TaskUs focuses on customer support and content moderation, CompuCom has a broader scope in terms of IT services. Reviews indicate that TaskUs delivers high-quality customer support with a dedicated, trained professional team.
On the other hand, CompuCom is praised for its technical expertise and comprehensive IT solutions.
The choice between TaskUs and CompuCom depends on client needs, with the former being a strong option for customer support outsourcing and CompuCom for broader IT services.
TaskUs vs. IBM
IBM is a global technology company that offers a wide range of services, including customer support outsourcing. TaskUs differentiates itself by providing personalized and customized support solutions for businesses of all sizes.
TaskUs has a strong track record of delivering exceptional customer experience, while IBM's strength lies in its technological capabilities and infrastructure. IBM is often considered a more suitable option for large enterprises with complex IT requirements.
Meanwhile, TaskUs is preferred by companies seeking dedicated and personalized customer support services.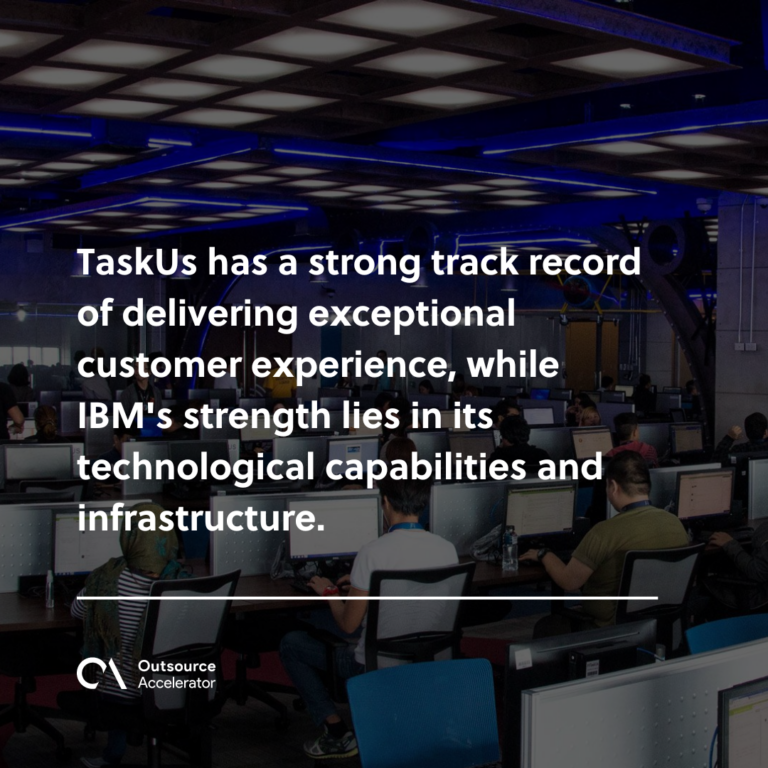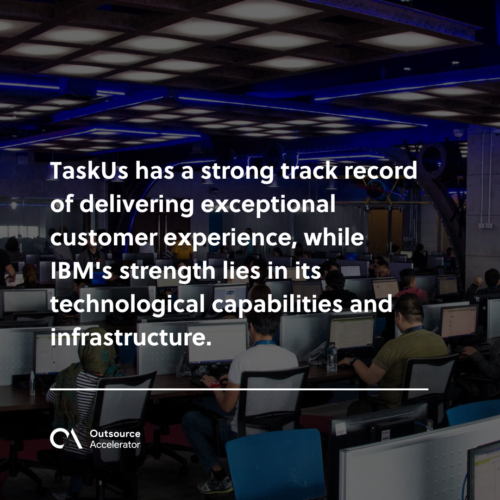 TaskUs vs. Accenture
Accenture is a multinational professional services firm that provides various services. Being an established company for decades, they are known for their integrity to "deliver on the promise of technology and human ingenuity."
TaskUs and Accenture differ in their approach and target market. TaskUs is known for its specialization in customer support and content moderation, focusing on delivering exceptional customer experiences.
Accenture, on the other hand, offers a broader range of consulting and outsourcing services. This includes customer support and AI but with a more diversified portfolio. 
TaskUs stands out for its personalized and agile approach. Meanwhile, Accenture is often chosen by larger enterprises seeking comprehensive business solutions.
TaskUs vs. Concentrix
Concentrix is a global provider of customer engagement services, including customer support outsourcing. Being another established BPO company, they intend to help clients find their position in the market and improve in all aspects of their operations.
TaskUs and Concentrix excel in delivering high-quality customer support but have different focus areas. TaskUs is often praised for its flexible and scalable solutions, whereas Concentrix is commended for its global presence and extensive industry experience.
TaskUs is preferred for personalized services for firms of all sizes, while Concentrix is for comprehensive customer engagement.
TaskUs vs. Helpware
Helpware is a customer service outsourcing company that offers technical support and virtual assistant services.
TaskUs and Helpware share similarities in their customer support offerings but differ in scale and specialization.
The latter has established itself as a leading provider with a strong focus on personalized support, content moderation, and exceptional customer experiences. Helpware, conversely, is known for its technical expertise and wide range of customer service solutions. 
TaskUs is often preferred for its agility and dedication to customer satisfaction, while Helpware is recognized for its technical capabilities and diverse service offerings.