Top 5 reasons why outsourcing to Vietnam is a smart move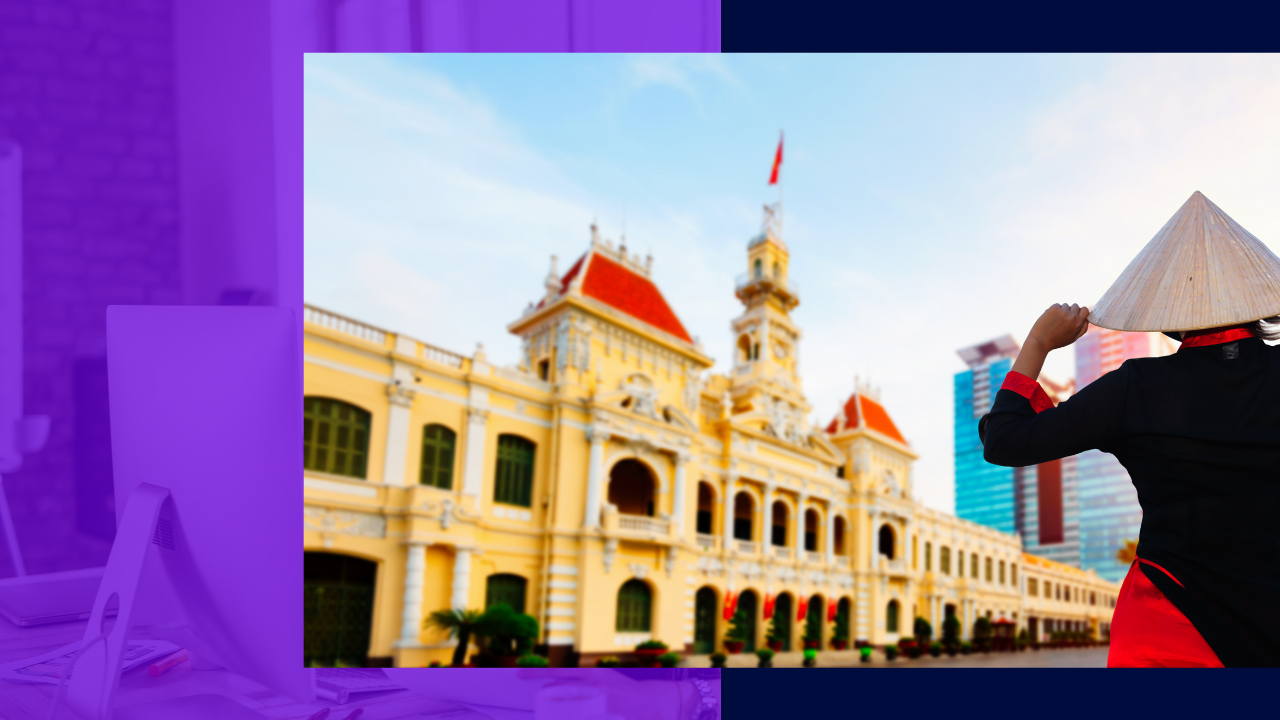 The need to outsource has heightened as the world continuously lives through the COVID-19 pandemic. Outsourcing has served as an aid to companies of all types and sizes in the efforts to keep their businesses afloat during these trying times. 
One great thing about outsourcing is that organizations have the option to acquire services from third party providers anywhere in the world.
When it comes to offshore outsourcing, developing countries in Asia like the Philippines and India always come to play. However, many countries today are also starting to be known in terms of the Business Process Outsourcing (BPO) sector. 
Asia has always been a perfect outsourcing location for foreign countries. At present, a lot of global companies have also been outsourcing to Vietnam. 
But what makes Vietnam an ideal outsourcing destination? What attracts foreign companies to contract out parts of their business functions in the country? What services are available in terms of outsourcing to Vietnam? 
We'll walk you through all that in this article.
Outsourcing to Vietnam – the next global outsourcing hotspot 
When you speak of IT outsourcing, perhaps the very first thing that comes to mind for a lot of business leaders is India. 
While India is still among the top IT outsourcing powerhouses, many companies have also embraced IT outsourcing to Vietnam. 
As per Gartner's survey released in 2010, Vietnam was placed in the top 30 countries for IT offshoring roles. Fast track into five years, the country advanced in the top five for the same report. It has remained on the same spot ever since.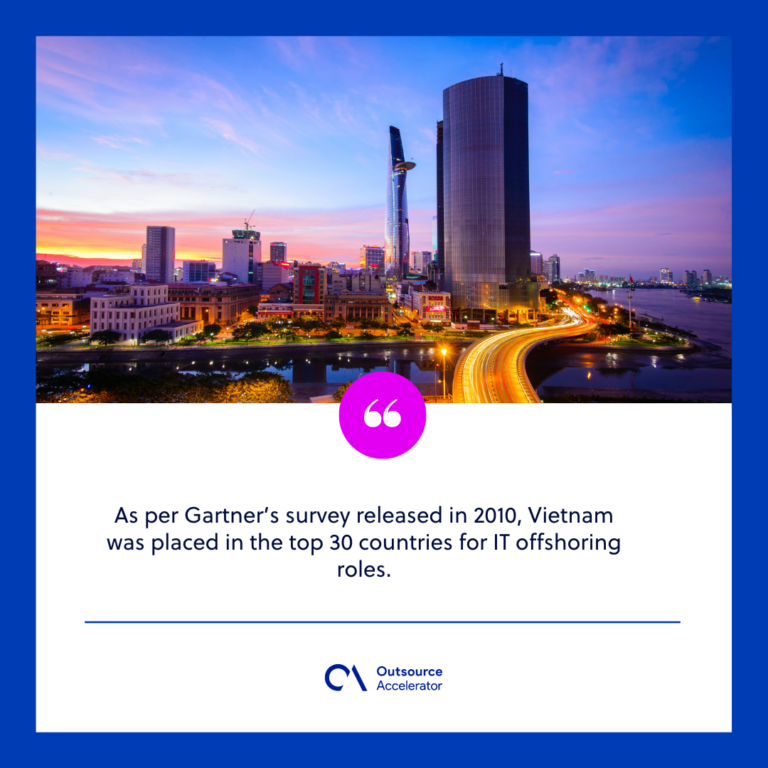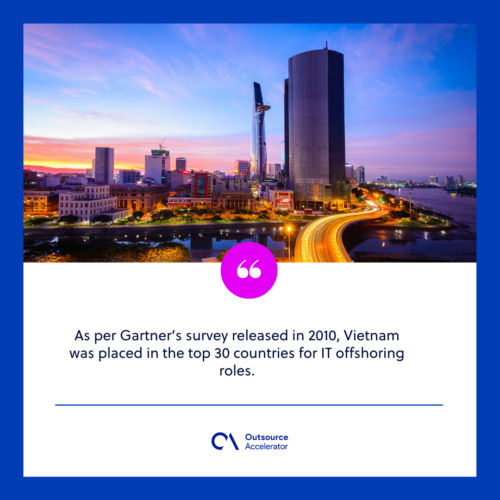 Vietnam is establishing a name in the Information and Communication Technology (ICT) sector. From 2009 to 2016, Tholons declared Ho Chi Minh City as one of the top outsourcing cities around Asia-Pacific.
In fact, it has recorded a year-on-year growth of about 9.8% over the last five years. It also had an annual revenue amounting to $110 billion in 2019 which has contributed 14% to the country's GDP. 
Outsourcing to Vietnam is indeed becoming an emerging trend. Besides IT roles, the country also has a vast pool of skilled professionals for other outsourcing services. 
Other sought after outsourcing roles in Vietnam include finance and accounting, payroll, human resource, and shared services.
A PwC report published in 2017 has also stated that Vietnam's BPO industry is one of the main reasons why foreign investors are drawn to the country. 
Compared to the Philippines, Vietnam is still considered a rookie when it comes to the outsourcing industry. 
However, its outsourcing sector is backed by the country's strong government support system, stable economy, and business-centered economic reforms. 
Outsourcing to Vietnam: Current outsourcing sector during the COVID-19 pandemic
Vietnam is also one of the few countries with robust contingencies in terms of managing the COVID-19 pandemic. As of its update in late June 2021, it is declared as the country with the largest population that has no recorded COVID-19 deaths. 
Vietnam's government is able to successfully safeguard its people as well as their livelihood. This South-Asian country, although a small nation, is considered an outstanding example of social resilience and technological fortitude. 
Vietnam was able to rise above the SARS outbreak in 2003, and H1N1 in 2009. On top of that, this nation is also susceptible to typhoons. The business sector in Vietnam is well equipped with Business Continuity plans that are based on these types of scenarios. 
Its rigorous commitment to planning ahead based on the country's previous experiences is what led to the success of its mitigation measures. Thus, this explains why the BPO industry in Vietnam wasn't rattled by the impacts of the global pandemic crisis
Vietnam has also been named as the fastest-growing middle class. Its economic transformation was backed by its resilient business environment, and several infrastructure and educational investments.  
5 significant advantages of outsourcing to Vietnam
The outsourcing industry in Vietnam effectively helps in supporting businesses growth. Global companies are given the opportunity to expand to different markets rapidly as they work with seasoned experts in various fields.  
Outsourcing to Vietnam allows every organization to take full advantage of the following: 
Language and communication
The English language is the second most used language in Vietnam. It is also the medium of instruction used in schools and universities.
A lot of the Vietnamese population are able to communicate effectively using the English language. 
Good business environment
Vietnam has a business-friendly policies and environment especially for foreign investments. In November of 2006, the country became the 150th member of the World Trade Organization. 
Stable economy
Vietnam has one of the fastest growing and stable economies in all of Asia. In one of New York Times published articles in 2006, Vietnam was distinguished as the second country in Asia with the fastest GDP growth.
Skills and workforce
Vietnam's literacy rate as of 2020 is at approximately 95.4% according to Statista. Moreover, it is also one of the countries in Asia Pacific with the highest adult literacy.
Vietnam has a wide pool of highly skilled and hardworking labor force. 
Cost effective outsourcing
US companies are able to save up to 90% on labor costs when offshoring to Vietnam. It has also bagged the fifth place in terms of the best countries to outsource to in the world in 2019, as reported by the MarketInsider. 
Apart from what we have listed above, Vietnam also has a steady political and socio-economic culture which makes it a cordial location for offshoring.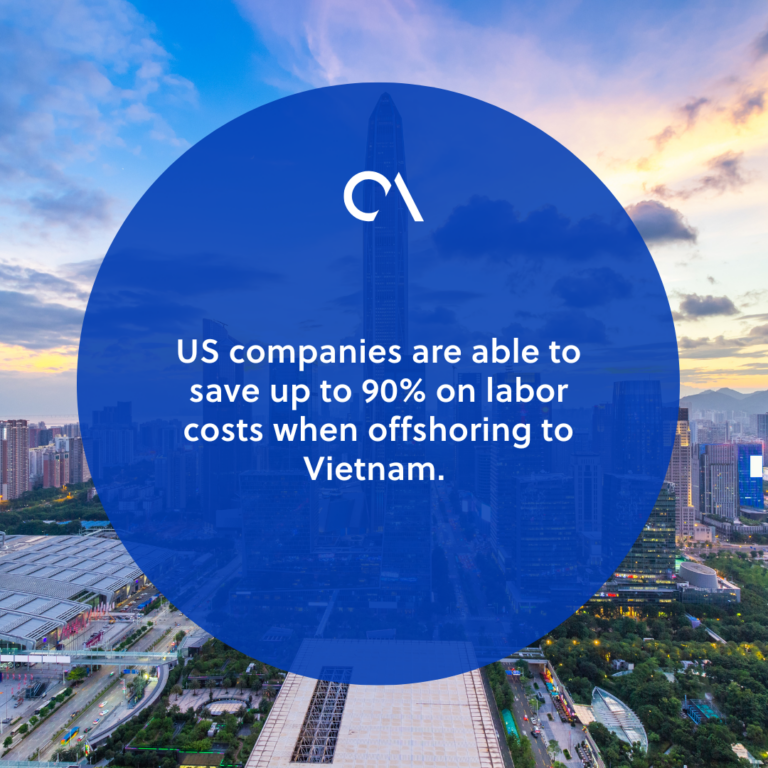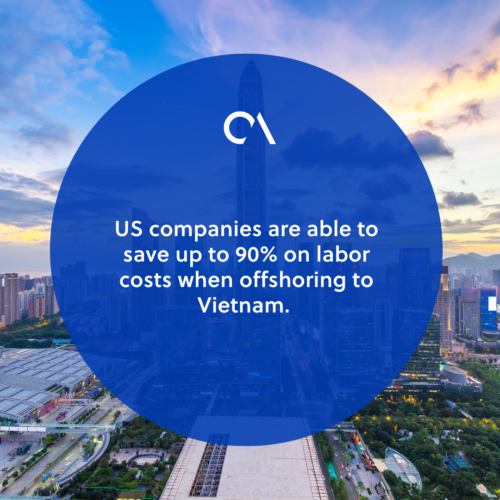 Outsourcing to Vietnam: IT services as an emerging outsourcing sector 
Over the last few years, Vietnam has also been steadily gaining acknowledgement as an IT outsourcing hub in Asia Pacific. 
With regards to offshoring software development, India and China uphold the top two spots in Asia. As for Asian-Pacific countries, Vietnam has recently become a powerful IT-offshoring location that is continuously getting noticed each day.
Vietnam has roughly over 400,000 IT engineering graduates and 50,000 IT students from 153 IT institutions every year. Further, its youthful population is one good advantage for international companies as this means these skilled professionals are ready to work anytime. 
IT outsourcing to Vietnam is now an emerging trend due to the country's growing tech infrastructure and IT talents. Compared to India, foreign companies will have to pay less than 30%-50% for operational costs as they outsource IT roles in Vietnam. 
The average hourly rate for Vietnam developers ranges from $20 to $40, compared to an hourly rate of $100 for developed countries like the US. 
There are already numerous renowned companies that have been offshoring IT services in the country. Among big corporations are Intel, Samsung, LG, and Microsoft. 
In fact, if you're in need of a reliable outsourcing company for your IT and software needs, you can look no further than Saigon Technology.
This small nation has been gaining traction for various IT support services, software development, application development and other IT-related roles. 
Why foreign companies should outsource their IT functions to Vietnam
Companies from around the world should consider outsourcing their IT functions to Vietnam for the following reasons: 
Higher level of education
There are over 280,000 Vietnamese college or university graduates every year. This is relatively considered as a prominent literacy rate among the entire population in the nation. 
An abundance of younger population
Approximately 70% of the population in Vietnam are under 35 years of age. 45% on the other hand are between the ages of 15 and 35 years of age. The country's seasoned young population is very ideal not just for IT outsourcing but the entire BPO sector. 
A good number of IT-specialized institutions 
Vietnam has a good number of IT-specialized universities and colleges. Meaning Vietnamese IT graduates are well trained and have acquired extensive knowledge in information technology. 
There are over 250 universities and colleges in Vietnam that offer IT-courses, and there are also 187 technical schools with IT-courses. 
Global corporate investors 
Aside from the large multinational companies that we have mentioned previously, other global corporate investors have also been outsourcing to Vietnam. 
Canon, IBM, and Fujitsu are just some of these large organizations that are already expanding their IT roles in the country.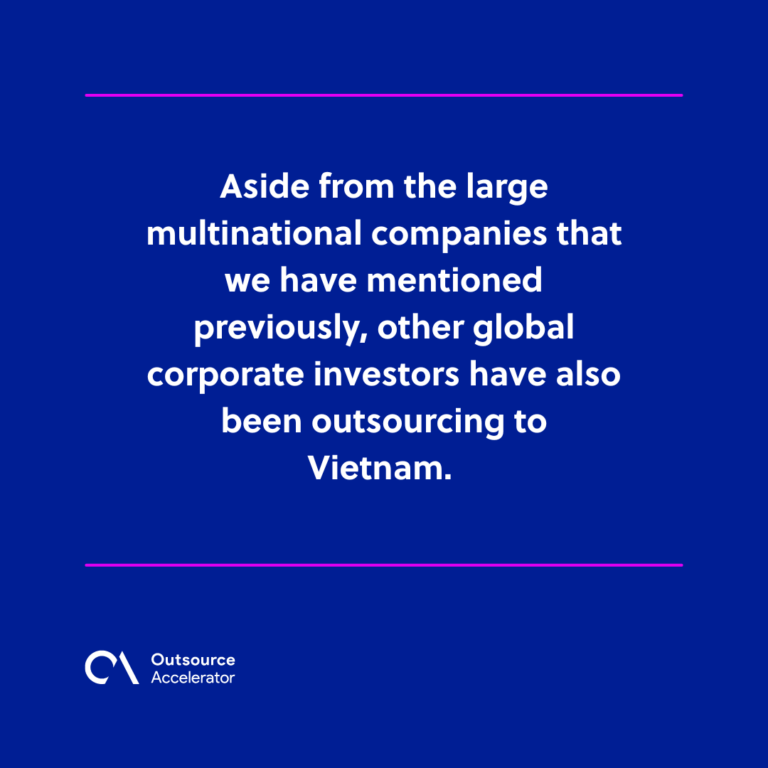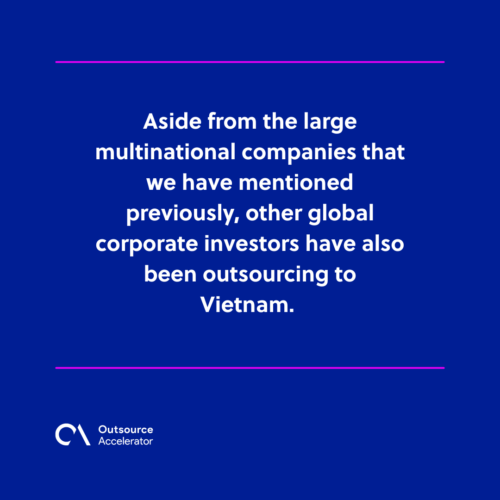 Hard-working labor force
Just like the Philippines, Vietnamese people are also well-known for being hard working individuals. Its young population are also recognized as being highly-motivated, innovative and resourceful. 
These excellent qualities are what makes the Vietnamese labor force good assets in competing against other countries. 
In conclusion: What makes outsourcing to Vietnam appealing
Overall, what makes Vietnam an appealing outsourcing destination is its cost-effectiveness, stable economy, robust infrastructure, seasoned talent pool, and supportive government. 
Vietnam is also highly regarded in terms of how the country has handled the COVID-19 pandemic crisis. An influx of overseas companies is foreseen to acquire BPO services, especially in the IT outsourcing sector in the nation. 
Compared to other countries in Southeast Asia, outsourcing to Vietnam costs relatively cheaper. This is also why some companies that outsource their manufacturing in China have moved their productions to Vietnam. 
More so, in terms of software development outsourcing in the US, outsourcing to Vietnam allows companies to save up to 90% on costs. As compared to software outsourcing in India, outsourcing to Vietnam is over 33% cheaper on overall costs. 
See more here: