COVID has changed the way that businesses do business.  Companies have (had to) embrace remote work. The CEO of Goldman Sachs might have called remote work an 'aberration' – but it is here to stay.
Luckily, technology has made remote work easy. Compared to just 10 years ago, you can now do most work from a laptop, chat to people across the globe, and find, buy, and sell almost anything online.
This created the seemingly endless opportunity of connecting employees, customers, and businesses, from anywhere – no matter their distance.
The move to remote work, made companies realize that they can hire the best talent from anywhere in the globe.  They were no longer geographically constrained to hire people from their local geography. Now, almost anyone can work from almost anywhere – and they also found that they can save up to 70% of their costs. 
Remote work has created a globalized employment pool and a big opportunity for businesses!
Post-COVID: Labor shortages and slashing costs
As physical interactions at work become less irrelevant, people have begun to embrace digitalization. You can see this shift from people's now common-place usage of online tools like Gmail, Zoom, Trello, WhatsApp, Facebook, LinkedIn and dozens of others.
The world faces a global labor shortage in most industries, especially in tech and hospitality. Despite the pandemic, many cities are facing record-low unemployment and severe labor shortages. With travel restrictions in place, businesses find it difficult to look for local employees fit for their roles.
At the same time, many companies have been impacted by the pandemic, and they have needed to slash costs, adapt and rebuild their businesses.  Companies have been forced to do more with less'.  This difficult paradox of cutting back costs, whilst driving forward has left businesses looking for alternatives.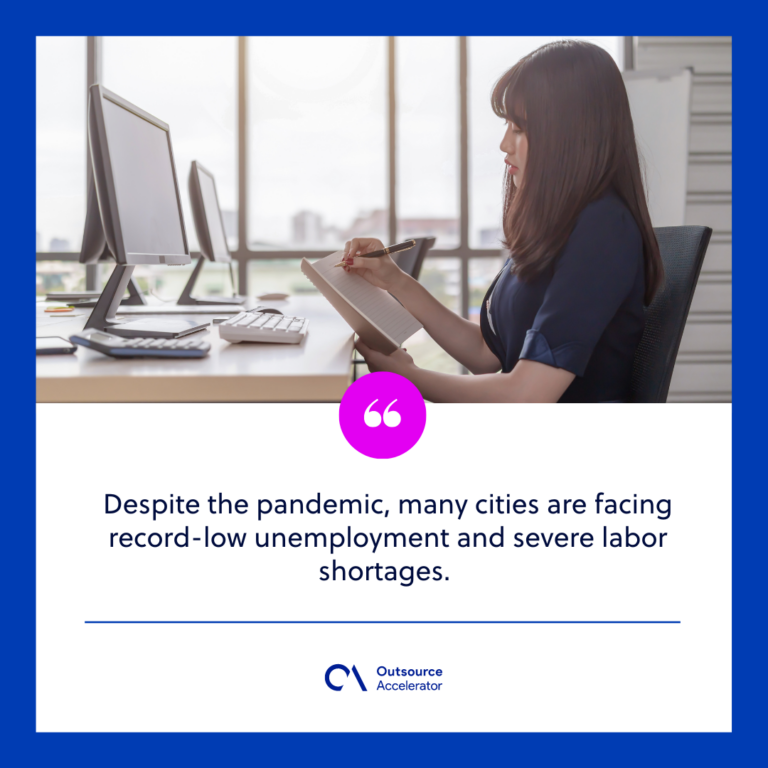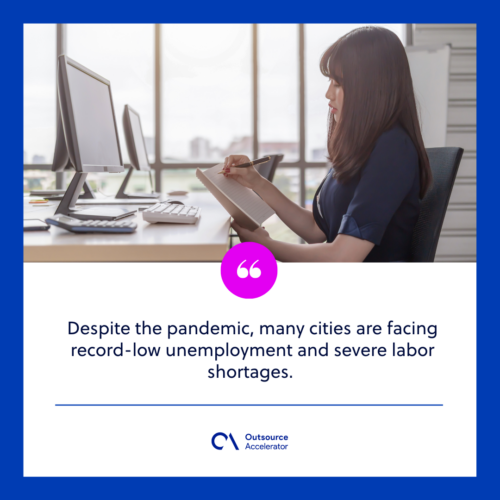 Your competitors are turning to offshore staffing
The talent shortage and the search for cost-effective employment options have forced companies to look elsewhere for staffing. In this search, businesses across the globe have discovered outsourcing as a viable option for their business.
Almost any business can use offshore staffing.  Commonly the tech companies, and professional services and online companies are the early adopters, but also plumbers, restaurants and hospitals have successfully incorporated offshore staff into their businesses.
Western businesses are not only faced with incredibly expensive salaries, but they also have to cover enormous employer contributions, taxes, insurances, and also equipment and office costs.  Salaries are already high, but you can easily pay another 45%-90% on top once you add everything else in.
It's no surprise then that businesses are discovering, and turning to outsourcing in droves.  
Clear benefits – save 70%!
Offshore staffing is more than just 'call centers' and 'cheap labor'. Outsourcing to offshore leading countries such as the Philippines means that businesses can tap into highly qualified staff, with sophisticated all-inclusive support systems, at a fraction of the typical cost:
Widest range of roles

. Everything done online can now be outsourced nowadays – accounting, sales, marketing, admin, research, architecture or even medicine!

All-in-one package

. You only get to pay a fixed fee for everything you need, including recruitment, staff, training, and tools and equipment.

Cost-effective

. Access incredible staff at a fraction of the price.  Companies are finding that they can usually save 70% on costs – all in.  That is a transformative amount!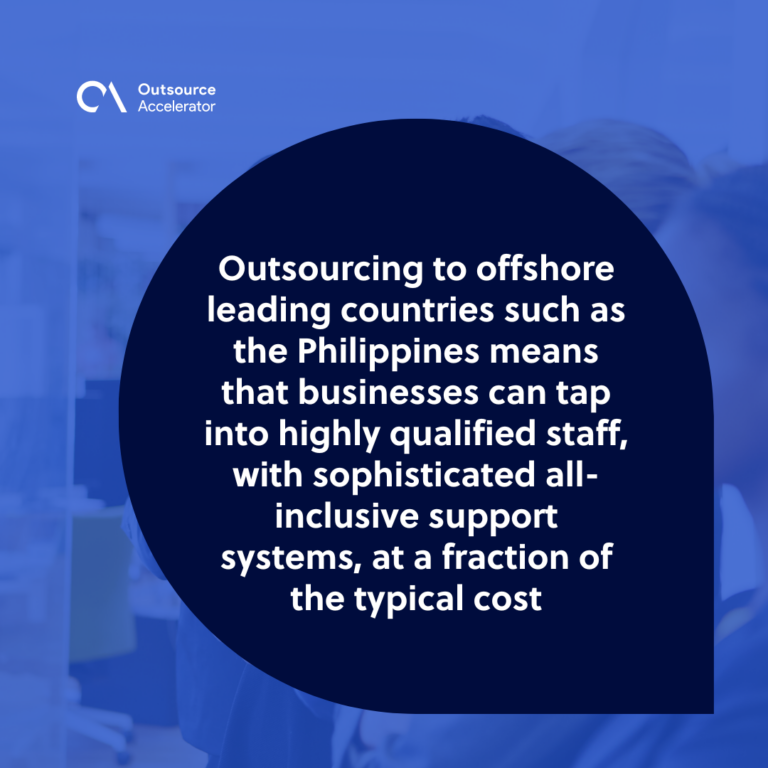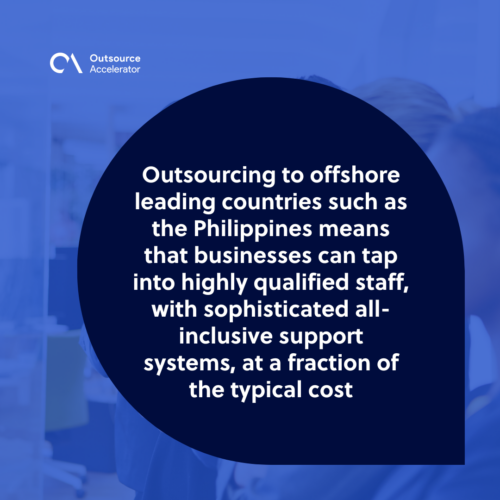 Join hundreds of other businesses – explore outsourcing
If you haven't looked into outsourcing yet, then you owe it to your business to do so.  Outsourcing might not be right for you, right now, but the fact that all of your competitors are turning to outsourcing means that you should at least know what it's about.
With its rising popularity and ever-growing market share, your business could lose its competitive edge if you don't join the wave.
Outsourcing is easier than you think to get started.  It is cost-effective, flexible and generally has no ties ins. You can learn more about outsourcing, offshore staffing, and more about the industry for free with a wide range of resources in the market.
Outsource Accelerator has over 10,000 articles, podcasts, videos and white papers on the topic. We also list over 1000 outsourcing companies in the directory.