Outsourcing to Fiji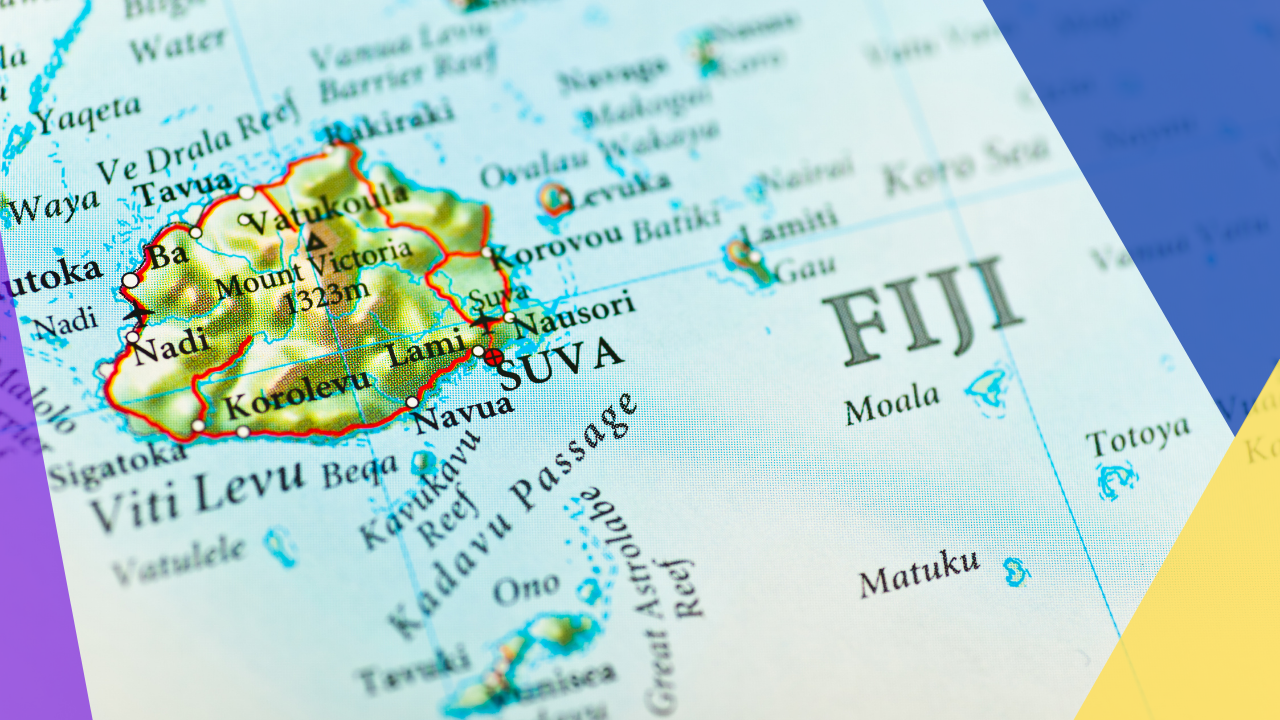 Aside from outsourcing destinations in Asia, global BPO clients are learning to delegate to third-party providers from rising locations. In recent years, clients have been outsourcing to Fiji – one of the world's most promising BPO destinations.
We were used to the norm of foreign companies from first-world countries offshoring to Asia as a strategic practice.
By tapping into Asia's professional talent pool, foreign companies are able to fill in skill gaps – at the same time boosting their efficiency and productivity while saving massively on costs.
However, little did everyone know about neighboring countries' budding outsourcing industry. Especially how they are slowly making their names globally.
For example in the US, a lot of growing companies in the country are now nearshoring to BPOs in Latin America. Brazil and Mexico are two countries in Latin America with an emerging outsourcing sector.
More and more businesses in Australia and New Zealand have also started outsourcing to Fiji. Although it is relatively a "rookie" in the outsourcing field, Fiji is actually a quality outsourcing destination for various business roles.
Fiji's outsourcing industry
Fiji is an archipelago and country located in the South Pacific Ocean with more than 300 islands. Besides having breathtaking paradise beaches, it is also best known for having warm and friendly locals.
The country is well known as a producer of garments and sugar. At present, Fiji is working its way to becoming a new offshoring hub for the global market industry. In fact, it is now being recognized as "the contact center industry's best-kept secret."
Back in 2017, the Fiji BPO Council was formed to kick-start the formation and development of the industry in Fiji. The country's government fully supported the council including the Ministry of Industry Trade and Tourism and Investment Fiji.
The founding members of Fiji's BPO council involved a number of renowned stakeholders. To name a few: ANZ  Pacific Operations, DHL, Centrecom, Lyndhurst Group of Companies, and BSP Life.
The council members aim to have a highly competitive global outsourcing services industry that specializes in various market niches.
Among these roles are back-office and financial services, debt recovery, insurance claims processing, documentation, customer service, sales telemarketing, data processing, and IT helpdesk.
They have also partnered with a few schools like Fiji National University and the University of the South Pacific.
They have planned to implement a curriculum that lets students hone their skills for contact center roles. More so, the council members have pledged to provide internships.
As students complete their courses, they will be granted an internationally recognized qualification.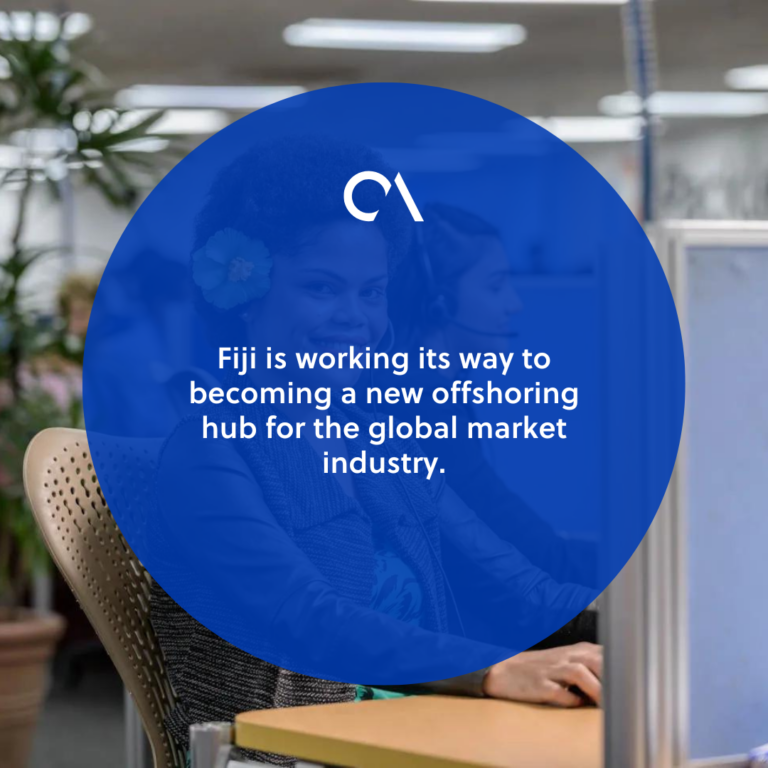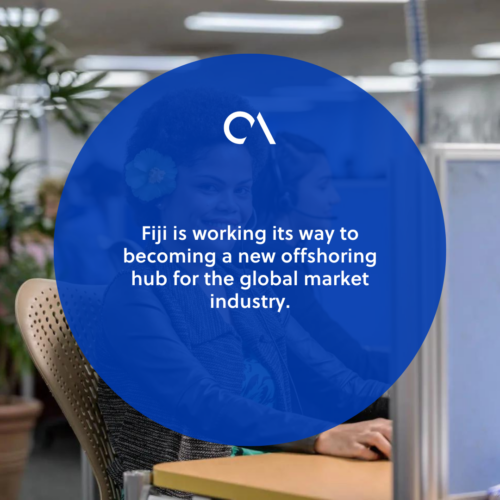 Outsource to Fiji: Role of BPO in the country's economy
As more companies around the world outsource to Fiji, it will create wider job opportunities for the local population. This will also help attract more investors to venture into the BPO industry in the country.
On top of that, this will also serve as a huge contribution to the country's economic growth and development.
Outsource to Fiji: Essential facts
Here are some important information you need to know if you are planning to outsource to Fiji:
Workforce and talent pool 
50% of the population in Fiji is under the age of 27, which is a good age bracket for the outsourcing industry.
Fiji has over 5,000 fresh college graduates that are added to the working population each year.
Most entry-level BPO roles are given to university graduates.
Fijians have mastered the art of customer service as it comes naturally to them.
The official work week in the country is 40 hours.
A lot of BPO companies in Fiji provide shuttle services to their employees.
Fiji has a very high literacy rate of 99.08%
Facts and figures
Australia and New Zealand are two primary countries that outsource to Fiji.
The country is on the path of becoming the "BPO hub of the Pacific."
Since Fiji gained independence from the UK in 1970, it paved the way for establishing its economy and infrastructure.
There is very little time-zone difference between Fiji and Australia.
Most of the BPO companies in Fiji operate in its capital city Suva and another city named Nadi. Both these cities are found on its main island, Viti Levu.
Some of the examples of global companies that have outsourced to Fiji are ANZ Bank, Select, and Vodafone.
Language
Fiji's official languages are Fijian, Fiji Hindi and English.
The language of instruction used in schools is English.
Fijians have a neutral English accent.
Fijians are proficient in speaking the English language.
Impacts of COVID-19
Fiji is among the few countries that are able to contain the spread of the COVID-19 virus successfully.
The Fijian government has rendered a FJ$3.67 stimulus package budget for 2020-2021 to the impacts of the pandemic.
Because of some serious effects of the pandemic on Fiji's tourism, the country is putting more effort into expanding its BPO services sector.
Why global companies outsource to Fiji
More and more multinational companies are attracted to farm out parts of their business process to Fiji. This is mainly because of the following reasons:
Language and cultural compatibility
The English language was considered the country's official language until 1997. Up until the present time, the English language is still widely used in the government, schools, and the entire business industry.
Fijians are also very familiar with Australian culture as it is one of the main tourist destinations of Australians. Further, the country is also heavily influenced by UK culture.
Cost advantage
Foreign companies that offshore to Fiji are able to take advantage of its cost-saving perk. These companies are able to save up to 50% of their operational costs, especially in outsourcing contact center roles.
Geographical location
Fiji has a two-hour time-difference from Sydney and has the same time as New Zealand. Moreover, it also offers a good number of choices for direct flights going to and from Australia.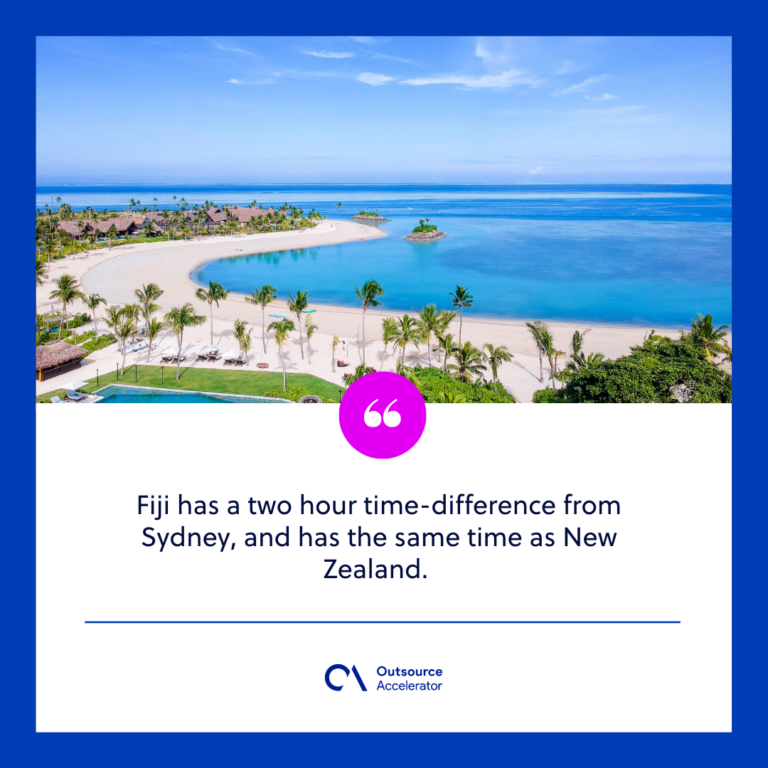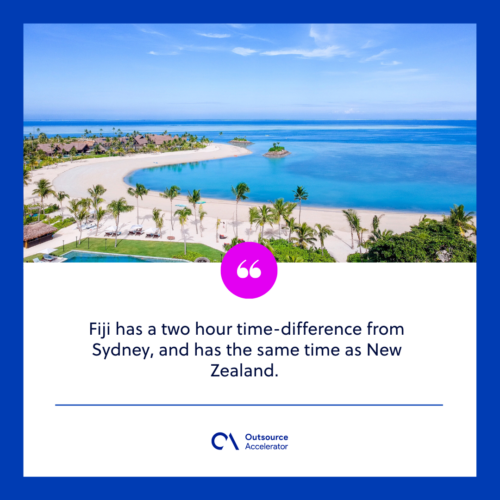 Skills and talent pool
In connection with the country's booming tourist industry, Fijians without a doubt possess excellent customer service skills.
Fijians are also very hardworking and are always eager to be a part of the international working environment, supporting overseas customers.
Better customer service experience
Fiji is famous for having the friendliest people through their "Bula" spirit. Thus, they always aim to make people around them happy.
Their warm and welcoming demeanor is bound to take every customer service experience to the next level.
Focus on core competencies
Aside from being able to save money, one of the top reasons why organizations outsource is to save more time.
By hiring a third party to perform parts of their business processes, they are able to focus more on other important areas of their business.
Robust telecommunication and internet infrastructure
Fiji has strong telecommunications, with fast, reliable, and secure internet connection. This has been made possible as its infrastructure is linked to Australia through the Southern Cross Cable.
Top business roles to outsource to Fiji
Contact centers are an essential segment of the BPO industry in the country. However, the outsourcing sector in the country also offers a plethora of business services like the following:
Human resource
Outsourcing human resources allows companies to successfully recruit and onboard the right candidate for their job role requirements.
HR outsourcing can range from recruitment, onboarding, training, employee performance management, payroll and benefits administration.
Call center
Call center roles can be inbound, outbound, or both. Call center outsourcing also has a broad range of services from customer support, telesales, telemarketing, appointment scheduling, and more.
Call center outsourcing providers will also be in charge of providing all necessary resources needed to perform these functions.
IT roles 
There is a continuously growing demand for IT services around the world.
Over the recent years, IT outsourcing has also made a huge contribution to the global outsourcing market. The global IT outsourcing market is expected to reach USD 397.6 billion by 2025
The most commonly outsourced IT roles are software development, mobile app development, hosting, tech support, and web maintenance or management.
Accounting
Accounting is one of the vital parts of a business. Especially with startups and small businesses, hiring an accountant or in-house accounting staff can be financially challenging.
Outsourcing accounting processes involves bookkeeping, accounts receivable and payable, payroll processing, financial statement preparation, tax preparation, and compliance.
Digital marketing 
Every business needs effective digital marketing strategies to remain relevant and competitive in today's market industry. It is also given that marketing may not be everyone's cup of tea.
Outsourcing digital marketing allows organizations to acquire professional expertise to promote their business and establish their brand identity.
Outsourcing digital marketing includes social media management and advertising, pay-per-click advertising, SEO, and email marketing.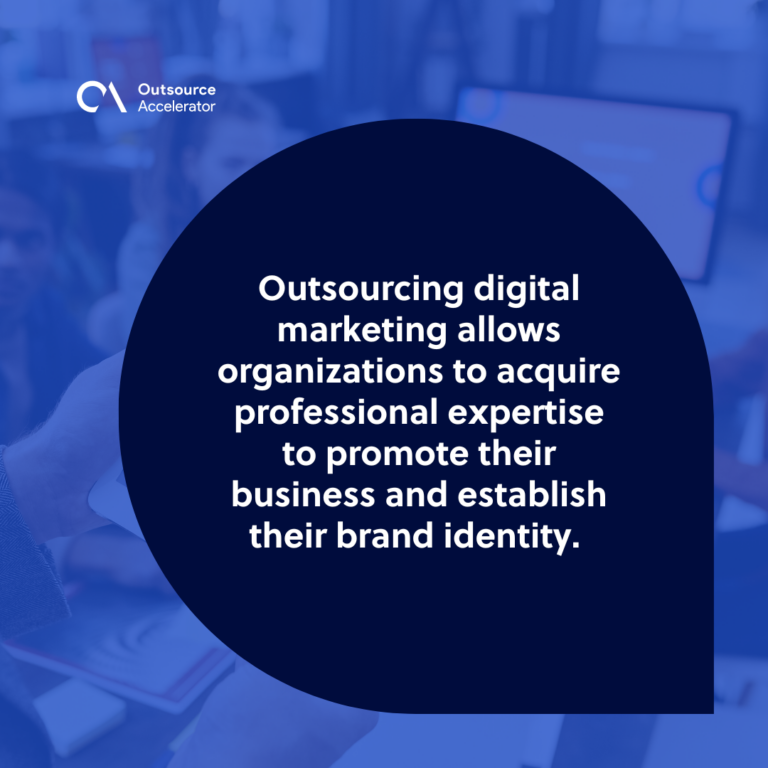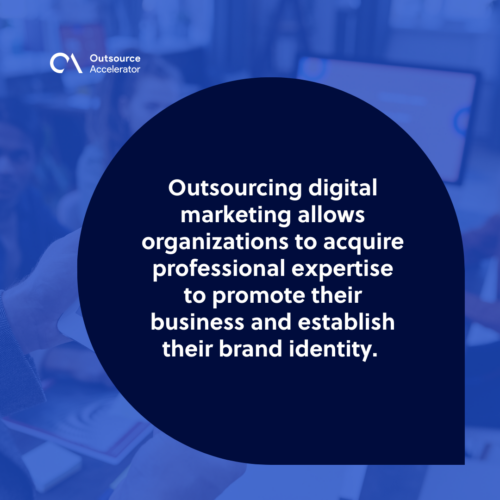 Outsource to Fiji: In a nutshell
Fiji will soon be placed on top of the outsourcing destinations, next to the Philippines and India. Its government, together with the BPO council in the country, has placed solid plans to foster the growth and development of its outsourcing services sector.
Contact center and call center roles are among the leading outsourced services in the country. What makes this country a very attractive location for outsourcing are its language and culture alignment, robust infrastructure, young and skilled workforce, and many more.
Looking to outsource to Fiji?
If you're looking to outsource to Fiji, Outsource Accelerator has listed the Top 30 BPO Companies in Fiji to help you get started. Good luck!
See more here: