Outsourcing Summit 2020 Recap: Outsourcing Facilities Tour and Interviews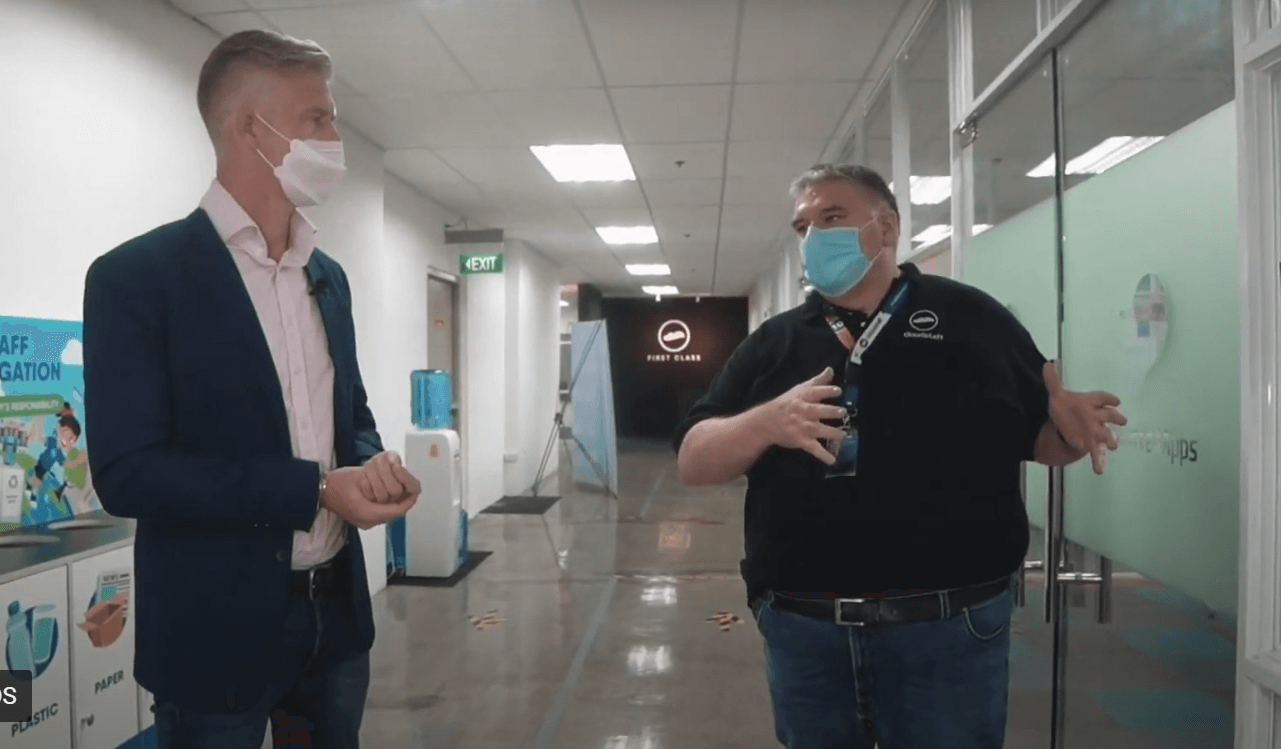 The Outsourcing Summit promised zero tedious Zoom and boring presentations, and that's what the participants got. Part of the summit is taking a live tour of three world-leading outsourcing facilities: Cloudstaff Modern Workforce, Telework PH, and EMAPTA Versatile Solutions, as Summit host and Outsource Accelerator Founder Derek Gallimore talks to the CEOs, as well as the companies' staff and clients.
>> Outsourcing Summit REPLAY: Watch a full video replay of OS2020 here
Outsourcing Summit BPO Tours
"It's not about moving jobs offshore. It's about freeing up the time of the people who create value inside your business." – Cloudstaff CEO Lloyd Ernst.
Derek visited the main office of Cloudstaff  in Clark, Pampanga, and talked to CEO Lloyd Ernst at the firm's First Class Lounge. According to Lloyd, Cloudstaff started in 2005 with seven staff members; fast forward to today, the company now employs 2,000 staff in its 10 offices located in four regions across the country.
To help employees get trained well and remain on top of their respective fields, the company tries "to help with a whole lot of tools that actually make that work and we also have a team of people called "success pilots" who help do the training and onboarding." Further, Cloudstaff's business model is "giving the businesses control so they can tweak the levers however they like."
As Lloyd mentioned at the Outsourcing Summit, Cloudstaff tries to create a second home for its customers, and it advocates for a "family-friendly environment." The company is famous for its fun Christmas parties, but it also commemorates various celebrations. In fact, they even allow kids and pets on other occasions! Further, Cloudstaff takes data security very seriously, as they have special vaults for confidential information, like KYC, collections work, credit card processing information and more. The company is also PCI compliant. Since mobile phones are not allowed to maintain security, the office has a 24/7 radio station where employees can request songs to listen to while they're working.
Cloudstaff pricing
Cloudstaff has a program called "Building the #1 Workplace in the Philippines" because "we want to attract the very best talent that's available." In terms of pricing, it depends on the client requirements and employee's expertise. For example, a back office employee could cost US$ 600/month, mid-senior employees can cost from US$1,200-1,500 monthly, and developers with 10 years of experience can cost around US$2,000/month.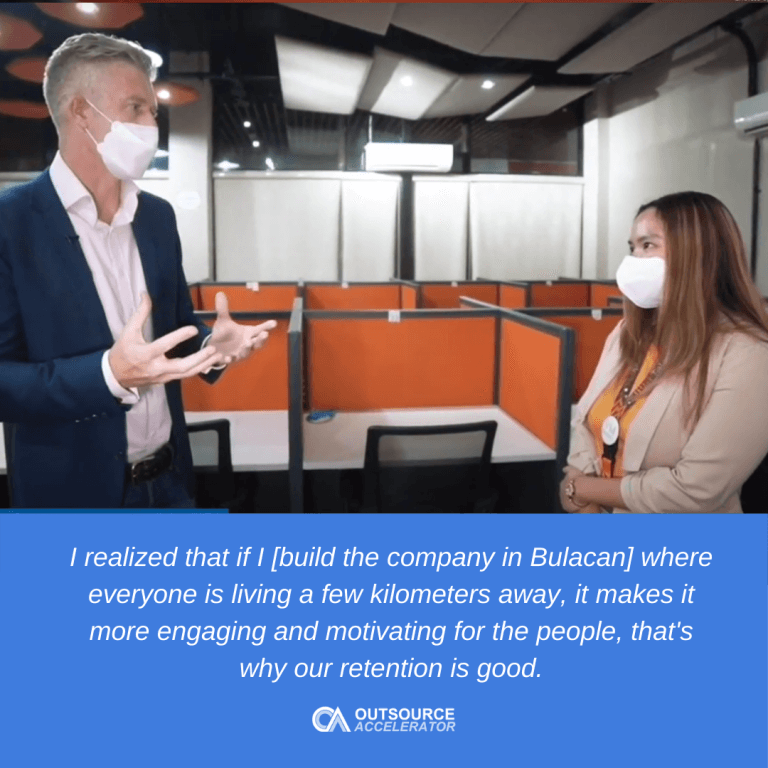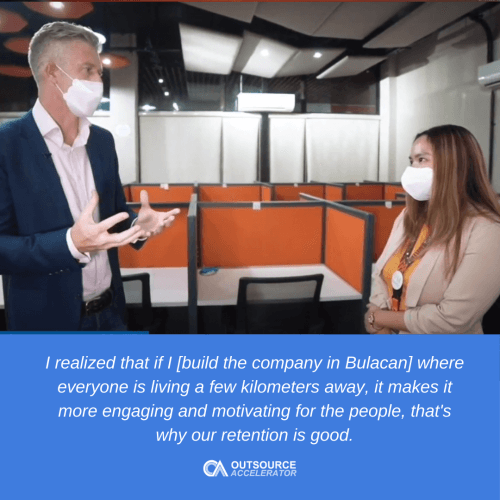 "I realized that if I [build the company in Bulacan] where everyone is living a few kilometers away, it makes it more engaging and motivating for the people, that's why our retention is good." – Telework PH Founder and CEO Marge Aviso.
Telework PH's Founder and CEO Marge Aviso has an inspiring story behind building the company. Marge started as an agent back in 2008, then became a QA analyst to supervisor. Fast forward to 2015, Marge was working as a freelancer who caters to US clients. She said her client trusted her to build a team here, which started from three members and grew to 30 people.
Working at home, Marge and her team were faced with various issues, like background noises coming from roosters, dogs, and children. She said it's not working for the client anymore, so she made the decision to put up a physical facility. Telework PH is bootstrapped by Marge, and two years later, the company now employs around 800-900 staff.
Telework PH is located 20 miles away from Manila, and describes itself as "the Philippines' finest rural BPO company." The firm's office is located in a mall, and has four offices in the area.
Marge toured Derek around Telework PH's facilities, and they have different offices for different specialties. The first office is for tech support, second is for their language tutoring accounts, where employees are tutoring the English language to students in other Asian countries.
The company's third office is reserved for administrative and IT tasks, while the fourth office is for clients in the artificial intelligence (AI) space and data annotation. Derek and Marge also got to talk to Dreamy Rose Loquinario, Telework PH's HR and Admin Director. Dreamy Rose manages recruitment, onboarding, employee engagement, as well as overseeing facilities, security, and employee safety measures. The company had a huge jump from 30 employees to 900, and according to Dreamy Rose, the largest number of employees they recruited was 100 in a week.
Telework PH pricing
Telework PH's pricing is flexible, but starts at US$1,500 monthly all-inclusive. This includes taxes, government-mandated benefits, insurances, and other perks.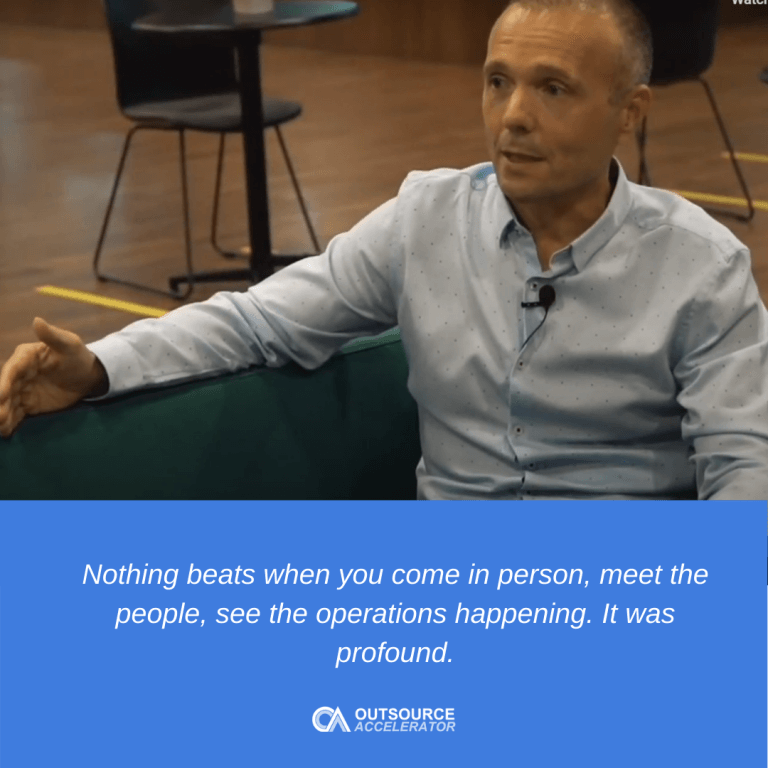 "Nothing beats when you come in person, meet the people, see the operations happening. It was profound." – EMAPTA CEO Tim Vorbach.
EMAPTA was founded only 10 years ago, but CEO Tim Vorbach has already been outsourcing in the Philippines five years earlier. Tim said they "couldn't believe" what they'd seen when they arrived in Manila, and started thinking "why not offshore here because it's obvious that the talent is here and the English [proficiency of Filipinos] is superb."
Fast forward to 10 years, EMAPTA has almost 3,000 employees across 14 locations. Tim said that they "cover the Philippines from the top to the bottom" with ten offices in the National Capital Region alone. Further, he noted that the company is making sure that their locations and the way that they grow are all tailored around what's convenient to the talent.
Derek was toured by EMAPTA's Business Development Manager Cat Caballero around the company's Ortigas office. The office is very spacious, with dedicated communal spaces for the recruiters to meet candidates, pantry, foosball tables, a gymnasium, and more. Cat said that the space is meant to be collaborative, and gives chance for employees to build a community on site.
For the work stations, clients have the option to have exclusive dedicated spaces where they are encouraged to brand their offices and bring their company culture to get the employees fully engaged. EMAPTA's employees range from accountants, software developers, to IT providers and virtual assistants.
EMAPTA pricing
EMAPTA's pricing depends on the employee's level of experience. For someone with one to three years of experience, they can charge US$ 850/month plus a US$499 service and facility fee. Tim said that they're only interested in the top three to five per cent employees, and they're "paid above the local market rates to get that sort of quality."
What is the Outsourcing Summit?
Outsourcing Summit is the annual live event that aims to leverage remote, offshore, and global workforces. At the summit, participants are taken a live tour of the leading BPO offices, and they can get the insights of outsourcing leaders in the Philippines – including Outsource Accelerator's Derek Gallimore.
For a limited replay of the Outsourcing Summit 2020, click here.