A comprehensive guide to outsourcing to Egypt
As more outsourcing destinations rise, global companies have wider options in hiring remote teams according to their requirements. They have the chance to either tap a neighboring location or offshoring destinations in Asia or Africa for their convenience.
Egypt is one of the fastest-growing destinations for offshoring services nowadays. With the continuous development and support from the government, more companies have started to invest in the country by delegating their services to BPOs.
Get to know more about outsourcing to Egypt through this article.
Egypt: a rising outsourcing destination
Currently establishing itself as an outsourcing destination, Egypt came from a rich history of influence and control from France and Britain. Its background made the country most compatible with developed nations nowadays, especially for business.
Despite opening for business in the 1970s, Egypt only opened up its economy fully in the 2000s. From there, the country has experienced rapid growth despite the turmoil it experienced over the years.
Information and communications technology (ICT) has been one of the fastest-growing industries in Egypt ever since. Managing to attain a 20% CAGR in 2008, it remained resilient and stable during the Arab Spring in 2011. 
Cairo, its capital, first entered the Tholons's Top 50 Emerging Cities in 2007, ranking 11th, and and then landed on the top 10 the following year. Egypt climbed to 4th ranking in 2010, making it the top outsourcing destination in the Middle East.
Egypt continues to develop its outsourcing sector even during the pandemic. Recently, the ICT Minister roled out the plans for Digital Egypt Strategies on Offshoring Services, which could further help the industry move forward.
Egypt highlights and statistics
Law and order

. A 2018

poll by Gallup

found that Egypt ranked higher (16th) in the global law and order report, compared to the US (35th) and the UK (21st).

New administrative capital

. To ease the congestion in Cairo, the Egyptian government is building a "

New Administrative Capital

" approximately 45 km east of the capital.

Modern calendar

. The modern 365-day calendar was invented in Egypt to predict the Nile River flooding every year.

Social media monitoring

. A

controversial law

was passed in 2018, categorizing social media users with more than 5,000 followers as media outlets and will be monitored by the government.

Homogenous country

. Egypt is said to be an ethnically homogenous country, with 99% of the population being Egyptians.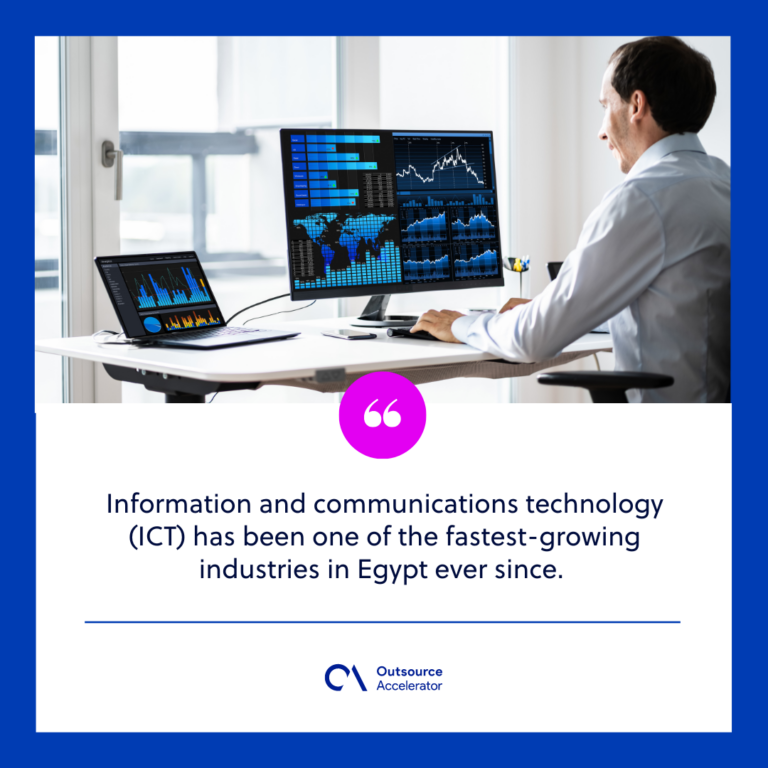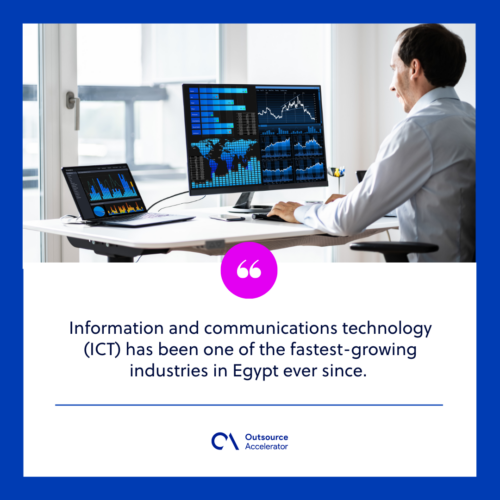 Why should you outsource to Egypt?
More companies choose to outsource to Egypt for the following reasons.
Multilingual support
Egypt has a vast workforce with a strong grasp of multiple languages aside from Arabic. This makes it easier for companies to look for multilingual support services.
Moreover, Egyptians learn English as a second language at school. Having been influenced by European countries in the past, some graduates even take French or German as third languages when needed.
A majority of workers also learn Italian, Russian, Korean, and other languages for tourism. Recently, Mandarin Chinese was even included as an elective foreign language in schools.
Young, tech-savvy workforce
The country produces millions of young and tech-savvy graduates that enter the workforce each year. Based on the latest Central Agency for Public Mobilization and Statistics (CAPMAS) statement, the Egyptian labor force in urban areas alone reached up to 13 million.
These millions of workers are trained to provide the best service in different fields, including IT and related functions. Aside from this, institutions and universities offer educational resources and workshops to train employees for call centers and BPOs.
With this, Egyptian BPOs can easily help their clients access the best teams they can find in the country.
High-quality infrastructures
Egypt has top-of-the-line infrastructures that can compete with the top offshoring destinations and developed countries. Thanks to the Egyptian government, digital infrastructures in the country continue to develop through the Digital Egypt strategy. 
Egypt was considered an "African tech hub" to be reckoned with in 2019, with almost 100 tech startups investing in the country. The latest Global Services Local Index also named the country as the most attractive location in the Middle East and Africa while ranking 15th in the world.
Ranking 86th in Ookla's global speed index as of January 2022, the country has one of the fastest internet connections in Africa. 
Business-friendly climate
The country is named one of the leading foreign direct investment (FDI) recipients in the Middle East and the top recipient in Africa in the 2021 UNCTAD report. Indeed, it has a huge potential to attract foreign investors in terms of its location and policies.
Linking Africa to two continents, Egypt has one of the most conducive environments for developed countries. Egypt is geographically closer to the US and Europe, having time differences of up to seven hours.
The government even strives to make the business climate in the country better by implementing policies such as the new investment law. The policy aims to attract more foreign investments through incentives, guarantees, and more streamlined processing.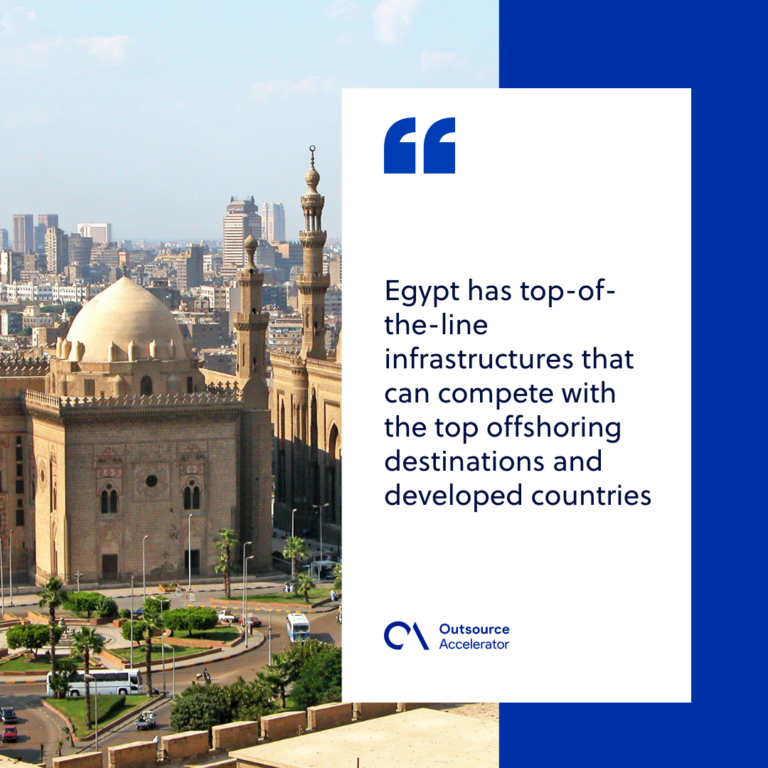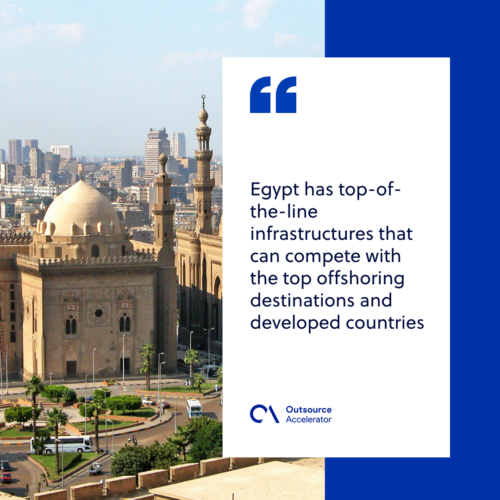 Roles you can outsource to Egypt
Egypt can be tapped to delegate a wide range of services, from customer-facing functions to professional roles. Here are some of the popular roles companies can outsource to Egypt.
Customer support
Egypt gets high demand for customer support services in multiple languages, including English, French, and German. Companies can save up to 40% on costs with an Egyptian customer support team compared to hiring local staff.
Knowledge process outsourcing
With continuously developing infrastructures, Egypt has a great potential for knowledge process outsourcing (KPO), especially in research and development. 
By delegating KPO, businesses can easily get expert advice and services in managing their data, growing their business, and getting market and industry insights. This even helps them overcome the skills gap in professional roles in developed countries.
Back-office services
Aside from customer support, Egypt also has a good market for back-office services. A lot of institutions throughout the country offer training for BPO services, including office administration and bookkeeping.
When clients delegate their back office to Egypt, they can have a reliable remote team and optimized functions using the latest tools available. 
Design services
The country has a fleet of creative workers ready to help businesses with their website, content, and social media.
Outsourcing design helps businesses save at least 40% on costs and scale their functions according to demand. They can either delegate one-off design work for logos and web designs or have their entire design department offshore for recurring campaigns.
Legal process outsourcing
Still a growing sector, legal process outsourcing (LPO) in Egypt is most viable for companies looking to make their legal compliances more efficient. Organizations outsourcing their legal processes can save time and effort in dealing with international trade laws and processes.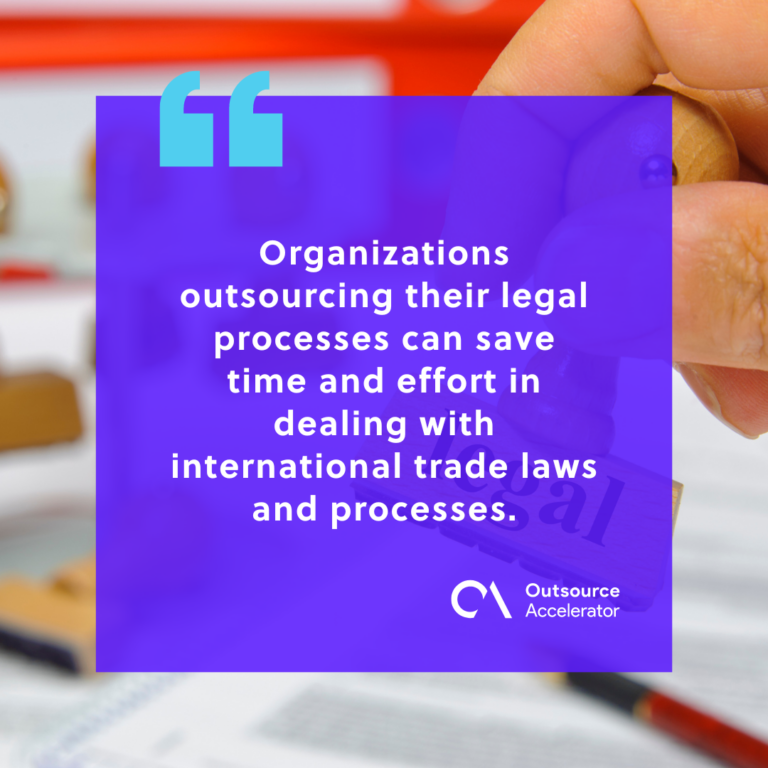 BPO companies in Egypt
Egypt houses some of the established and leading BPOs in the Middle East and Africa. Some of these companies include the following.
Headquartered in Cairo, Xceed is a leading BPO company operating in 10 locations in Egypt, Morocco, and Mauritius. The company caters to government and commercial institutions in need of omnichannel and workforce management solutions.
Along with Xceed, Majorel is one of the largest BPOs in the country. The Everest Group has named the company a "leader in customer experience management" worldwide since 2020. 
They provide CX functions that can improve interactions and client satisfaction. 
Virtual Worker Now is one of the fastest-growing outsourcing firms in the country. The company offers outsourced solutions for companies delegating functions such as writing, social media, and sales.
Oworkers provides data and content services for growing tech companies around the world. Operating in six countries including Egypt, the company is considered a "pure player" in data outsourcing with their ISO and GDPR compliances.
Raya CX provides BPO and customer experience services to clients in a wide range of industries, including gaming and healthcare. They operate in six countries, with two offices in Cairo and Hurghada in Egypt.
What to consider when outsourcing to Egypt
Despite the advantages it could give, companies are still hesitant to outsource to Egypt mainly due to its political instability. Yet, they should worry less about this, given that Egypt's ICT industry has been stable through the years.
Outsourcing to another country such as Egypt always poses risks to business operations in terms of control and expected outcomes. This is why clients are continuously reminded to plan, strategize, and research carefully about outsourcing and the industry.
They can get advisory services from industry experts to help them with this. Outsource Accelerator, for instance, can help them learn more about outsourcing through thousands of educational resources on its page. 
Businesses can gather more information about outsourcing and offshoring in Egypt and other countries. At the same time, Outsource Accelerator's BPO directory makes it easier for them to contact thousands of BPOs worldwide, especially in Egypt.