Find the best Indian VA: Top services to outsource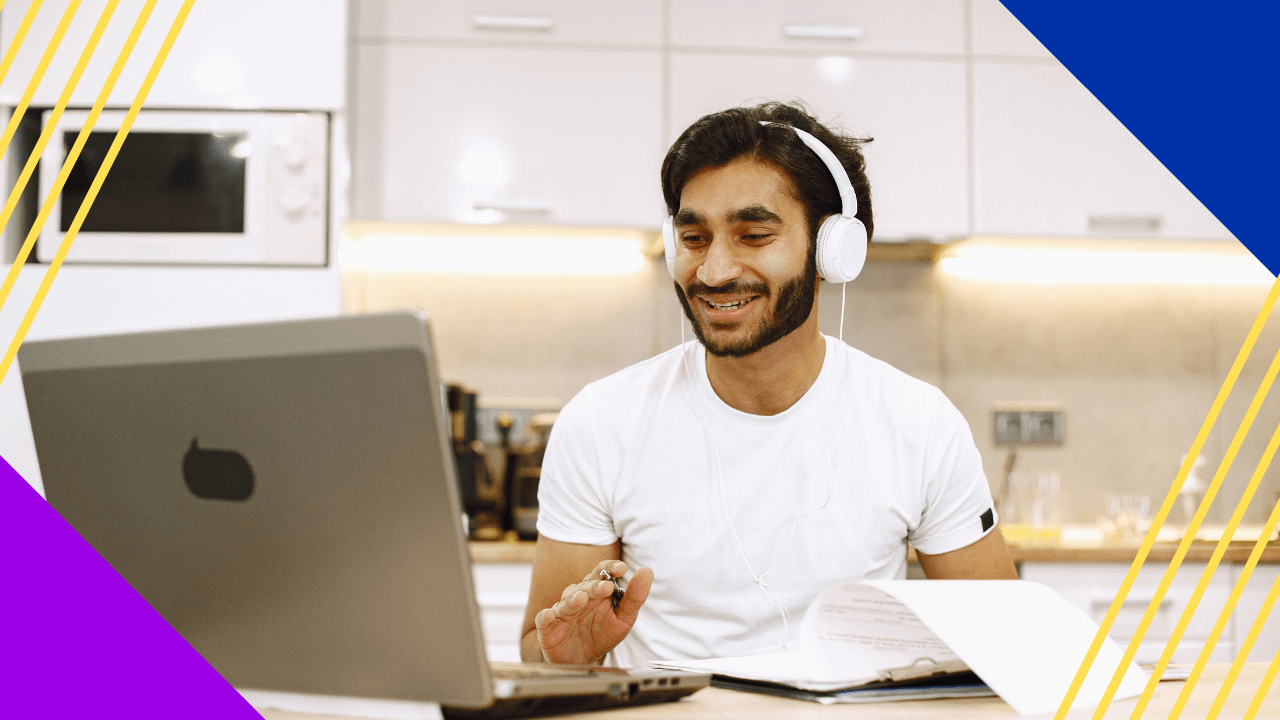 One of the great things about today's tech-driven world is that everyone has the liberty to perform their daily jobs digitally anywhere. All thanks to the wonders of the internet. It has also been easier for businesses to hire professional talents, like virtual assistants, from across the globe through outsourcing.
Notably, two of the top business process outsourcing destinations as of today are India and the Philippines.
While hiring through an outsourcing company is a good choice, another excellent staffing option would be individual contractors like virtual assistants. To be specific, hiring an Indian VA offers a lot of favorable perks to all types of organizations.
For foreign companies that are looking for a reliable virtual assistant, it is always a viable solution to hire in developing countries. These are not just because of the people's skills and talents but also of their cost-effectiveness.
Further, India is one country known to have skilled virtual assistants that have in-depth knowledge of various online services.
What does a virtual assistant do?
A virtual assistant or VA is someone who performs remote administrative tasks given by clients. Virtual assistants are considered individual contractors that usually operate in a home office location.
More so, they can work for one specific client or different clients at the same time while in the comforts of their house.
Virtual assistant tasks
In terms of the services they provide, it can range from a simple data-entry task and contact center to tasks that require specialized skills and experience. As they become more in demand today, the scope of web services widens.
Examples of virtual assistant services include:
Writing blog posts
Graphic design
Data entry
Bookkeeping
Social media management
Customer services, and more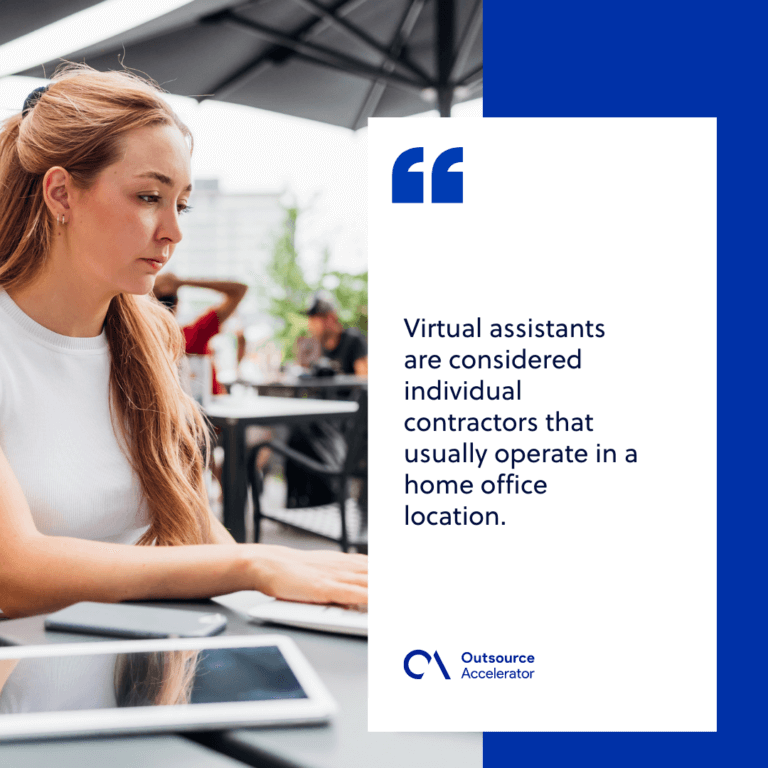 VAs also perform personal tasks related to social media management, content writing, graphic design, bookkeeping, appointment scheduling, and more. Basically, a VA's tasks for each of their clients will depend on the company's needs, including the terms indicated in their contract.
Clients such as startups as well as small business owners are the ones that can get the most out of virtual assistants. VAs are very helpful for these types of companies as they are able to save massive costs. More so, allocate these expenses to more important aspects of their growing business.
Another good thing is that hiring an extended workforce allows them to save more time focusing on their business core.
Virtual assistant qualifications 
Whether you are a professional or an undergraduate, anyone can become a virtual assistant. This type of job has no specific educational requirements.
More so, there isn't a specified age bracket for VAs. They can be fresh graduates with no experience or retirees with wide industry experience.
They can also be employees with full-time jobs that are looking to do couple more hours of work for extra income.
A good work ethic, skills, technological resources, web skills, and a reliable internet are what makes a virtual assistant. A good virtual assistant should be tech-savvy, excellent in communication, and well-organized.
Outsourcing Indian virtual assistants
India often comes to mind in terms of IT outsourcing services or foreign companies that are simply looking to offshore. These days, it has also been on top of the list of go-to countries for hiring virtual assistants. This is mainly because English is widely spoken in the country.
Further, India also has a good number of outsourcing companies that are providing clients with virtual assistant services.
Indians are known to be hard-working, polite, well-educated, and very popular in terms of technical skills. In fact, 52% of India's GDP comes from the outsourcing sector, and a huge part of it is specifically from the IT outsourcing industry.
Aside from professional skills, what draws foreign companies to hire Indian virtual assistants is that they are able to pay lower costs. Paying for a virtual assistant in the country is way cheaper compared to hiring a virtual assistant located in the US and Europe.
Because of the time-zone differences, Indian VAs are able to offer their services around the clock or at least for extended periods.
This is a good advantage for foreign clients as they are able to operate over extended hours or even for twenty-four hours. At the same time, they are able to add more staff and scale to a large team cost-effectively without sacrificing the quality of work.
Top Indian VA services
Companies of all sizes and different types of industries can outsource almost anything to virtual assistants. Virtual assistant tasks in this day and age are very diverse.
Here we have outlined the top Indian virtual assistant services that foreign companies commonly avail of in India:
Administrative virtual assistant
This is perfect for startups or small businesses with a growing customer base. A skilled Indian virtual assistant can help business owners run their daily operations smoothly. In terms of their roles, they usually handle repetitive daily tasks.
Examples of their responsibilities are setting appointments, calendar management, scheduling meetings, and more.
Virtual personal assistant
A virtual personal assistant commonly works for business executives or busy people who do not have enough time for their personal lives. Indian virtual personal assistants handle their travel bookings, holiday plans, restaurant reservations, and spa appointments.
In some cases, virtual assistants also perform personal tasks such as buying specific gifts for their client's loved ones.
Social media personal assistant
In terms of social media, virtual assistants manage specific parts of their client's social media marketing as well as their customer support.
Social media personal assistants are usually in charge of keeping all their clients' social media accounts engaging and relevant to the public eye. Their tasks also include scheduling posts, advertisements, analytics, and also writing business blogs for their clients.
In terms of tasks connected to customer service, a lot of customers prefer reaching out to brands through social media. It is also a part of virtual assistants role to respond to customers' inquiries at all times.
Virtual marketing assistant
A virtual marketing assistant has a wider scope of responsibilities than a social media personal assistant. This type of Indian VA requires domain knowledge about the client's business.
Part of a virtual marketing assistant's tasks can include performing market research, keyword research, and SEO optimization.
E-commerce virtual assistant
Entrepreneurs who run an e-commerce store on Amazon or Shopify are the usual clients that acquire an e-commerce virtual assistant. E-commerce Indian VAs are often in charge of listing their clients' products on different e-commerce platforms.
They also handle writing product descriptions, data entry tasks, customer management, and inventory management service.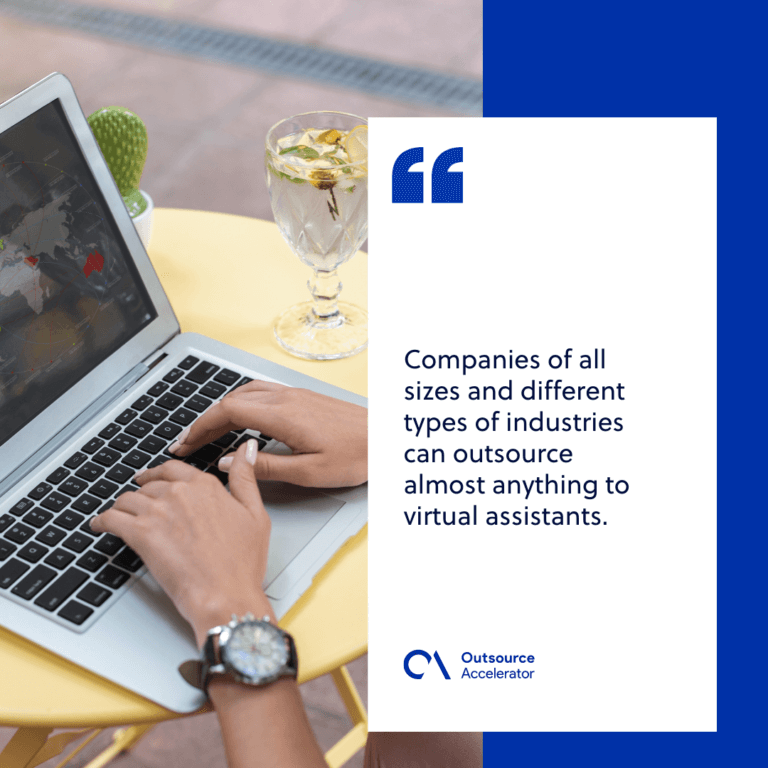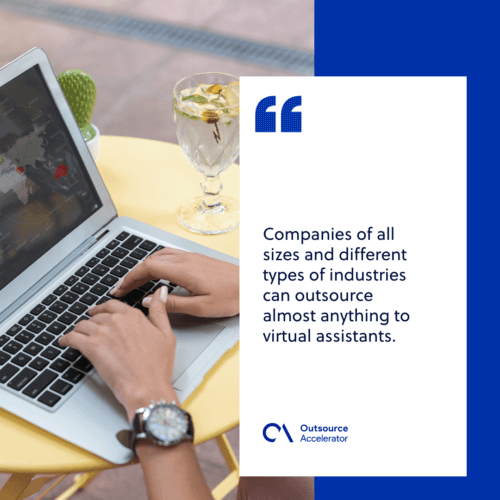 Where to find an Indian VA
There are a lot of freelance online platforms that companies can look through in searching and hiring the right Indian VA. In terms of pay methods, like any virtual assistant, an Indian VA can also be paid an hourly rate, fixed monthly rate, or by the project.
Upwork has always been one of the top freelance platforms with thousands of available virtual assistants with specialized skills.
As we have discussed earlier, Indian virtual assistants are typically employed in business process outsourcing companies in the country. Unlike in the Philippines where most virtual assistants are individual contractors that work from the comforts of their homes.
As for companies that are opting to outsource to the right Indian VA, start by looking at the leading outsourcing companies in the country. In one of our previous guides, we have outlined the Top 30 BPO companies in India.