Hiring a social media virtual assistant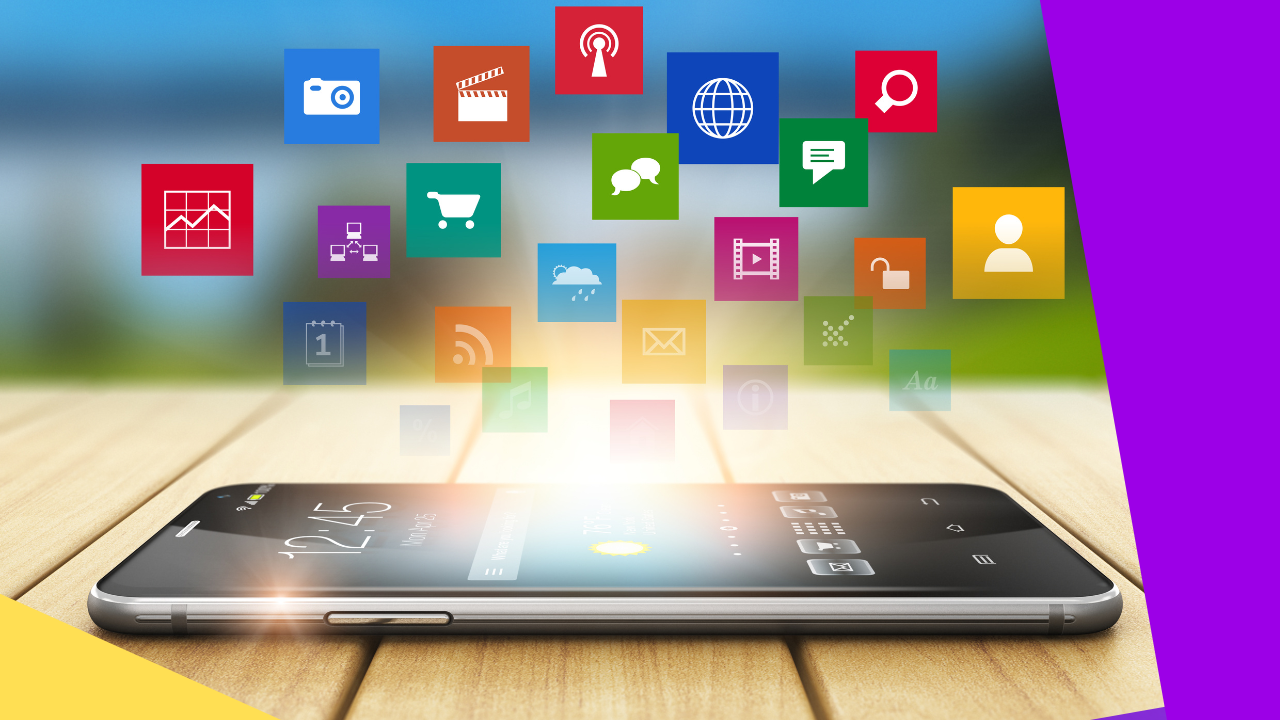 If you ask any business owner about their day-to-day activities, they'll probably tell you that social media tops their to-do list or is right near the top. Social platforms allow you to market your products, interact with customers, and get their feedback. 
However, social media can turn out to be a timewaster for a serious business owner as the tasks can quickly pile up. That isn't to say that you should ditch social media.
Rather, you should hire social media virtual assistants to help you manage your social media as you focus your efforts on where they have a more significant impact.
What is a social media virtual assistant?
A social media virtual assistant is everything a social media manager is, except that they work remotely. They train to manage multiple digital channels while at the same time marketing and selling your brand online.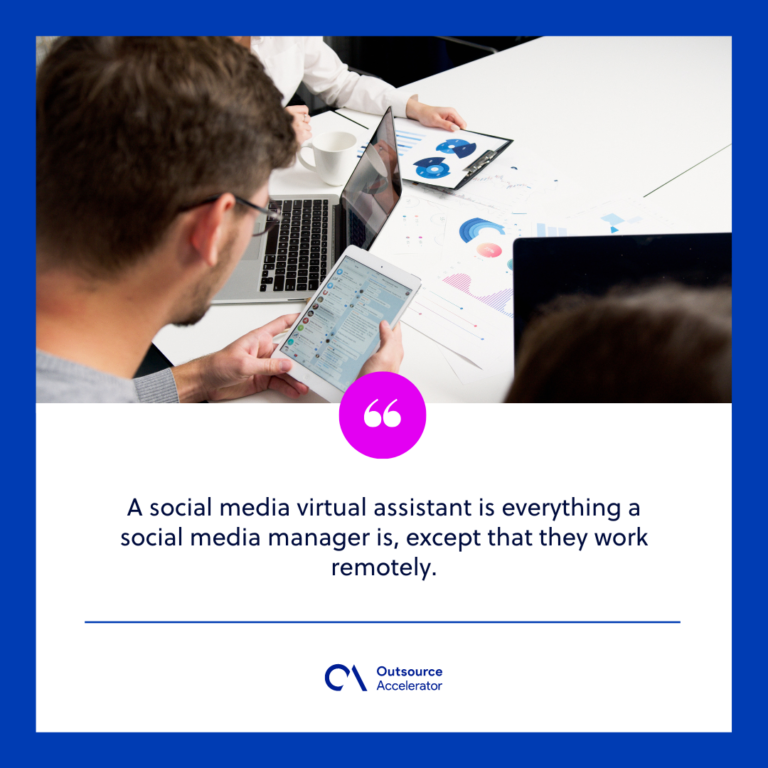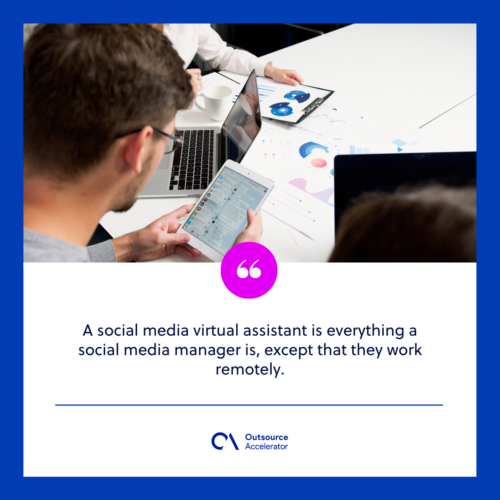 Responsibilities of a social media virtual assistant
Time and money are finite business resources, so it's important to apportion them accordingly. Social media virtual assistants work on time-intensive social media tasks, giving you ample room to focus on core business activities.
They might also earn much less than their full-time counterparts who work from the office. The following are some examples of social media virtual assistant duties.
Content research and creation
Creating content is probably the most common task of a social media virtual assistant, as it is one of their primary responsibilities. The social media virtual assistant posts images and infographics, accompanying them with appealing text to lure clients into reading about or buying your products. 
Admittedly, coming up with content ideas is no walk in the park, and that's why you need a specialist to do this work for you.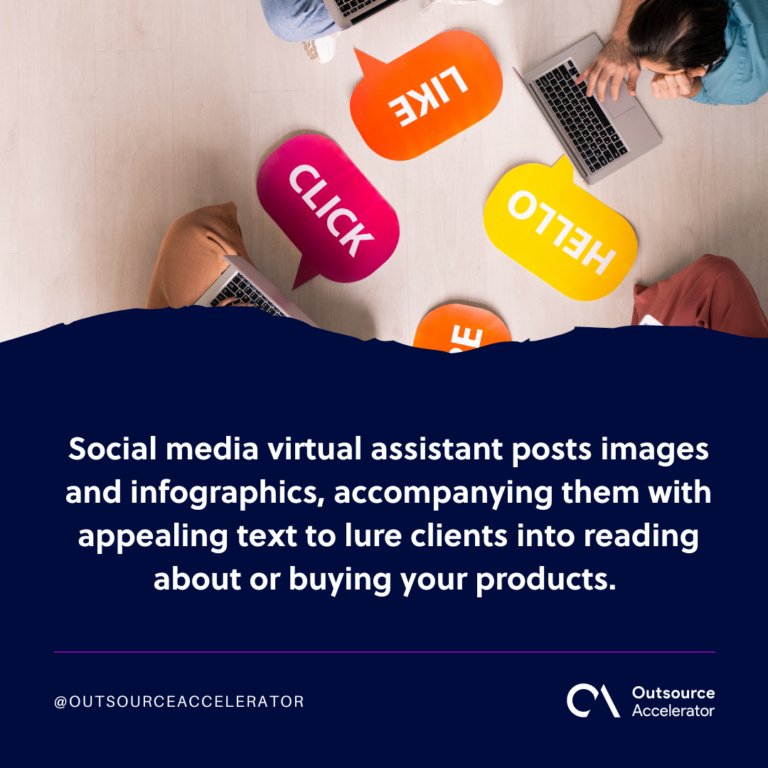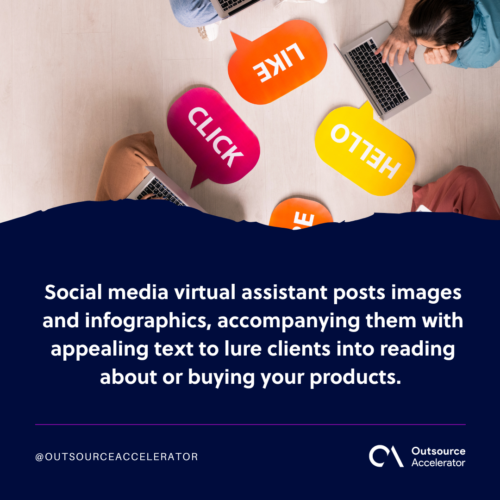 Updating social media profiles
Part of having social media virtual assistant services is to consistently create and upload content for your target audience to consume. 
Having been trained in social media tools and analytics, they know best when to upload or update social media posts. One easy way to do this is by creating a content calendar, which they'll handle for you.
Growing your online presence
Another reason to hire a social media virtual assistant is to set and organize a professional social media presence. They know who to target and how things work. These individuals create authoritative pages that can leave a lasting impression on your customers.
Tracking metrics
Social media metrics help measure the success of a campaign and the performance of your social strategy. A virtual assistant for social media may help you track social media metrics, such as followers, likes, and engagement. Ultimately, the social media virtual assistant creates weekly and monthly reports, and this can help you learn where you need to invest.
Things to consider when hiring a social media
virtual assistant
You can hire social media virtual assistants individually or through an agency. Nevertheless, you should consider the following tips if you want to get a good manager for your social platforms.
Ability to manage multiple channels
Your potential social media virtual assistant must be able to work with different social platforms concurrently. It's a no-brainer that your clients and potential customers use various social platforms. 
All said and done, the VA should possess good multi-tasking skills and be familiar with tools that enable them to post content and interact with followers.
Collaboration
A social media virtual assistant working from a remote area doesn't eliminate the need for constant communication and teamwork. 
Your social media VA must display exquisite collaboration skills from the first day you meet, to the day you hire them, to when they're working for you. Having experience with tools such as Slack is an indication that the candidate has proficient collaboration skills.
Copywriting skills
A social media virtual assistant should have good writing skills to convey your message. A VA helps maintain your company's face by creating engaging and informative content free of grammatical and punctuation errors. 
The art of being succinct is vital here. Your social media virtual assistant must write content in a short space but ensure that it's convincing enough to attract attention.
Analytical mind
Your virtual assistant for social media marketing should have an analytical mind to collect and use relevant data to improve clients' interactions.
A social media virtual assistant does more than just update your social media posts. The VA must also use appropriate digital tools and strategies to increase your social media presence. 
Ultimately, it's a great sign if your social media virtual assistant has experience in a range of analytical tools.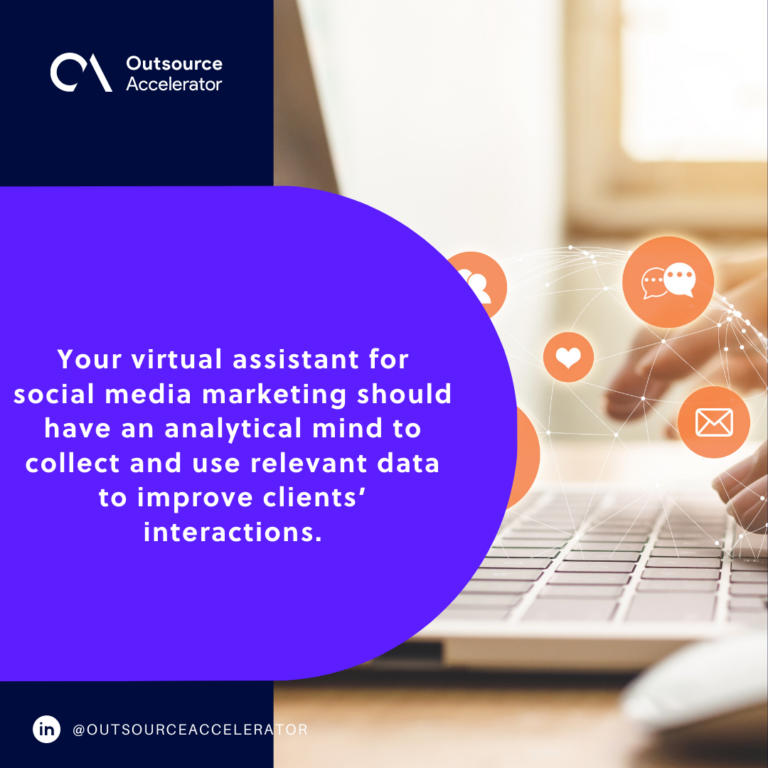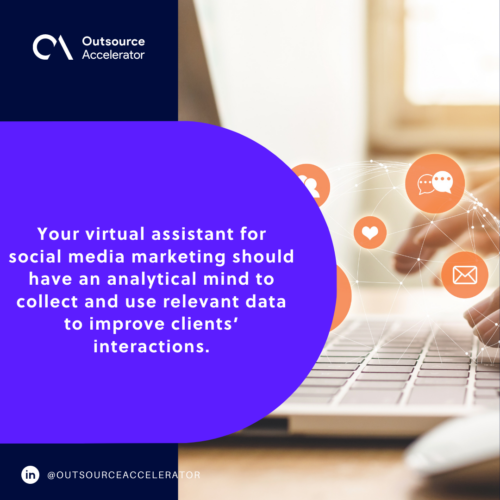 Quick learner and creative
With the rapid development and adoption of new technologies affecting most digital platforms, your social media virtual assistant must demonstrate the ability to learn quickly and try new tactics. 
Above all, they should be creative in writing and posting content that provides unique insights about your products and keeps followers glued to your social media platforms.
Look for the right social media virtual assistants
With all that said and done, the time is ripe for you to hand over your business's social platforms to an outsourced social media virtual assistant and focus on more important business responsibilities.
Trusted staffing providers like MVP Asia Pacific can connect you with the most suitable social media VA for your business.