Hiring telemarketers for your business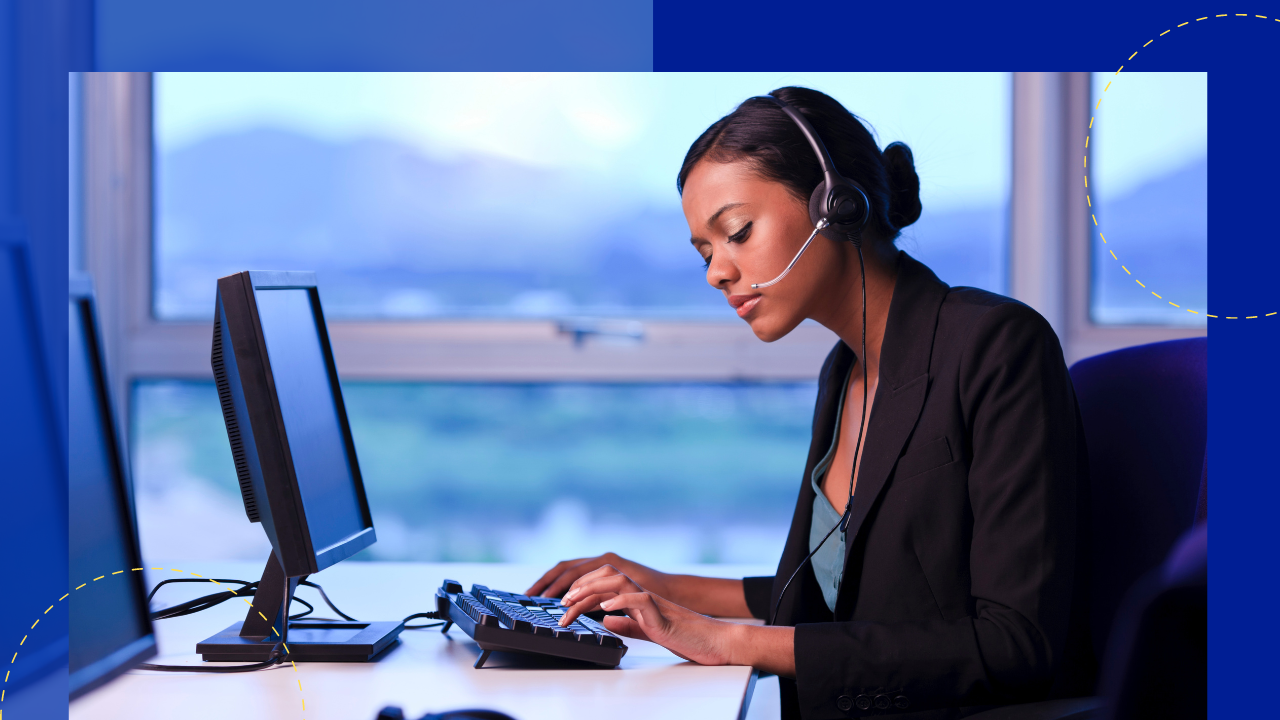 Hiring telemarketers for your business
Taking advantage of the isolation (combined with the perks of the digital world) must be every business owner's focus right now.
Everything can be done online. But the restrictive measures brought about by the COVID-19 pandemic further emphasized the importance of having an online and telephonic presence for businesses.
Since consumers are stuck at home, they have more free time for online shopping and entertaining sales, and telemarketing calls. This could be a great time for telemarketers to showcase their telemarketing activities.
The art of telemarketing
Telemarketing is the marketing method where sales agents (referred to in this line of work as "telemarketers") reach out to prospective customers to sell the company's offered products and services. These interactions are usually done via telephone calls or web conferencing.
Usually, telemarketers contact customers who have expressed a prior interest in the company's products or services.
This could be through any means, such as:
Subscribing to the company's newsletter
Downloading a free book
Liking a social media page
Directly inquiring about the company and the products and services offered
Additionally, telemarketers do cold calling. This is a sales technique where telemarketers contact and reach out to people who have not previously expressed interest in the company and its products and services.
It aims to raise brand awareness, spark interest, create curiosity around the offerings, then hopefully turn these now-interested people into paying customers.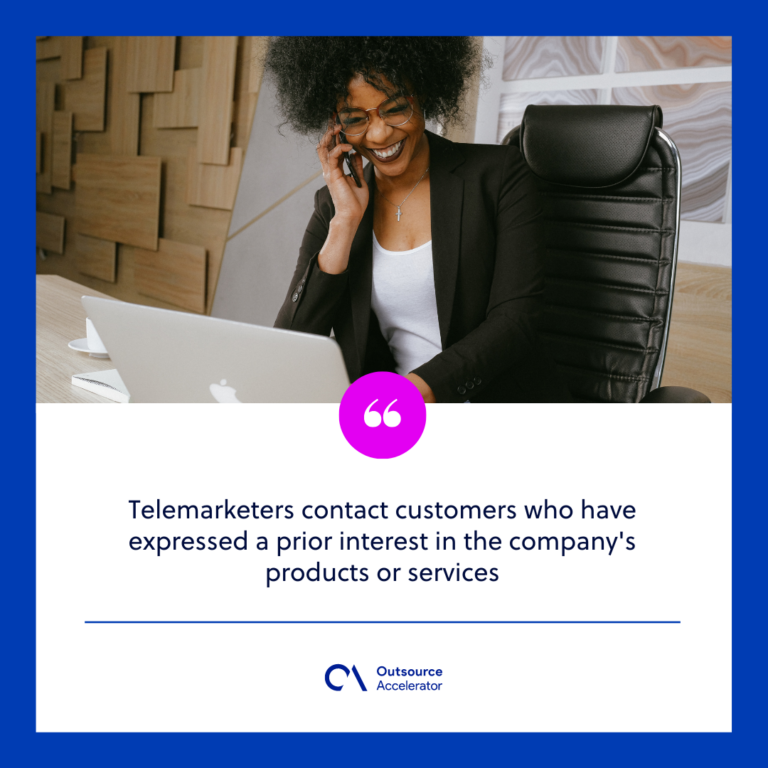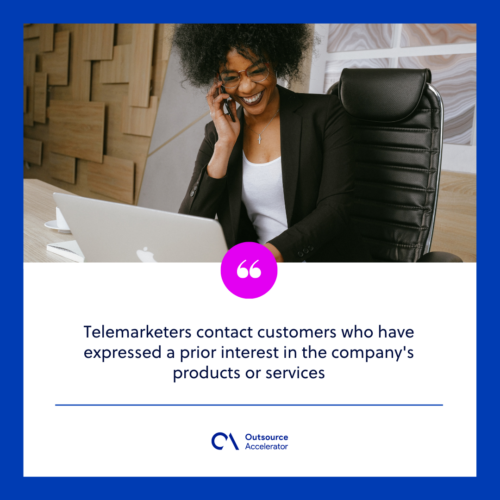 Is telemarketing illegal?
Since cold calling involves reaching out to people who are not initially interested in the company, some are raising concerns about its legality.
For those who are asking, yes, telemarketing is completely legal. Besides streamlining the sales process, cold calling is a legitimate way for the sales team to reach potential customers.
However, to protect customers, the law requires cold callers to follow several rules, as listed by the U.S. Securities and Exchange Commission:
Cold callers may only call customers home between 8 in the morning and 9 at night.
When calling prospects, cold callers shall introduce themselves and state the purpose of the call.
The law requires cold callers to put customers on their "Do Not Call" list if the customers ask to. People on the list must be avoided by telemarketers.
Written approval must be obtained by the cold caller before taking any money directly from the customer's bank account.
Cold callers must tell the truth.
Note that different countries have different rules and cold calling laws. It is important to research these to avoid legal problems in the future.
Further, there is no real need to worry about the legality of the telemarketing industry. Very clear boundaries and restrictions are practiced in the industry.
What does a telemarketer do?
What does a telemarketer do anyway? Businesses, no matter what size or industry, hire telemarketers to perform the following responsibilities:
Sell products through phone or web conferencing
Selling products or services over the telephone or via web conferencing is the main responsibility that telemarketers are known for. However, this is not just about calling random strangers to sell.
Before picking up the phone, telemarketers also identify who to call by reading telephone and zip code directories, as well as other records and prepared listings.
They also check the company's social media pages and website to identify people who have expressed interest in the company's products or services. However, these particular consumers haven't availed of the offerings for some reason.
They will then call these prospects and encourage them to pay customers by following a prepared sales talk or a telemarketing script.
Best telemarketers must possess excellent communication skills, research, and sales skills.
Answer customer queries
Some customers really need more pushing and encouragement than others. It is a telemarketer's job not only to influence prospects but also to answer every question they have regarding the products or the company itself.
Telemarketers need to show great product and brand knowledge to create proper brand awareness and interest – which will eventually lead to the conversion of prospects to paying (and hopefully loyal) customers.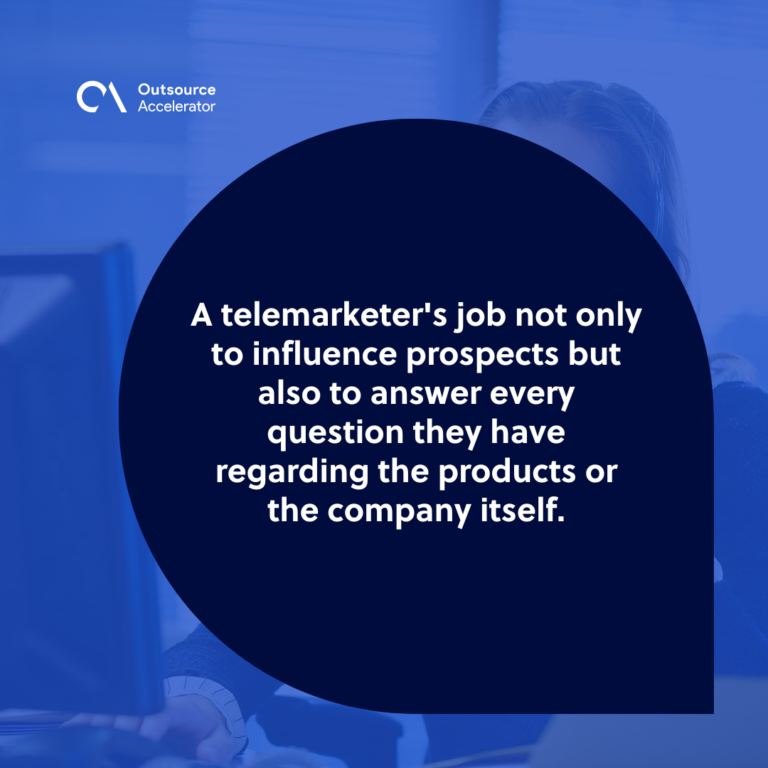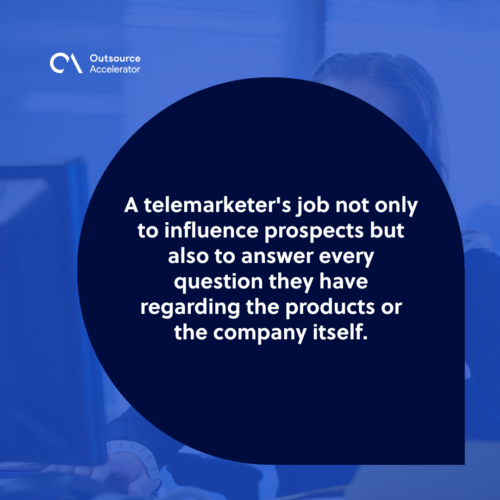 Maintain records of customer accounts and orders
A telemarketer's job doesn't end once a customer decides to purchase from the company. They must also keep records of the customers' accounts, orders, preferences, and other important information (such as preferred payment methods).
After calls, they will also need to record names, purchases (if applicable), and reactions of prospects contacted.
Conduct market surveys
Telemarketers are also responsible for conducting client or market surveys to find relevant information regarding their target audience. They monitor market trends and conditions to find ways to better cater to their target market.
Why you need a professional telemarketer
What businesses need now more than ever is proactively reaching out to customers. Telemarketing is an efficient and cost-effective strategy to boost growth and maintain relevance.
However, the telemarketing method is not going to work on its own; you're going to need the services of a professional telemarketer.
Here are reasons why you need a professional telemarketer:
Easier lead generation
Telemarketing is one of the longest-lasting methods of lead generation, and there's a reason why it has continued to stand the test of time.
It's direct, it's economical, yet it's effective in converting leads to paying customers and maintaining awareness among prospects.
A telemarketer can easily perform lead-generation tasks with or without minimal supervision. Hiring a professional telemarketer for lead generation is super effective. It's the best way to not only sell products but also to ask for constructive feedback and suggestions.
Saves time, money, and effort
A professional telemarketer will not need any intense training and briefings. Hiring them will help your company save a lot of time, money, and effort on these preparations and training materials.
With a telemarketer, especially an outsourced one, they'll only need a short company briefing. Professional telemarketers are good to go after the initial introductions since they're already trained and are equipped with suitable experience for the job.
Immediate feedback
Telemarketers will be talking and interacting with customers and prospects first-hand. They will be the first to know about their opinions and feedback about the products offered or the company itself.
Telemarketers can compile constructive feedback in order to address these concerns and provide comprehensive knowledge on how to provide better products and services.
Customer support with a human touch
Telemarketers also serve as help desk or customer service staff. They answer questions, provide suggestions, handle complaints, and resolve issues.
Chatbots are innovative marketing tools, but nothing beats providing customer support with a human touch. It makes customers feel cared for – and not just another complaint statistic.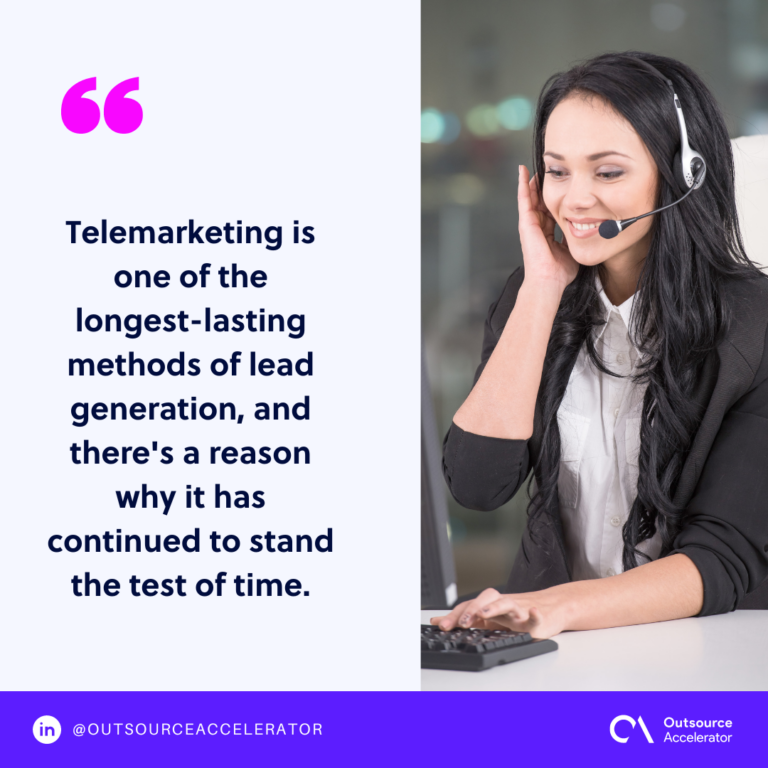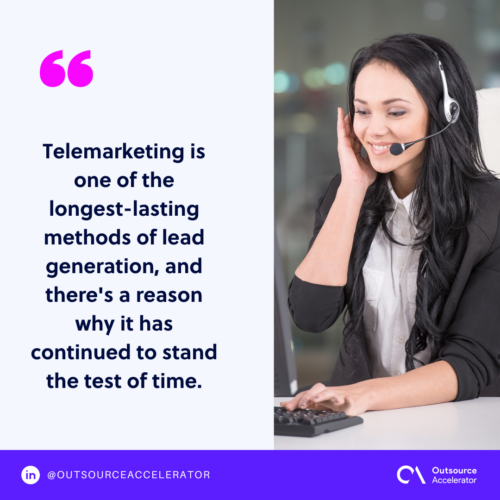 Outsourcing a professional telemarketer
Ready to hire a telemarketer? The best way to hire one is to outsource one.
There are so many benefits to outsourcing your first telemarketer/telemarketing team, including the following:
Save on costs
Outsourcing helps businesses save up to 70% on operational costs. Trusted offshore outsourcing destinations have a low cost of living – a US$450 salary per month can go a long way.
In addition, collaborating with a trusted business process outsourcing (BPO) company will ensure that your employees are in the right hands.
Outsourcing companies like Six Eleven BPO will take care of providing a conducive work environment, proper training sessions, and briefings (when necessary).
Employees' benefits, taxes, team-building activities, and other miscellaneous expenses are also included.
English proficiency and cultural compatibility
The world is not aware of how a vast majority of Filipinos are English language literate and proficient.
In fact, the Philippines is one of the largest English-speaking nations in the world, with a 94% literacy rate. Western culture is also deeply rooted in the country, and you'd be surprised how popular and highly-referenced western music and pop culture are.
The Philippines' cultural compatibility with the west is a significant factor. This is especially true if you are looking for telemarketers to reach out and create a genuine connection and relationship with your western market.
The little nuances matter. Customers will feel more comfortable speaking to someone who:
Is comfortable with the language
Speaks without a heavy accent
Can relate to simple references
Measurable results
Outsourcing your telemarketing team will provide you with measurable key performance indicators (KPIs) regarding your employees' performance and productivity.
It will also let you see results regarding the effectiveness of the different methods your team practices.
You may discover that the conversational style works for a certain demographic, but a scripted speech works with others. You'll be able to get access to this information which you can use to better your team's telemarketing techniques.
In turn, it will then boost your sales and improve your relationship with your customers.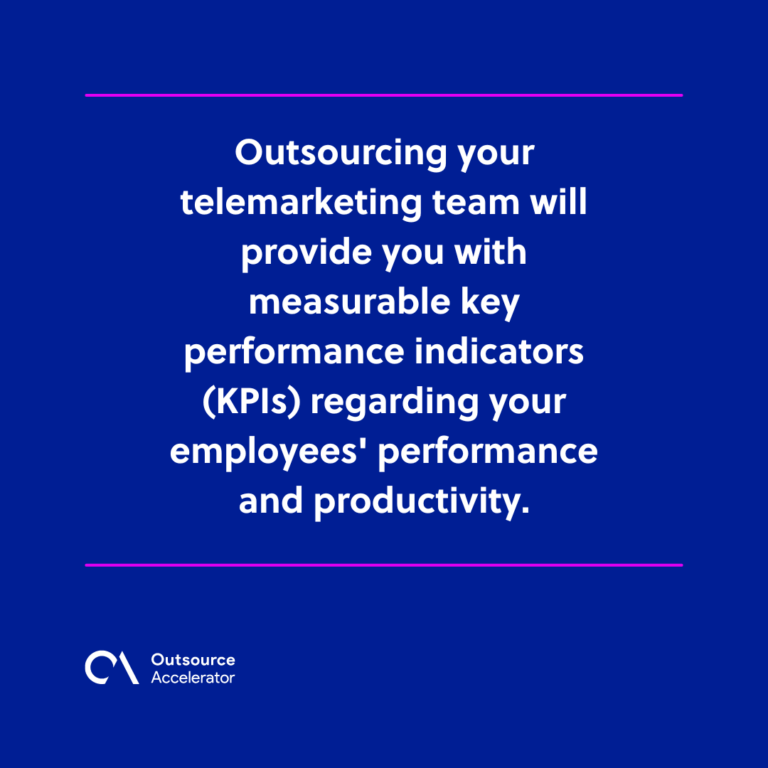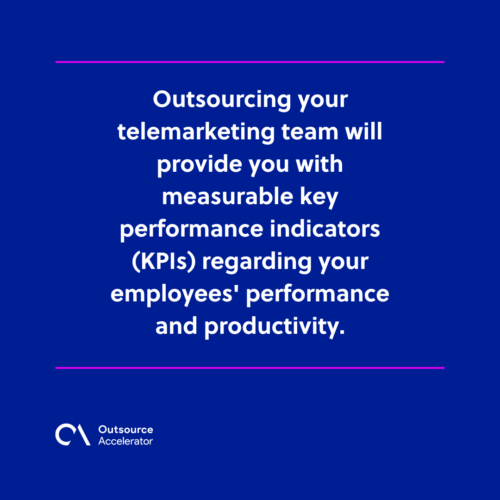 Tips for hiring or outsourcing a telemarketer
Before you go on and contact the first search result when you Google "telemarketing company Philippines," we'd like to provide a few parting tips for you to hire the most suitable telemarketer for your business.
Plan and be proactive
Carefully list the details of your plan and have a clear vision of the following:
the number of telemarketers you're planning to outsource;
their work hours;
their responsibilities;
the industry your business falls under;
your standards and expectations;
your budget, and more.
The more detailed, the better. When you know what you want and the goals you're trying to accomplish, the process will be much easier.
Manage your expectations
This tip is especially for first-time "outsourcers."
Outsourcing is an unfamiliar strategy, but businesses of all sizes and sectors have enjoyed how cost-effective and beneficial this strategy has been over the years.
However, it is important that you are in the right mindset expectation-wise before diving into this new chapter of your business.
Understandably, you will have a lot of questions and concerns that even Google can't answer. This is why we have come up with our third and most important tip: seek the help of an outsourcing expert.
Reach out to an outsourcing marketplace
You know when you're traveling, and you're looking for a hotel room to stay in? Where do you look for the best options? From a business consultant? TripAdvisor? Agoda? Booking.com?
Travelers use these websites to find out where they can get the best deals for accommodations when they travel. Outsource Accelerator provides the same service but for BPO companies.
Outsource Accelerator is an independent outsourcing marketplace and advisory that lists over 700 companies in its BPO Directory.
If you're looking to outsource in the Philippines but are not sure where and how to start, you may contact Outsource Accelerator and get a free quote today.