Advantages and best practices of outsourcing healthcare telemarketing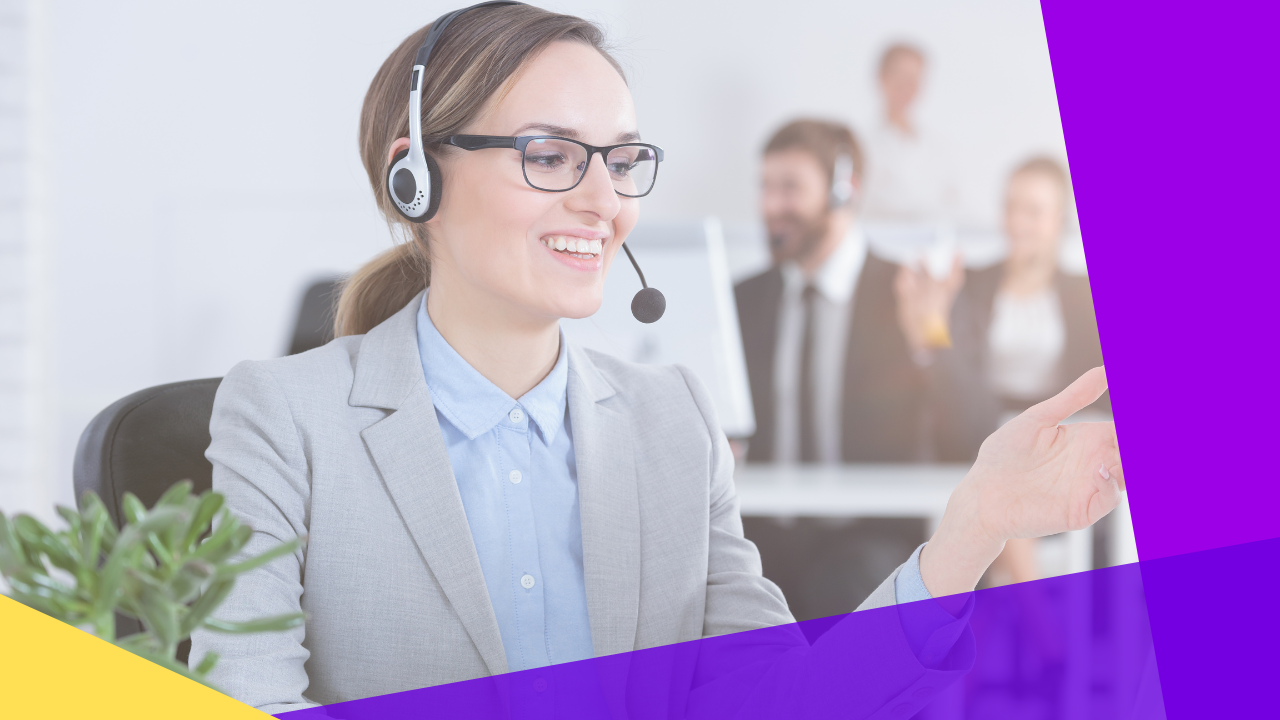 Advantages and best practices of outsourcing healthcare telemarketing
Healthcare telemarketing has a specific function. They act as a lifeline to improve a person's health and assist patients in navigating the healthcare system. They are also an important ingredient to a positive patient experience. 
This makes the function different from traditional, customer-facing call centers. When a person calls their local health center to ask for information on a specific product, they look for better care through a routine examination or a life-saving treatment.
What is healthcare telemarketing?
Healthcare telemarketing is the process of using telephone conversations to market and sell healthcare goods and services. This technique has become more popular because of technological improvements and the demand for more effective marketing strategies. 
Medical and pharmaceutical businesses can use this method to follow up with their existing clients while promoting their products to potential customers at the same time. Telemarketers can reach out to them via email, social media, or mobile phones.
This method also allows accessibility when the customers are looking for the company's specific product.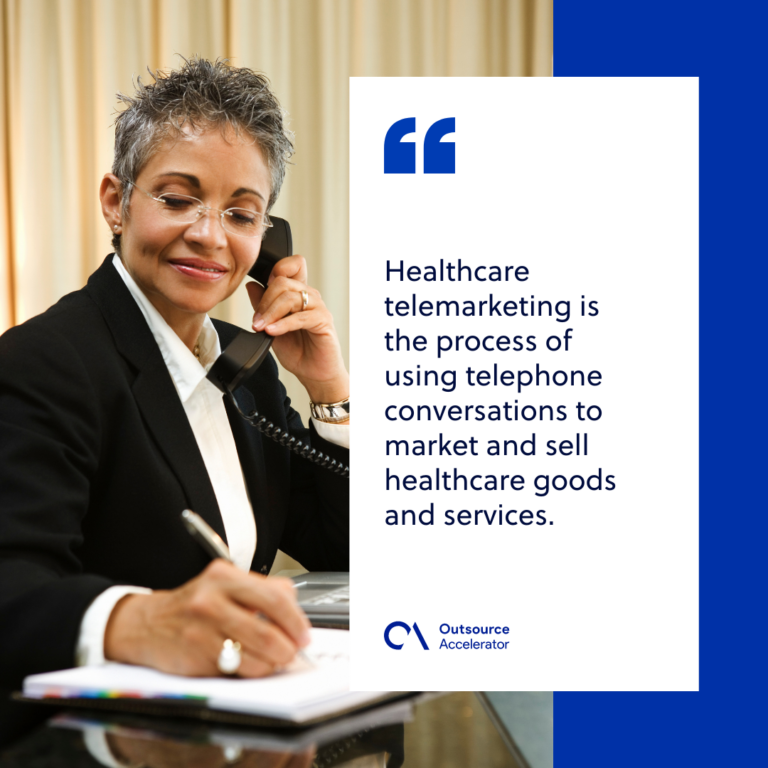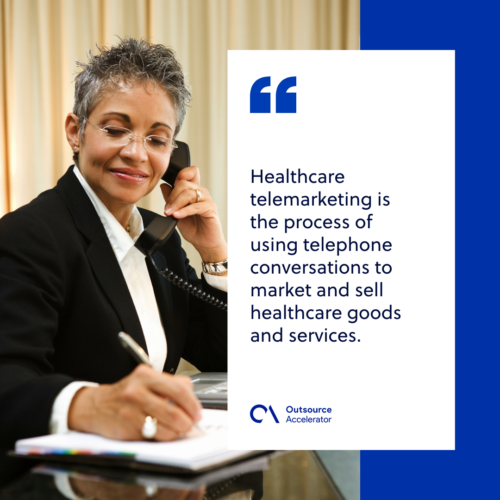 How does outsourcing healthcare telemarketing work?
Outsourcing healthcare telemarketing happens when a medical or pharmaceutical company contracts its healthcare telemarketing activities to a third party. Instead of completing the tasks themselves, organizations hire an external team to do the job for them.
While businesses typically outsource their operations to specialized service providers, some prefer to outsource directly to independent contractors and freelancers. 
The advantages of outsourcing healthcare telemarketing
Telemarketing allows targeted and customized marketing activities. Hence, outsourcing this service for healthcare companies has been proven to be a successful technique for reaching bigger audiences. Here are some more benefits of outsourcing healthcare telemarketing:
Cost-effectiveness
Like other services, healthcare companies can save on costs by outsourcing their telemarketing needs. A healthcare organization can spend less on labor costs, training, and technology when outsourcing. 
Healthcare providers can free up resources to concentrate on other crucial facets of their business by outsourcing.
Convenience for patients
Healthcare telemarketing provides a convenient way to learn about new products and services. Patients can receive information about new treatments, medical procedures, and other healthcare options from the comfort of their own homes. 
Telemarketing services can also provide appointment scheduling services, allowing patients to schedule appointments with healthcare providers at their convenience easily. This is important, especially for individuals unable to attend in-person appointments or events.
Personalized information and support
Each person has unique health risks, lifestyle decisions, and health goals. Telemarketers trained in the medical field can provide customized information and support to patients answering their questions and addressing their concerns. 
This helps to build trust and increase patient engagement, making it easier for patients to make informed decisions about their healthcare. 
Increased patient engagement
Healthcare telemarketers can also be tasked to contact patients proactively on behalf of the company. They can call the patients to see if they have any questions or concerns regarding their treatment or to set up follow-up appointments.
Healthcare telemarketing is especially helpful to patients who are overdue for procedures like mammograms or yearly wellness exams. 
This initiative encourages the patients to make decisions about their healthcare, therefore increasing patient engagement. The process can also build a stronger connection and trust between the healthcare provider and its patients. 
Strategic lead generation
Healthcare telemarketing is an excellent strategy for generating leads. Outsourcing this service would help healthcare providers connect with potential clients and produce leads more effectively. 
Representatives can get in touch with potential clients, offer them support and information, and respond to their inquiries. This can help identify individuals interested in the products and services provided by the healthcare organization.
Their gathered information can then be used to follow up with these individuals and turn them into paying customers.
Efficient appointment scheduling
Healthcare telemarketing can also be used to schedule patient appointments. This is especially useful for healthcare organizations that need to schedule many appointments quickly. 
Representatives can call patients, provide information about available appointments, and schedule them on behalf of the healthcare organization. Likewise, patients can also call and speak with the agents to book a schedule. 
Increased revenue
The tasks assigned to telemarketers, including lead generation, appointment setting, patient engagement, and introduction of products and services, are all marketing efforts that aim to increase revenue and profit. 
Outsourcing a telemarketing team also helps save a huge amount of money that can be allocated to other aspects like company expansion or providing upgraded patient care.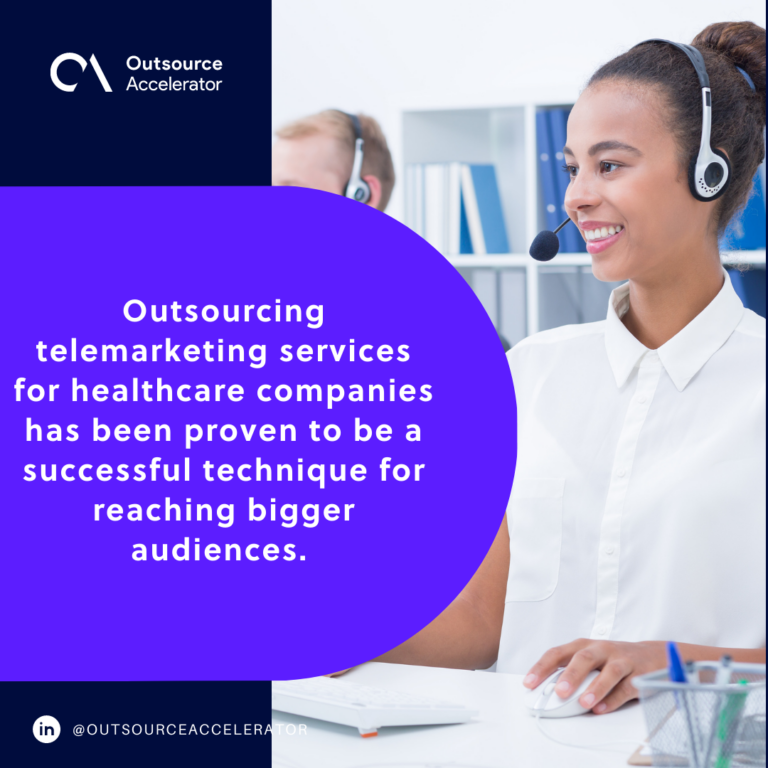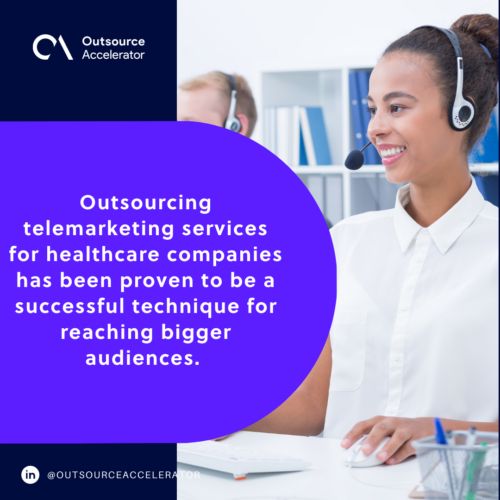 Outsourced healthcare telemarketing best practices
There is no wonder why outsourcing has become a trend for businesses these days, including healthcare. It does not just help companies save time and resources but also helps provide high-quality services to patients.
 Here are some of the best practices carried out by outsourced healthcare telemarketing teams:
Practicing empathy in patient communication
Patients need to believe that their concerns are being heard, understood, and taken seriously. Thus, improving patient communication through increased empathy is important. This is something that healthcare telemarketing can do.
Healthcare professionals can demonstrate empathy by genuinely caring about the patient's needs and concerns, as well as by paying close attention to what the patient has to say. 
Telemarketers are trained to stay professional and compassionate in challenging or delicate situations.
Utilizing the latest communication systems
An updated communication system must be in place to conduct telemarketing efficiently. This comprises cutting-edge software and hardware for telecommunication that can be utilized to have real-time conversations with patients. 
Features like automated call distribution, call forwarding, and call recording should also be available. This guarantees that patients receive the appropriate information at the appropriate time.
For a seamless and effective patient experience, integration capabilities with other healthcare systems might be necessary. 
All of these features can be obtained by any healthcare organization at a lower cost if it outsources its telemarketing team. 
Providing multiple options to patients
In addition to having an upgraded communication system, healthcare institutions should also provide patients with different communication channels.
Patients should be able to get in touch with healthcare professionals through phone, email, text message, or online chat. This makes it easier for patients to contact their health providers in a way that suits them. 
Different channels also aid in accommodating various communication styles and give patients ways to acquire services. While it seems impossible for a professional to handle all these simultaneously, outsourced healthcare telemarketers can do the job for them.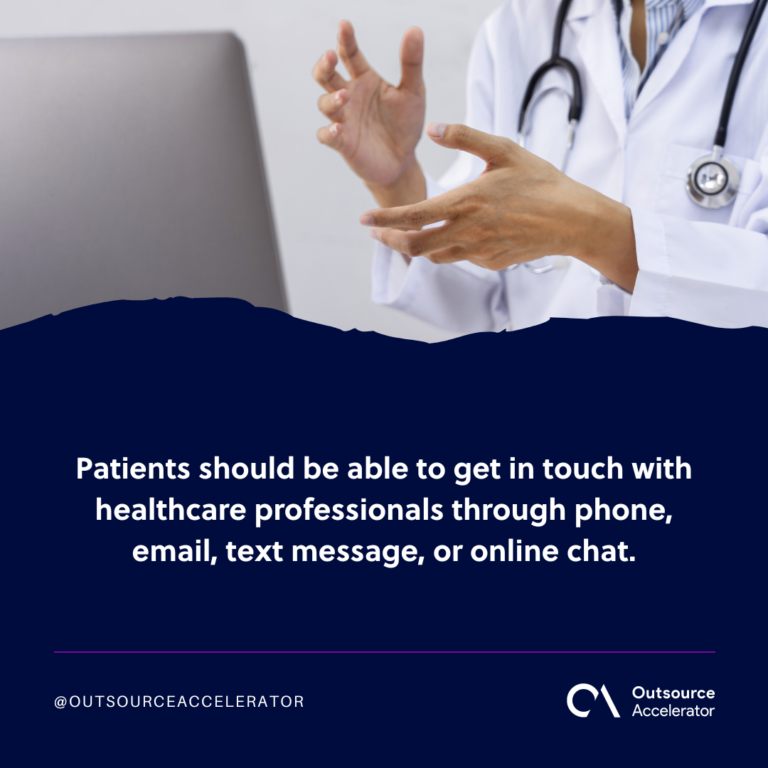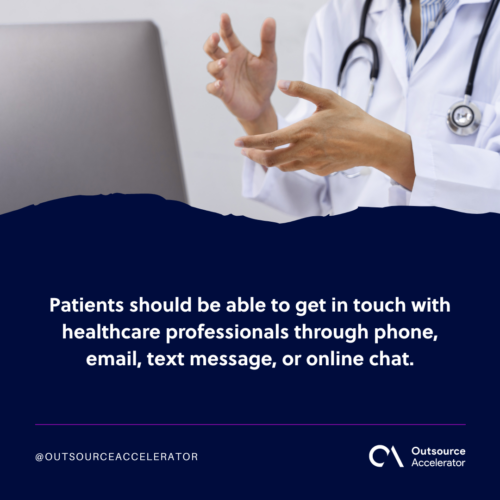 Monitoring call quality
Monitoring call quality guarantees that the client call is carried out properly and efficiently. This involves tracking customer satisfaction, analyzing call records regularly, and keeping an eye on the metrics, including average handling time and call abandonment rate. 
Monitoring call quality also enables healthcare firms to make necessary changes to their telemarketing strategies and identify areas for development. Likewise, it ensures that telemarketers adhere to proper procedures and offer patients high-quality services.
Outsourcing companies have all the equipment and software needed to accommodate these requirements.  
Dealing with HIPAA-compliant companies
Finally, companies should deal with HIPAA-compliant providers when outsourcing telemarketing. 
Strong security measures to adhere to HIPAA regulations, ensuring that patient information is always secured. This ensures the confidentiality, security, and ability of patients to have faith in the responsible handling of their sensitive information.
Most outsourcing healthcare telemarketing companies are HIPAA-compliant. Healthcare organizations just need to make sure that the company they are doing business with has updated information and compliance practices. 
Why outsource healthcare telemarketing?
As the economy evolves and becomes digital, it also calls for companies to be more people-centric. This requires an increased connection between businesses and their customers. Outsourcing to a dedicated team to get things done is one of the best ways to do this. 
The strategies need a human connection, from marketing products and services to building customer loyalty. While they are willing to go along with this, businesses need help to do this within the organization.
This is why outsourcing has become popular in recent years, especially in the healthcare industry. It has even become an essential aspect of the marketing strategies of most medical companies. 
In the end, outsourcing healthcare telemarketing can play a vital role in the success of a healthcare organization's marketing strategy.
The advantages of outsourcing healthcare telemarketing make it possible for organizations to reach a broader patient population and improve satisfaction. The companies will ultimately attain increased profit and business growth by achieving these people-centric objectives.  
However, outsourcing healthcare telemarketing must be done with care to ensure the best results. By following these best practices, health providers can ensure their telemarketing efforts are effective and compliant with regulations, helping to build trust and increase engagement.