Digital assistant platforms: The future of AI assistants is in our hands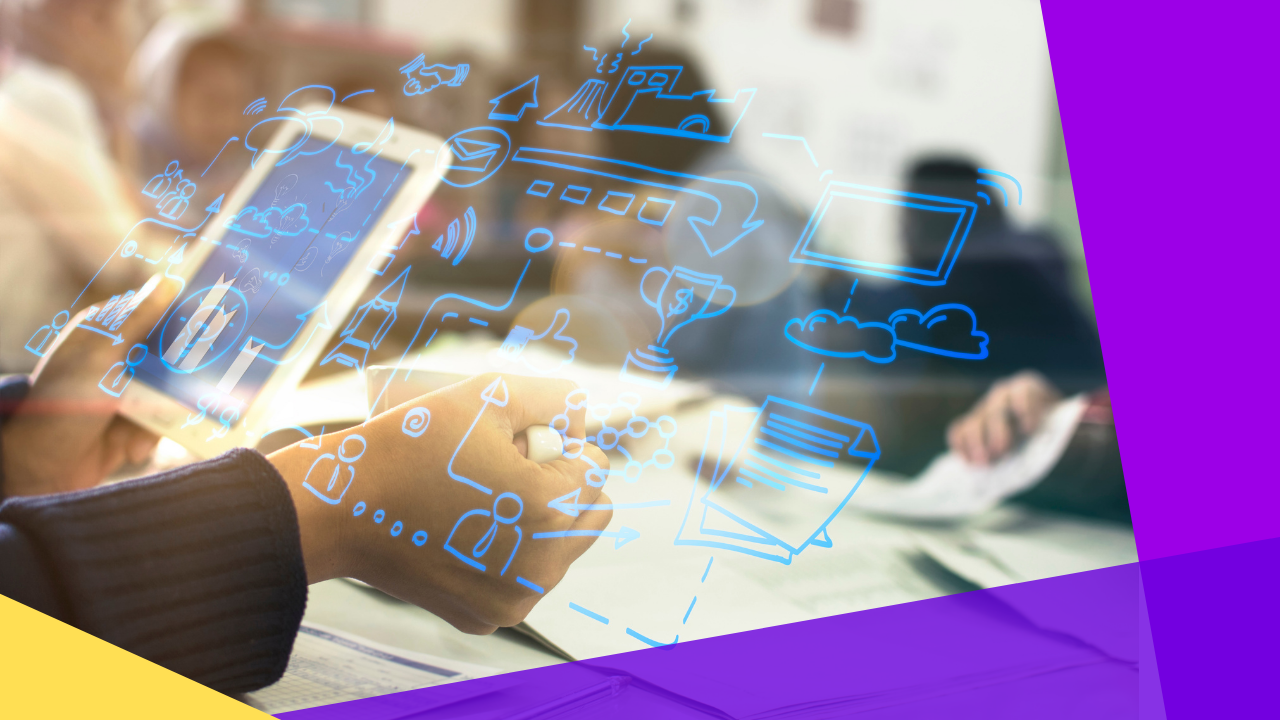 As technology develops around us at a rapid pace, it's starting to feel like 24 hours isn't enough to do things. From organizing schedules to showing up at meetings with notes, your time gets eaten up by mundane tasks that keep piling up.
Before digital assistants and voice controls, we used to write reminders on sticky notes and set alarms on our phones. 
But now, thanks to modern technology, we can let artificial intelligence or AIs do the task of setting reminders for us.
What is a digital assistant?
When thinking of digital assistant platforms, which comes to mind? Artificial intelligence or virtual assistants? While it can be open to interpretation, digital assistants are voice-activated software that responds to your commands in the simplest of terms. 
It can perform a plethora of tasks for you—set up calendar events, read your notifications, make reminders, and even send a quick text message.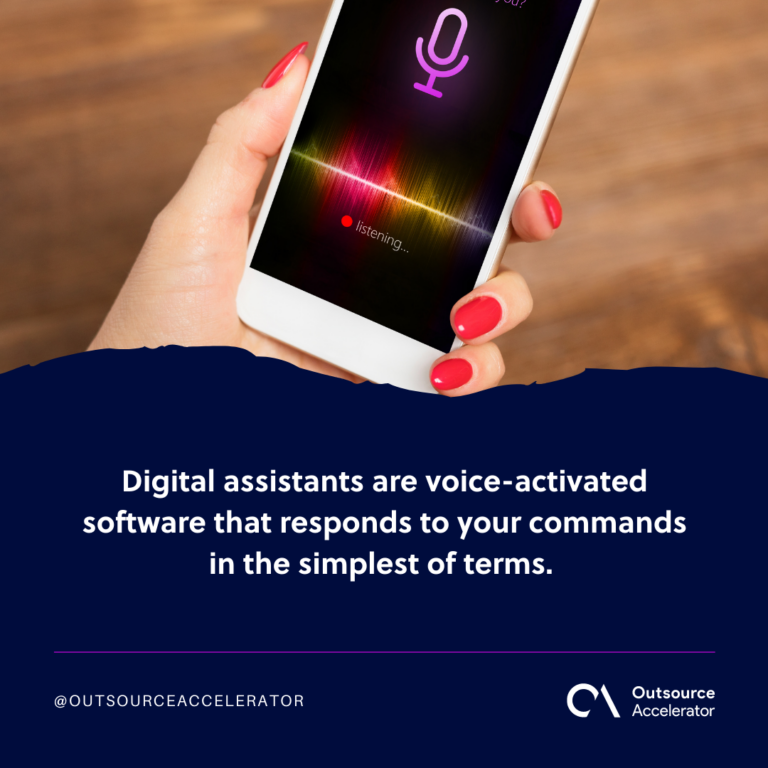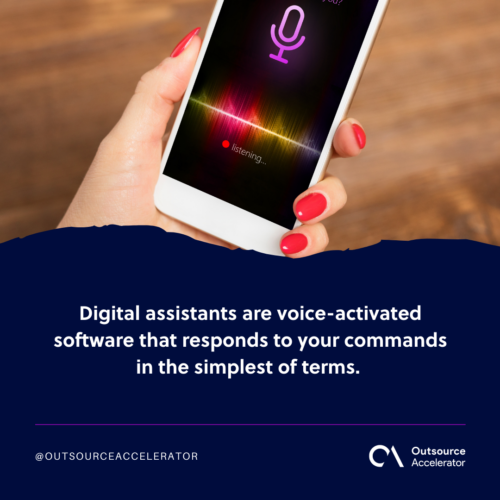 Why are there different digital assistants?
Most digital assistants don't vary from one another, but their differences lie within the environment they are developed in.
Take Siri and Cortana, for example—in terms of functionality, they're the same. But they both are native to macOS/iOS and Windows OS, respectively.
Digital assistants are highly customizable. More often than not, they can be easily programmed to do a task based on voice prompts you set.
Which is the best digital assistant?
It may be hard to pinpoint which is the best digital assistant as our standards are subjective and we have our biases.
If we were going by popularity, Siri and Google Assistant reign among others. While certain factors made these digital assistants more popular than their counterparts, their accessibility to smartphone users may be the key to their success.
Top 15 most effective digital assistant platforms
These digital assistants and AI software exist to make our lives easier and more manageable. That said, this technology is still evolving—some features that we want are still being developed while some are just a little bit out of reach.
Below are the best digital assistants that are available on the market today.
1. Bixby
Date released: April 2017
Bixby is an AI assistant native on Samsung handheld devices. It was rebooted from S Voice, the company's now-discontinued personal AI assistant.
2. Siri
Date released: October 2011
A well-known companion of Apple devices, Siri quickly became the personal favorite amongst modern phone users. While it's exclusive to Apple devices, it didn't stop Siri's popularity.
3. Google Assistant
Date released: May 2016
As opposed to its predecessor, Google Now, Assistant can engage in a two-way conversation with the speaker. This feature opens up a variety of novel ways of engaging with an AI assistant.
4. Cortana
Date released: April 2014
Native to Microsoft Windows, Cortana uses Bing for its searches and, like its counterparts, can set reminders and events on the device's calendar.
5. Amazon Echo aka Alexa
Date released: March 2013
One of the most versatile personal AI assistants, Amazon Echo (most known as Alexa) had garnered popularity among the masses. 
The internet had a press day with the "Alexa, play…" meme, as the digital assistant would play various songs per the prompt.
While Alexa can take a good joke, it's also a noble companion for smart homes.
6. Blackberry Assistant
Date released: January 2013
The Blackberry Assistant, as the name implies, is native to BB's mobile phone line. According to the official site, this AI assistant can relatively easily convert speech into text (transcription).
7. NINA (​​Nuance Intelligent Virtual Assistant)
Date released: 2012
This digital assistant platform is dubbed as the first-ever virtual assistant developed for customer service support. Since its release, NINA's developers have been working hard to deliver their promised support.
From web, chat app, and messaging integration to the Internet of Things (IoT), NINA has come far since its inception.
8. SILVIA (Symbolically Isolated Linguistically Variable Intelligence Algorithms)
Date released: January 2008
SILVIA was developed to interpret speech and text in order to interact with the operating system and its applications. SILVIA is a multi-platform digital assistant—spanning from iOS/OS X to Windows and Windows Mobile.
Before Alexa came into play, SILVIA was among the pioneers of digital assistants.
9. Dragon
Date released: June 1997
By far the oldest AI personal assistant on this list, Dragon NaturallySpeaking was developed by Dragon Systems. It acts as a speech recognition system that types any vocal speech that it hears.
Dragon operates on both macOS and Windows 7, 8, and 10, making it handy for those who prefer working on these operating systems.
10. Aido
Date released: Unreleased; Q3 of 2021
Aido isn't your typical AI assistant—from the looks of him on the official website, this personal AI assistant looks like he came straight out of a sci-fi movie.
From helping out with your household chores to managing your schedule, Aido is the perfect functional buddy for individuals and families. He's specifically designed for hospitality, retail, households, and healthcare.
11. Braina
Date released: 2014
Another software assistant from Microsoft, Braina (short for Brain Assistant) is a multi-platform personal AI that uses natural language processing to perform tasks.
The tasks may vary from playing music, opening applications, and performing math calculations over a voice prompt or using a keyboard. Braina adapts to its user's needs over time, anticipating their prompts to perform repetitive tasks.
12. Mycroft
Date released: Unknown
Mycroft is an open-source digital assistant platform developed by the Mycroft AI team and conceptualized by ​​Ryan Sipes and Joshua Montgomery.
Truly a feat of innovation, this AI assistant can run on any hardware—be it a customized build or a run-of-the-mill one. Mycroft is the world's first open-source AI assistant; with its very nature, it could be improved upon and customized by anyone.
Are human virtual assistants worth investing in?
VAs are heaven-sent to busy individuals, as they can help out with minor tasks that take up precious work hours.
Some might say that hiring a human virtual assistant is a waste of time and money as you have to dedicate time and effort to sift through applications and conduct interviews.
While hiring a virtual assistant sounds like a lot, working with one eventually pays off. You have more time doing things that matters for you—you suddenly find the hours of the day that you were looking for.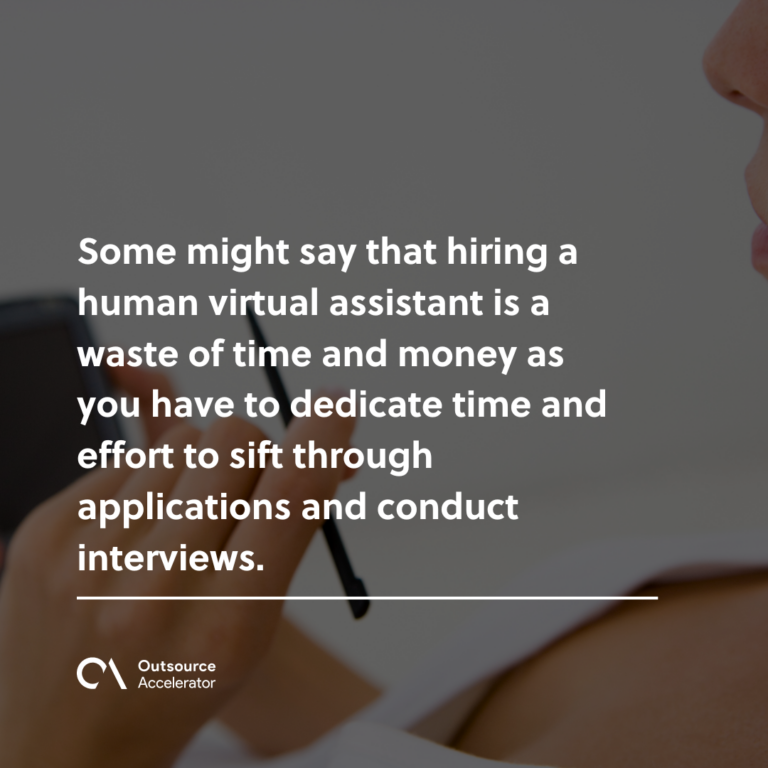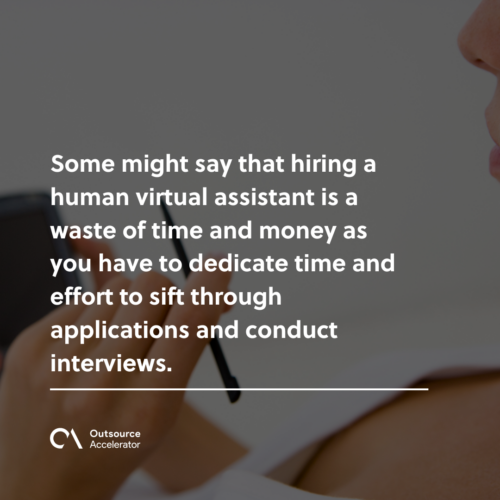 The difference between virtual assistants and digital assistants
One of the most obvious differences between virtual assistants and digital assistants is that the latter lacks the ability to catch minimal errors that can easily be fixed.
AI is AI
If you've ever encountered content generated by an AI, you'll know that they need to be proofread by you or someone else. The quality of work may also lack the creative flair that humans have.
Moreover, digital assistants also need to be "trained" over a period of time to get accustomed to their user's needs. That said, mistakes are still inevitable.
VAs can lend a "human touch" to your projects
Although they might be a bit pricier than an AI, virtual assistants often make sure that their outputs and deliverables are error-free.
While they can't possibly be available 24/7, VAs can still help you take back your time and make daily operations smoother.
Why having an assistant is important nowadays
Having an assistant will allow you to be more flexible in terms of going about your day.
Imagine not having to spend hours upon hours just responding to emails and taking calls. Instead, you're now doing things that matter to you and your business.
Of course, having a human assistant isn't for everyone—but most of us can still rely on digital assistants to make our lives easier.