Top 12 chat apps to connect with your remote team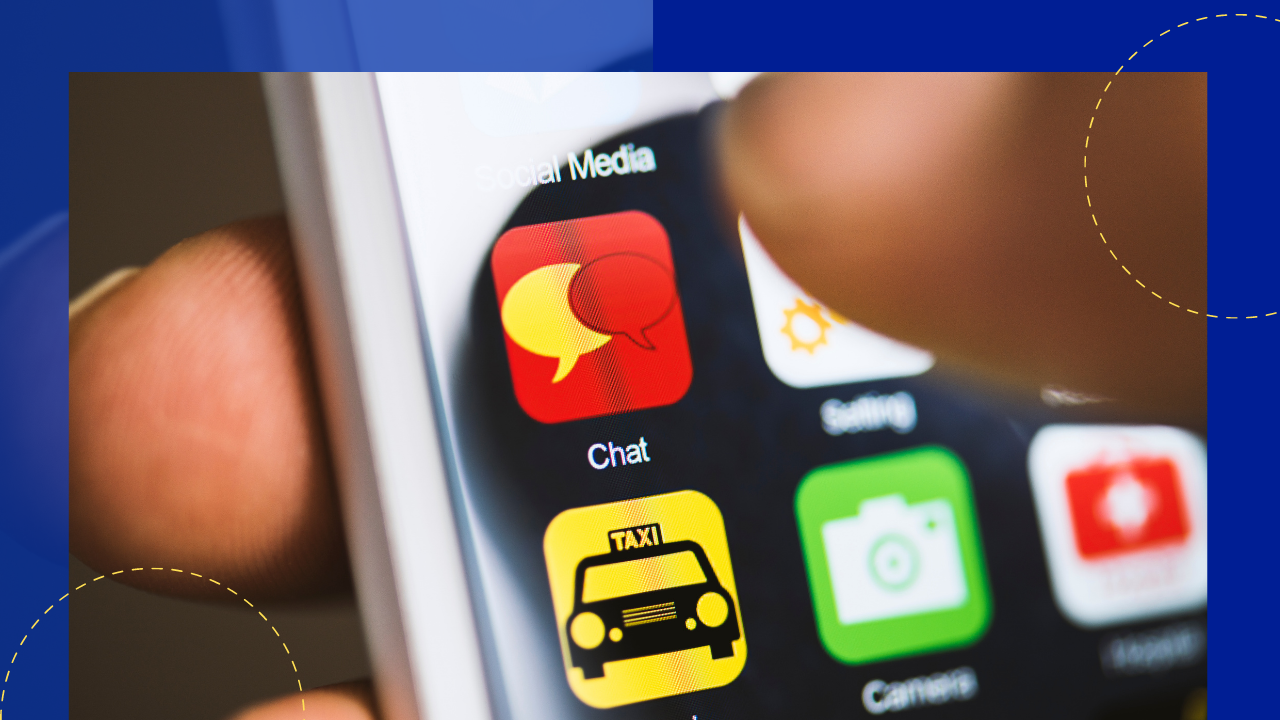 The pandemic indeed took a significant toll not just on every individual but also on all industries around the world. Amid all the limitations on physical interactions, chat apps have been a saving grace for people who want to stay connected. 
Even in the post-pandemic era, virtual communication tools and chat apps are expected to be a mainstay, especially for remote teams.
How the pandemic altered the way we work
In response to the lockdown measures, businesses of all shapes and sizes have been forced to take their daily operations remotely. Not to mention, these organizations also had to combat the economic effects brought about by the pandemic. 
While it is still quite uncertain as to when this global crisis will end, many organizations remain in a remote work setup to mitigate the spread of the virus.
Luckily, we live in an era where technological innovations make nearly everything possible. With the help of modern tech breakthroughs, companies are able to adapt effectively to the drastic shift in the business landscape. 
Through the various tools and software that organizations utilize for a successful work-from-home setup, more and more businesses have also been recognizing the great perks of having to work remotely.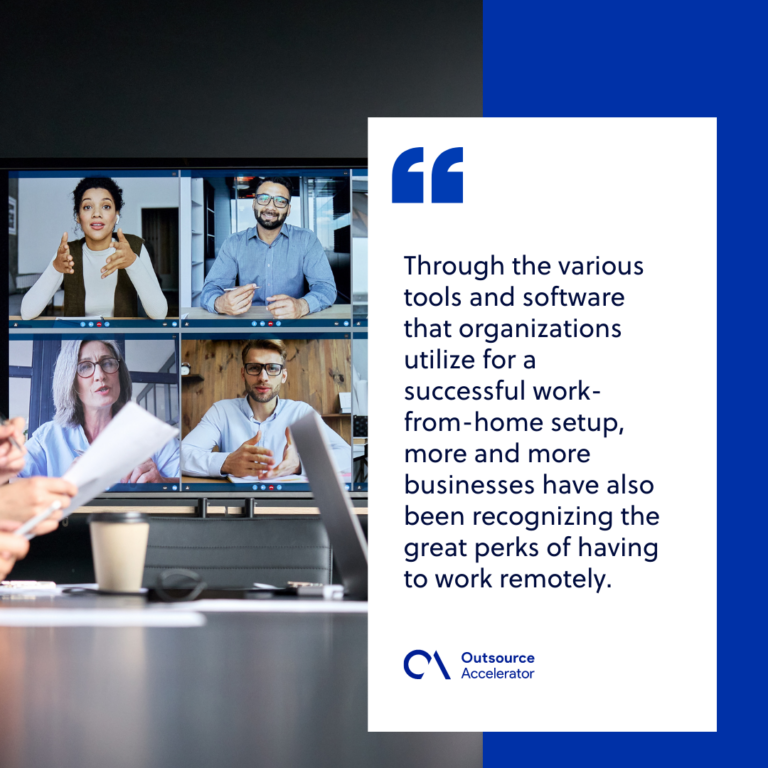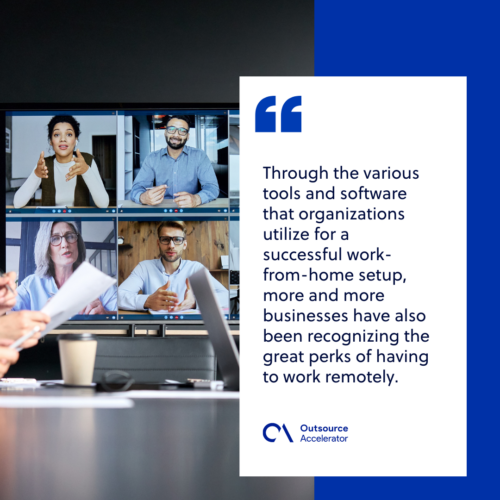 In fact, there are companies that are thinking about fully embracing the remote work setup, even in the post-pandemic stages. Other organizations are also opting to adopt  the concept of hybrid work.
A lot of organizations have concluded that working remotely is the future. For instance, Coinbase is a cryptocurrency company recorded to be the first "remote-first" company that enables most staff to work remotely. 
Dropbox is another multinational corporation that would allow employees to permanently work from home. According to the firm, all its physical office spaces will be used as Dropbox Studios wherein employees have the option to go in for work.
How chat apps are revolutionizing the remote work setup
Without modern technology, working from home during these trying times will not be possible. Staying connected and communicating within the entire team is perhaps one of the biggest challenges in a remote workforce. 
Through different chat applications, organizations are able to have a seamless conversation between individual remote team members. More so, these chat apps have become the primary communication tool for the remote workforce since everyone started isolating. 
Chat apps also enable remote workers to productively brainstorm ideas and keep track with individual tasks or projects all throughout each working day 
Top 12 messaging apps for your remote team
Messaging applications that companies make use of these days are not just solely for communication purposes anymore.
Below, we have listed down 12 powerful chat apps to help firms stay well connected to each member, as well as work collaboratively within the remote workforce: 
Connecteam is considered an all-in-one employee app. Users are given access to group or private chats, immediate updates, employee directory, social posts, and more. 
As for its chat feature, remote workers can create chats according to their locations, projects, or departments. They also have the option to start a private dialogue discussion via browsing through their work contacts.
The chat app also has an HR suggestion box and survey features to help business leaders collect feedback and suggestions regularly. 
Connecteam supports iOS, Android, and web platforms. Its Basic plan is priced $29, Advanced plan $59, and Expert plan $119 each month. 
Rocket.Chat is an open-source communication tool that was launched in 2015 for remote teams. Employees can share files, communicate in real-time, or perform audio and video call conferencing through the app. 
This messaging app supports Android, iOS, Linux, macOS, and Windows platforms. The app also has a Freemium plan, Pro $3 monthly, and Enterprise (varied prices).  
Slack is one of the most utilized chat applications that a lot of businesses make use of. One of its features is the automatic syncing of files from different devices. Further, the app also has file-sharing and it integrates with instant messaging (IM) apps. 
This chat app also has a drag-and-drop feature for PDF files, images, videos, and it allows over 1,500 other applications to be integrated into it. Its supported platforms are iOS, Android, macOS, Linux, Windows, and web. 
Slack also has three plans—freemium, standard ($6.67 per user monthly), and plus ($12.5 per user monthly).  
Hangouts is a messaging app that is created by Google. Its unique features include HD group conferencing and voice calls, screen sharing, custom admin control options and it also supports several computing devices. 
Hangouts Chat can work on iOS, Android, macOS, and web platforms. Its basic plan starts at $5 per user, business at $10 per user, and enterprise at $25 per user monthly. 
ProofHub is a communication software for an entire remote team or even clients. This chat app has individual chat and group chat features to help organizations work collaboratively whenever and wherever they want. Users can also "@mention" a team member to every discussion. 
It supports iOS, Android, Windows, and web platforms. ProofHub has two offered plans—essential ($45 monthly) and ultimate ($89 monthly). 
Chanty enables chat, audio calls, video, and screen sharing among remote staff. Users can also turn messages into individual tasks, and it also has a light project management feature. 
This chat app can also be integrated into other management apps like Trello, Google Drive, and Dropbox.
This chat application tool works on iOS, Windows, Android, web, and macOS platforms. It also offers a free plan and business plan with a $3 charge per user monthly.   
Troop Messenger is not your average chat application. Aside from communicating features, it also has screen sharing, file sharing, file preview, content filtering features, and more.
It also has custom admin controls with an admin dashboard, self-hosting, and API delivery options.
Supported platforms are iOS, Linux, Windows, macOS, Android, and web. Troop Messenger has a free plan, premium ($1 per user monthly), and enterprise ($3 per user monthly). 
Brosix is an instant messaging application with several collaborative features. It enables teams to send and receive different types of files, perform audio and video calls, interact in chat rooms, and share individual screens. 
Brosix can work in iOS, Linux, macOS, Windows, web, and Android. It has a startup free trial plan, business ($4 per user monthly), and premium ($6 per user monthly). 
A product from Meta, Workplace can be utilized by remote workers through instant messaging. Other departments may also create their own private chats to have a more meaningful interaction. 
This messaging app has several administrative controls and API features for bots and custom integrations. 
Its supported platforms are iOS, Android, and web. Workplace also has two offered plans—standard (free) and premium ($3 per user/monthly). 
Flowdock is a chat software with over 35 integrations enabled. The app's highlighted features are conversation threads, message tags, GIFs, custom emojis, and more. Flowdock also lets remote teams invite stakeholders into conversations to have more collaborative discussions. 
The app works well on Android, iOS, Windows, and macOS platforms. It also offers a standalone plan ($3 per user monthly) and an enterprise plan ($9 per user monthly). 
Aside from being a messaging app, Ryver also helps business leaders manage their remote staff easily and hassle-free. The app includes file-sharing, group messaging, conversation search tab, screen sharing, tags, checklists, and more. 
This messaging app supports Windows, iOS, Android, and macOS. Ryver's starter plan is at $49/month, unlimited  at $99/monthly, and enterprise at $399/month. 
Glip is a collaboration software application with free messaging features, task management, and group video chat features.
It also helps remote working teams to keep their projects on track with timelines and action items. Users can also add comments to shared files within the remote team. 
Glip works in desktop apps, web, Android, and iOS platforms. It also provides users with a free plan and standard plan ($5 per user monthly).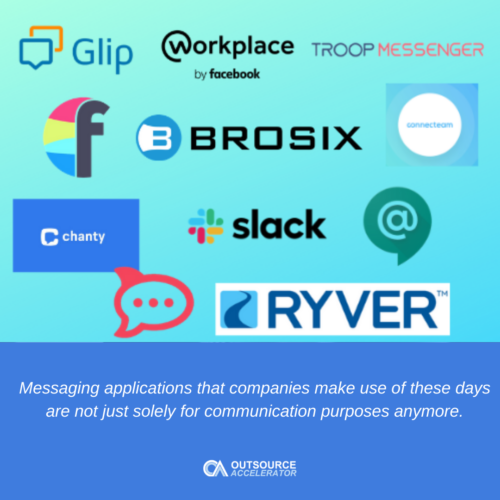 Significant perks of utilizing chat apps for remote work collaboration 
Aside from increasingly improving remote work, employee engagement, and communication, these chat apps also provide the following benefits to various companies: 
Better productivity
These messaging apps eliminate the challenges of having a clear, seamless, and insightful conversation among employees. As a result, remote teams are able to do their tasks on time and more efficiently. 
Improved project management
Being able to communicate effectively with every remote employee helps business leaders properly manage their staff and track individual job functions. Successful project management can only work if there is coordination between all team members. 
Organized workflow
As we have mentioned, these chat apps also function as collaborative tools to help teams keep track of their daily tasks. Through these apps, remote workers can prioritize which tasks should be done first and also track improvements of certain projects.  
Accountability
Chat apps enable each remote worker to be accountable for their own job responsibilities. Through these messaging apps, remote staff are able to report and update their managers on the status or progress of their own individual tasks. 
Beyond these amazing benefits discussed above, these chat apps help remote teams to strengthen work relationships even if they are not physically working together.
These collaborative tools promote a healthy working environment that will result in business growth and development.