Essential customer service skills and traits for success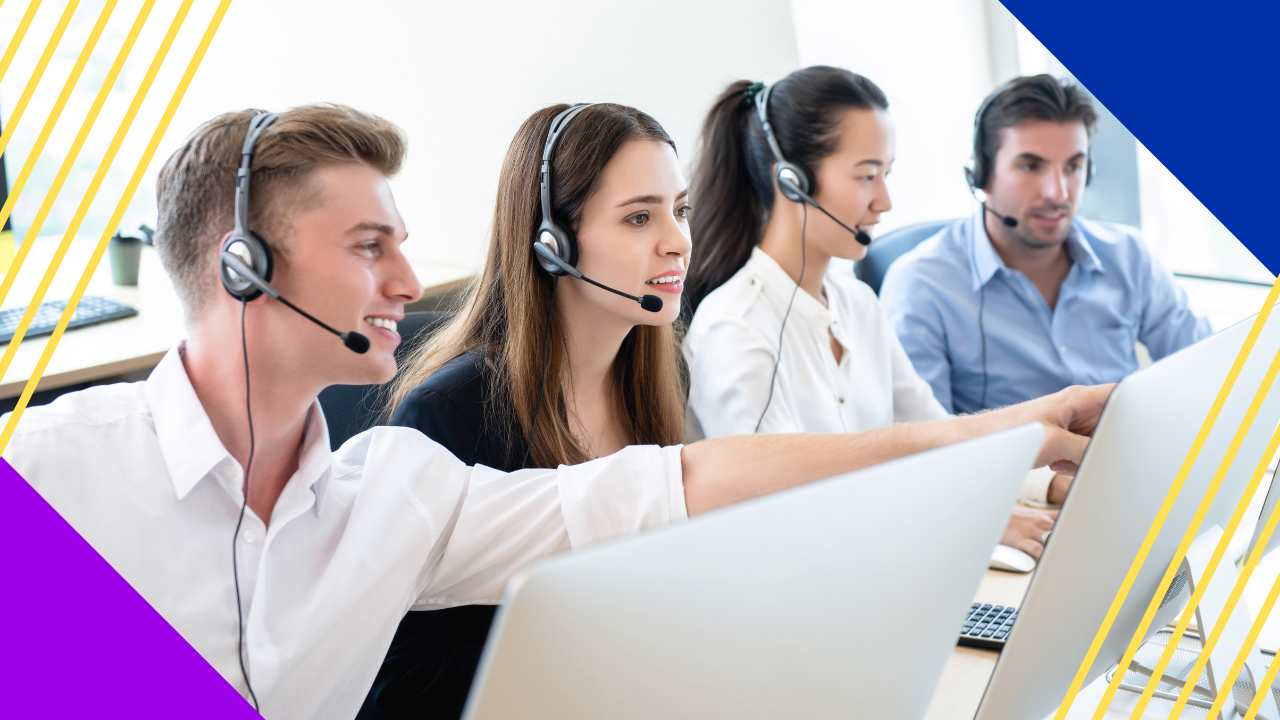 Customer service representatives play a huge and significant role in every business. They are considered as front liners, and the quality of customer service that they provide can make or break your business.
Research conducted in 2015 concluded that 76 percent of consumers look at customer service as a test of their value to a brand.
Half of their respondents even noted that they had switched brands because of poor customer service.
Customer service skills and traits
What does a customer service representative do?
Customer service representatives or agents are the employees tasked to interact with customers on behalf of an organization. Their job is to answer calls and resolve complaints.
They may also provide information about the company's products and services, take orders, determine charges, and process returns.
Customer service reps work in almost every industry, and their tasks will depend on where they work. While most agents answer incoming telephone calls, some are assigned a particular mode of communication, such as emails, live chat, or other non-voice channels.
Most customer service representatives working in call centers are outsourced. Companies such as SixEleven provide optimal customer service and technical support for their clients in the West.
Some work in insurance agencies, banks, and other places that have contact with customers. Further, a trend of customer service providers working remotely is also witnessed within the past years.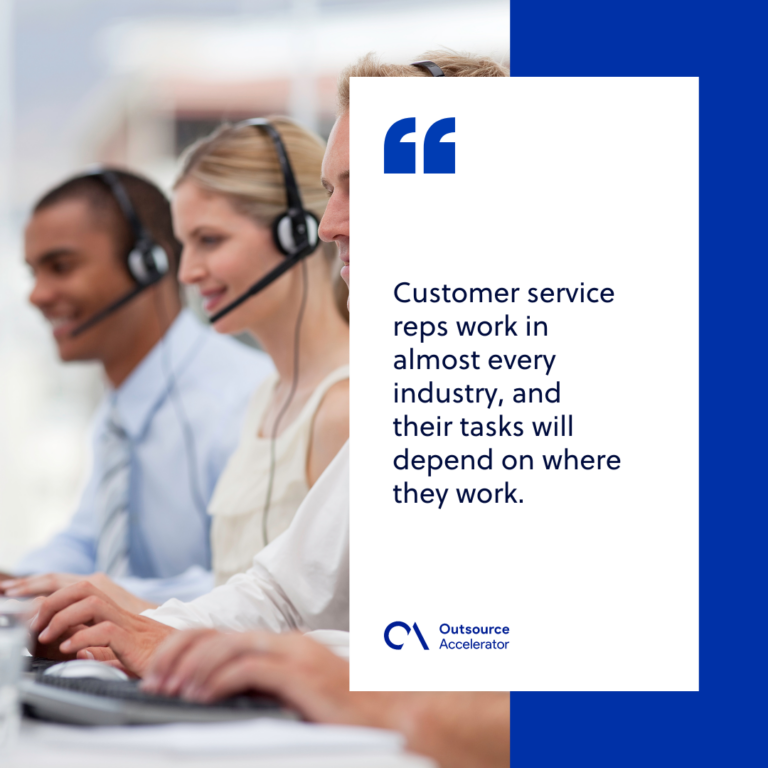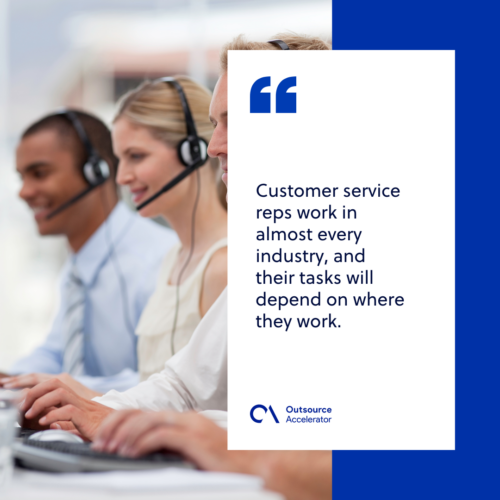 Hiring customer service representatives remotely
Remote working has become mandatory since the pandemic. It has forced everyone to rethink their strategies and find ways to cope and continue their operations. Building strong customer service is one of the ways to go.
This is one of the advantages of outsourcing. When a business outsources its services properly, it won't have to worry about halting its operations and risking losing its customers from time to time.
This helps them to cut on costs and rechannel their energy to core tasks for them to recover.
Cloudstaff, one of the well-known outsourcing companies in the Philippines, can help you hire customer service representatives and make their work more efficient through workflow automation.
What are the key personality traits every customer service representative should possess?
Like any other job, an applicant needs to possess specific skills and traits to even be considered as a customer service provider.
This career path is not for everyone, so take a look at the most important personality traits and skills you need to have to excel as a customer service representative.
1.   Passion for helping people
Keeping customers happy should be way beyond just passing customer service metrics. Customer service providers must have a passion for helping others.
Those who are passionate about helping others are active listeners, proactive, and are willing to understand the situation.
Customer service agents who have a passion for helping people genuinely care about their clients, therefore providing quality and above-and-beyond customer service.
2.   High emotional intelligence (EQ)
Emotional intelligence refers to a person's ability to understand and manage their own emotions, as well as the feelings of the people around them. EQ is also about self-awareness and having a robust emotional vocabulary.
People with high EQ are naturally empathetic towards other people, which is a very crucial trait needed when you're helping customers with their problems.
An outstanding customer service representative must be able to put himself in their customers' shoes to understand their frustrations.
Here's a guide on how to increase your emotional intelligence.
3.   Adaptability and flexibility
Customer service is a busy role, and you must be willing to adapt to whatever comes your way.
Agents must be able to multitask effectively, be prepared to work on new tasks and processes, and should be comfortable with crazy work schedules.
4.   Warmth and natural friendliness
Consumers are more demanding than ever before, mainly because they are presented with various options to choose from. One simple yet unpleasant interaction can cause the company profit.
Even over the phone, a person can tell if your friendliness is the fake, phony kind.
When dealing with customers, the ability to stay genuine and likable is a considerable advantage and can make a huge difference in their customer experience. Friendly customer service puts the customer at ease.
5.   Enthusiasm and positivity
Enthusiastic and positive customer service puts clients at ease, making them feel more inclined to ask more questions and consider more options. This is especially valuable if you are tasked with product selling.
The enthusiasm and positivity in a customer service agent reflect on their voice and largely contributes to the tone of the conversation.
6.   Willingness to go the extra mile and eagerness to improve
They say the customer always comes first and that they're always right. Being willing to go the extra mile will please your customers.
In addition, being willing to go above and beyond means also being eager to learn more and improve on your craft.
Accepting your mistakes and swallowing your pride are vital skills that you need to have and work on, in order to provide the best customer service experience.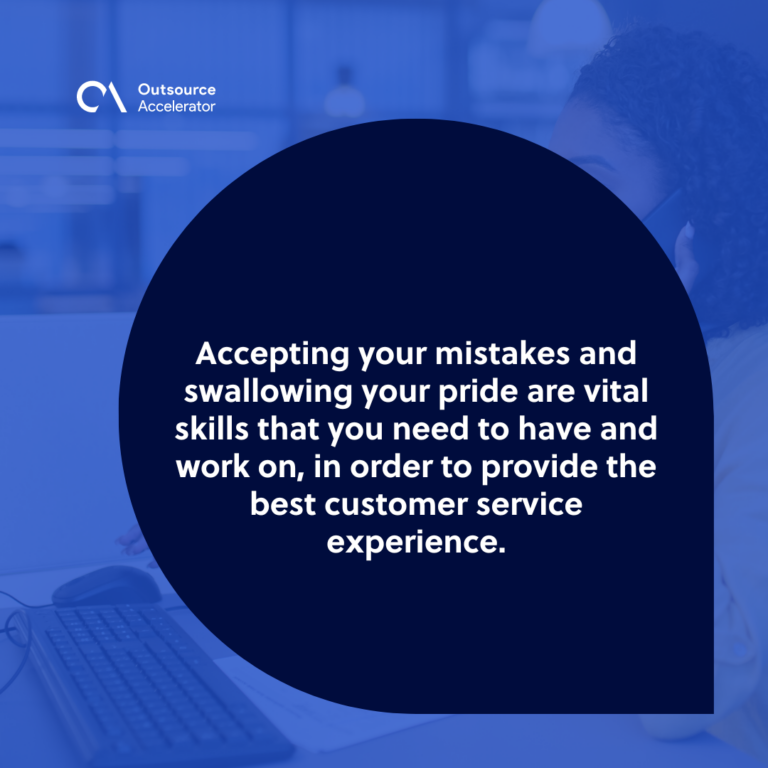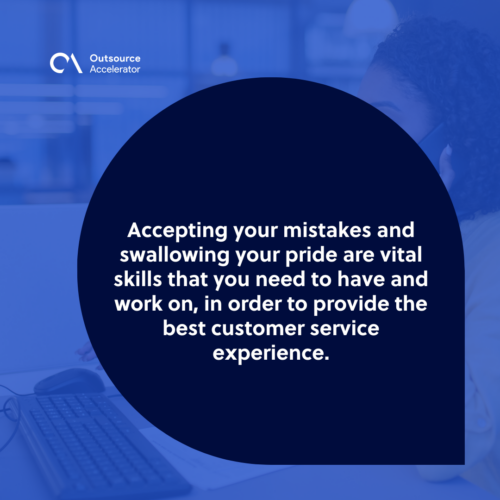 7.   Excellent communication skills
You may know the answer or solution to a customer's problem, but if you don't know how to communicate properly, then it doesn't count. Terrible communication skills might create even more confusion and frustration on both sides.
Practice empathy in order to communicate properly, and avoid being a know-it-all. Using jargon is not necessary; explaining in the simplest terms will get the solution across as quickly as possible.
8.   Problem-solving skills
As mentioned above, part of the responsibilities of a customer service agent is to resolve customer complaints.
Being able to solve a problem on your own is a valuable skill, and is crucial as a top customer service provider.
A person's problem-solving skills aren't just about resolving problems. It is also the incorporation of the following strengths: a strong understanding of the company's product or service, confidence and intelligence, and the ability to read between the lines, all while working efficiently.
9.   Thick skin
One of the toughest jobs of being a customer service agent is being the receiver of the customers' anger, impatience, frustrations, or even threats!
Stress will also be a part of any job, but a person with developed thick skin will have an advantage in this career path.
The good thing is, "thickening your skin" is something that you can learn. Sometimes, polite silence in a conversation with a difficult and irate customer can be the best thing for your peace of mind.
10.  Time management skills
Customer service teams are likely in charge of multiple tickets at a time. Strong balance and time management skills are necessary to make your clients happy.
Sure, it will take time to master how to manage and make time for various tasks, but as long as you're a fast learner and willing to improve, it's most likely not going to be a problem.
Do you have what it takes?
Possessing these traits and skills will surely set you up for success in the field of customer service. It will be a stressful path, but could also be a fulfilling and productive one.
Do you think you have what it takes to be a stellar customer service representative?