Establish a successful career as customer service consultants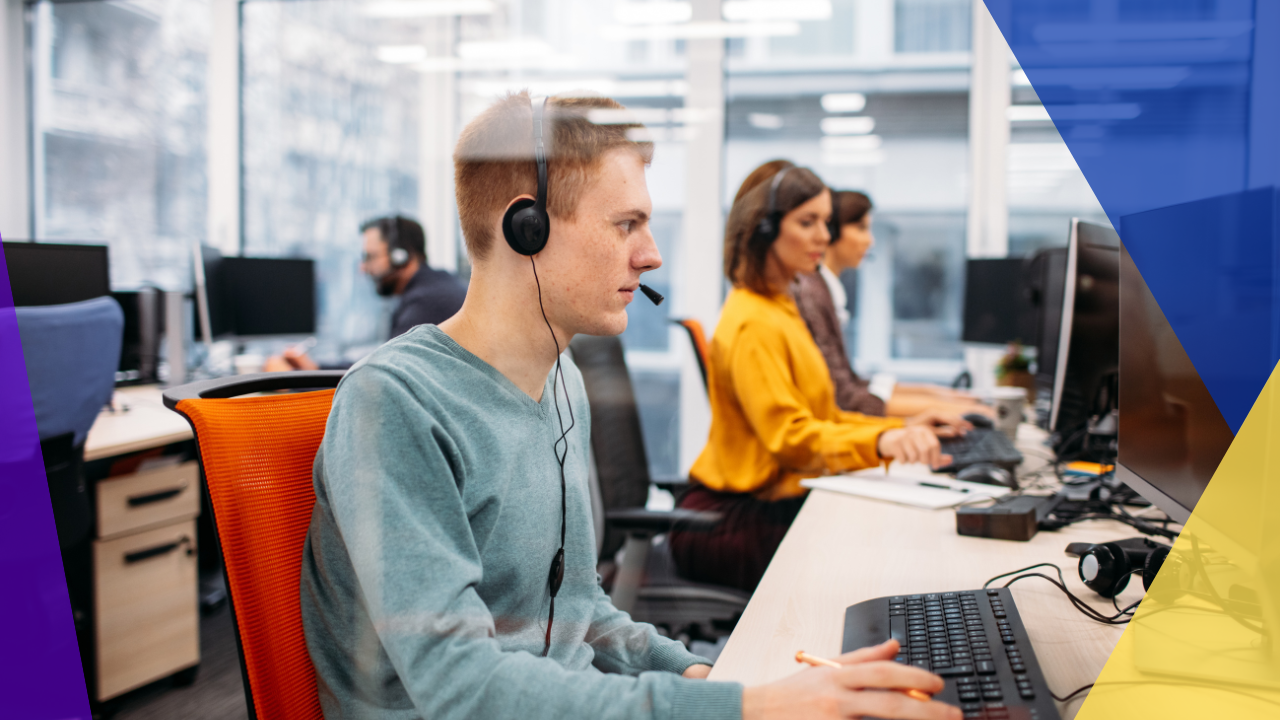 Customer service is all about building a relationship between a brand and its target clientele. Whether it is an excellent or poor customer service experience, it will most likely impact the customers' lifelong impressions towards a business.
Of course, providing customers with the best customer service will not be possible without customer service consultants. 
Customer service consultants are commonly known as customer service agents or representatives. They are the people who are qualified, trained and possess the skills needed to handle customer service and support. 
If you are aspiring to be one, note that there is no required academic degree to become a customer service consultant. A lot of companies hire qualified candidates with high school diplomas.
However, an associate's or a bachelor's degree related to the employer's type of industry is highly preferred by other organizations.
What are the roles of customer service consultants?
A huge part of the success of a company will revolve around its customers. Further, it is the role of customer service consultants to establish trust, nurture, and maintain a good relationship between a company and its customers. 
As a consultant, you will be responsible for addressing customers' concerns and inquiries regarding a company's products and services. You will also attend to customer complaints and resolve issues to be able to offer the best customer service and meet customers' satisfaction. 
Aside from what we have mentioned prior, here is a list of other roles and responsibilities of customer service consultants:
Listen and respond to customers' concerns and questions. Provide the appropriate information and answers. 

Take orders, process billings, as well as payments and product returns.

Obtain customers' correct personal data such as name, address, phone number, and payment information. 

Update customer's information and make changes to the customer's account. 

Document all customer interactions and make sure that all records are accurate and up-to-date.  

Customer service consultants may also sell and

upsell new products and services

offered by the company. You can also offer suggestions on what products or services should customers avail of based on their type of needs. 

Handle irate and frustrated customers, and ensure that they resolve their complaints to achieve a good customer experience. 

Identify possible opportunities to upsell other products and/or services. 

Transfer customers to the appropriate people or department if you are unable to meet their needs. 
As a customer service consultant, you will serve as the first point of contact for your company's clientele. In most cases, you will be providing customer service and support via phone calls. 
But given today's omnichannel services, you may also engage with customers through email, chat, and other communication channels.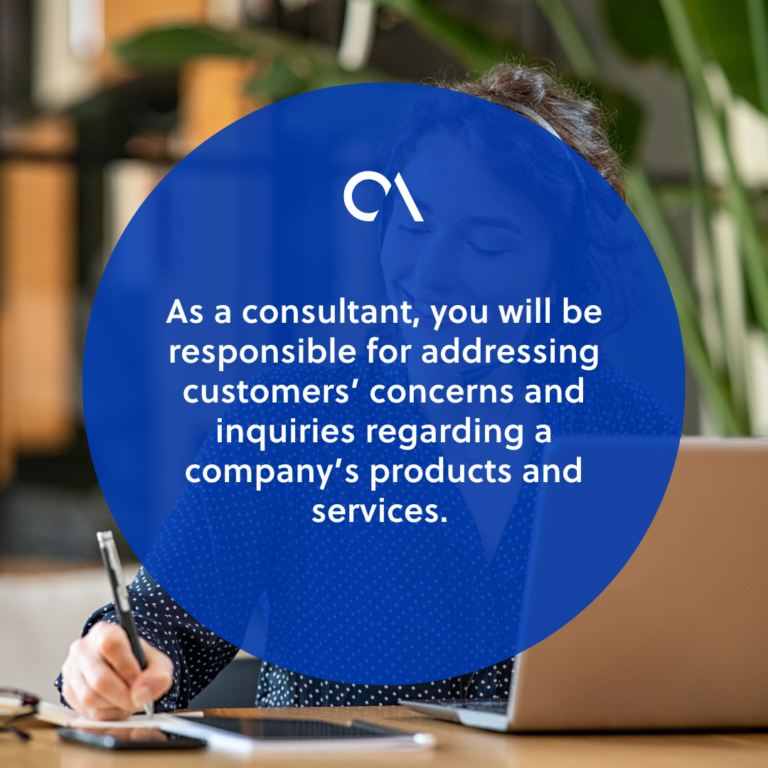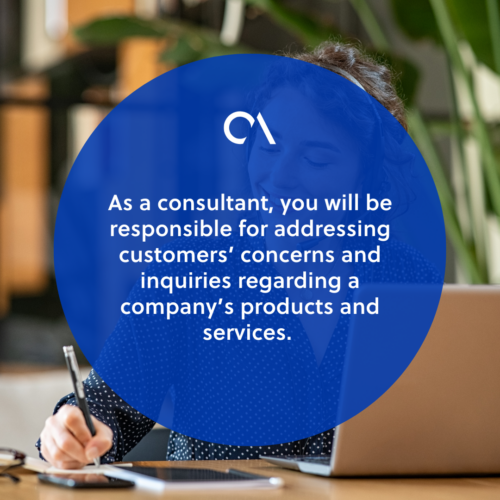 Essential skills needed to become successful customer service consultants
To become successful customer service consultants, you need to possess the following essential skills: 
Excellent communication and interpersonal skills. 

Proficiency in operating computer software (i.e. Microsoft Office)

Data entry

and typing skills.

Good problem-solving skills.

Professional phone presence.

Patience, empathy, and persuasion skills.

Time management skills.

Emotional intelligence 
Whether you are a beginner seeking to build a career in customer service or a well-experienced consultant, you should always be open to learning new things. Willingness to learn is vital in growing your skills and professional career. 
How to pursue a career as customer service consultants?
Here's what you need to know in pursuing this type of work:
Education
Anyone can pursue this type of career. For those aspiring to become customer service consultants, know that you do not need a college degree for it. Anyone with a high school diploma can apply for the job. 
Trainings
Customer service consultants typically undergo 2-3 weeks of on the job training. As for representatives that are employed in the finance insurance sector, they usually have longer training. 
Customer service consultants training in general include the following: 
Background and information about the company's products and services.

Proper phone etiquette and call handling in responding to customers' inquiry, issues, concerns and problems. 

Consultants also receive training in utilizing the tools and devices that the company uses for the specific job. 
Upon finishing the training, newly hired customer service consultants commonly work under the supervision of a tenured employee. This will last for the first few weeks until they become well acquainted with their new role.  
Customer service consulting in the modern age
In terms of customer service itself, as innovations in technology continue to develop at a fast pace, so as to how organizations cater to the needs and demands of customers. 
Traditionally, businesses operate their customer services via voice calls. Before, customer service consultants could be found in call centers. They usually handle both inbound and outbound calls. 
In today's modern age, people have grown to be reliant on their smartphones, gadgets, and the accessibility of the internet. This has opened a lot of opportunities for businesses to augment their customer experience and boost their customer satisfaction. 
As a result, more and more companies at present are utilizing various communication channels to interact with their customers. 
Customer service consultants are now found in contact centers. To be a customer service consultant today, you will not only be responsible for performing calls but also in offering services through omni-channel platforms.
As a consultant, part of your role is to provide customer service and support through web chat, email, social media, text SMS, and more. 
Most companies now also farm out their contact centers to renowned outsourcing service providers. Outsourcing consultants and companies have also become an essential element for companies that are seeking to outsource their customer service.
In most cases, outsourcing companies also function as a consultant and service provider to organizations that are looking to outsource.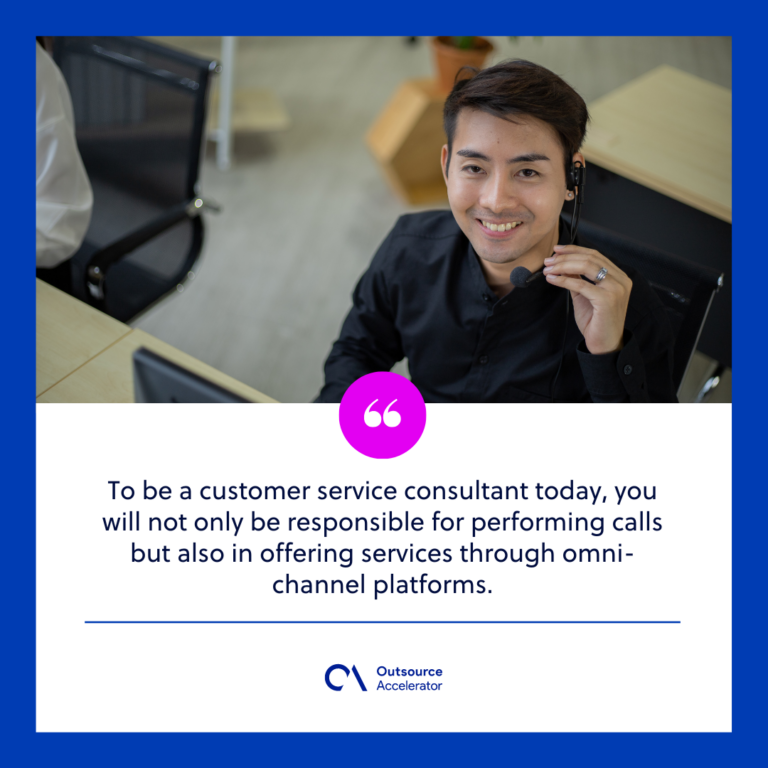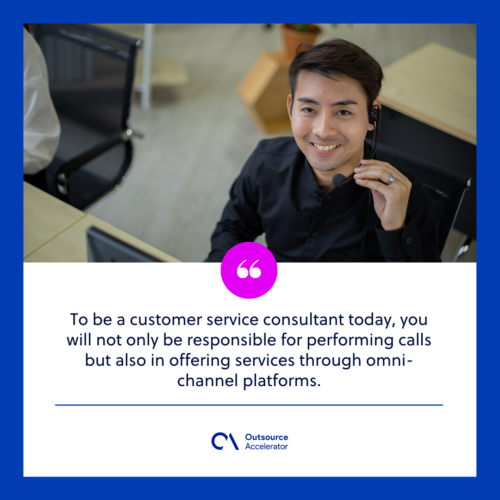 List of top 3 global outsourcing consultant companies 
Aside from consultations, outsourcing consultants and companies help businesses with remote staffing, customized solutions and more. These companies have teams of experts with years of proven experience from working with different industries.
They provide professional advice for companies that are aiming to innovate and make the most out of seasoned global talents. 
A lot of organizations these days do opt to subcontract other parts of their business processes apart from call center services. 
Outsourcing consultants make sure that these organizations are able to hire qualified candidates. Meaning, applicants that are of the perfect fit for their type of business requirements. 
To help you have a better idea about these companies, here is a list of the top outsourcing consultants as of our present time:  
Outsource Accelerator 
Outsource Accelerator is known as the leading global advisory firm located in the Philippines. They help local and foreign companies in evaluating, staffing, and managing their remote teams. More so, they also offer three free quotes from 700 BPO service providers that are listed in their website.
Outsourcing consultant firms like Outsource Accelerator serves as a career resource center for job seekers in different fields of specialization. 
Kelly Services
Kelly Services helps companies from different types of industries connect with global talents. The company also offers an array of outsourcing and consulting solutions related to Finance & Accounting, IT services, Engineering, and more. With over 70 years of experience in the outsourcing industry, Kelly services have expanded their workforce solutions globally. 
ABC Consultant
ABC Consultant is the premier talent acquisition solutions provider for multinational corporations in India. The company has over 465 qualified consultants who have years of professional experience working with various leading Indian and international companies. 
These outsourcing consultants help both job seekers and employers across different industry sectors connect with one another. 
We all know that today's job market has remained cutthroat and starting a career as a customer service consultant will be a big challenge. Especially that a huge number of the working population in the BPO industry is involved in customer service.
However, remember that through hard work and perseverance anything is possible. Work on the list of skills we have discussed above and consider every bit of information we have included in this article. 
Now you are all set to kickstart your career as customer service consultants!