Customer service call center practices outsourcing can improve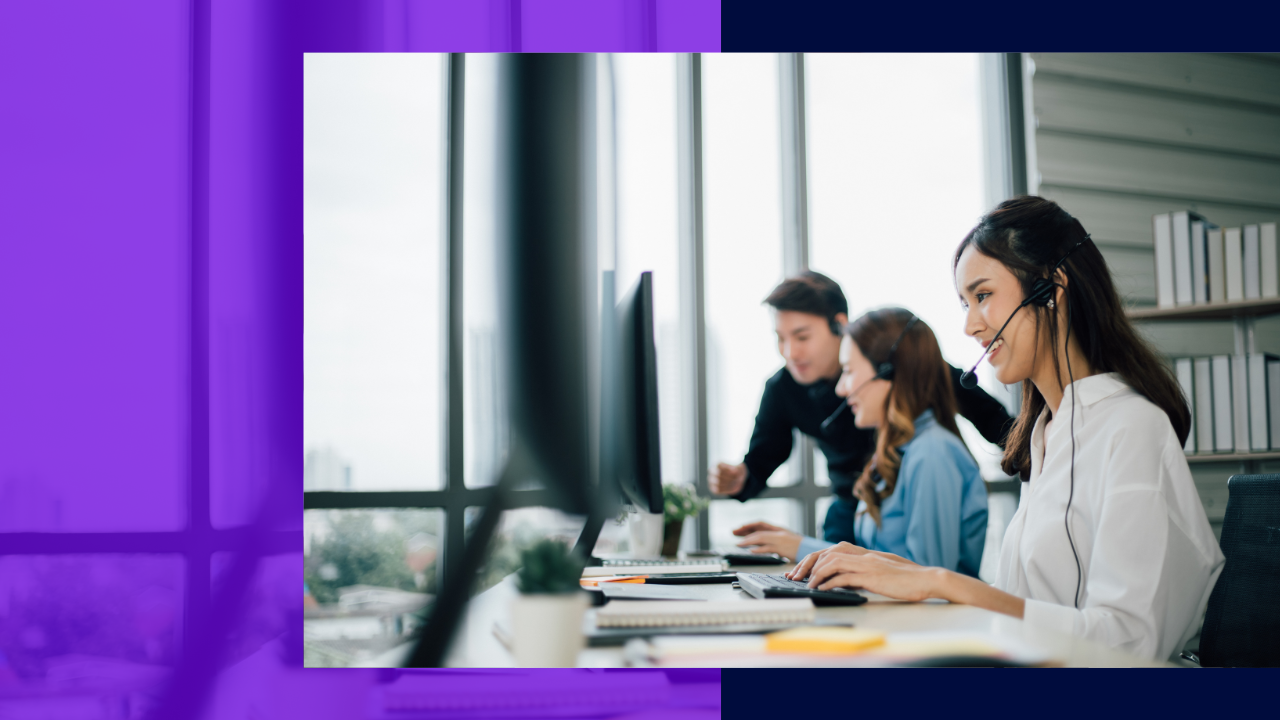 Customer service call center practices outsourcing can improve
A business that has a customer service hotline provides a great impression to customers, no matter how small or big a company is. What comes next to the excellent quality of products or services should be excellent customer service. It's crucial because customers would still want to engage with the seller for follow-up concerns as your products or services are meant to either satisfy their needs or not. Executive Boutique, a leading Philippines outsourcing supplier, shares their insights on this topic.
Just think of how fulfilling a simple service can make an angry client calm down. If it's a rant about the purchased product, a complaint about an employee who served him or her in the store, or a comment on how the management can improve their products or services more, he or she needs someone who can listen and assure him or her the best action plan.


If you want to build a stronger brand and make a good impression last, investing in a customer service hotline is important, especially for companies who already established their brands in the market. For new businesses, it's usual for companies to question whether they need to invest in developing their customer service hotline because it's going to require additional costs.
If you're one of the doubtful ones, put yourself in your customer's shoes and ask yourself which is more convenient; to talk to someone available over the phone for your urgent concern or to go back to the store where you bought the product? Convenience is one of the best things about customer service lines. If expensive costs worry you too much, consider outsourcing customer service instead.
Customer service consultants' response rate leads to satisfaction
Looking for a customer service call center is cheaper than putting up your team, which is why most businesses outsource chat support and customer service. Each customer service representative aims to provide satisfying services, and it's why scores are set for each representative to ensure excellent performance throughout the contract. This procedure is vital to both parties to keep a satisfying rate so they can have more opportunities to come.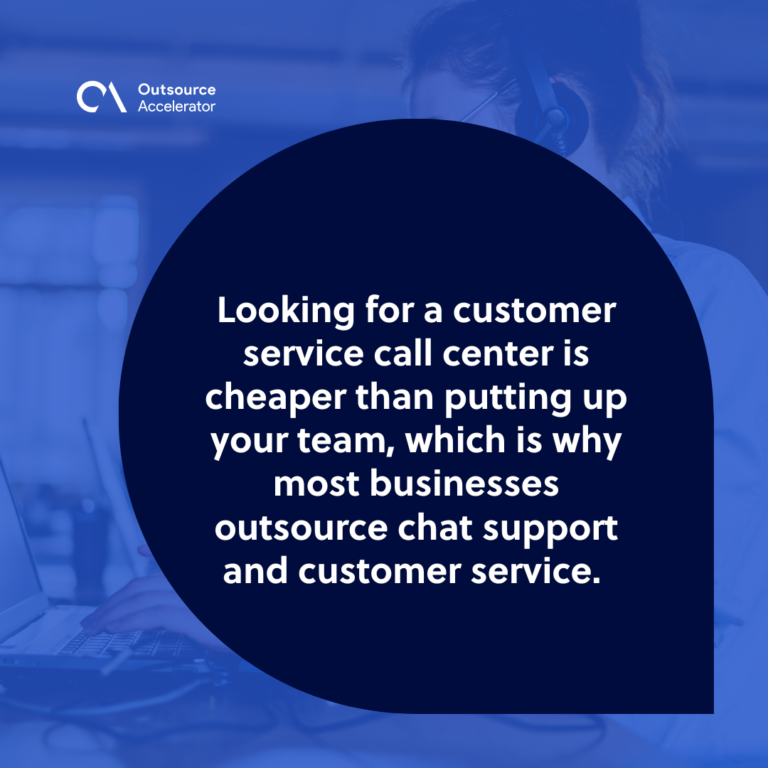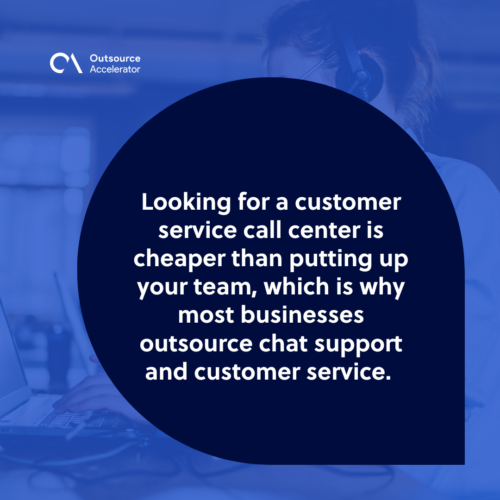 Helps a lot in customer service company lead generation
When companies outsource customer service call center, it provides them a better chance to boost their sales and service rate up. Most call center companies operate more than the usual eight hours in a day and five days a week, and it's one of the best things about it. As businesses outsource customer service calls, meeting demands from different customers is more convenient because someone will always be available to assist them further.
Adds more convenience via automated customer information gathering
Outsourcing provides further ease in gathering information with the help of modern technology and automation. Devices and software applications are enhanced to make everything more convenient in the long run, from day-to-day transactions to information gathering. Call center companies invest in different tools, especially on automated ones, to help their businesses in gathering and keeping vital information of all customers.
More communication channels to open for better recognition
The more communication channels there are, the more a company's brand becomes recognizable. With the help of technology nowadays, outsourcing from call center companies will help you a lot in opening more communication channels to market products or services better. Moreover, customer service widens its coverage to address customers through Live Chat support, social media accounts, and email.
Live chat support
Outsource chat support provides the best and most direct communication with a shorter response time which works best for customers with urgent concerns. Companies will no longer have to worry about complaints on no email responses or callbacks through this kind of support. It's easier to reach out to customers while customers find it more convenient to raise their concerns, knowing that someone is available to help them in real-time.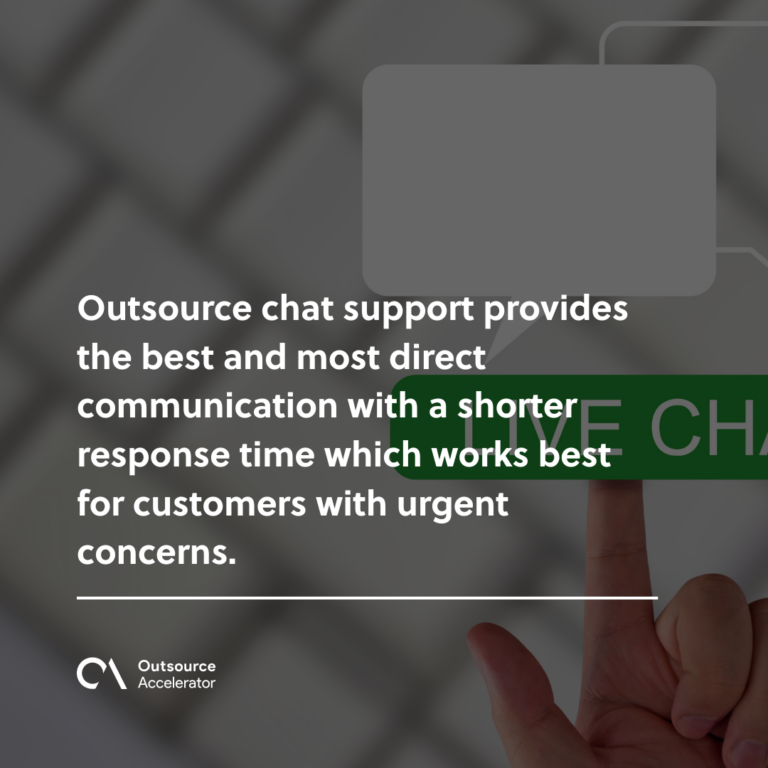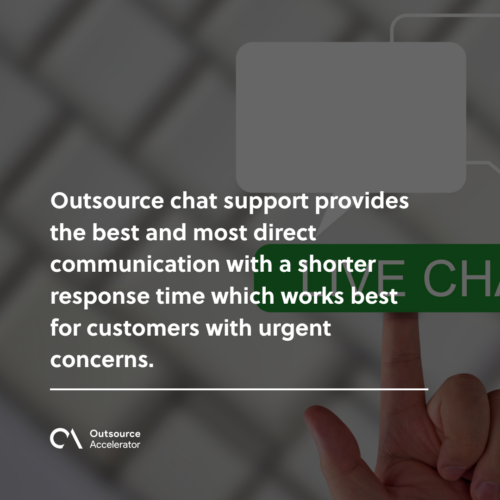 Social media
Another one of the best communication channels is via social media accounts. People spend too much time browsing their feeds which is why this kind of channel is vital for boosting brand recognition. On the other hand, since people stay too much in their accounts, outsourcing companies also find ways on how to incorporate customer service in different social media accounts. Aside from chat support, it's also a great way to address immediate customer concerns.
Email
Despite many communication channels available these days, communicating through email is still one of the best and most effective ways to talk to customers. Chat support and social media may have a quick turnaround time when it comes to responses, but a good email composition can provide complete details as to whatever customers need for their inquiries or complaints. Organized details are also crucial for communication.
Outsourcing from customer service companies is one best ways to stay competitive in the growing market. Some businesses may stand alone with their products or services, but most companies will need their customer service hotline and support from call center companies. Providing quality products or services may be the main priority for any size of business, but it's also important to invest in establishing a customer service hotline for the sake of customers.
Executive Boutique is a leading outsourcing supplier, specializing in call center services as well as other verticals.