How call whisper can revolutionize call center operations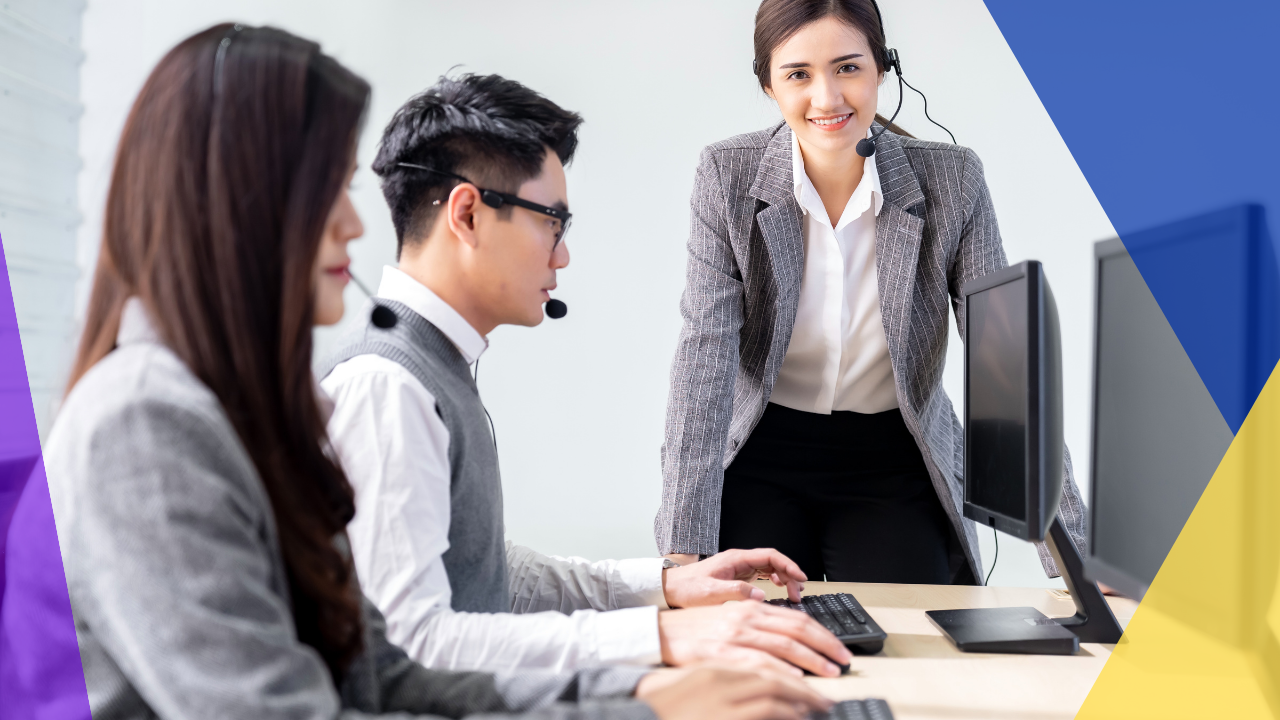 Running a call center successfully takes more than just relying on a script. Most call center managers also desire to help agents converse with prospects and customers.
In light of that, Lorman found that 74% of workers are willing to learn or re-train to stay employable.
With call whispering, you have an efficient and effective learning method that enhances agent performance and improves customer experience.
Let's further delve into what call whisper is and how it works. We'll enumerate its benefits and discuss how to execute this helpful feature.
What is call whisper?
Call whisper is a call center technology that lets a supervisor or manager listen in on a live call between an agent and a customer without the latter's knowledge.
The supervisor can provide real-time, in-ear coaching to the agent during the call without the customer hearing.
Essentially, call whisper is a discreet way to assist and guide agents in their interactions with customers.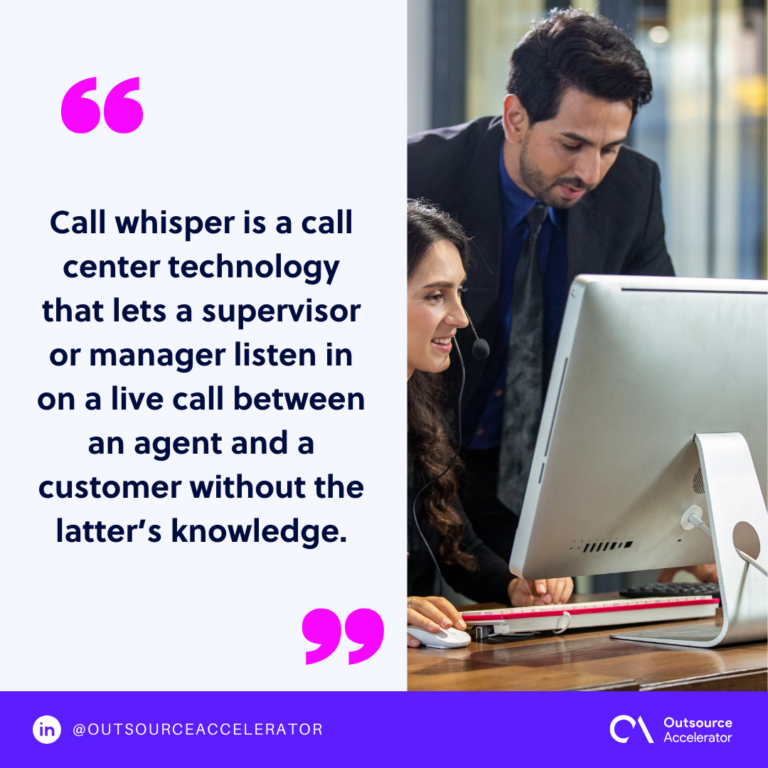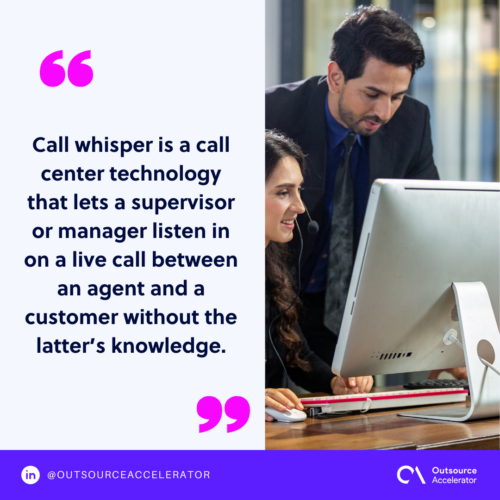 How call whispering works
Call whispering establishes a three-way connection between the customer, the agent, and the supervisor. It works through a combination of software and hardware integrated into the call center's telephony system.
When a call is initiated, the supervisor can silently join the call and listen to the conversation. 
The agent is aware of the supervisor's presence and can receive guidance or support via a separate channel, such as a chat system or a muted line.
Is call whispering legal?
Call whispering is legal as long as it is used in compliance with relevant regulations and privacy laws. It's essential to obtain consent from both the customer and the agent if you plan to record the call.
Additionally, call centers should ensure that any information shared during the call is handled with care and in line with data protection laws.
Call whispering vs. Call monitoring vs. Call barging
While call whispering may seem similar to call monitoring and call barging, these features have distinct differences.
Call monitoring involves simply listening to a call without the agent's knowledge. This is primarily used for quality assurance or training purposes.
On the other hand, call barging allows supervisors to join a call and actively participate without the agent's permission. It is typically used for urgent or critical situations.
Benefits of call whisper in agent performance
Call whisper offers many benefits that can impact agent performance and customer satisfaction:
Real-time guidance
With call whisper, supervisors can provide immediate guidance or assistance to agents during challenging interactions. It ensures that they deliver accurate information and resolve customer issues promptly and effectively.
Training and coaching
A McKinsey report says one-on-one coaching is the backbone of capability-building efforts in contact centers.
Call whisper allows supervisors to provide just that. It can be used to help agents develop their skills and improve performance.
It also allows for personalized feedback and targeted guidance tailored to each agent's specific needs.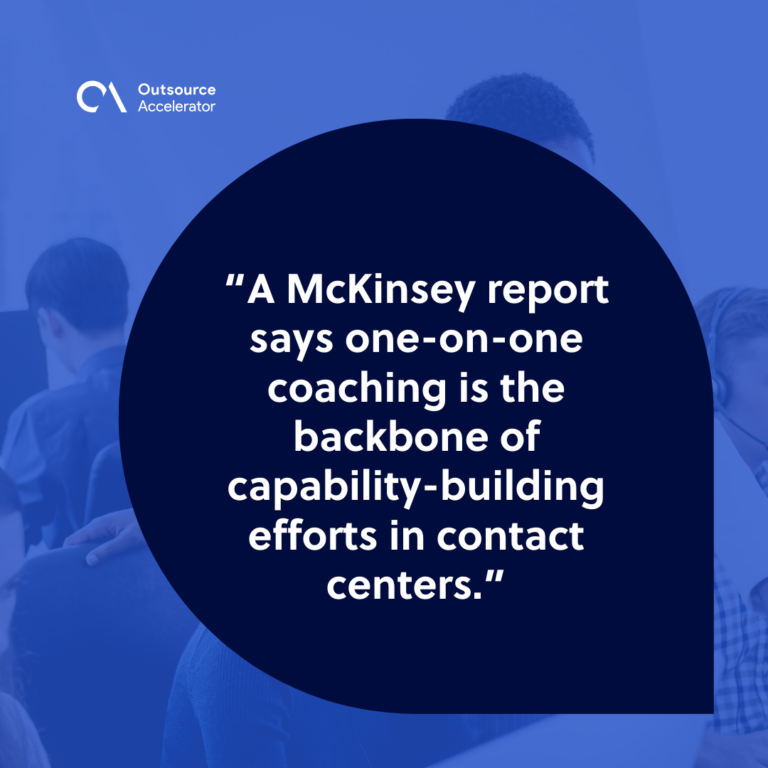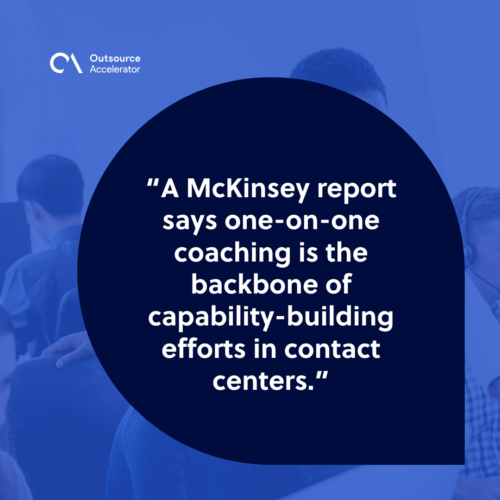 Enhanced customer experience
By providing agents with real-time support, call whisper helps improve the overall customer experience.
Agents can deliver more accurate information, confidently handle difficult situations, and provide timely resolutions — leading to higher customer satisfaction.
Increased first call resolution
With call whisper, supervisors can intervene and offer assistance during a call. It helps lessen the need for transfers or callbacks.
This leads to a higher rate of first call resolution, saving both time and resources.
Agent confidence and job satisfaction
By having the support of supervisors through call whisper, agents feel more confident in handling challenging calls. This increases job satisfaction and motivation, leading to higher employee retention rates.
How to execute call whisper
Implementing call whisper in your call center is straightforward. Here are some of the key steps to execute:
Technology integration

. Ensure your

call center software

and telephony system support call whisper functionality.

Training

. Train agents and supervisors on how to use call whisper effectively, including the dos and don'ts.

Consent

. Always obtain consent from customers and agents when recording calls or using call whisper.

Clear guidelines

. Establish clear guidelines for when call whispering should be done. This guarantees that it's primarily for

coaching and training

, not for intrusive monitoring.

Feedback loop

. Encourage feedback from agents about their experiences with call whisper and use it to improve the process.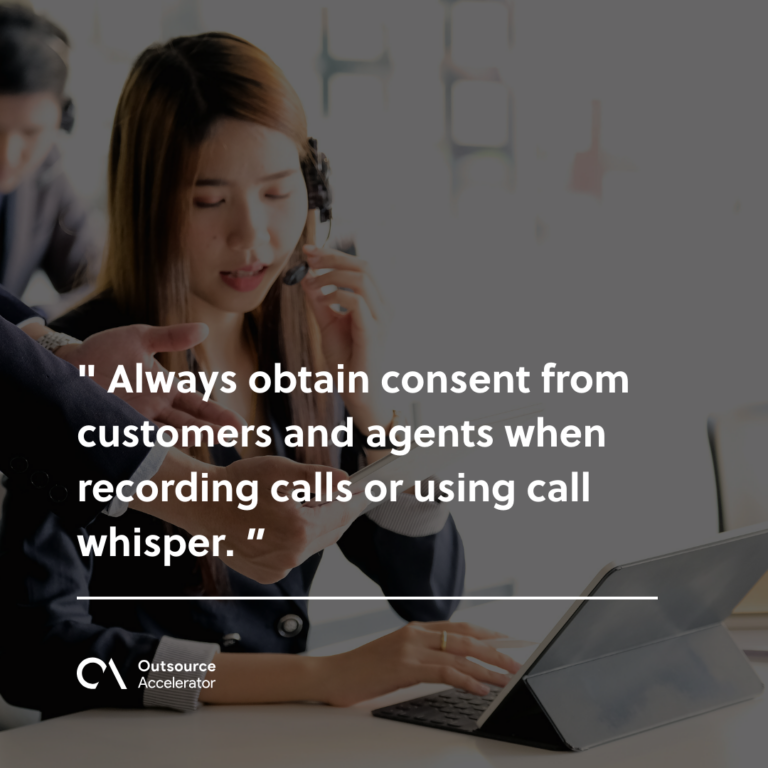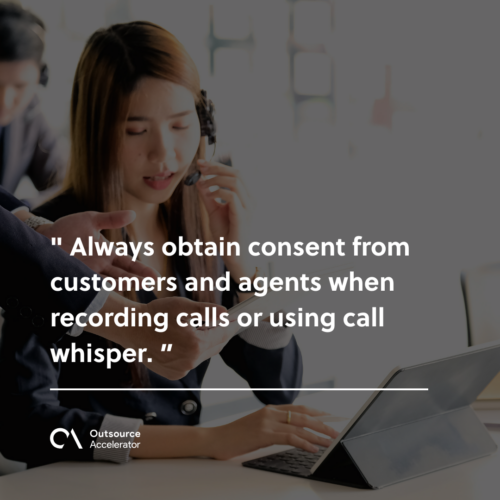 Future of call whispering
With continued technological advancements, call whispering is expected to evolve and become even more sophisticated.
Artificial intelligence (AI) and speech analytics can play a significant role in identifying customer sentiment. These tech advancements can provide supervisors with more contextual information during calls.
Therefore, they are able to deliver more targeted and relevant guidance to agents, further enhancing their performance and the caller's experience.
Ultimately, call whisper is an invaluable tool in revolutionizing call center operations. Embrace its power and transform your call center into a hub of excellent customer service and agent success!