Call center technology: Revolutionizing the customer experience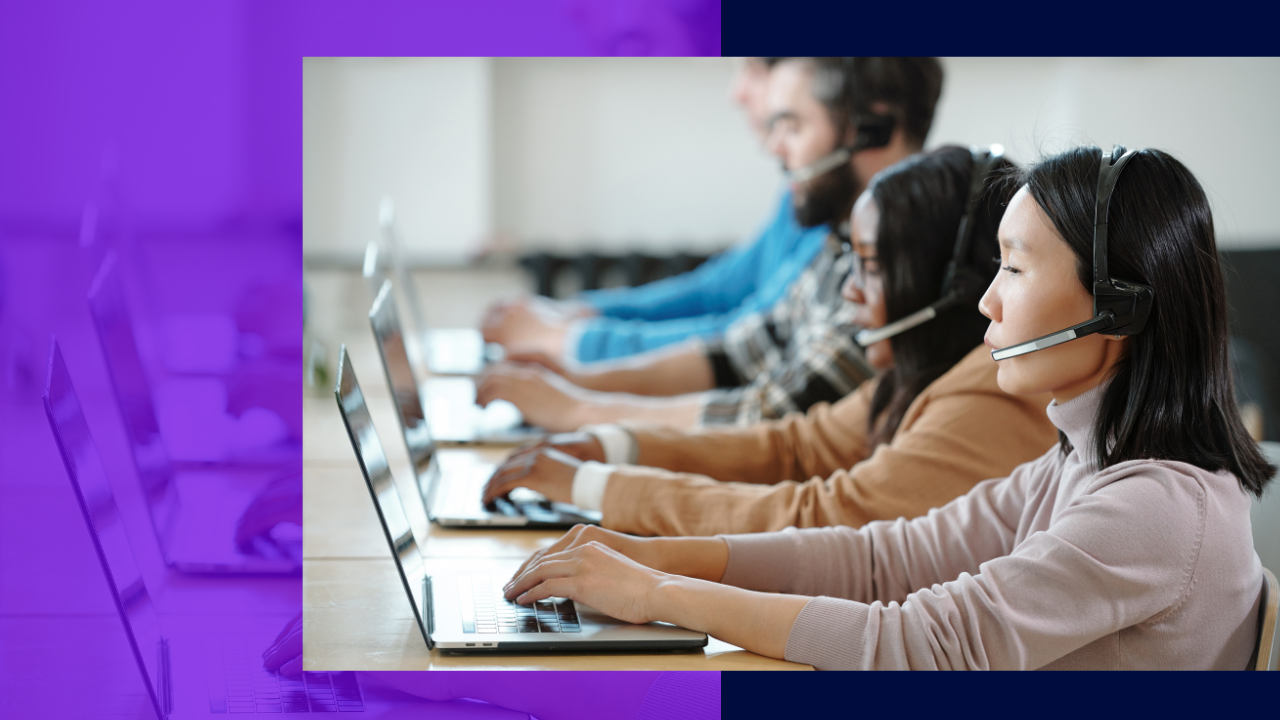 Call centers are one of the most common businesses in the world. These companies allow customers to make purchases, ask questions, and even schedule appointments from their phones.
Cision PR Newswire reports that the global call center market is expected to reach $741.7 billion by 2030. The call center industry has grown dramatically over the last few years and shows no signs of slowing down.
Many companies invest in new technology to keep up with this growing market to make their operations more efficient and improve customer service.
Call center technology has evolved rapidly over the past few years as well. To meet customer demands and expectations, companies need the right call center technology solutions to increase productivity and efficiency while lowering costs.
In this article, we'll explore the key call center technologies that have become part of the modern business landscape and emerging trends set to make big impacts.
What is call center technology?
Call centers are necessary for most companies that offer customer service to consumers and businesses. The ability to handle calls effectively can be the difference between success and failure for many enterprises. 
To achieve this goal, these companies need effective call center technology solutions to help them manage their operations more efficiently.
Call center technology is the equipment, software, and processes that allow companies to manage their call centers. It includes everything from the computers agents use to the systems that guide customers through the call center process.
The main purpose of call center technology is to help businesses improve their customer experience, reduce costs and increase sales.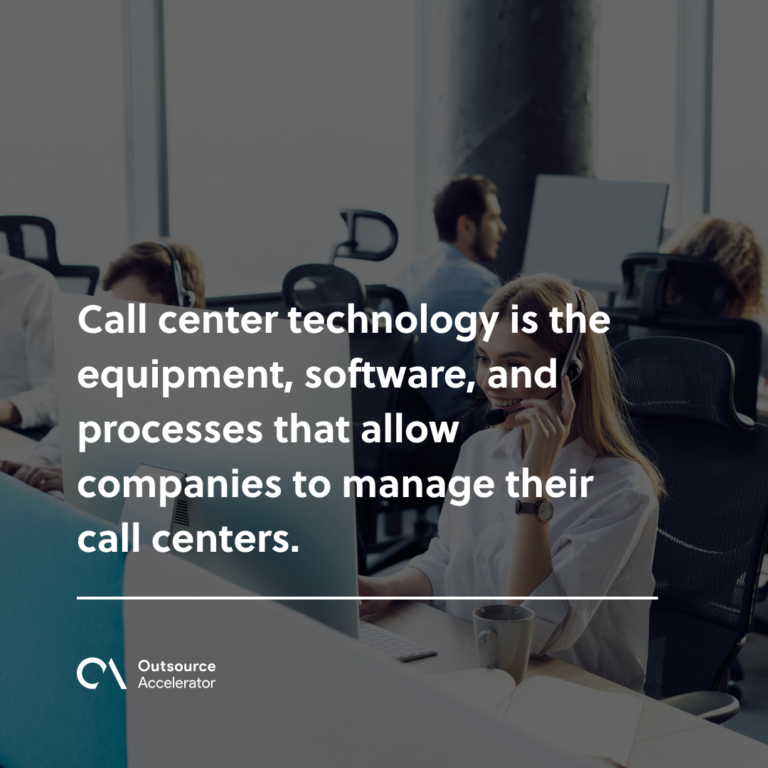 Evolution of call center technology
Call center technology has evolved as new technologies have become available. Early call center systems were inefficient because they relied on paper-based processes and manual tasks that were inefficient and prone to errors. 
As time progressed, companies began adopting newer technologies that could automate these processes.
Call center technology typically revolves around helping agents handle more calls per day. This has also branched out to developing more efficient workflow management systems and performance monitoring. 
Achieving high customer satisfaction is one of the most important goals for any business today. Call center technology helps companies provide premium service to stay competitive in today's marketplace.
10 must-have call center technologies today
The call center industry was built on utilizing technology to give excellent and consistent customer service worldwide. 
Here are some of the premier call center technologies of the modern world: 
1. Voice over Internet Protocol (VoIP)
Voice over IP (VoIP) is a call center technology that allows users to talk using the internet in real-time. VoIP is an efficient, cost-effective way for businesses to communicate with customers and employees. 
VoIP technology has become increasingly popular, allowing you to use one unified platform for both inbound and outbound calls. VoIP also lets you to record, monitor and play back all your call data to be analyzed for quality assurance.
2. Conversational AI 
Conversational AI enables companies to interact with customers using natural language processing and machine learning. Instead of manually answering questions, you can program your chatbot with information about your products and services.
The result is a more natural conversation between your company and the customer, which helps improve engagement and conversion rates while reducing costs.
3. Call recording and monitoring
The ability to record calls and monitor agents' performance is a must-have for companies. This is especially true if they seek to: 
Increase agent productivity

Improve customer service

Reduce churn

Strengthen brand reputation
This call center technology lets you see how well your agents perform, what percentage of calls they're handling, and if they're spending too much time talking to customers. 
It also helps you identify bad customer experiences and find ways to improve them.
4. Interactive voice response (IVR) 
IVR is a call center technology that allows callers to interact with your business without talking to a live agent. 
Users can select from a list of options, press a button, or speak into the phone keypad to navigate the IVR system. The IVR system then routes them to the next step in the process or connects them to an agent.
IVR systems have become quite sophisticated, with companies using them for everything from scheduling appointments to collecting customer data.
5. Reporting and analytics
Reporting and analytics are vital to call center technology. You need to be able to track performance, identify trends and make changes based on the data.
If you have multiple locations or call centers, you can use this data to compare performance. This helps you identify areas where one location might be performing better than another — or where you need to improve.
6. Customer relationship management (CRM) software
CRM software is a must-have technology for call centers. It manages customer data and interactions, providing insight into their needs and preferences. 
This enables the center to deliver a more personalized experience while increasing sales.
The best CRM software integrates with other key technologies, such as contact center solutions, workforce scheduling applications, and analytics programs.
7. Automatic call distribution 
Automatic call distribution (ACD) is a system that automatically places incoming calls to an organization into a queue. The call is then routed to the next available agent, who can take or reject the call.
When implemented properly, an ACD system can improve customer service. It ensures that customers are routed to the appropriate agent for their needs and that agents can work more efficiently.
8. Queue callback 
Queue callback is a call center technology that allows you to set up queues for callbacks and then assign them to agents. This tool is particularly useful for call centers that handle high volumes of callbacks.
Queue callback is one of the most popular and effective call center technologies because it allows you to handle more calls in less time. 
9. Predictive dialer 
A predictive dialer is a specialized telephone system that automatically dials numbers from a predefined list at a set interval. 
Predictive dialers were originally developed to enable companies to make more efficient use of their sales force by automating the process of making cold calls.
This call center technology works by predicting which numbers are most likely to connect to a live person. It then routes calls from your inbound queue to agents who have been preselected based on their experience with similar customers or types of customers.
10. Computer telephony integration (CTI)
Computer telephony integration (CTI) integrates computer telephony systems with other applications and systems.
In a typical CTI environment, a customer calls a call center and is connected to a representative. The representative uses their computer to "intercept" the call and provide information or services to the customer. 
This way, CTI allows call center agents to provide more advanced customer service.
The main idea behind CTI is that all of the data about the customer's interaction with your company should be available in one place so that you can use it for other purposes.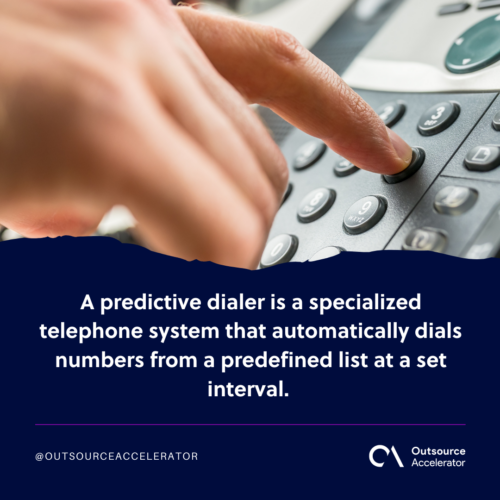 10 emerging call center technology trends 
Emerging call center technology trends are shaping customer service's future and transforming how call centers operate. 
Here are some key trends to expect:
1. Artificial intelligence
AI uses computer algorithms based on machine learning to recognize patterns in data and make predictions about future events. 
AI has been around for decades, but it's only recently that its capabilities have been harnessed to solve real-world problems like customer service needs.
As a call center technology, AI can automate certain processes, such as answering customer questions or automatically routing calls based on keywords.
But AI also offers opportunities for more complex tasks like automated customer conversations that are customized to their needs and preferences. With the help of AI, agents can have better insight into customer behavior, allowing them to offer more personalized service.
2. Omnichannel integration 
Omnichannel integration is one of the most important trends because it allows businesses to have a seamless customer experience across multiple channels. 
It's all about offering your customers an integrated experience, whether they're contacting you through email, phone, or chat.
With omnichannel integration, you can offer a single access point for all customer interactions — regardless of how they reach out to you. That means fewer touchpoints, which reduces costs and improves customer satisfaction.
3. Self-service channels 
Call center agents are no longer the only ones answering customer calls. Customers increasingly use self-service channels like chatbots, mobile apps, and websites to solve their problems.
Self-service channels include automated phone trees, web chat, and email. Customers can find answers to their questions or solve issues themselves without calling a customer service representative.
4. Cloud-based call center 
Cloud-based call center services enable companies to host their contact centers remotely rather than on-site. This allows them to scale as needed without investing in new hardware and software.
The cloud provides a more secure environment for customer data since it's not stored locally.
5. LMS systems
The next wave of call center technology trends will focus on learning, development, and training. 
In the coming years, we'll see learning management systems (LMS) integrated with other call center technologies to create a more holistic approach to employee training and development. 
Learning management systems are a great way to manage training and development but they can also help you improve your customer service.
LMS systems allow you to create courses for employees to access and complete independently. You can track when they have finished each course, which will help you plan your onboarding process more effectively.
6. Quality assurance technology
The quality assurance industry has existed for some time, but it's still a relatively new concept to call center technology. 
Over the last few years, organizations have seen an influx of new quality assurance solutions designed to help them monitor and improve their customer service operations.
Many of these new products are designed to capture more data than traditional monitoring solutions. They allow companies to make better decisions based on the information they collect. 
7. Demand for video calls
Video calls are becoming increasingly popular among companies looking to improve customer engagement and increase productivity. Unsurprisingly, they've become a major player in call center technology trends.
The trend will likely continue as more people adopt smartphones and tablets, which offer convenient video calls over Wi-Fi or cellular networks.
As a result, many call center technology providers are adding support for video calling into their products and services. Video chats can be used for various purposes, including connecting with customers who speak different languages or want to see a product before buying it. 
Video chats also allow agents to connect with remote workers more easily, which helps companies avoid paying for travel costs for employees who often work remotely.
8. Social media customer service 
With social media becoming increasingly integrated into our daily lives, there's no shortage of channels where people can contact companies. While email is still king, the rise of social media has given businesses more options than ever before.
More customers will turn to social media for answers about brands' products or services. Businesses need tools to help them keep up with the increasing demand across multiple channels.
9. Security and data privacy 
With the rise in cyber attacks, it is critical to have updated security solutions to meet the demands of the ever-evolving threat landscape.
Call centers have always been on the frontline of security and data privacy, as customers' personal information is often collected and stored during interactions with call center agents. 
Security software such as firewalls, anti-virus software, intrusion detection systems (IDS), and web application firewalls (WAFs) can be used at multiple points in your IT infrastructure chain. 
10. Real-time customer journey mapping 
Customer journey mapping helps identify customer pain points and opportunities for improvement by showing exactly how customers interact with your brand.
This means that employees can be better prepared to handle calls, while managers can track how well each agent performs with specific customers or groups of customers.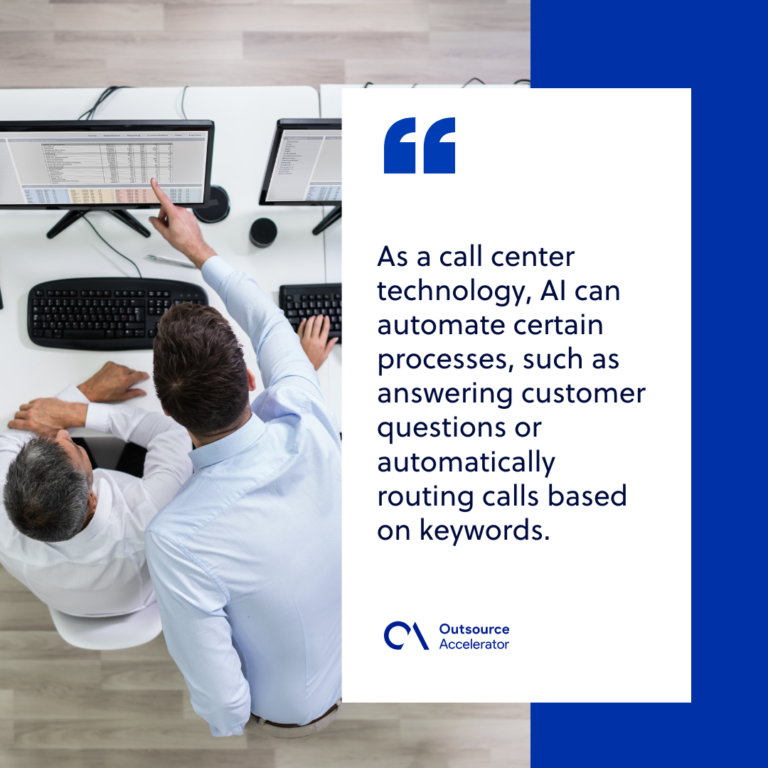 Benefits of call center technology
Call center technology offers many advantages that significantly enhance business operations and customer satisfaction. 
Improved customer experience

. With advanced call center systems, businesses can provide faster response times and efficiently handle customer inquiries. 

Enhanced agent productivity

. Through automating and streamlining processes, agents can handle more customer interactions. 

Data-driven insights

. Businesses can track customer interactions, preferences, and history. These data series allow for personalized interactions, as agents can access relevant customer information, improving the overall customer experience. 

Analytics and reporting.

These features provide valuable performance metrics and trends for optimized decision-making.

Cost savings

. Cloud-based call center solutions eliminate the need for extensive infrastructure investments, reducing upfront costs and maintenance expenses. 

Scalability

. Businesses can scale their operations based on demand. They can easily add or remove agents as needed, optimize resource allocation, and reduce unnecessary expenses.
By leveraging call center technology, businesses can improve customer service, gain a competitive edge, and drive overall success.