The seven benefits of CRM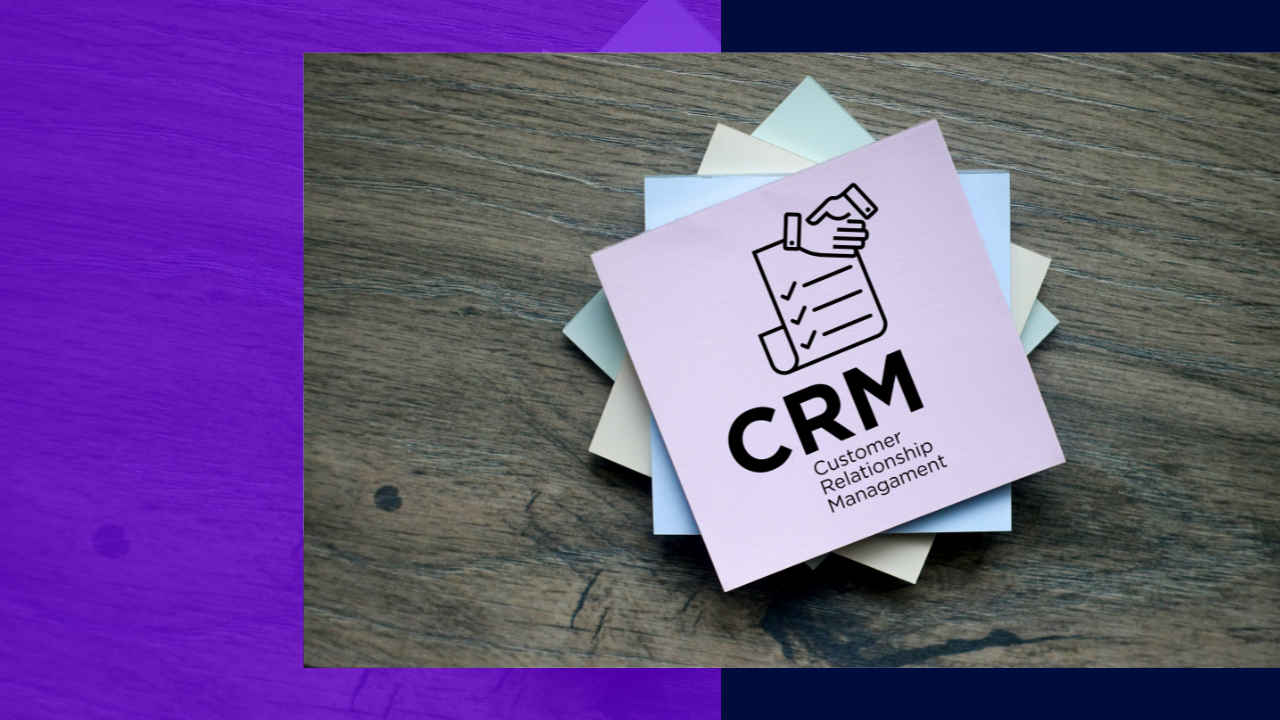 Businesses are sitting on gold mines of valuable data. Using this to their advantage is possible with the help of customer relationship management (CRM). This strategy is well known for its effect on measuring customer experience.
It is implemented by industry giants such as Apple and Amazon to forge better customer relationships.
No matter the size of your business or the industry you operate in, a CRM solution is an excellent tool for driving sales and marketing productivity. 
As you look to implement the right CRM solution for your business, there are different advantages to choosing this platform over other tools. 
Clearly understanding CRM benefits is essential in determining opportunities that await your business operations.
What is CRM?
Customer relationship management (CRM) is a system that helps you manage all the information related to your customers: their contact details, previous transactions, and feedback on your products. 
CRM can be a software program or a website used to input customer data and generate reports on their interactions with your business. 
CRM can help you boost sales, marketing, and customer service. When done right, it can have a positive effect on your business.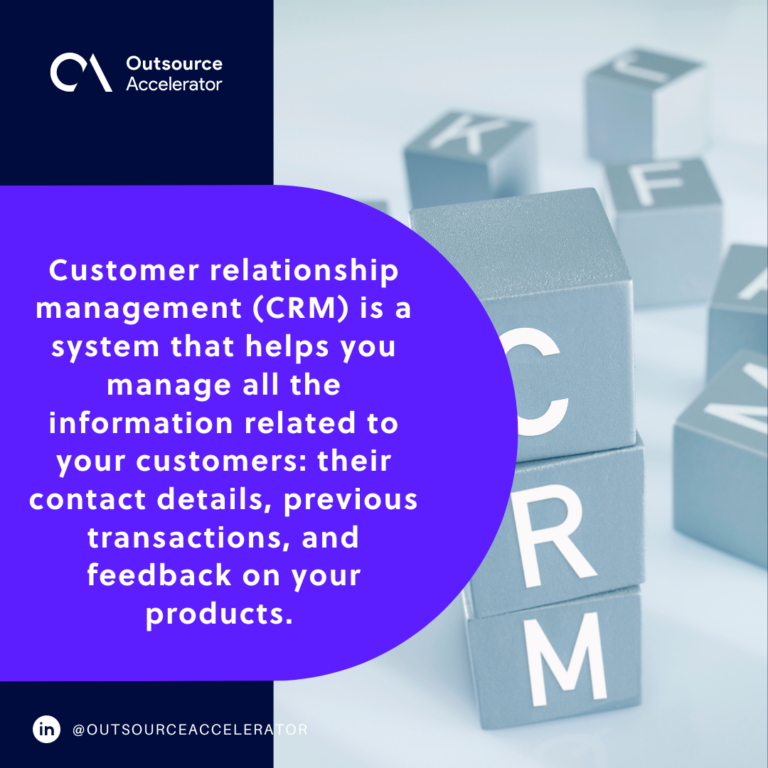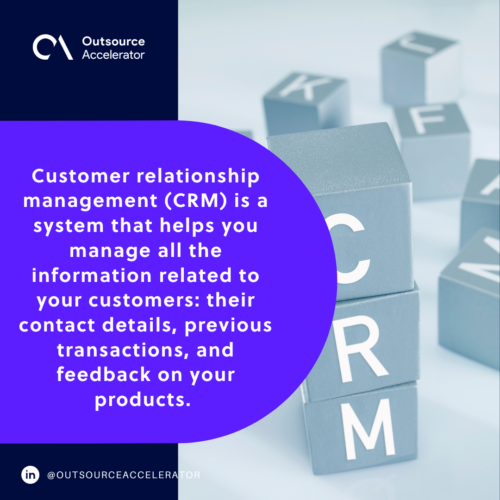 Three types of CRM
Every company wants to highlight its product or services and share the correct information with the right person at the right time. 
However, since the digital world is continuously growing and evolving at its own speed, keeping up with all these changes can take time and effort.
Using the right type of CRM is critical to ensuring you get the right assistance to help you meet business objectives. 
Operational CRM 
An operational CRM combines all your customer service, marketing, and sales processes into one place, effectively centralizing information on customers, leads, and employees. It leverages automation and data management to accomplish this.
Combining these into one platform helps streamline business operations and makes it easier to create personalized experiences for customers. 
Analytical CRM 
Analytical CRM is a customer relationship management strategy that uses data to improve customer experiences. It processes customer data into trends and actionable insights the organization can use to improve the customer experience. 
Data from an analytical CRM can range from customer preferences to forecasting. An analytical CRM enables agile customer-focused decision-making throughout the entire customer journey.
Collaborative CRM 
A collaborative CRM solution is designed for organizations that want to capture and share customer data, enabling all departments or teams to collaborate on the same knowledge base. 
Collaborative CRMs are optimized for strategic approaches to managing customer relationships and can support multiple functional areas within an organization. 
They are built on top of operational platforms but with a focus on customer service, not just marketing and sales. The result is a comprehensive system that helps deliver an exceptional customer experience at every touch point: online, over the phone, in person, etc.
Six CRM benefits
Centralizing data on customers offers a range of benefits to businesses.
Its value may vary by industry and department, as different teams and user types can benefit from features such as improved marketing analysis and automated lead generation. CRM is a versatile strategy that can help improve different facets of an operation.
Here are some of the key CRM benefits.
Comprehensive customer insight
Numbers themselves aren't enough to optimize your business. Context is also important.
CRM software offers built-in analytic capabilities to contextualize data. It breaks data down into actionable items and reports. It can help businesses make sense of the numbers that they are gathering from their customers. 
This can offer a deeper look into any emerging trends and areas for improvement. 
Improved customer retention
A good CRM strategy allows businesses to use a data-driven approach to delivering personalized content that can resonate with their audience and improve satisfaction. This can result in better conversion as well as more engaged customers.
When your customers are satisfied with the service they receive and feel that they're getting what they paid for, they will be loyal and likely become repeat customers in the future.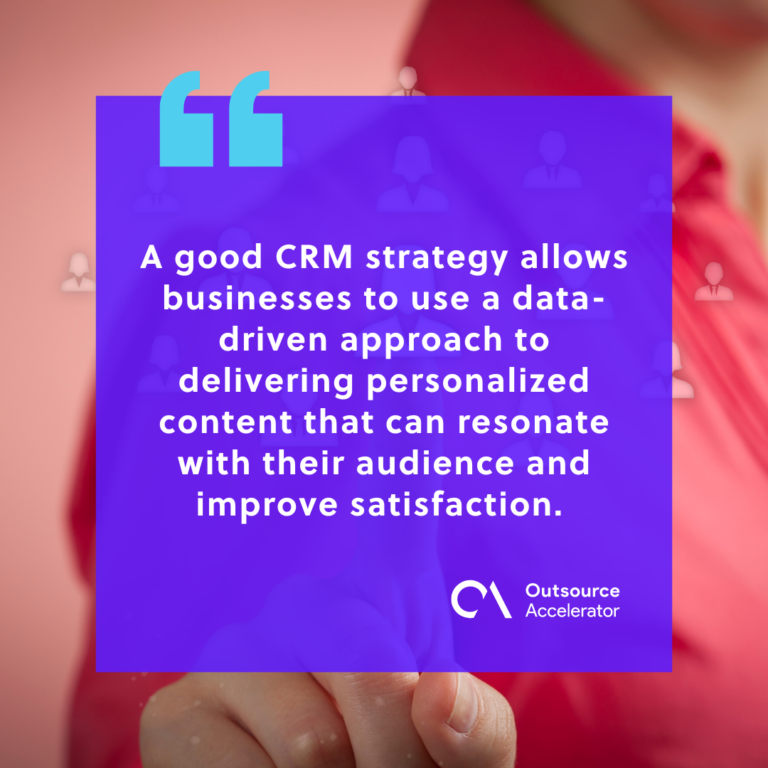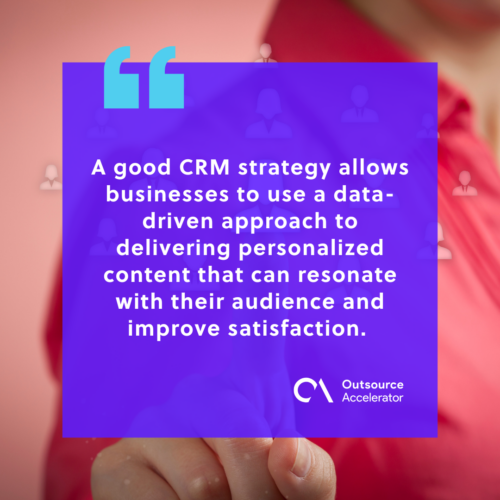 Faster response
Faster problem resolution is one of the biggest benefits of CRM. Because data is centralized, your team can respond faster to customer needs and issues. This means solutions are implemented quickly, and problems can be resolved before they become big problems. 
Ultimately, customers are happier because their needs are addressed promptly. They will keep coming back for more of your solutions and may even help you with word-of-mouth marketing.
Better segmentation
Segmentation knows who your customers are to help you deliver more meaningful and targeted offers. You can use demographic information to identify customer pain points and opportunities, allowing you to address them immediately. 
Customers must be sorted into different categories to create a targeted approach to do this. 
CRM systems offer value in your business strategy as they can help organize customers and seamlessly connect data from other systems to provide a complete customer profile. This will help you craft relevant messaging and convert more of these into loyal customers.
Better collaboration
Cross-team collaboration is a common friction point in daily operations. This is especially true for sales, customer service, and marketing departments. 
Collaborative CRMs can facilitate better communication between these teams. These systems can offer help in interaction and channel management with real-time information and customization to seamlessly fit your business setup. 
This can allow better information sharing, resulting in better data analysis and access.
Fewer errors
IBM found that the average per-record cost of a data breach increased by 10.3% in 2021 to $161, compared to $146 in 2020. Seemingly small errors can have a huge impact on the way you do business. 
CRM helps reduce manual data entry by allowing you to capture leads in multiple ways. You can collect your leads' information through emails or web forms. 
You can also import leads from other systems and platforms so that they can go straight into your CRM database. Additionally, it can help minimize human errors that are notoriously hard to prevent.
Greater efficiency
A CRM helps your team stay organized and on top of business. It can automate processes like contact organization and communication, making it simpler for everyone to stay in touch, coordinate efforts, and organize projects. 
The menial tasks that a CRM covers can allow you and your team to fear your focus on your core competencies and do what you do best. One of the greatest CRM benefits is being able to free up time while helping overwhelmed departments within your organization.
Best CRM tools to check out
Selecting a customer relationship management system can help your business personalize interactions with each customer and increase customer loyalty. 
Below are the top platforms available today. They are known for their market-leading features and integrations that meet the needs of different businesses across industries. Bring CRM benefits to your business by learning more about these platforms. 
HubSpot is an integrated customer relationship management software that helps companies to make more sales and leads by growing their brands and reaching more customers.
Salesforce is a cloud-based software that features customer relationship management and applications focused on sales, customer service, marketing automation, analytics, and application development.
It is used by industry leaders such as AT&T, Coca-Cola, Cisco Systems, and Netflix.
Zoho is a web-based business tool that offers custom solutions and dedicated programs. Over 250,000 global businesses trust its services.
Zoho is one of the most used SaaS (Software as a Service) based productivity suites available today.
EngageBay is an all-in-one low-budget customer relationship management (CRM) platform that helps businesses manage their customer interactions, marketing campaigns, and sales activities in one place.
It offers features such as lead capture, contact management, deal tracking, email marketing, and reporting. EngageBay's drag-and-drop email builder and comprehensive reporting capabilities make it a popular choice for small and medium-sized businesses across industries.
The platform also integrates with eCommerce platforms like Shopify and BigCommerce for marketing automation.
QuickBase is a software company providing custom, low-code application development platforms.
Its adaptive design allows businesses to integrate the platform seamlessly to align with objectives and meet requirements. This also adds to the scalability of the platform.
Sage CRM provides complete customer relationship management systems designed to meet all business needs. The platform helps increase productivity with features such as quote creation, reporting, and more.
Bitrix24 is a free, all-in-one business platform to manage your team and run sales. It allows you to seamlessly connect your business processes using the exact tools you need. For CRM, the platform offers sales intelligence, quotes and invoices, online payments, and other features. 
Companies can take advantage of its suite of collaboration, communication, and management tools. 
Insightly is a leading cloud-based CRM that helps businesses build customer relationships and automate business processes. Its integration options include tools for DevOps, support, sales, marketing, and HR.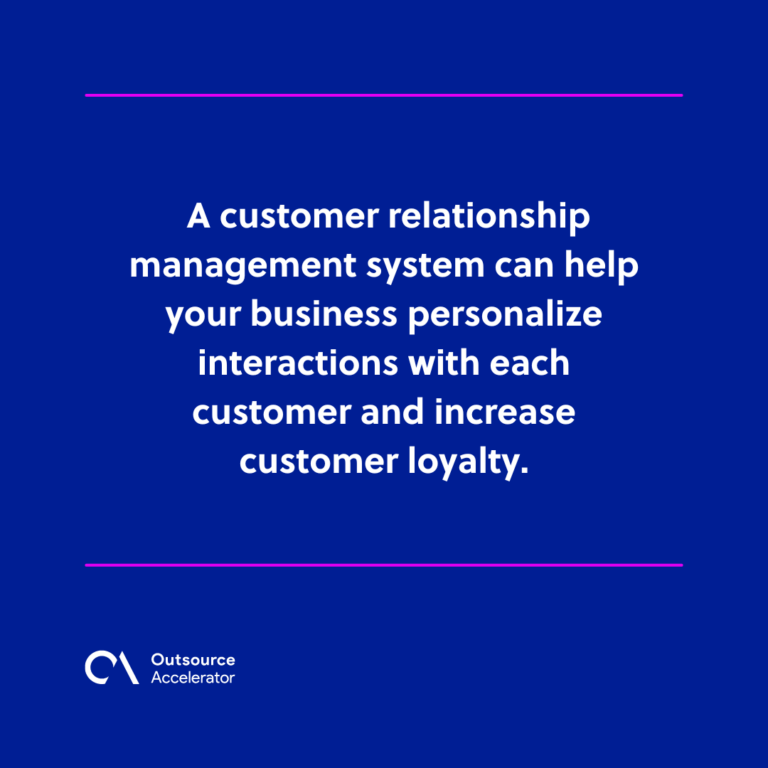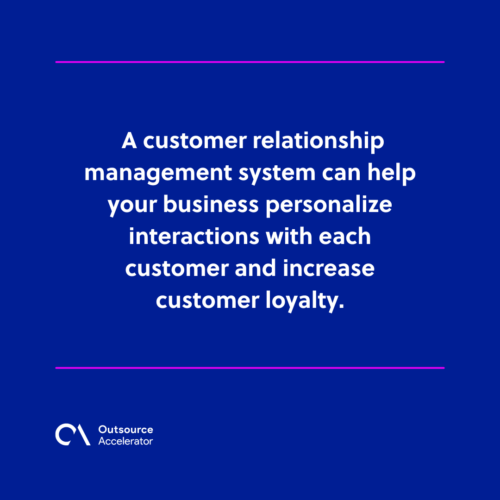 Hitting business objectives with CRM
Creating a CRM strategy for your business can help you through processes such as upselling, cross-selling, and relationship nurturing. It can also help businesses overcome challenges such as laborious manual data entry. 
There is no denying CRM benefits and their role as an essential part of business success. The seven highlighted benefits of this strategy are just the beginning of what it can offer your business.
With the right assistance and direction, it can help your company be more efficient and profitable, ultimately leading to better customer relationships.