Optimize your web reach with a social media assistant
All businesses must include social media in their strategy. It lets you communicate with current and future clients and spread knowledge about your goods and services.
However, social media management can be laborious and distract you from other aspects of your organization.
It might be time to hire a social media assistant if you're finding it difficult to keep up with the never-ending flood of posts and interactions on social media.
Wing Assistant can help you employ a skilled and well-experienced social media assistant who can boost your web reach and take on all your social media activities efficiently.
Advantages of having a social media assistant
The biggest advantage of hiring a social media assistant is that you can delegate all the work related to your social media accounts to them so you can focus on other tasks. 
Social media assistants (especially those outsourced by a firm) usually have specific experience with the platforms you're using. They're experts who know what works to help you optimize your channels and get more reach. 
Staying on top of all the changes that social media goes through is hard. You'll need someone who understands them well enough to know when something needs changing to get the most out of your campaign. 
If you're too focused on managing content, a social media assistant can handle all the other tasks around you.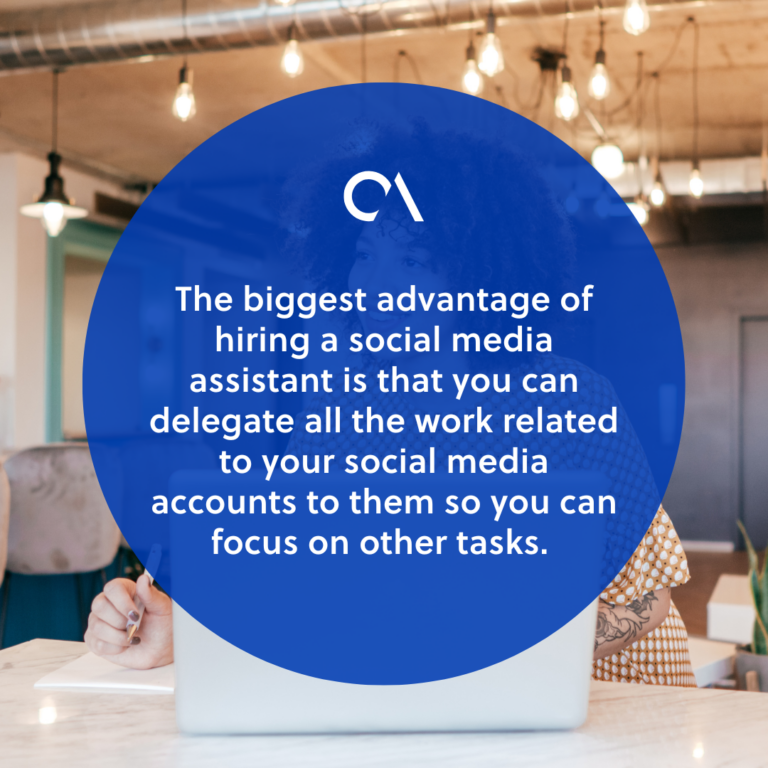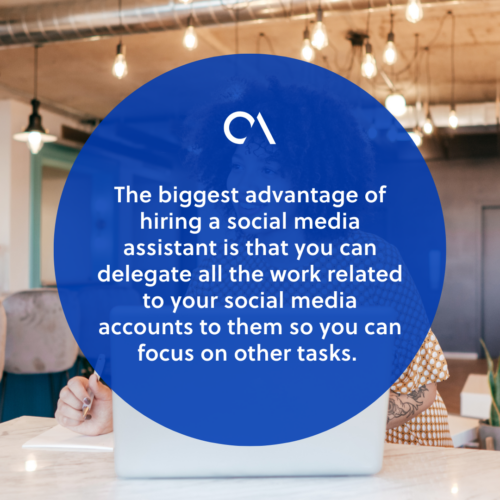 7 primary tasks of a social media assistant
A social media assistant generally acts as an aid to the social media manager. Here are the most common tasks assigned to a social media assistant.
1. Identify and interact with the target audience 
Every business must know its target audience. This group will help determine how the company formulates its marketing strategy. 
Social media assistants can help businesses identify their target audience through research and analysis. They then select the proper channels for this group to access information. 
Social media assistants also look at data to see how well their targeted posts resonate with the audience. New strategies can be developed by studying this data.
Additionally, the responsibility of interacting with users on the platforms usually falls to social media assistants. 
2. Develop a social media strategy
Social media assistants help develop a social media strategy. They figure out what goals to achieve and how to create content to reach them. 
This is also where the experience of social media assistants comes in handy. Not all social media websites work the same or have the same audience. 
The social media assistant helps plan different types of content for each platform to reach different people. 
3. Create a content calendar
A content calendar schedules what types of content are released throughout the year. It outlines how many posts are needed per week for each account and can be used when planning work with clients. 
Social media assistants help create these schedules and carry them out accordingly. 
4. Conduct content research
Social media assistants find out what people say about the brand online. This information will inspire what kind of content to make or outsource. 
Social media assistants also research topics relevant to their company's industry or products to create higher-quality content.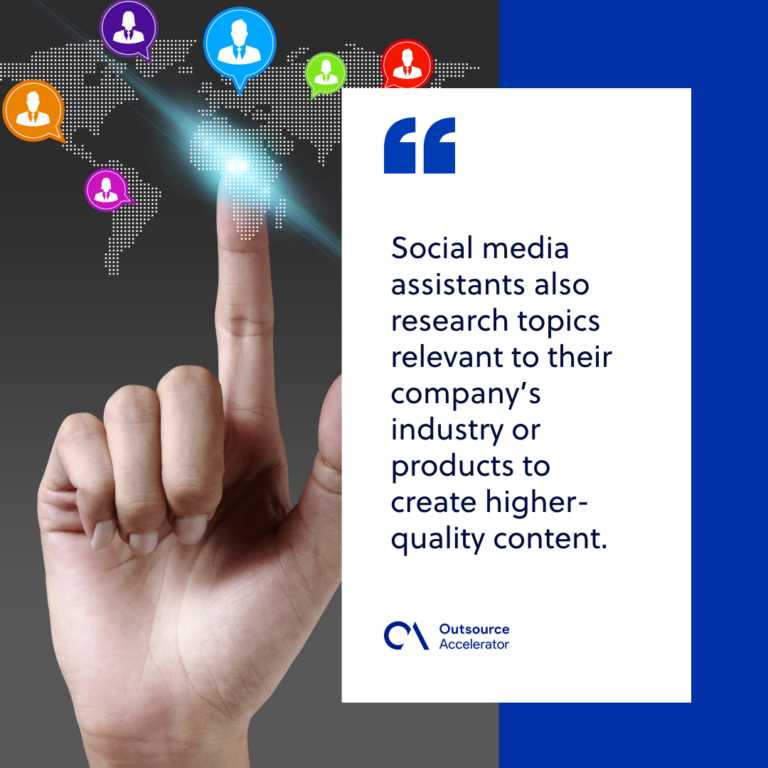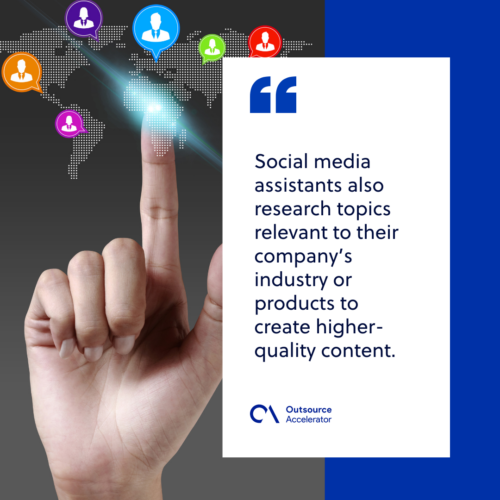 5. Curate social media accounts
Social media assistants are expected to maintain existing accounts and create new ones based on client needs. This includes updating posts to match current trends and newsworthy information. 
Curating accounts also means monitoring whether it's shared or engaged with. 
6. Generate reports
Social media assistants create reports to track progress. They assist the social media manager to compile information about a campaign's success or failure and make adjustments as needed. 
7. Grow your social media presence
All of the tasks mentioned above come together to grow your social media presence. Social media assistants excel in increasing their employer's online visibility by creating meaningful posts and engaging content. 
Grow your brand with a social media assistant from Wing Assistant
Wing Assistant can help you find dedicated social media assistants to grow your brand. Your new team members will be skilled in profile or page optimization, creating purposeful campaigns, and engaging with the community. 
You can assign various tasks to your social media assistant, and Wing Assistant candidates always bring expertise well-suited to each client's requirements.
Get in touch with Wing Assistant today for a quote.