A quick overview of a cloud call center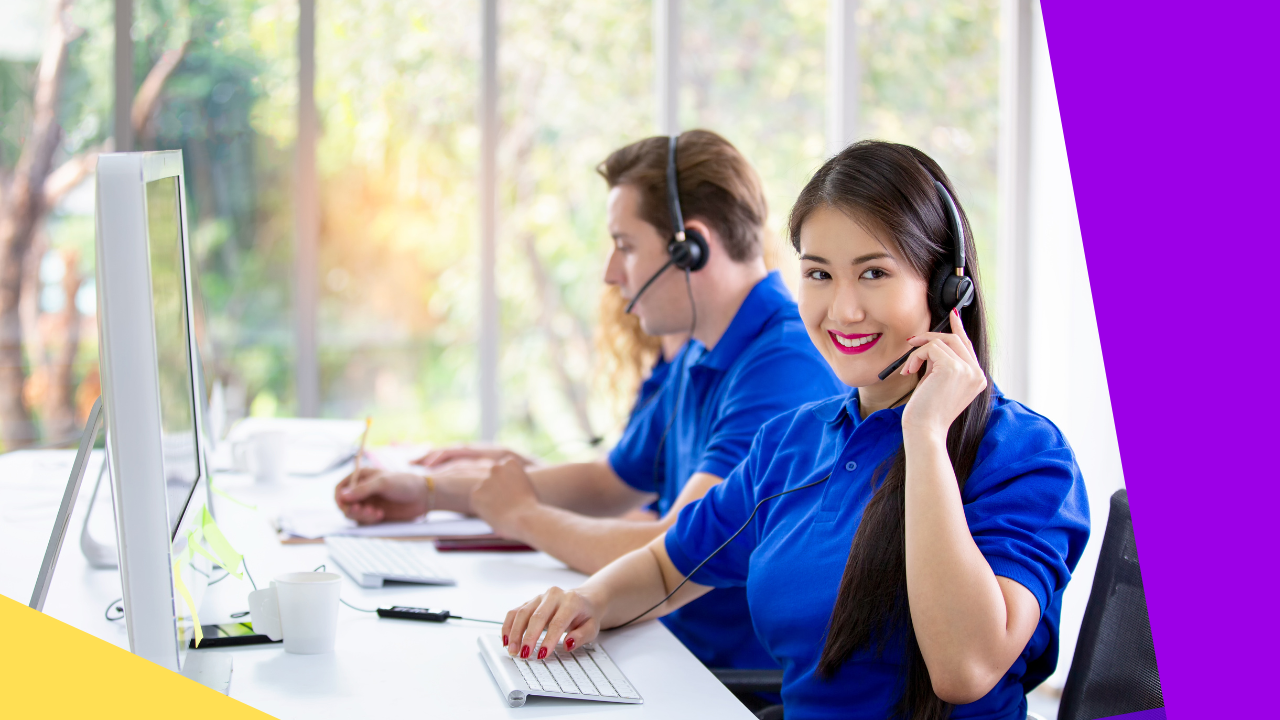 Customer service is about creating a relationship that involves trust and builds loyalty. If you're looking to improve this aspect of your business, you'll want to consider the services of a cloud call center. 
Clutch's 2019 survey revealed that 88% of people still prefer phone support to contact customer service. The service of an excellent virtual assistant puts customers at ease, and a cloud call center improves this. 
Small and medium-sized businesses can outsource cloud call center solutions to reliable telecommunications providers like GetCallers. 
What is a cloud call center? 
A cloud call center is a call center platform that is hosted on the cloud. Instead of buying and maintaining your equipment, you can use a third party's hardware and software to host your systems. 
The cloud call center works on the premise that all businesses require the same basic features and functions for their call centers. These include sending and receiving calls, recording chats, routing, and scheduling. 
The flexibility of cloud technology allows companies to customize these features according to their specific requirements. 
Cloud call centers benefit companies that want to grow quickly but can't invest in an internal staff of virtual assistants. Think of cloud call centers as "virtual extensions" to your operations.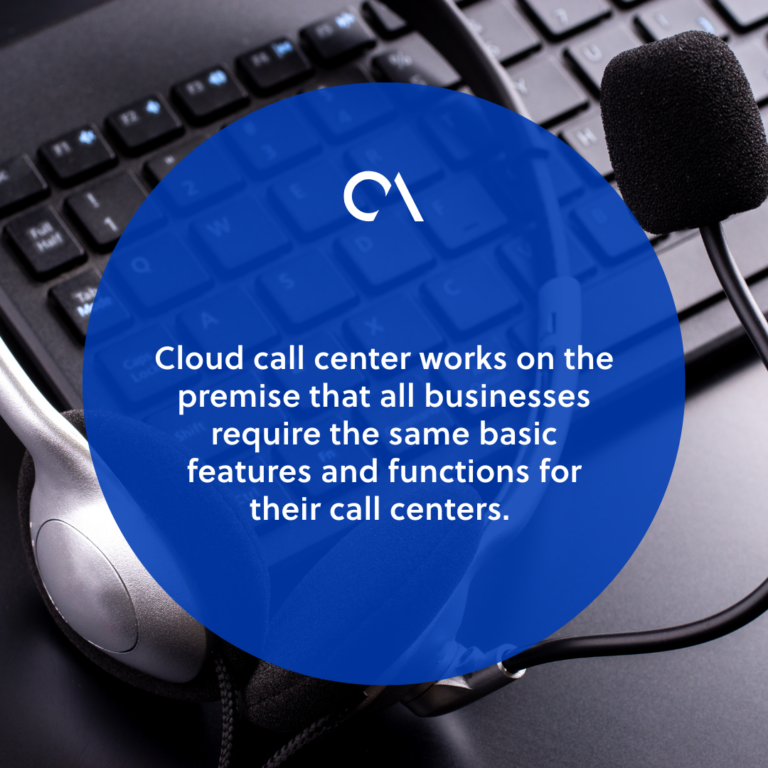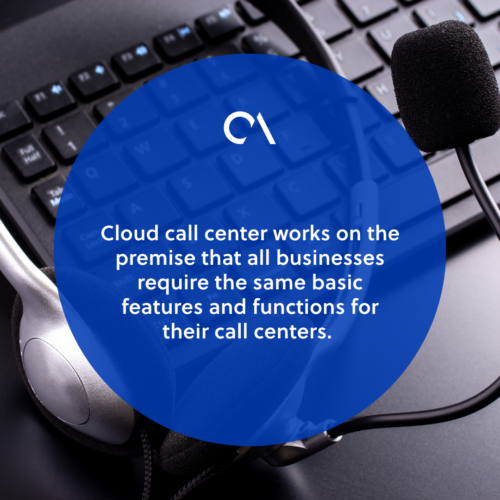 Features of a cloud call center 
Cloud call centers generally contain these main features: 
Real-time agents 
Agents of cloud call centers essentially work as virtual receptionists.
In traditional call centers, a virtual assistant must wait till they're available before taking calls. With busy agents, customers wait in a queue for their turn, leading to frustration. 
Cloud call centers use real-time agents to handle calls right away. Customers can speak with someone immediately if one virtual assistant is busy with another call. 
Call routing
Call routing is the ability to redirect calls based on specific criteria. The most common use is to route incoming calls to the appropriate agent based on skill set or location. 
Cloud call center software offers different types of call routing options. Some systems let virtual assistants pick up calls, while others use automated messaging or interactive voice response (IVR). 
Cloud call centers utilize call routing to reduce wait times and improve customer satisfaction. This ensures customers get the best possible experience when they contact your company.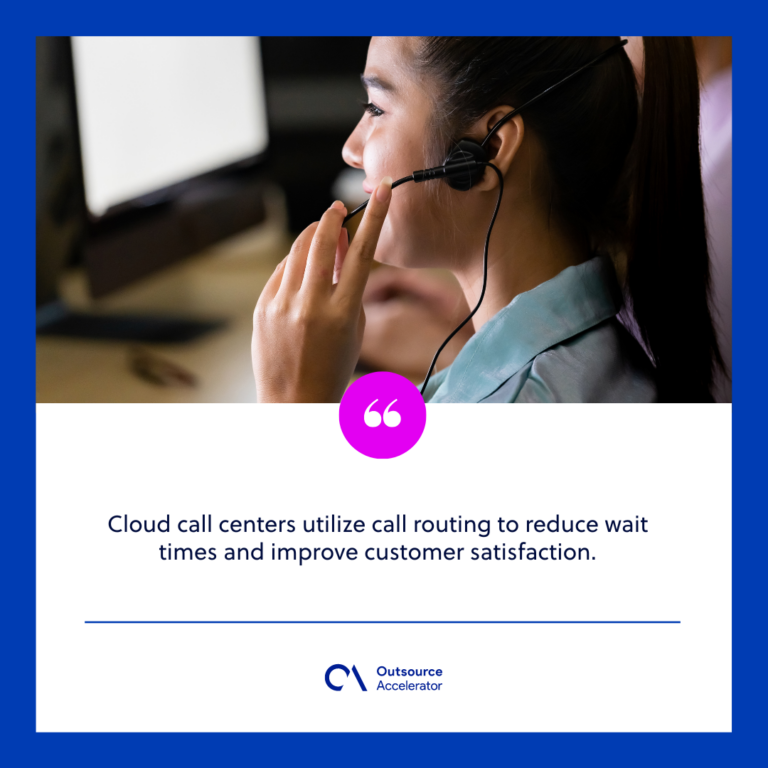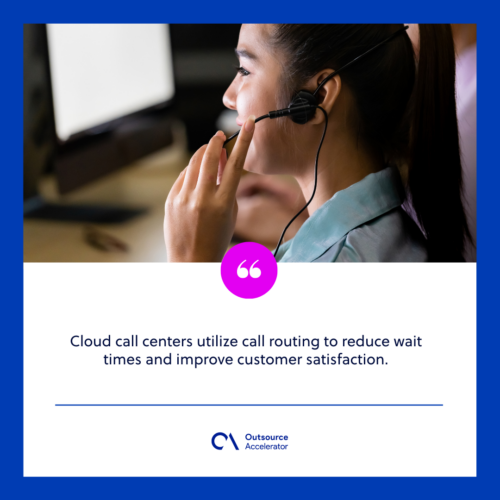 Professional analytics 
Many cloud call centers provide professional analytics and reporting to help you identify trends and improve efficiency. This data can be used to create better customer experiences in the future. 
Analytics can tell you where your customers are located, what languages they speak, how old they are, and what devices they use. You can tailor your offers and marketing according to this information. 
This data from a cloud call center can also help virtual assistants identify potential customers before they become clients. 
Software integrations
Cloud call center software allows integration with companies' existing software to improve productivity and customer experience. 
These integrations let you access all your data from one platform, which helps improve productivity. A customer relationship management (CRM) platform is usually subject to this process.  
Omnichannel services
A cloud call center solution should provide omnichannel services so customers can reach your company through any channel they prefer. These include voice, text, chat, email, social media, and self-service channels. 
Omnichannel services are convenient because they can be accessed through multiple devices. This allows a virtual assistant to respond to customer requests anytime and anywhere, regardless of which channel is preferred. 
Main benefits of a cloud call center 
A cloud call center offers a range of advantages that help businesses grow. Listed below are a few notable ones:
Scalability and flexibility
Traditional call centers limit the number of agents available at any given time due to restrictions on how many employees can work in a particular office or due to limited resources. The virtual technology of a cloud call center does not have this issue. 
One of the primary benefits of a cloud call center is that it can be scaled up or down depending on the activity level. 
When there is a surge in customer demand, you can scale up by adding more virtual assistants to handle the calls. Conversely, you can scale down when there is a lull in activity. 
This makes it easier to manage costs and reduce unnecessary expenses.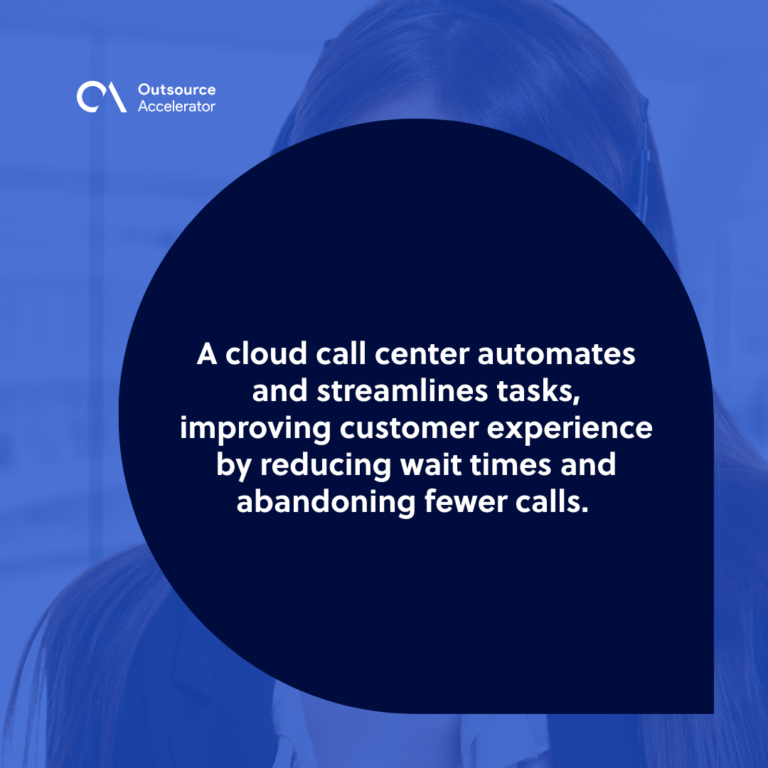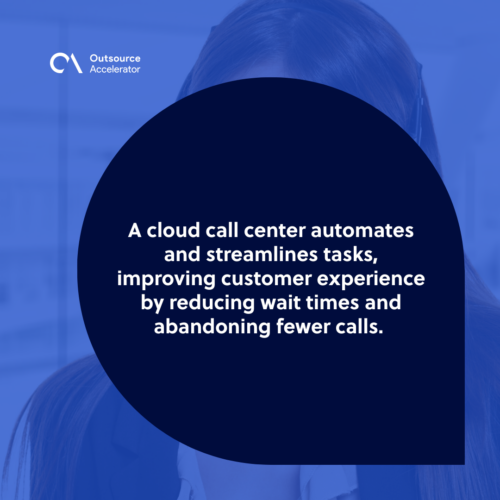 Reduced costs
A cloud call center is more affordable than an on-premise solution. The latter requires an initial investment in hardware, software, and personnel before generating revenue. 
A cloud call center can be up and running in minutes with no upfront costs. Additionally, maintenance costs are lower with reduced hardware requirements than traditional systems. 
Improved customer experience
A cloud call center automates and streamlines tasks, improving customer experience by reducing wait times and abandoning fewer calls. 
24/7 support is also a benefit of a cloud call center. A virtual assistant can deliver faster responses to customers even during traditionally off-hours and on weekends. 
Live agents also project a friendlier image, as opposed to pre-recorded messages. This is especially helpful for businesses with clients around the world. 
GetCallers as your cloud call center partner 
GetCallers provides business outsourcing across various industries for global and national organizations. Make use of their skilled virtual assistants and agents to grow your business. 
As a pioneer in the cloud call center industry, GetCallers always has someone on the line for you. Contact them today and grow your business through their featured services!