The flexibility of offshore staffing solutions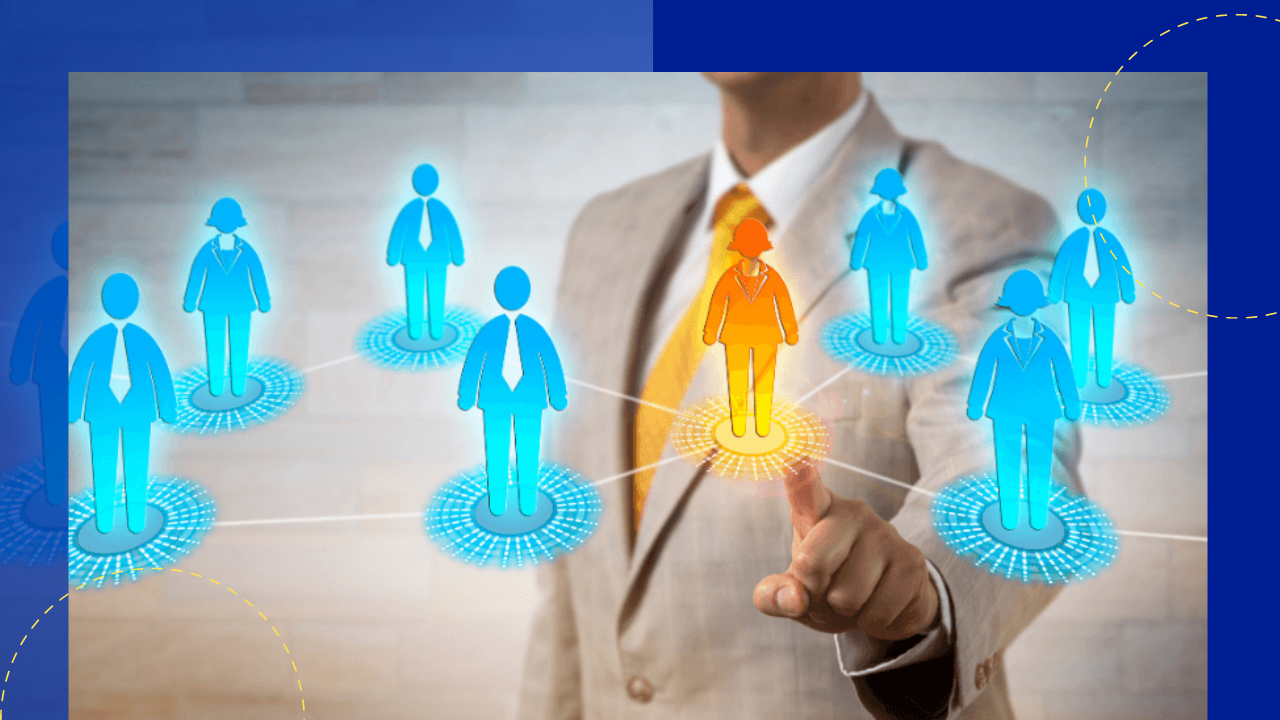 It can be pretty stressful to manage and run a growing business, while at the same time looking for quality talent to add into your workforce. Some companies would usually spend more on their recruitment, but later on realize they do not get decent results in return. With offshore staffing, organizations are given the opportunity to jack up their manpower while saving up on their overall costs. 
As a business owner, you are well aware that keeping up with the relentless competition in the market industry is a major challenge. This is most especially if you own a startup or a Small to Medium Sized (SME) company. While outsourcing has always been a common practice, other organizations have yet to discover the wonders of offshoring. 
Over the recent years, there has been a growing demand for offshore staff leasing specifically in the Philippines. Having said that, what can offshore staffing really offer your business? Why should foreign companies consider hiring an offshore staff in the country? 
Fundamentals of offshore staffing 
Before we dig deeper into the topic at hand, let us do a quick overview about the offshoring practice and how it is different from outsourcing. 
What is offshoring?
Both offshoring and outsourcing may have comparable characteristics, however, they have their own distinct differences. 
Outsourcing is when you contract work out to an external company within your geographical location. Offshoring on the other hand is when you get work done to a third party that is located in a different country. A lot of organizations mainly offshore to leverage its cost advantages and having the availability of acquiring a skilled talent pool. 
What is offshore staffing?
Offshore staffing refers to the practice of obtaining staffing solutions overseas. This process is also known as staff leasing or employee leasing. Your chosen offshoring company will be the one in charge of your recruitment process, as well as in onboarding, setting up and performing your actual operations remotely. 
Businesses from various industries can take full advantage of the favorable outcomes of offshore staff leasing. In fact, it can lower down each organization's overall operational costs by up to 70%. 
Offshore staffing serves as a good alternative in having to set up a larger infrastructure and in adding up additional resources to your growing business. Another good thing about this practice is that you remain in control of your remote staff despite the geographical differences.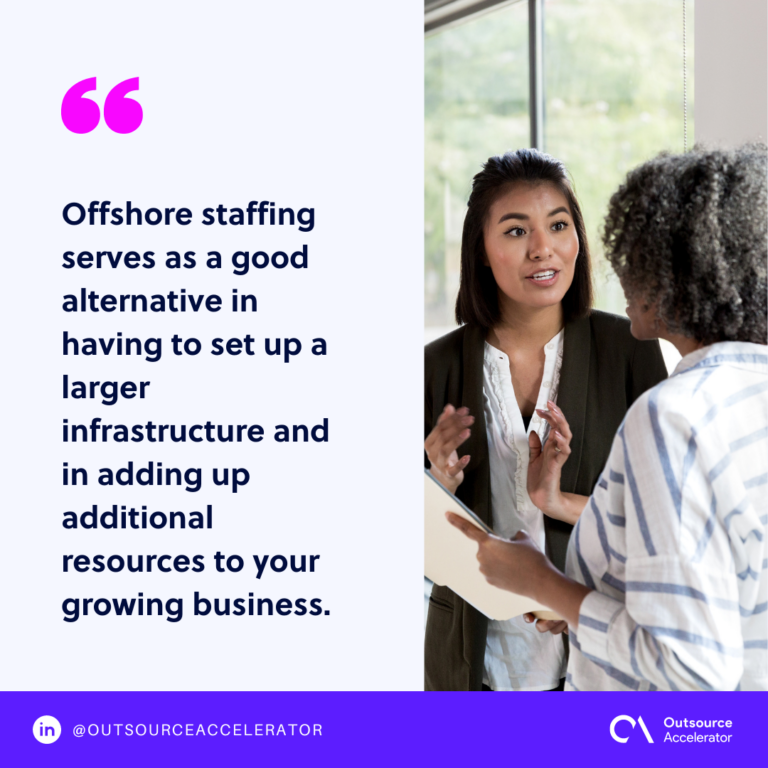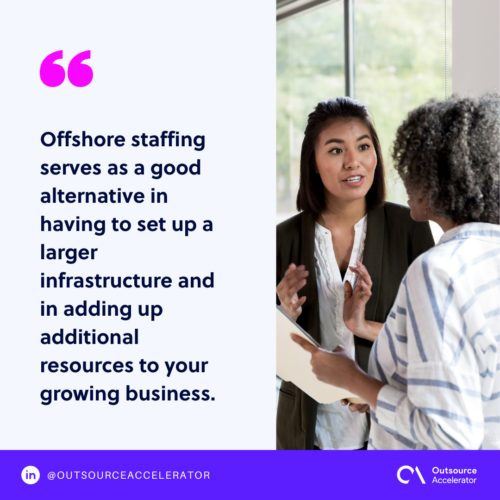 Offshore staffing companies offer professional staffing solutions for small to medium sized and even large corporate companies. As for the services, you have the option to offshore a portion of your daily functions or your entire department to your offshore staffing provider. 
Aside from the recruitment process, part of your offshore staffing partner's package is to also take care of your back end requirements. This includes your remote staffs' payroll, contracts, and human resources. 
Flexibility and other key advantages of offshore staffing solutions
Offshore staffing is not all about allowing you to save more on your costs. Your offshoring partner will help you obtain the perfect candidate to handle your tasks based on your type of requirements. Even so, offshore staffing grants your business with the following key advantages: 
Access to a wider talent pool
Offshore staffing companies can offer your business a much better availability of skilled and professional talents. Apart from that, you are also given the opportunity to work with global professionals. These people usually have diverse experiences from working for various clients in different industries. 
Flexibility
Scaling your workforce as your business grows is also made easier with offshore staffing. More so, if you have short term projects that require additional manpower, you won't have to worry about hiring and ending your staff's contract once the project is done. 
Boost your sales opportunities
Since offshoring enables you to significantly reduce costs, you are free to allocate more funds in expanding your services and offerings. More so, offshoring alone helps you to have a better Return Of Investment (ROI). 
Better core focus
Organizations usually offshore their non-core functions, this allows them to concentrate more on their core business functions. Offshoring also frees more of your time so you can focus on important aspects of growing and developing your business.  
Offshoring staff leasing in general is a great way of improving your organization's efficiency and productivity. On top of that, it also enables you to expand your daily business operations. Working with an offshore company with a different time zone gives you the advantage of running your business over extended periods of time.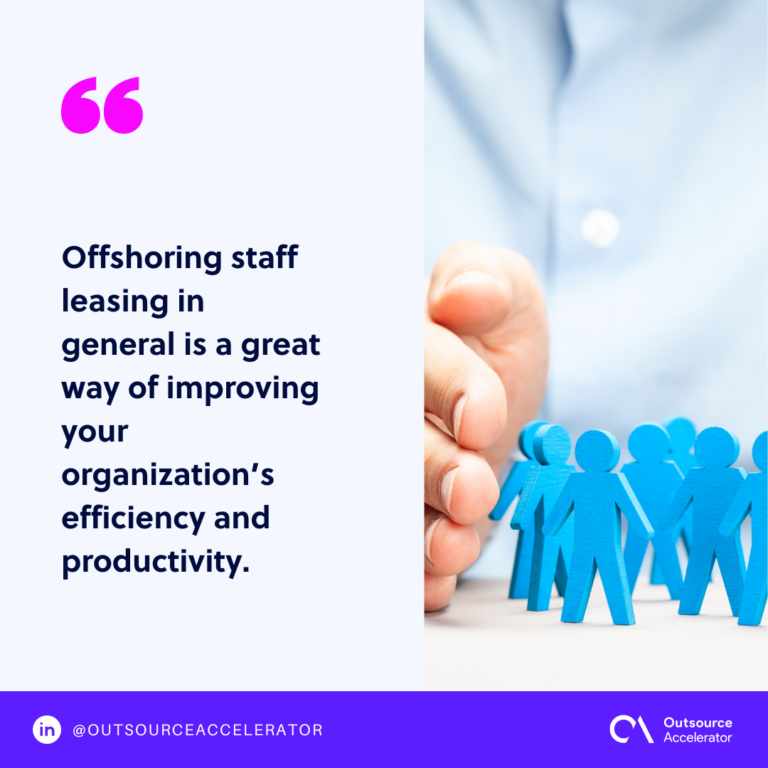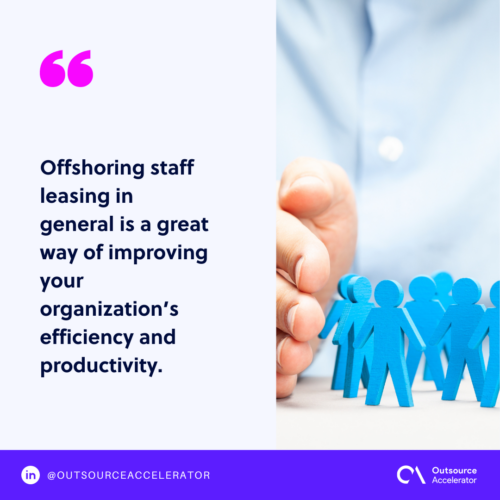 Offshore staffing in the Philippines
In 2009, the Philippines won the best offshoring destination in the UK, and since then the country has always lived up to it. At present, there are tons of offshoring companies that can cater to numerous services across different industry sectors. 
Penbrothers is one of the leading offshore staffing solutions providers in the Philippines that is located in Makati, Metro Manila. They help startups and small to medium sized companies in scaling their workforce with the best Filipino talents. Penbrothers takes care of all your staffing requirements from recruitment to onboarding. They also take charge of your remote staffs' payroll as well as their office space and other needed resources. 
And speaking of Filipino talents, it is mainly one of the reasons why foreign companies choose to relocate portions of their daily operations in the country. Filipinos are known to have a good reputation around the world due to their admirable values and character. Most especially, Filipinos are well educated and hardworking individuals. 
The Philippines is also considered as one of the countries with the most English speakers in the world. In addition to that, Filipinos also have neutral accents, making it easier for them to adapt to different accents. This unique characteristic is what drew a lot of foreign companies to offshore their call center to the Philippines.