20 call center software that will revolutionize BPO in 2024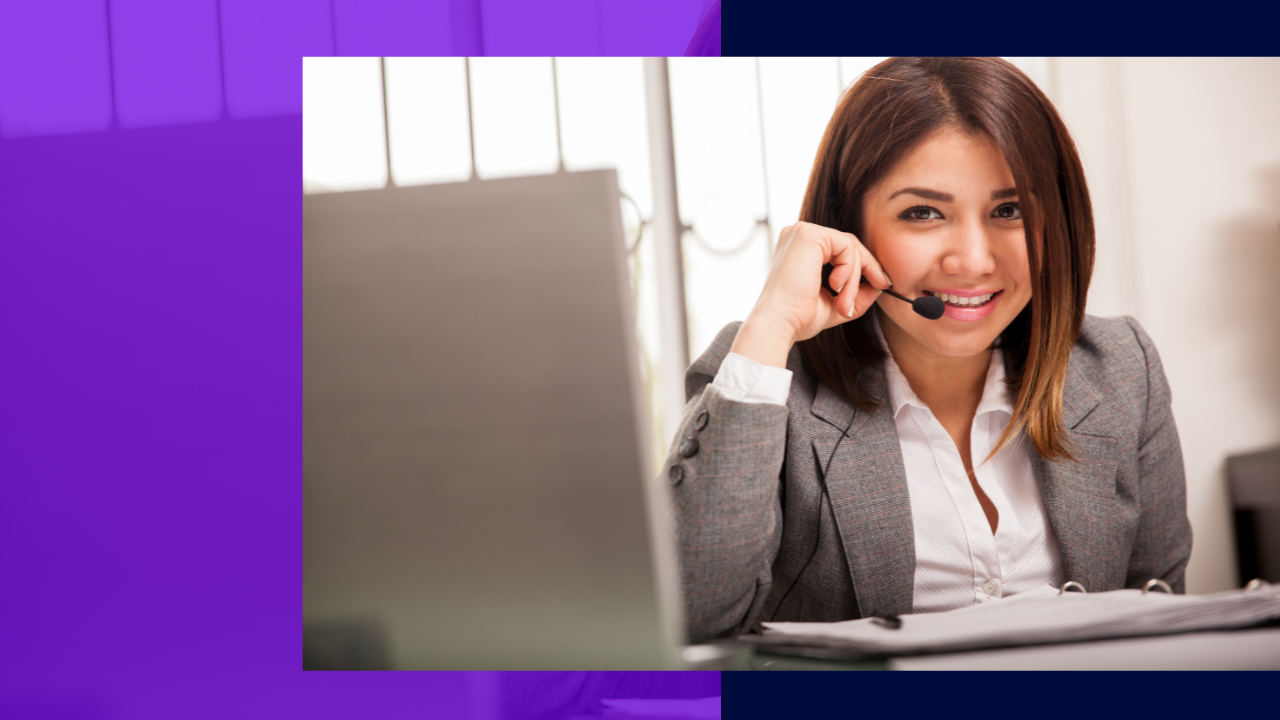 20 call center software in 2024
Many call center software are starting to get recognized today. That's undoubtedly a huge opportunity, but there are also many considerations to make.
When a BPO company has achieved considerable growth, it also gains a lot of customer complaints to resolve. Sometimes, manual human work isn't enough to cater to all client concerns. 
You need extra help to streamline your customer support.
Call center software and its importance
A call center software is vital to business process outsourcing (BPO) companies' operations. It provides various tools and solutions to help manage customer service and support operations.
It enables customer service representatives (CSRs) to handle incoming calls and resolve customer issues effectively. The software also allows CSRs to keep track of customer inquiries and complaints, enabling them to provide more personalized service.
Most call center software are AI-powered that can prioritize customer inquiries, enabling CSRs to respond to the most critical issues first.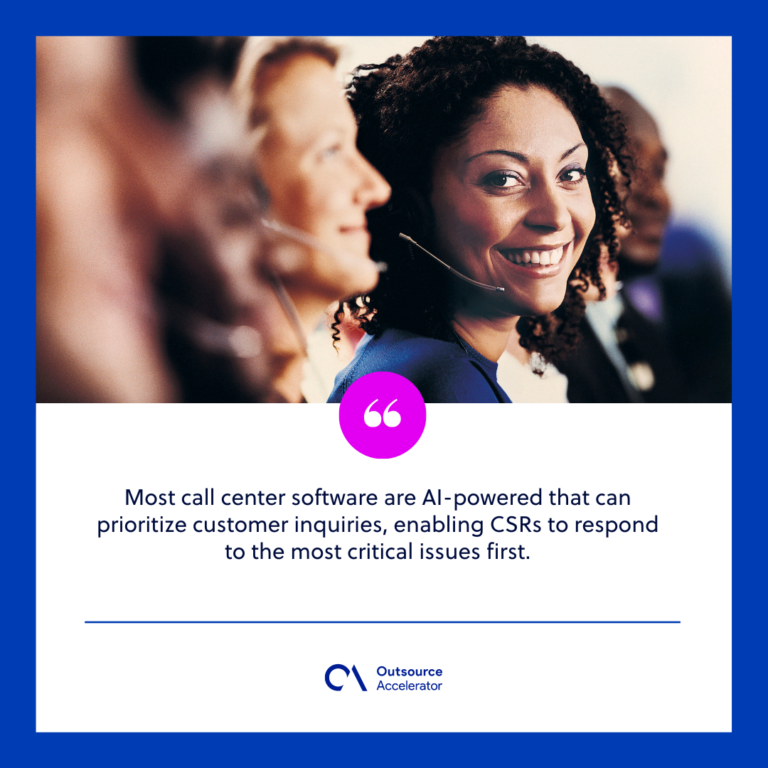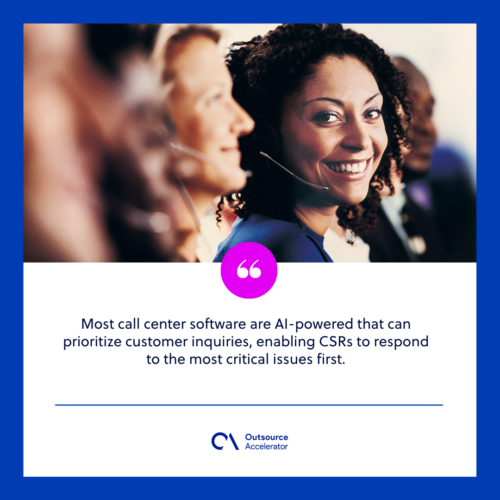 Call center software offers a range of features and functions to improve customer service. Two of its remarkable features are:
Automatic responses

– automatically answer frequently asked questions (FAQs), reducing the time spent on each call.

Generate valuable reports and analytics

– monitor operations in real-time to help managers improve

customer service standards

.
Overall, call center software helps streamline operations and enhances the customer experience.
20 call center software that will revolutionize BPO
While an all-in-one solution seems impressive, it might be expensive. You must consider the features offered and how they may assist you in your area of expertise.
In no particular order, here are the 20 call center software that will revolutionize BPO this 2024:
Atos Unify is one of the in-demand call center software, offering two primary options:
Cloud center on-demand

– this is particularly advantageous for businesses with considerable demands.

On-premises

– Atos' on-premises solution is available in two variations: Agile and Enterprise.
Agile is intended for a single location with up to one hundred concurrent agents.
In contrast, an Enterprise may be deployed on single or several sites and supports up to 1500 concurrent agents per machine and 7500 per cluster. 
Interactive voice response (IVR)

Chatbot connections

Speech platforms
Avaya displays centralized client data that facilitates individualized interactions with recurring calls. 
This call center software offers a unique advantage for the BPO secto as it allows businesses to maintain a contact center while integrating new cloud features, such as:
Digital channels

Artificial intelligence

Workflow automation
RingCentral MVP is an effective contact center software because it equips operators with artificial intelligence (AI) technologies. It helps improve client interactions as agents handle customer issues.
This call center software employs artificial intelligence to improve the following:
Self-service

Smart routing

AI agent support

Knowledge management

Proactive outreach

Insight & analytics



Its features include intelligent routing for a superior customer experience and an integrated RingCentral help desk with a single, consistent interface for all interactions.
CloudTalk is also a call center software with many customizable features, making it ideal for enterprises seeking a highly configurable call center solution.
One of its capabilities is constructing custom call queues using automated call distribution (ACD) to route calls to agents based on specified rules.
Other configurable options include customized voicemails and greetings, which prevent your firm from sounding generic and create a consistent brand experience.
Further, CloudTalk's key features are: 
Click-to-call

Real-time client information

Predictive dialers
Vonage is a call center software with a cloud-based solution. It provides a complete connection with Salesforce and other CRM platforms. These features are incorporated via their app gallery. 
Besides omnichannel help and chatbot support, Vonage also offers the following:
Admin interface

– managers may examine recordings and configure calling limitations and personalized dashboards.

Mobile app monitoring

–

enables supervisors to oversee workflow from anywhere, including smartphones and tablets.
Other essential functions include call screening, dynamic call routing, and automatic dialing. This call center software is more geared toward small businesses than huge corporations.
Before Zendesk Talk became a cloud-based call center software, it was once an interface with customer relationship management (CRM). Like other call center software, it has IVR, real-time monitoring, and call routing.
Zendesk Talk can retrieve information from previous callers. As such, client contacts are pre-saved, so it's not difficult for representatives to give a personalized service to recurring callers.
inContact is a multichannel call center software. It can combine workforce management with eLearning for new employee training purposes. It also has workforce management tools that assign agents depending on their area of expertise.
Its CRM feature has a strong connection with significant apps, and it supports inbound and outbound campaigns. 
Channels enables you to manage customer service through a desktop application containing a click-to-call browser extension. This allows you to streamline your outbound advertising strategy.
It also provides inbound solutions such as interactive voice response (IVR), call recording, and reporting. However, this call center software is intended as a sales-calling tool and is best suited for outbound-focused teams.
Hubspot is commonly considered a CRM solution instead of a call center software. It features several functions that make it an excellent all-in-one contact center solution.
This is ideally suited for sales teams. It has click-to-call features and the ability to leverage CRM data to prioritize calls and build up a daily call queue. It also supports email scheduling and live chat.
Moreover, its ServiceHub has a help desk with automation that allows you to convert inquiries into tickets. The availability of free tools makes them worth trying if you require a sales or service-specific solution.
Talkdesk is a call center software dedicated to enterprise-level businesses. It features an intuitive user interface that supports Salesforce routing.
This is an excellent and straightforward tool for gaining insights into agent efficiency and customer satisfaction. It also has a robust outbound predictive dialer and provides many techniques for creating call prospect lists.
Talkdesk has a 'clicks not code' philosophy that is advantageous for customer service teams with less technical knowledge that wish to leverage AI's benefits.
BT.com has cloud-based services, which you can expand as necessary. Agents may be added in a matter of hours, providing flexible scheduling and workflow.
It also enables agents to flip between incoming and outgoing calls. This is useful if you manage a marketing campaign with customer service.
This call center software allows intelligent routing, multi-channel interactions, and real-time monitoring. Its specialized outbound calling capabilities, which include the option to scan for switched-off lines and provide a local number when dialing, are impressive.
While it may have fewer features than some of the others on the list, its adaptability makes it an excellent choice for firms that are in the process of expanding.
Formerly known as Freshcaller, this call center software can conceal vanity numbers and acquire local, international, and toll-free numbers. This makes it useful for organizations whose only focus is call-based.
The absence of omnichannel support at lower pricing levels makes it unsuitable for enterprises with an established multi-channel base. Meanwhile, small companies on a budget seeking a restorative call-handling procedure should consider this call center software.
Nextiva is a straightforward call center software suitable for general enterprises. Its NextOS functionality can operate with existing toolkits or independently. 
It can also monitor customer experience and sentiment in real-time — giving your team data that can improve client interactions.
Bitrix24 offers a desktop and mobile program that supports a variety of social media networks, including Facebook, Messenger, Instagram, Skype, Telegram, and Viber.
This call center software also contains extensive CRM automation, so it may not be worth it if you already have a solution – but it's ideal for teams who don't. It offers pipeline management, sales reporting, and sales automation.
CallShaper has inbound capabilities, although it is best suited for outbound campaigns. Its drag-and-drop IVR editor enables the routing of calls to be modified based on agent availability.
This call center software focuses heavily on lead management, with features such as real-time lead posting, lead prioritizing, and lead source reporting.
Dixa, unlike many solutions on this list, operates entirely in the browser, making its program easy to install and run. This call center software automatically updates its version, and you only need to pay for the available resources at any moment.
You can add and delete agents and channels at no additional cost. This makes it very efficient for businesses that frequently scale up and down.
Additionally, it offers robust call support with automatic call distribution (ACD), call recording, and barge-in features. It can also be utilized with email, live chat, WhatsApp, and Facebook Messenger.
Genesys Cloud CX is an inbound and outbound cloud-based call center software. It offers a straightforward user interface and can simultaneously manage calls, emails, chats, social comments, and instant messaging.
Its self-service solutions, such as voicebots and chatbots, are excellent for after-hours answers.
LiveAgent's tickets and chat allow you to add social media help for a predetermined fee per account. All its inclusive offers and pre-installed features include social media support.
Although this is an excellent option for people on a tight budget, it lacks some customization components that other systems may provide.
Twilio Flex is a highly configurable call center software, making it ideal for anybody who wants complete control over their contact center. It can interface with other software while you utilize APIs to get data from other sources. 
Custom metrics, KPI monitoring, and reports may be added to the program.
Dialpad is designed for quick setup, and agents may add new users in a minute.  In addition to the program, this call center software has intelligent call routing, integration capability, and reporting tools.