Everything you need to know about first call resolution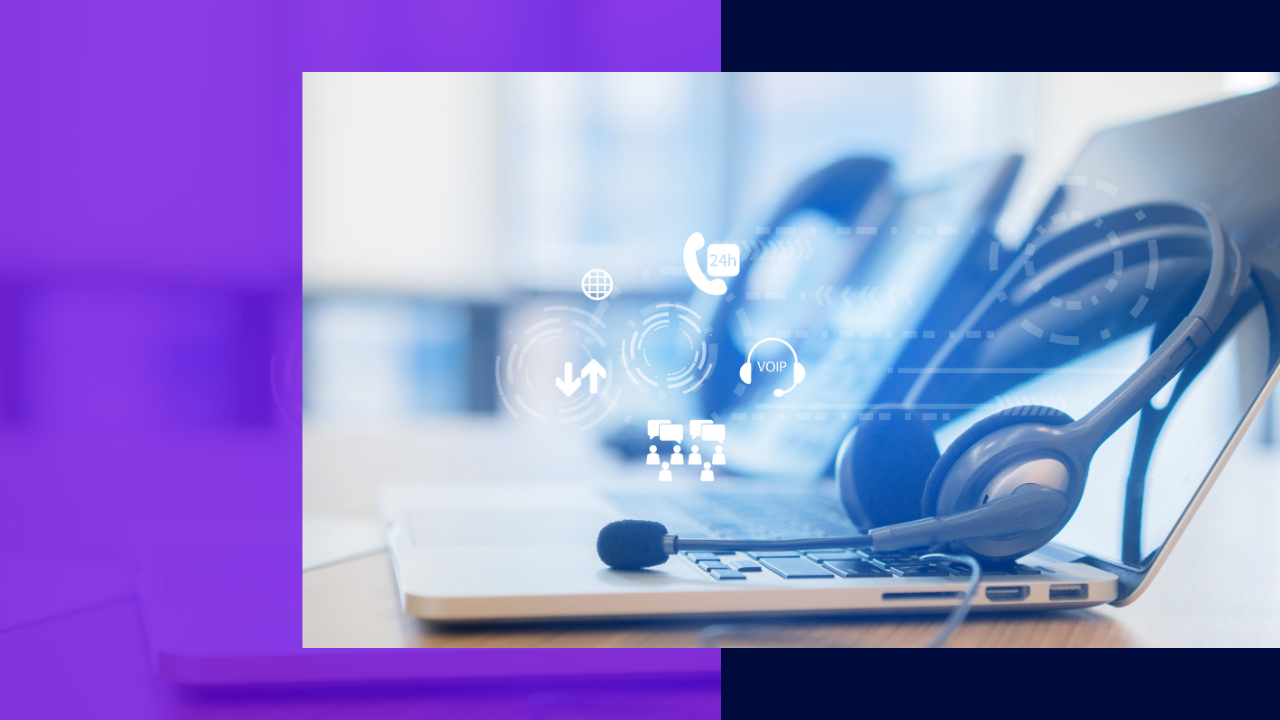 It can be quite frustrating for customers when their concerns or issues have not been resolved during their first customer service call. At the same time, it also has an impact on the performance and efficiency of the customer support agent, including the organization. 
One of the top priorities and objectives of a call center provider is to be able to provide excellent services to their patrons. As a call center representative, you need to be able to solve customer problems during the first contact. 
In this article, we'll explain what first call resolution is, its importance and best practices. We will also give you some tips on how you can enhance your team's first call resolution to boost your overall performance. 
What does first call resolution mean?
First call resolution (FCR) is also known as first contact resolution. This refers to the ability of an agent to handle, process, and resolve customer requests, inquiries, and problems on their first interaction. 
Traditionally, this is typically done via phone calls. With the advent of continuous tech modernization, first call resolution can now also be covered via email, chat, and other communication channels. 
First call resolution also serves as an important metric for team leaders to measure and assess their agents performance, knowledge and skills.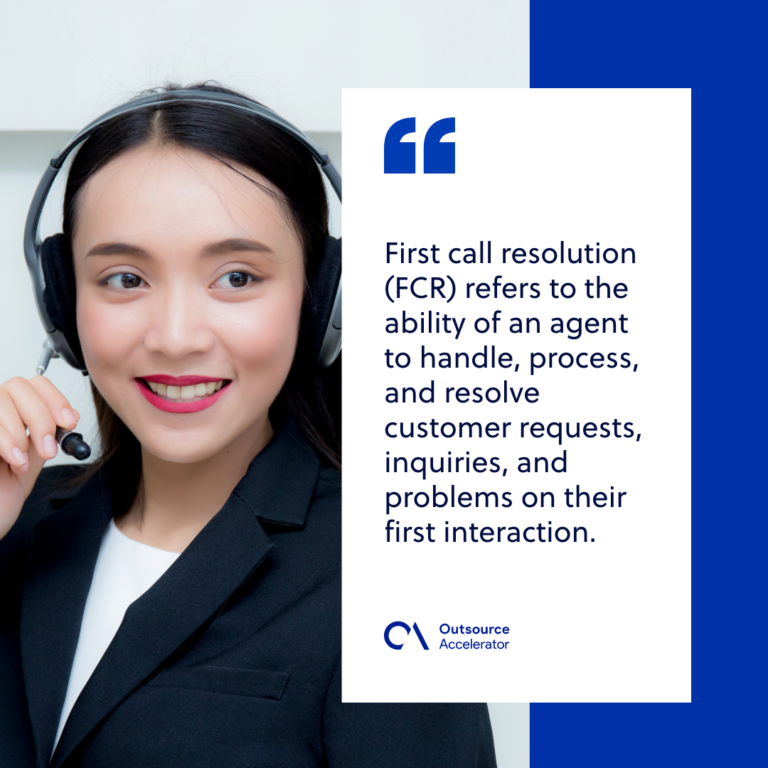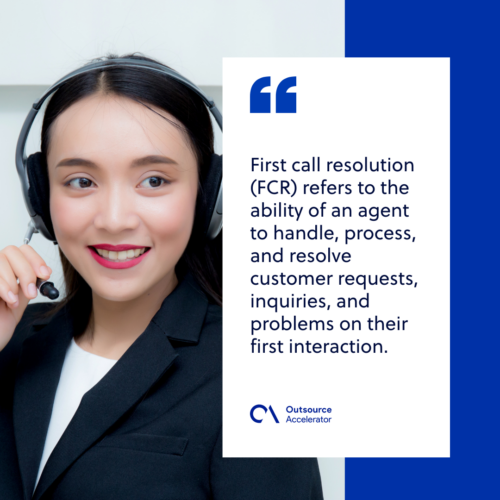 How do you measure first call resolution?
You can calculate your agent's first call resolution rate by simply dividing their total number of resolved calls by the overall number of calls each day. 
The exact formula for calculating the first call resolution is:
FRC = Total number of resolved calls / Total number of customer calls
What is a good first contact resolution rate?
According to SQM Group, a good rate for the first call resolution is 70% to 75%. It's the industry standard when it comes to taking in and resolving calls. An after-call survey is just as important as solving the issue. The data will be stored and used for future references.
Why is first call resolution important?
The data that is being collected using an after-call customer satisfaction survey will be able to tell specific areas of improvement.
First call resolution is important because this reflects the management's, especially the leaders ability to train their workforce. At the same time, it also reflects the agent's ability to fix any issues that they encounter daily.
First call resolution best practices
Just like in any other standard operating procedure, first call resolution also has its best practices, and this includes the following: 
Practice active listening
Active listening—along with empathy—is key to having a productive conversation with a customer.
Even if the other person is being difficult, keep in mind that they have been experiencing these issues way before they reached out.
Practice active listening to pick up some points that will help resolve the issue.
Minimize the waiting time
No one likes to listen to a nameless tune over the phone—especially if the matter is pressing enough.
Minimize the waiting time between customers by delegating the right amount of tasks to active agents. As a team leader, it's your responsibility to ensure that no one agent has an excessive workload while others barely have anything to do.
Have an easily accessible knowledge base
One example for this is your site's Frequently Asked Questions (FAQs) page. Another example are company modules which include important information regarding the company's products and services.
Allowing customers to access this kind of information database will lessen misdirected inquiries and calls.
Get as much information as you can
Call center representatives are trained to ask probing questions to help their customers during an interaction.
Make sure that your agents have an in-depth understanding about the company and what you offer to your customers. 
Don't be afraid to ask for help
Being a team player means that you're not afraid of asking questions and for additional help when needed.
Most calls and inquiries, even if it doesn't count towards your first call resolution percentage, are solved when multiple people and opinions are involved.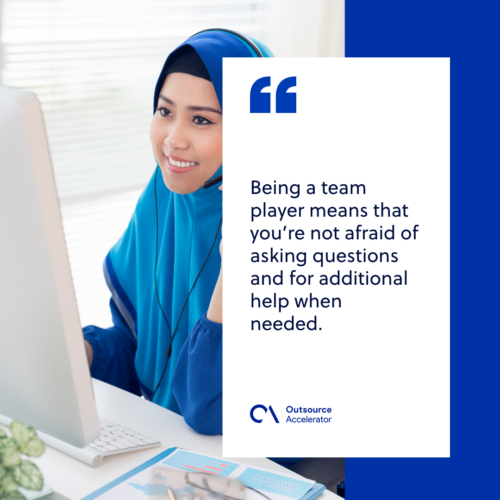 Three basic tips to improve first call resolution 
To improve first call resolution, the first thing you should do is to identify your agents' weaknesses.
Continuously train and mentor your agents regarding first call resolutions' best practices. More so, brush up on their product and service knowledge. 
As a team, be proactive about learning the new updates about the account you're handling. And of course, practice the following. 
Stay on topic

. When the conversation is drifting away from the issue or the inquiry, don't be afraid to steer it on track again.

Ask relevant questions

. Asking follow-up questions will help your agents pinpoint the nature of the issue that the customer is calling about.

Internalize one-on-one coaching sessions

. Use the coaching session as a safe space for you to point out what else you think your agents need to improve on. 
Again, first call resolution is an ability that can be taught and developed. It's also heavily reliant on how the call flows and the nature of the issue is.