Monitor your team's call quality the right way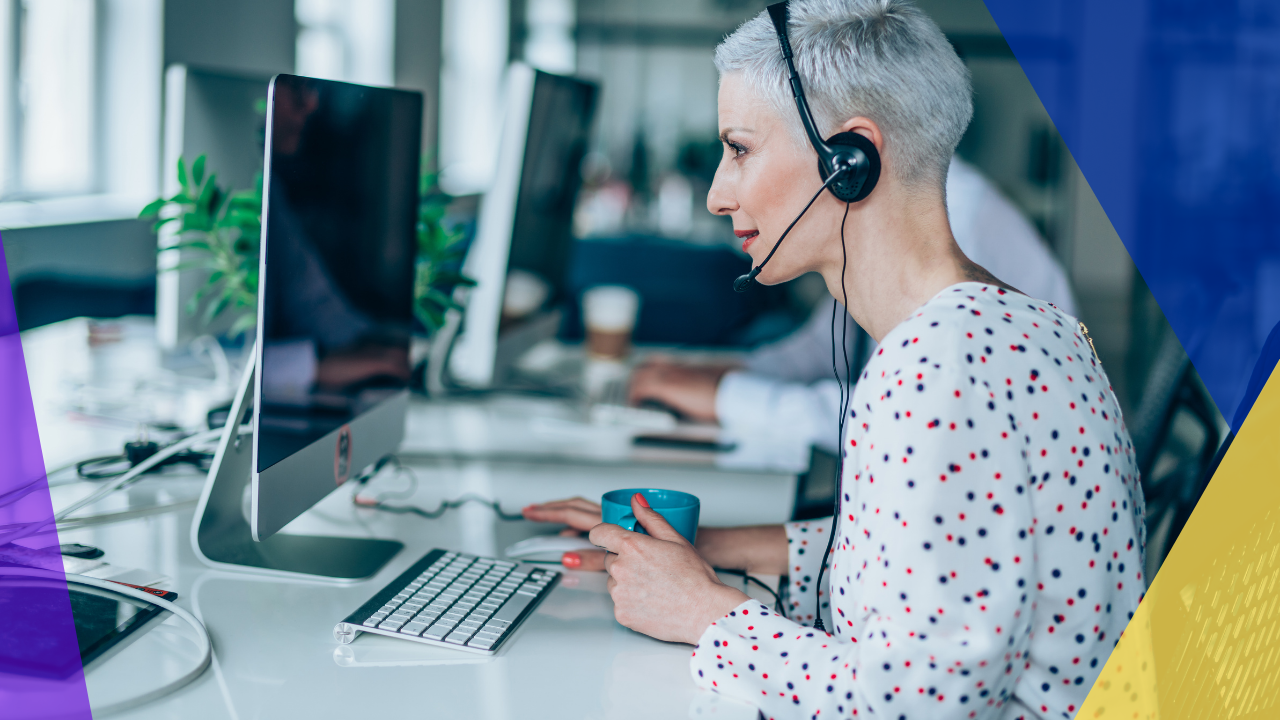 "Customer service" has nowadays expanded to different channels and platforms, including social media and email. While it can be a good thing for companies looking to reach customers better, they tend to forget a crucial channel: voice calls.
Phone calls are still relevant in improving customer service in 2021. However, customers find calling a company more difficult with what they experience, including using IVR before reaching a human agent and long queue times.
With this, organizations still seek to monitor their call quality to improve their customer experience. But how do they get started? Find out in this article.
What is call quality?
Call quality refers to the process of monitoring a representative's call and checking its quality. It analyzes the effectiveness and efficiency of each conversation with customers. 
Monitoring call quality is a great way for call centers to improve their services. Usually, they hire trained specialists that help train agents and monitor each customer call within a certain station or production floor.
Call quality provides call centers an overview of their customer service standards. This process also identifies potential problems and challenges on the operation before it gets worse.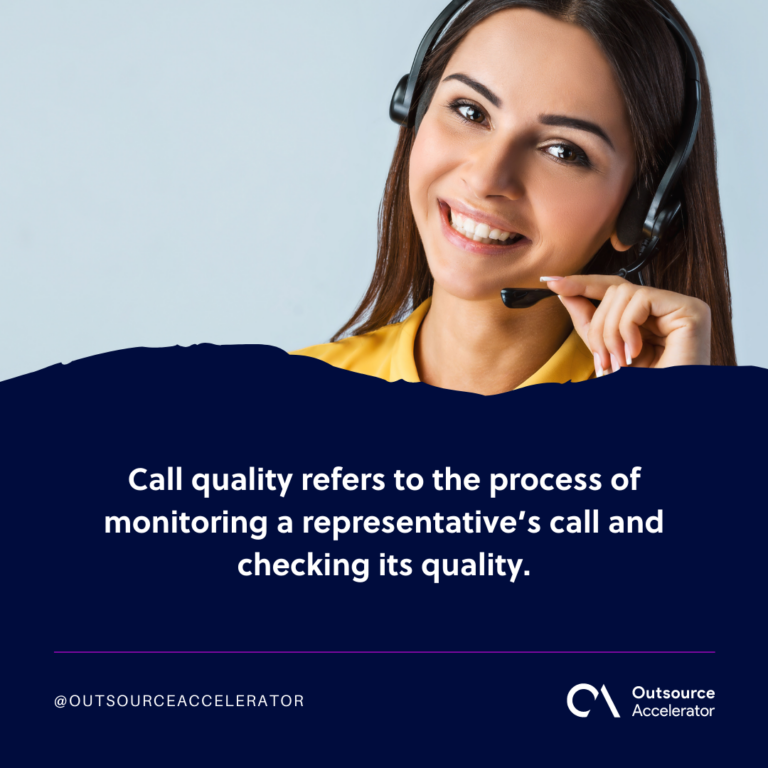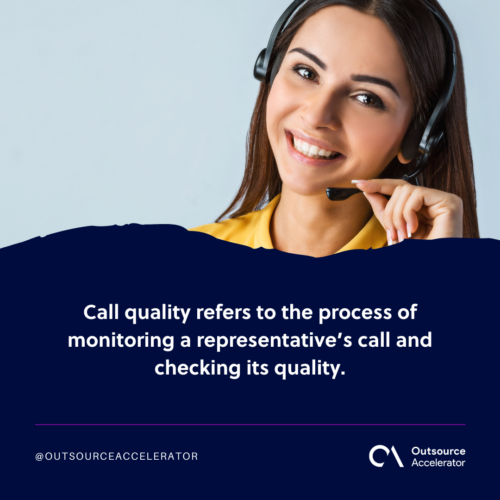 How call quality is measured
In monitoring call quality, several factors are measured to get the overall quality score. Some call centers and businesses even check different KPIs that apply to their operations, industry, and agent expectations. 
Some of the KPIs measured in call quality are:
Average speed of answer (ASA)

. This determines how quickly an agent answered a call. Most companies usually follow a standard speed when picking up a call, though this depends on the volume of calls they receive a day.

Average handling time (AHT)

. AHT measures the average work an agent does during and after the call. A call may be affected by answer speed, transfers, hold, and abandons.

An agent's attitude and disposition

Audio quality, considering connection issues, packet loss, and jitters

Customer satisfaction (CSAT) and Net Promoter Score (NPS)

. CSAT and NPS sum up the customer's overall experience within the call.
Steps in call quality monitoring
It's a call center's responsibility to ensure every call is monitored for its quality and efficiency. From this, they can assure to provide the utmost customer experience to their customers and clients.
It's not too late to get started in monitoring and tracking call quality. Here are some steps companies can do to get started:
Gather a team to monitor call quality
Firstly, companies should gather the most qualified team to monitor call quality. They usually consist of customer service managers, senior agents, or team leaders that fully understand customer service.
Depending on their capacity, companies can either get in-house teams to do this or have call quality assurance outsourced to their service providers. 
Create scorecards
The quality assurance team will then create scorecards listing the factors where agents will be evaluated. What a team's scorecard indicates may vary depending on the aspects they want to improve and their regulations.
For instance, they can test how an agent handles upset customers, especially through large columns of calls they receive.
Have different quality standards for each type of call
Different types of calls could have different standards in measuring quality. Though organizations can use a single scorecard for all calls, this could exclude the fact that an inbound agent has a different responsibility compared to an outbound agent.
This is why it's best to have different call quality standards tailored to each type of call an agent takes. A few scorecards can help ensure that agents are accurately scored according to their work.
Save great calls to use as examples
Some calls would check every standard in a scorecard, making customers delighted after hanging up. It's best to save them for future quality assurance and agent training. 
Take note of all the aspects the agent has done right and the choices that made their customer's experience better. Using a prime call to train agents can help them get a grasp on what quality of service is expected of them.
Practice regular call quality monitoring
Lastly, don't make call quality monitoring an occasional practice. Rather, companies should make it a habit to continuously improve customer service and experience by constantly checking the quality of their calls. 
Voice is still one of the most used channels in customer service. With this, contact centers and companies should still improve their service as much as possible.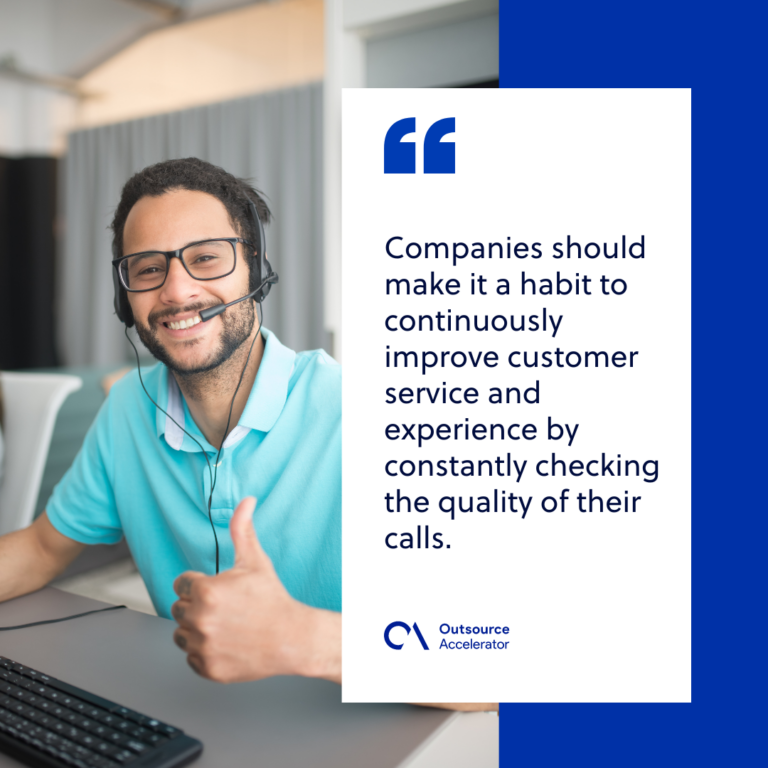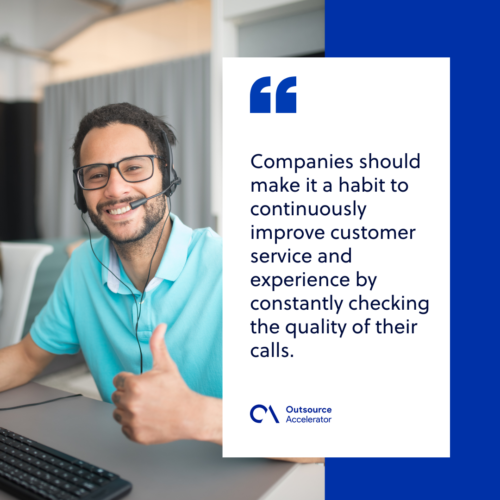 Best practices in improving call quality
Improving call quality should be a collaborative effort. It would work best when the quality assurance team and the agents work together.
Here are some best practices to apply when monitoring and improving call quality.
Keep agents involved in the process
Keep in mind to include your agents in your monitoring process. Since they face clients daily, this makes their input more valuable when it comes to improving customer experience. 
Record every customer call
Make sure to record every customer call made, whether inbound or outbound. It can help you make better quality assurance checks, know which channels drive traffic, and train future agents with what they should do.
Use online tools for analysis
Make use of online tools and services that can help you make your quality assurance monitoring better. 
These tools can help you better analyze and understand what you have to improve with your process, from your answer speed to the scripts they use.
Reward agents for good work
Lastly, call quality monitoring is tied with agent monitoring. Rewarding your agents for great work is the best way to motivate them to improve the quality of their calls.