The Top BPO Trends for 2024: All You Need to Know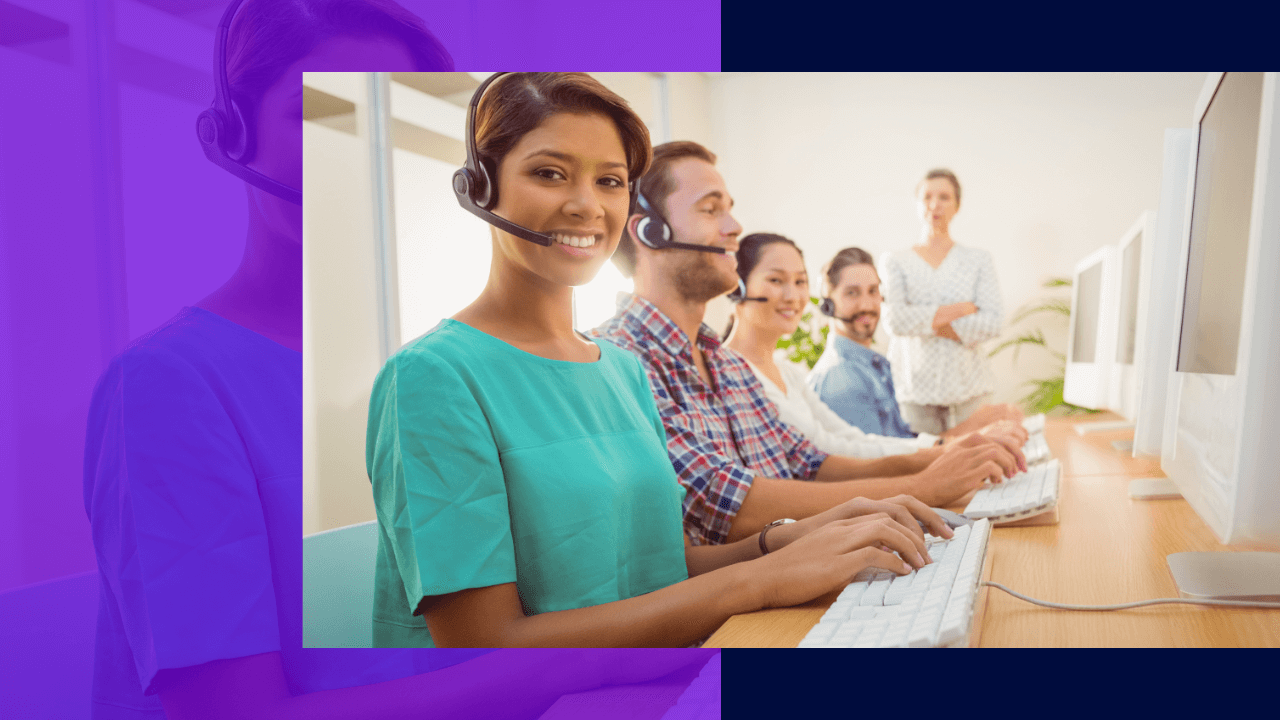 The surge of the COVID-19 outbreak led to a continued global rise in inflation, staffing shortages, and the widespread disruption of the global economy. These are just a few of the impacts of the pandemic. 
Yet, the outsourcing industry proves to be resilient in times of turmoil. It is safe to say that the COVID-19 pandemic is never a hindrance to the ever-evolving Business Process Outsourcing (BPO) industry. 
According to a Statista report, the BPO industry is projected to reach US$0.33tn this year, 2022.  This includes a compound annual growth rate (CAGR) of 6.69%, leading to a market volume of US$0.45tn by 2027.
That being said, the BPO sector continues to evolve as many companies are now fully embracing the outsourcing practice. 
Now the question is, what are the notable trends that will shape the BPO industry this year and beyond? 
In episode 397 of the OA podcast, Veronica Valera, co-founder of Intelliworx PH, gave her insights regarding the current outsourcing trends, and we'll dig deeper into it. 
Here are some of the outsourcing trends to look ahead to in 2024. 
Increased demand for virtual assistants
Businesses are now looking into honing their workflow management to focus more on generating profits and revenues.  
Veronica mentioned that they are "seeing a lot of small or startup clients looking for administrative assistants, like virtual assistants." 
She added that there are about "10 to 15 clients" who are looking for administrative assistants to help them with their daily operations. 
Today, companies outsource administrative professionals who will take over their mundane and repetitive tasks. While these are considered routine and ordinary functions, it is worth noting that they are among the important elements in every business.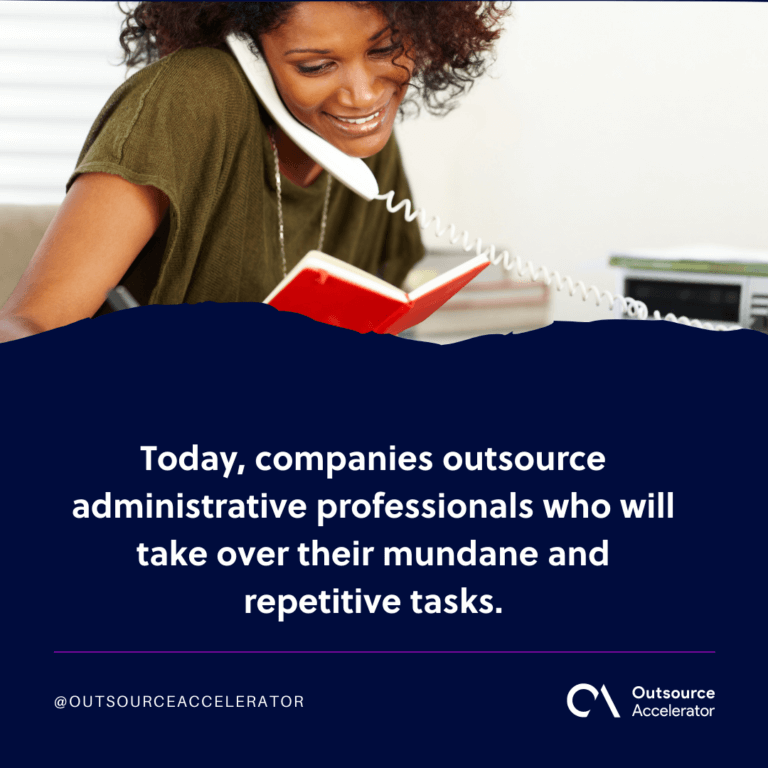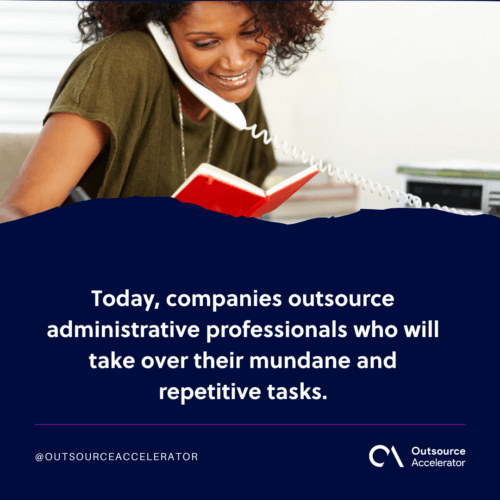 Artificial intelligence (AI), automation, and cloud services
Due to the implications of the COVID 19 pandemic, businesses were compelled to move towards the paradigm shift of digitization. Thus, digital transformation has helped organizations to augment their customer service. 
It has also accelerated the adoption of Artificial intelligence (AI) solutions. In turn, businesses are able to be more efficient and enhance their operations. 
As for BPO companies, they have now started deploying automation and cloud services to help their clients boost their workflow efficiencies.  
These three technological integrations allow businesses to focus more on their core functions.  
Social media management 
Per Veronica, social media management is "kind of a big factor." Social media platforms are the go-to place for companies to lay their business strategy. 
Veronica also said that a lot of clients are always looking "for someone to take care of their social media." 
Through outsourcing, brands have gone a step further toward enhancing their responsiveness and expediency of social media service to consumers. 
Data-driven analytics 
In the coming year, companies will increasingly acquire contact center services for advanced data-driven analytics. Meanwhile, most contact center providers today have data analytics tools for small or startup businesses. 
Data-driven analytics provides insights that can help companies achieve their target sales and enable them to make informed decisions relevant to their business goals.  
Omnichannel Communication 
Consumers, at present, demand a more personalized interaction and consistent experience with a brand through various social media channels. And because of that, omnichannel communication has now become the new norm. 
Businesses must utilize omnichannel tools to improve customer experience in all their communication channels. 
Omnichannel communication is also one of the top outsourcing trends and is projected to continuously be on trend in the coming years.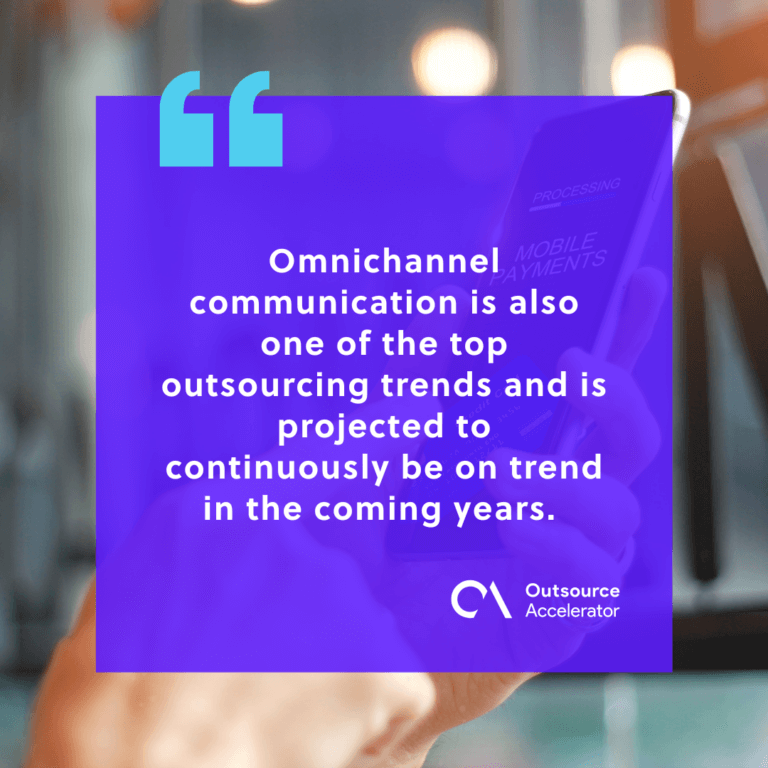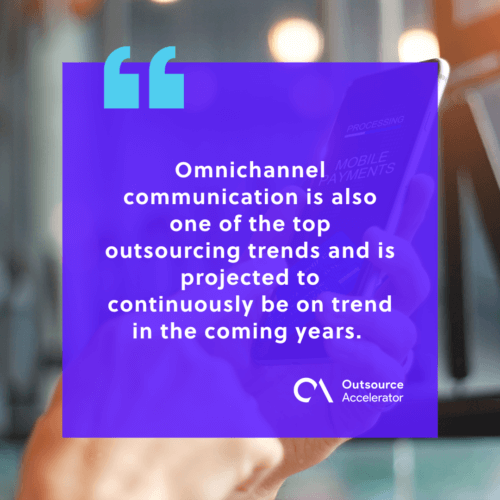 Summing up
If you're planning to delve into outsourcing, you need to familiarize yourself with the industry and its current trends. 
These BPO trends discussed by Veronica significantly play a crucial role for businesses in making informed decisions and in applying best practices relevant to their success. These trends will be the factors that companies need to look out for, and they will serve as guides for a successful outsourcing journey. 
For BPO companies, these will help them figure out how to align their business goals and objectives. 
Veronica Valera, one of the three co-founders of Intelliworx PH, helps businesses of all sizes by providing virtual assistant services.   
Go to https://www.intelliworxph.com/ to learn more about their services or connect with Veronica on LinkedIn. At the same time, listen to episode 397 of the OA podcast.